What is Newcastle's strongest lineup?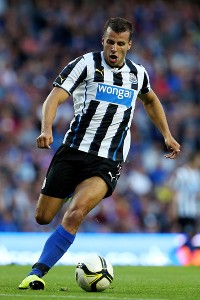 Ian MacNicol/Getty ImagesAlan Pardew has a tough choice between Steven Taylor, above, and Mapou Yanga-Mbiwa at centre back.
Over the past 12 months, Alan Pardew has received a lot of justified criticism for the Newcastle teams he has picked and how he has used some of his players.

If all players are fit -- a big 'if' -- then Newcastle already have the talent to field a very good team even without additional signings, although they are woefully short of any quality in depth.

The strongest XI is always the subject of debate in bars, work places and schools across the North East -- here is mine:

GK Tim Krul -- no competition at all. Rob Elliot did a reasonable job filling in when Kru was injured last season but he's nowhere near as good as the Dutch number one.

RB Mathieu Debuchy -- another straight-forward selection as he too has no competition. I think we will see much more from the Frenchman now that he has seven months and a full preseason behind him.

LB Davide Santon - while I'd love to see Santon play in a more advanced role, realistically Newcastle need him at left back as he's by far the strongest player there. Massadio Haidara might provide an option once he's been here for a while longer.


CB Fabricio Coloccini -- the winner of our recent 'Newcastle power rankings -- best player', Colo is vital to the team. He had his shaky moments last season, but didn't they all? The curly-haired one is Newcastle's best defender.

CB Steven Taylor - probably the first controversial decision in my team as I've selected Taylor over Mapou Yanga-Mbiwa. I think Yanga-Mbiwa is the future of the Newcastle United back four, but when he's played centre half since he arrived from Montpellier he's looked uncertain and was caught out more than once. He looked far more comfortable at full-back knowing mistakes are less likely to be critical. Mapou needs time to settle -- just like Coloccini did when he first arrived in England. If Taylor can stay injury-free and get a long run in the team, then he is a very handy centre-half.

DM Cheik Tiote -- controversial choice number two, I haven't lost faith in Cheik just yet. The important thing here is he gets back to basics. Pardew needs to forget about trying to turn the Ivorian into a more creative player. The manager was critical of Tiote 'popping the ball off early', and as a result Tiote is too often caught dwelling on the ball looking for more complex passes. Get back to winning it and 'popping it off' simply, and the real Tiote will return.

CM Yohan Cabaye -- another player whose stock amongst supporters dropped after last season, but 99 percent would have the Frenchman in their starting XI. Cabaye looked desperate for a break and a proper preseason after a couple of long years and a lot of games -- he will be much better for it this season with his injury problems behind him.

CM Moussa Sissoko - HE'S A CENTRAL MIDFIELDER, NOT A WINGER! Right, now I've got that out of the way, Sissoko has to start in the middle. Pardew's use of him as a wide midfielder or Number 10 was verging on football crime. I'd like to see him powering forward from a slightly more advanced, central midfield position.

LF Loic Remy -- I'm in danger of proposing a bit of a Pardewism here as Remy is better through the middle, but Newcastle don't have quality, natural wide men and Remy has played this role before. I'd stick him where Demba Ba was playing late in the 2011-12 season as Newcastle pushed on and finished fifth.

RF Hatem Ben Arfa -- a lot of people have called for Hatem to play regularly through the middle, but to me he looks far more impressive attacking the full-backs to the by-line or cutting inside and driving at goal. He'll have the beating of almost every left back in the league one-on-one.

CF Papiss Cisse -- Cisse had a tough time last season. His offsides frustrated the supporters and he missed a boatload of chances. He did deliver when it mattered though, and his late, late goals were the difference between staying up and going down. A lot of his goals when he first arrived were remarkable -- I'm still not sure how he will work out even though he's been at Newcastle for 20 months! He has to start, though.

Newcastle have played a number of different formations over the past few years. I still think 4-4-2 is an important option in the Premier League, but Newcastle don't have the wingers to implement it properly.

Looking at the squad as is, Newcastle will play a narrow formation this season unless Pardew once again chooses to stick players in unfamiliar positions (or signings arrive soon!)

I've no doubt that many of you out there will disagree. If you do then let me know your starting side either in the comments box below or on Twitter (@MarcSDuffy).