Newcastle United season preview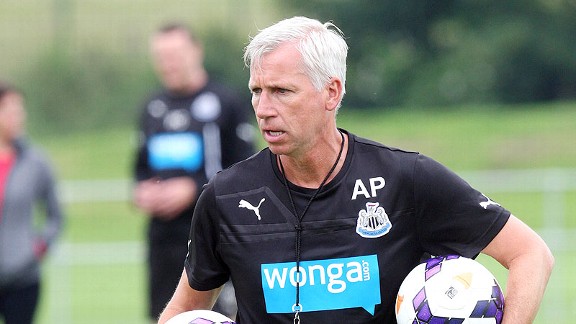 AllsportAlan Pardew has plenty to prove after narrowly escaping relegation last season.
What's changed since last season?
Much has changed off the pitch, but not enough has changed on it. Many Newcastle supporters would have been happy to see the back of manager Alan Pardew after a dismal domestic campaign last time around, but their dislike for him is now dwarfed by the negative feelings directed towards new Director of Football, Joe Kinnear. In fact Kinnear's appointment has taken a lot of heat off the under-performing manager, which is probably one of the reasons Kinnear was appointed in the first place.


Key to this campaign?
Because Newcastle United is such a dysfunctional football club, this campaign depends on a number of factors. They cannot afford to have the same disastrous injury record as last season when the club suffered over 40 injuries to players. Some put this record down to bad luck, but it has to be more than that. Fundamental changes to training are required and the club have hired the services of British and Irish Lions fitness coach Faye Downey.

Off-field harmony is equally as important. There is a fear that Pardew will walk away because of Kinnear's meddling and that Kinnear himself will take the managerial hot seat that he performed so abysmally in during the relegation season of 2009. They need to get along.

There were also rumours of dressing room divides last year - I don't believe that to be the case but it would be a big help if they blend well.

It is also absolutely vital that Pardew uses players in their correct positions. No more Moussa Sissoko on the wing, Yohan Cabaye deeper than Cheick Tiote, Papiss Cisse wide left and so on. Play them where they are best.

Predicted finish/realistic goal
Because there are so many things that could go wrong for Newcastle in the coming season I fear the worst - another difficult league campaign is on the cards. I can't see much better than a finish somewhere around 12 to 15. However, the club have a very strong first XI, so if they stay injury free, and off the field remains stable, then they would be capable of top eight. Sadly that looks unlikely at this point.

Make or break season for....
Alan Pardew. The 2011/12 Manager of the Year made some woeful decisions last season. I've already mentioned his insistence on fielding players out of position. There was also the dreadful, route one football that left Newcastle with the unwanted statistic of having played more long balls than any other side in Europe's top leagues.

There were far too many utterly heartless performances from his team too: the humiliating thrashing at home to Liverpool, the abysmal St James' Tyne-Wear derby performance and the inability to perform in both halves of almost every league game. And then there was the horror-show exit from the FA Cup to Brighton.

It is approaching two years since Newcastle scored from a corner in any competition and almost twelve full months with only one away league victory. Simply not good enough.

A lot of Newcastle fans would have been delighted to see Pardew sacked immediately after the club secured their Premier League status in May, but his eight-year contract meant this option was never really viable.

If Newcastle are as poor going into this season as they were in the last and if the same managerial frailties are shown then the crowd will quickly turn... even if they're terrified that Kinnear could be the man to replace him.

One to watch
Moussa Sissoko. The big Frenchman burst onto the scene with a pin-point assist for Papiss Cisse to score in the 2-1 win at Aston Villa and then a few days later he played one of the best ever home debuts at St James' Park in the 3-2 win over Chelsea - during which he showed incredible pace and power.

For reasons known only to himself, Pardew then decided to play out the rest of the season with Sissoko in the number 10 role or wide of midfield, which was ludicrous and a real waste. If Pardew consistently uses Sissoko correctly then he will be a key man for Newcastle.