Webb's bad day, Anelka's actions and Platini's politicking
Sunday's clash between Chelsea and Liverpool at Stamford Bridge was overseen by Howard Webb, who may be a good referee, but had an awful day.

My ESPN FC colleagues Shaka Hislop, Ale Moreno and Steve Nicol blasted a number of his decisions and with good reason, starting with Samuel Eto'o's high boot on Jordan Henderson in the first few minutes. There were plenty others that were highly questionable at best: John Terry on Luis Suarez, Eto'o on Suarez, Lucas on Eden Hazard and Oscar on Lucas.

Referees have bad days, just as players do, and this was one of them, there is no point dwelling on it. I guess Webb believed that Terry challenged Suarez fairly, that Suarez was only brushed by Eto'o (and, to be fair, he did fall dramatically) and that Eden Hazard somehow initiated the contact with Lucas. With the benefit of replay -- which he didn't have -- I think he was wrong, but, hey, that's how he saw it.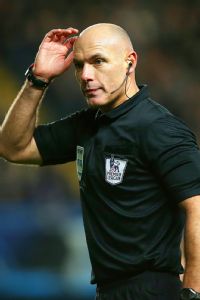 Clive Rose/Getty ImagesWebb was an unpopular figure with both sides at Stamford Bridge.
What's a bit more of a concern, though, was Webb's handling of the first Eto'o incident (involving Henderson) and the Oscar tackle and whether the moment in the game impacted his decision. Did he not book -- let alone send off -- Eto'o because he didn't see it properly, or did he not want to "spoil the game" by issuing a red so early on?

Did he figure that by the time Oscar nailed Lucas, the game was in the fourth minute of injury time and was practically over, so a yellow would suffice?

I hope not, because the game needs consistency. And had Henderson or Lucas been seriously injured, they would have been injured regardless of when the incident occurred. You just hope Webb files this away as a bad day at the office and perhaps uses it to come back even better than before.

- Worrall: Eto'o shines
- Usher: Ref rough on reds

All that said, though, Chelsea were deserving winners, which is good news for Webb. True, you can create an alternate narrative where Eto'o gets sent off in the second minute, Chelsea play the rest of the way with 10 men and Liverpool win or draw but, based on what we saw in the pitch, Jose Mourinho's crew came up big.

A manager's input into a performance varies from game to game. On Sunday, Mourinho made a big decision and got it right. With Ramires suspended, John Obi Mikel would have been the natural choice to partner Frank Lampard in the middle of the park. Instead, he stuck David Luiz alongside the veteran Englishman.

The Brazilian hadn't played there under Mourinho and whether he's a long-term option in midfield remains to be seen. Certainly, a Luiz-Lampard partnership ends up with straitjacketing the latter. Watching in person, I saw Lampard constantly checking his runs, tracking Luiz's movements and sacrificing himself to make sure that the area in front of the back four was always patrolled (usually by him).

For a guy like Lampard, who has built a career on intelligent goal-scoring runs into the box, it meant giving up a big part of his game, but it helped Chelsea maintain their balance, as did Oscar's selfless tracking back.

It takes a big personality to ask your veteran leader to do what Lampard did on Sunday. But then, that's where Mourinho is in his element, where he does his best work.

Beyond that, this remains an incomplete Chelsea side. So much is made of the strikers not scoring prolifically and, sure, Mourinho wishes they were more productive. But having another option in midifeld, something that would help avoid running Ramires and Lampard into the ground and switching more regularly to 4-3-3, is even more of a priority right now.

Liverpool equally look like a work in progress. Let them play a little, like Manchester City did, and they look excellent. But defensively, the pieces simply don't fit together and you wonder to what degree they fit Brendan Rodgers' vision.

Daniel Agger at left back within the current setup is a waste of a serviceable player, while Martin Skrtel and Mamadou Sakho still lack chemistry in central defence, which further means the midfield trio need to work harder, and that in turn leaves the front three on their own more than it should.

That's fine when Raheem Sterling and Philippe Coutinho are in full flight, but these are young players who have played a bunch of games in a short period of time. Inevitably, they flagged, and because Suarez was a little less than superhuman, the fluidity witnessed against City was missing.

Rodgers has some huge decisions to make. What do you do with Steven Gerrard and Daniel Sturridge when they're fit again? How do you sort out the left back position, when he already has three on his books and none of them look like the second coming of Roberto Carlos in his system? How do you fix central defence without merely bringing in more bodies, given that he already has four senior centre-halves in the squad?

Whether he gets them right will help determine whether Liverpool can mount a Champions League -- or even Premier League -- challenge this season.

Managerial change imminent at Lazio

There's no arguing with the fact that Vladimir Petkovic has done a fine job in his time as Lazio manager. Last season, in tricky circumstances (managing Lazio is always tricky when Claudio Lotito is your boss), he took them to seventh place and won the Coppa Italia.

It's equally true that results this season have not been quite as good, without being horrible: Lazio are joint eighth and through to the last 32 of the Europa League. However, what has really deteriorated -- and what makes his exit seem inevitable -- is Petkovic's relationship with the club, particularly after it emerged that he had agreed to take over the Swiss national team after the World Cup.

- Petkovic on the brink

It is his choice to do so and Lazio's to jettison him if they think he won't be focused or the squad won't respond to him. What's surprising though is the club's recall of Edy Reja to replace him. He did an excellent job in his last stint at the club, gaining fifth- and fourth-place finishes in 2010-11 and 2011-12, respectively. But he will be 69 years old next summer, which rather suggests he's not a long-term solution.

It's that kind of short-termism from Lotito -- coupled with the way he treats players when it comes to talking contracts, an attitude that has gotten him in trouble with the law on more than one occasion -- that leaves many Lazio fans cold when it comes to their owner.

Anelka's actions

By now you've probably heard about Nicolas Anelka's goal celebration in West Brom's 3-3 draw at Upton Park.

It's called a "quenelle" (not to be confused with this) and traces its roots to the French comedian Dieudonne M'bala M'bala. Some say the gesture is patently anti-Semitic; others claim it's merely anti-Establishment and it has nothing to do with religion.

Whatever the gesture may be, Dieudonne has been charged with anti-Semitism for years. And while he has refuted it, the fact that quenelle enthusiasts seem to enjoy posting pictures of themselves doing it in places like Auschwitz, the Holocaust memorial in Berlin or in front of Anne Frank posters, leads many to conclude otherwise.

But this is a football column, so if you want to know more about Dieudonne and his shtick, this New Yorker profile provides further reading.

In a sporting sphere, unless you're a mind reader, it's impossible to judge whether Anelka holds certain beliefs or whether, as he maintained, he was simply showing support for his friend given that, back in France, authorities are trying shut down Dieudonne's act.

What you can conclude though, is that Anelka did something rather foolish. If his aim was to draw attention to Dieudonne's right to free expression, there were other, less inflammatory, ways of doing it, like the old T-shirt-under-the-jersey trick.

And it might even have opened a constructive debate on what constitutes free expression and the limits to free speech, given that France doesn't have the same First Amendment protection that do other nations, like the United States.

Instead, Anelka did the quenelle. And while he may be truthful when he says he didn't do it with any political intent in mind, it's obviously a political gesture -- in its "anti-Establishment" form, let alone the "anti-Semitic" one -- and it's reasonable to expect that he would have known that.

Anelka is not a kid. He's a 34-year-old man who has been playing professionally for nearly two decades. He knows that anything remotely resembling a political gesture on a football pitch is not allowed and will incur punishment. And rightly so.

When Anelka puts on a West Brom shirt, he's at work. And if you don't abide by the rules your employer or your business sets out, there should be consequences.

Other French athletes have been photographed with Dieudonne. Some, like Liverpool's Mamadou Sakho and the San Antonio Spurs' Tony Parker, have even been picture doing the quenelle.

Sakho immediately distanced himself from it, insisted he was tricked into posing for the photograph and condemned anti-Semitism in no uncertain way.

Meanwhile, Parker released a statement on Monday saying he had believed it was part of a comedy act, did not realize "it could be in any way offensive or harmful," and asserted he would "never repeat the gesture and sincerely apologize for any misunderstanding or harm relating to my actions."

But when you move it into a public sphere, everything changes. It's the reason why, if you sit in your bathtub and yell "fire!" over and over, folks will think you're weird, but you'll be free to do so. Do it in a crowded movie theater, though, and you're going to prison. (Assuming there is no fire, of course.)

It's all about context, and Anelka got the context badly wrong here. Odds are, he'll pay a stiff price. If the Football Association, which is investigating, decides to apply UEFA's anti-racism guidelines, it's a minimum 10-game ban. If they stick by their own standards -- laid out after the Luis Suarez-Patrice Evra incident -- the mimimum suspension is five games.

And, of course, it won't just be Anelka who is punished. Though West Brom, who pay his wages and for whom he was expected to play a part in the stretch run of the season, have said he will remain available, they likely will be without their most experienced striker soon.

Arsenal's challenge continues

There are still plenty of good reasons to be skeptical of Arsenal's title chances, and they are all well-documented. But with every week that passes, the Gunners are still there, at, or near the top of the Premier League. At Newcastle on Sunday, they showed a side of themselves that is increasingly turning doubters into believers.

- Heneage: Three things from Arsenal's win
- Mangan: Ugly win

Without Mesut Ozil and Aaron Ramsey, their two outstanding midfielders this season, and with Olivier Giroud clearly carrying a knock, they managed to grab a win. It wasn't pretty, but just as they did in another big road victory -- on Boxing Day against West Ham -- Arsene Wenger's side showed a level of character, physicality and determination that some claimed they lack.

Manchester City remain most people's front-runners for the title, but if Arsenal hang in there and win the league, these past four days may be remembered as a key building block along the way.

Platini plays politics

UEFA president Michel Platini delivered his state of UEFA message last week, and one passage stood out.

Referring to the various measures he had taken, from stiffer penalties for violence, racism or suspected match-fixing to -- crucially -- Financial Fair Play, he wrote: "All these measures are not making us popular. That is patently clear. However, my aim is not to be popular. My aim is to be responsible."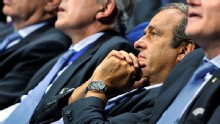 Harold Cunningham/Getty ImagesPlatini has been UEFA president since 2007.
Platini, like all football administrators, is a politician. And politcians -- unless they are dictators in totalitarian states -- generally like to be popular because they need to be re-elected. They also get hammered mercilessly because, well, they're in charge and inevitably they won't please all the people, all the time.

What's different about being the UEFA president, though, is that your electorate isn't football fans. It's the 54 UEFA members. And their votes are also cast by politician/administrator types who sometimes make choices based on personal or national expediency.

Whatever else you might think about what Platini has been doing (and the test will be in a few months, when we discover whether FFP has any real bite) there is little denying that he generally acts upon what he believes, rather than what is good for his career.

(I say generally because there's always a counterargument: In his case, it's the decision to vote for Qatar as 2022 World Cup hosts. But it's worth remembering he remains the only ExCo voter who admitted to voting for them. And it's also obvious that he got pressure from the president of France at the time.)

Now, Platini won't talk about it, but it's an open secret that he would like to take on Sepp Blatter for the FIFA presidency in 2015. The easiest, most straightforward way of doing it would be to keep a low profile, lobby behind the scenes and maintain the status quo in your backyard, so as to ensure that you at least get all of the 54 UEFA votes.

Incidentally, that is pretty much what his predecessor, Lennart Johansson, did (i.e., very little) when he was in charge and decided to take on Blatter (unsuccessfully).

You don't have to like what Platini does. Some of it is debatable, some of it silly. Plus, it would have been nice if he'd had the courage to not vote for Qatar. But it seems pretty clear that he's not acting like a traditional politician running for office.

He's doing what he thinks is right, even if that makes him unpopular.

Fletcher's return boosts Man United

It's now four wins on the bounce for Manchester United in the Premier League. That's the good news; ultimately, points paper over a lot of cracks. Less encouraging is that there hasn't been much progress on the pitch: the first two victories, against Aston Villa and West Ham, were rather more impressive than the last two, against Hull and Norwich.

Where David Moyes can gain encouragement is from his personnel such as Darren Fletcher, who is an old head who looked like someone who can legitimately reclaim his fitness. After his ordeal, you can only be happy for him as a person. Plus, if he reaches even 80 percent of the level he was at in 2009 and 2010, he won't just be a feel-good story, he'll be a legitimate addition to the United midfield.

Davids calls it a day

One of the toughest things for players to do is to realize when enough is enough. Edgar Davids was one of the defining midfielders of his generation. He was a guy known as the "pitbull" who scared the bejesus out of opponents, but could also conjure up a whole range of subtle skills.

Now, he seems to have gone off the deep end. Davids is the player-manager at Barnet, who compete in England's fifth tier, the Conference Premier.

Or, rather, he was. Davids says he won't play again, as he believes he's being targeted by referees and opponents. Last weekend, he was sent off for the third time this season (in his past five games, in fact). Throw in the two red cards he got last year, and that's five in 36 games since joining the club.

I don't watch the Conference Premier so I have no idea if he is being targeted. It's not hard to imagine guys at that level getting excited at the idea of one day telling their grandkids how they "did" the legendary Davids (or, if they are refs, sent him off).

Clearly, though, when you rack up so many reds, so quickly, something is seriously wrong. And given that he's the Barnet manager, too, he needs to do something about it.

Who is next for Hannover?

Memo to Hannover: When you fire a manager, it's usually a good idea to have a replacement lined up. Mirko Slomka was let go on Dec. 27, six days after the club's last game, a defeat to Freiburg.

Because that was the day when, presumably, they chose to make a change, it means they have had nine days to find a successor (and possibly longer, if they had had the foresight to prepare a Plan B).

While Basel coach Murat Yakin has ruled himself out, Steaua Bucharest boss Laurentiu Reghecampf and former Red Bull Salzburg coach Ricardo Moniz are supposedly in the conversation.