Another weekend of bad PR for the Premier League
Under normal circumstances, we'd be talking about Chelsea and Manchester United as a riveting see-saw clash filled with interesting tactical battles and superb individual skills.

But, of course, that was all overshadowed by some absurdly bad officiating. Mark Clattenburg's decision to book Fernando Torres for diving was awful. Even if he hadn't seen the contact between Jonny Evans and Torres, it's pretty clear that when a tackle like that is coming in, you're going to take evasive action. Gary Neville, a guy who really can't be accused of having an anti-Manchester United agenda, said as much after the game and he's 100 percent right. That was a foul at best, a non-call at worst. (No,it's not an either/or situation where it's either a free kick or a yellow for diving … sometimes it's simply a non-call and the better referees understand this.)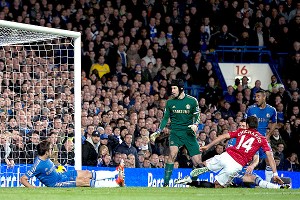 Adrian Dennis/AFP/Getty ImagesIn addition to the controversy over the Fernando Torres sending off was the fact that Chicharito was offside for the game-winning goal.
Equally, Chicharito Hernandez was offside for the winner, and the linesman got it flat-out wrong. What's frustrating here is that -- compared to other decisions -- it wasn't that difficult a call to make. Hernandez is inside the goal itself at the start of the play, he's obviously going to try to get back onside. Sure, Hernandez is small and Petr Cech, the Chelsea goalkeeper, is big and standing in his way, so maybe -- as some have speculated -- the linesman couldn't see him clearly. But that shouldn't make a difference because Hernandez is coming from an offside position. If you can't see him because Cech is blocking Chicharito, it means he's level with Cech and, as there are no other Chelsea players standing behind or next to Cech, he's clearly not onside.

You can't stick the blown offside call on Clattenburg; in those situations the referee has to trust his assistants. And, equally, let's leave the conspiracy theories to one side. Clattenburg also failed to show Torres a red card after his kung fu tackle on Tom Cleverley earlier in the match. There is no dark plot here to favor one team or another. It's simply a case of a referee having a very bad game, and not for the first time.

All that said, everything pales further by comparison to the seriousness of the charges Chelsea leveled at Clattenburg after the match. The West London club issued a complaint to the Premier League, alleging that the referee used "inappropriate language" toward their players. That language reportedly included calling Nigerian midfielder John Obi Mikel a racist term, as well as referring to one of Chelsea's Spaniards as a "Spanish t---."

It's pretty obvious that these are extremely grave charges. If they are proved, Clattenburg's career will be over. When you represent authority, punishment must be stiffer.

There's also a presumption of innocence here that must be taken into account. You hope for a full and exhaustive investigation of the kind that leaves no doubt as to what happened, one way or another. I wouldn't hold my breath. This sort of thing is usually messy, as we saw in the cases of Luis Suarez and John Terry.

You feel a little for the Premier League, too. Nearly 20 years without incident and then three high-profile race-related cases all in the space of 12 months or so.

What's your role?
One more point on Clattenburg. Former referee Dermot Gallagher appeared on TV on Monday and explained that he phoned Clattenburg after the Chelsea-Manchester United match and Clattenburg gave him his reasons for booking Torres.

Here's a memo to Clattenburg and Gallagher. If a referee is going to speak out in public and explain his decisions, it needs to be in public. It can't be privately to a former colleague who happens to be paid to go on TV. You either do this in an official capacity -- and, in any case, only after you've submitted the match report -- or you don't do it at all. Gallagher may be a former referee, but if he gets paid to appear on TV and report on what a match official told him, he becomes a member of the media.

Bad weekend for Serie A
It was a bad weekend for linesmen in Serie A, too. In particular for Luca Maggiani, who struck off what looked like Gonzalo Bergessio's opener when Catania faced Juventus on Sunday. Nicolas Spolli headed the ball goalwards, Francesco Lodi got an extra touch, it caromed off the post and into the path of Bergessio, who buried out.

The referee allowed the goal to stand, Maggiani kept his flag down and then, 44 seconds later, the flag went up to signal the offside and disallow the goal. What happened in those 44 seconds?

According to furious Catania president Antonino Pulvirenti, Maggiani was barracked by Juve's substitutes, who were warming up beside him and persuaded to change his mind. A more plausible explanation is that Maggiani simply got it wrong, possibly because he was thrown off by Lodi's touch; it still would have been onside, but it was a far more marginal decision.

The problem here is that, given Juventus' recent history, the conspiracy theorists are out in force. Again, they're wrong. If there was a conspiracy, Maggiani could have flagged immediately and that would have been that.

That said, Juventus executive Beppe Marotta didn't help either when, after the game, he said that while Bergessio's goal should have stood, the decision ultimately made no difference -- his team would have won anyway.

I'm not sure when Marotta turned into Nostradamus. As it happened, Juventus scored a single goal (and one with a strong suspicion of offside). Credit Marotta for not trying to defend the indefensible. But a bit more sensitivity wouldn't have gone amiss here.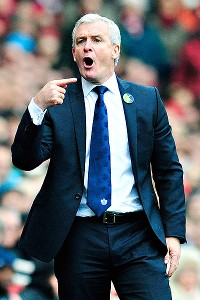 Glynn Kirk/AFP/Getty Images QPR's Mark Hughes is the most beleaguered manager in the Prem.
Sparky on the offensive
More linesmen woes at Goodison, where Luis Suarez's potential decider was struck off for an imaginary offside leaving the Merseyside derby at 2-2, and at the Emirates, where Mikel Arteta's winner against Queens Park Rangers was allowed to stand, despite the Spanish midfielder clearly finding himself in an offside position.

Again, assistants make mistakes, blah, blah, blah … you know the drill. But QPR manager Mark Hughes made a fairly serious allegation after the game.

"The referee has really killed us because Arteta was clearly offside," he said. "[The referee] has conjured up some cock-and-bull story about Ryan Nelsen being off the pitch. It has cost us the point. I've no idea what he is going on about because Ryan Nelsen at no stage went off the field of play."

Again, you hope there was some kind of misunderstanding or confusion here. You can accept match officials making mistakes. But if what Hughes is saying is accurate, if the officials really used Nelsen as an excuse, it's pretty serious. Nelsen, as anyone who watched the sequence will know, was not off the field of play (he's a big dude and kinda hard to miss). That would mean one of two things. Either they suffer from some strange affliction whereby they have visions of imaginary Ryan Nelsens. Or they made up a story to get Hughes off their back.

For their sake, I hope it's the former.

Bayern streak over
Bayern Munich's Bundesliga win streak ground to a halt at eight straight on Sunday, when it lost at home to Bayer Leverkusen. The last time that happened was 23 years ago. Reason to panic? I don't think so.

Leverkusen defended well, looked to hit on the break and exploited individual errors (one of them, uncharacteristically, from Philipp Lahm). But Bayern still had the upper hand, though perhaps without the customary intensity.

The real test for this team will come when everyone is fit (Franck Ribery, Javi Martinez and Mario Gomez were out, while Arjen Robben only made the bench) and Jupp Heynckes will be called upon to put together their right lineup.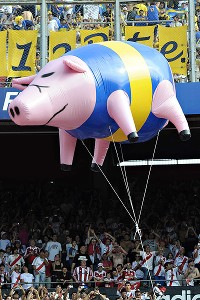 Juan Mabromata/AFP/Getty ImagesRiver fans flew the, er, flag to mock Boca Juniors.
Welcome back, Superclasico
Heartbreak for River Plate in the Superclasico, the first since their return to the top flight. Everything went swimmingly for Matias Almeyda at El Monumental for 75 minutes or so as the home team took a deserved 2-0 lead. Given what River fans have been through, you can forgive them for wanting to rub it in to the Boca Juniors supporters, who were mocked by -- among other things -- a giant inflatable pig dressed in Boca colors.

But then "El Tanque" Silva converted a penalty after a foolish hack from Leandro Gonzalez Pirez. And deep into injury time, it was Silva again who set up Walter Erviti's equalizer to make it 2-2.

A 'super' rivalry renewed

Elation for Boca, despair for River. As a neutral, it's just nice to have the Superclasico back on the menu.

More Lippi service
More silverware for Marcello Lippi. This past weekend, the man who guided Italy to the 2006 World Cup delivered the Chinese Super League title to Guangzhou Evergrande with one game to spare.

It's easy to be cynical. Lippi was offered a lot of money to take over the club; he was given top-notch players like Dario Conca and Lucas Barrios; and, in his five and a half months in charge, simply steered the ship home. After all, when he took over, Guangzhou were already in first place.

Maybe so. But other coaches have taken over in seemingly "easy" circumstances and come up short in the past. And, while I'm sure money played a big part in it, Lippi is already an extremely wealthy man with little left to prove. There are plenty of other things he could have been doing instead of parachuting into a sticky Chinese summer and winning a league title.