Mediocre Milan, Bayern's good news and Vincent Tan's thinking
Referring to the standard of the players on the pitch, the Italian sports newspaper Gazzetta dello Sport called it the "technically poorest" Milan derby in history.

That may be debatable to some point, but you can see where they're coming from. Take out maybe Samir Handanovic, Rodrigo Palacio, Fredy Guarin, Mattia De Sciglio and Mario Balotelli and the rest of the 22 who started the game were (partly) guys who might one day be good, (partly) guys who were once great and (largely) folks who are, at best, honest pros.

Milan manager Max Allegri did what you do in those situations. Without the suspended Riccardo Montolivo's passing in midfield, he relied on intensity and upping the pace. Kudos for taking the initiative, but then you need to do something with it. And even with the promising -- but raw -- Riccardo Saponara making his first-ever start behind Balotelli, there simply wasn't enough quality in the final third.

- Gladwell: Inter edge Milan derby

This was also because -- perhaps predictably -- Inter boss Walter Mazzarri opted to play it safe. Old heads (Esteban Cambiasso, Javier Zanetti) and young legs (Saphir Taider) were deployed in a midfield shield that flooded the space in front of the back three.

If there's one thing we know about Mazzarri it's that his teams know how to defend and the plan worked. Milan slowed down in the second half, worn out by running into a black-and-blue wall, and Palacio pounced with a magical back-heel to give Inter the derby win.

Throw in the fact that the Nerazzurri had a legitimate penalty appeal when Christian Zapata felled Palacio and that Muntari could have been sent off for a horrid foul on Jonathan (well before his red, which in fact was harsh) and there isn't much arguing about the result.

A word on Palacio. He turns 32 in February and to many he's the ugly duckling in this ridiculously gifted generation of Argentine forwards that includes Lionel Messi, Sergio Aguero, Angel Di Maria, Gonzalo Higuain, Ezequiel Lavezzi and Carlos Tevez.

However, he plays with a work ethic and an intelligence that managers adore. He can fill pretty much any role in the front four, he's a great teammate in the dressing room by all accounts and he leaves it all on the pitch.

He won't be the first name on Argentina manager Alex Sabella's team sheet. In fact, he might not even make the starting XI. But he's likely to be -- and probably should be -- a dead certainty to make the 23.

There's no escaping the fact that the Milan clubs are in the midst of long-term rebuilding and structural change, brought on by a slew of factors: overspending, Financial Fair Play, some really poor decisions in recent years and, in Inter's case, a new owner.

The frustrating part is that you fear this might be a lost season for both.

Sure, Inter might somehow contrive a way to finish in the top three and qualify for next season's Champions League, though I wouldn't hold my breath. But then what? Guarin is on his way out, while Cambiasso and Zanetti are out of contract in the summer (plus, obviously, the latter is 40 years old).

Hugo Campagnaro will be 34 in June and it's hard to imagine guys like Rolando or Jonathan in a contending team. Meanwhile Mateo Kovacic, supposedly the playmaking future of the club, has started just six Serie A games, whereas the youth team that won the NextGen two years back has been blown up and dispersed around Europe.

It's a comparable story at Milan. Sure, they went on an amazing run last year to recover and finish third after a poor start. But while they were six points out at this stage last season, currently they are 17 back.

The rebuild must begin now. Play the youngsters, starting with Saponara. Figure out which of the veterans belong next year and which don't.

Except for the Champions League itself -- which, obviously, you need to pursue if only for economic reasons -- devote the rest of the year to preparing for the future (and that includes helping Keisuke Honda and Adil Rami settle after they arrive in January).

If that doesn't happen, there will be few benefits to be had from 2013-14.

Adebayor gives Sherwood a boost

Few players divide opinion like Emmanuel Adebayor, and few seem to be as inconsistent. The Togo striker lined up alongside Roberto Soldado in a somewhat unconventional Tottenham 4-4-2 and was a difference maker, scoring two goals in a win at Southampton that boosted his side to joint sixth in the table, just four points away from a Champions League spot.

- Carter: Three Things from Southampton vs. Spurs

Under Andre Villas-Boas, Adebayor had played just 45 minutes all season (in the 6-0 hammering at Manchester City, no less) and it was obvious he was being frozen out, perhaps in an attempt to persuade him to move elsewhere.

Tim Sherwood, Spurs' caretaker manager, was clever to tap into the 29-year-old's pent-up desire to actually play and perform (all players who don't get on the pitch have that, no matter what you think of them).

It doesn't mean that Adebayor will be -- or should be -- a starter going forward, but it does mean that Sherwood played this one correctly. (It also suggests that Soldado, who was criticized for being one-dimensional but linked up well with the big man, may be better-rounded than people think.)

Meanwhile, Sherwood said after the match that he "wasn't interested" in being Tottenham manager for "five minutes," and some worried that he had somehow gone "off-message" and that this might interfere with the club's wider managerial search.

But what was he supposed to say? "I'm delighted to be here now but I'll disappear without a fuss when the time comes because I have no ambition"?

The next few months will offer some assessment of his ability to lead the team. In the meantime, the search for a manager goes on, with Louis van Gaal the latest boss linked. At first glance, it would be a curious choice.

Van Gaal will be 63 at the start of next season, and while he has plenty of experience and in his day was a tactical visionary, he doesn't do too well when it comes to club politics. His stint at Bayern ended in acrimony for that very reason, as did his return to Ajax as technical director and his second spell at Barcelona.

Calling him an older version of Villas-Boas -- clever but difficult on a personal level -- is harsh, but it's not immediately obvious that this is where Tottenham ought to be looking. Furthermore, with van Gaal in charge of the Netherlands until after the World Cup, he would be getting a late start.

Alternatively, if the Oranje go out in the group stage -- not unthinkable, given their draw with Spain, Chile and Australia -- any early start he did get would come with built-in skepticism.

Good news for Bayern - abroad and at home

Add another trophy to Pep Guardiola's collection. That's 16 of a possible 20 in his career (actually, if you count finishing first with Barcelona B in the Tercera -- the fourth tier of the Spanish pyramid -- he's 17-for-21).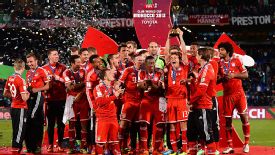 GettyImagesBayern Munich lift the Club World Cup.
Sure, it's the FIFA Club World Cup which many, starting with my ESPN FC colleagues Craig Burley and Steve Nicol, love to deride. But it's one more piece of silverware, and while it may not say much about Bayern's current health, it's still a potential tripwire to avoid.

Once Ronaldinho's Atletico Mineiro contrived to lose to Raja Casablanca in their semifinal, it was that much easier for Bayern and the final itself was a cakewalk.

Guardiola's men were 2-0 up within 22 minutes and coasted the rest of the way against an opponent that seemed awed from the first kick of the game.

Oh, and if that wasn't enough, while in Morocco Bayern got more good news on the domestic front as both Borussia Dortmund and Bayer Leverkusen contrived to lose, to Hertha Berlin and Werder Bremen respectively.

You can see Leverkusen begin to slow down, but Dortmund should come back stronger after the break. As their general manager Michael Zorc points out, they currently have so many injuries that, come late January, it will be like having a bunch of new signings. They can't come soon enough, given the defensive mistakes that marred the home defeat to Hertha.

It won't affect the title race -- Bayern are 12 points clear with a game in hand -- but finishing in the top three and qualifying comfortably for the group stages of the Champions League is a manageable goal.

Not to mention this season's edition of the competition, of course. Zenit in the round of 16 is a manageable opponent, and after that anything can happen.

Pedro puts Barcelona on his back

Half an hour into Barcelona's trip to Getafe it looked like the wheels were coming off. Without Lionel Messi AND Neymar for the first time this season, they were two goals down and looking papier-mache-like at the back.

Enter the Pedro.

The man from Tenerife notched a hat trick in nine minutes to send Barca on their way before setting up Cesc Fabregas for the fourth and winning the penalty that yielded Barca's fifth. "Messi-like" -- in terms of result, if not style -- is the right term here.

- Corrigan: Three Things from Getafe vs. Barcelona

Pedro has scored 14 goals in 26 appearances in all competitions this season. That's impressive enough but, because he often comes into games off the bench, his strike rate is nothing short of phenomenal: a goal every 100 minutes.

Throw in the fact that he's humble, works his rear end off and doesn't seem to mind being an understudy (having been a starter in the past) and you begin to understand just how valuable he is to Barcelona manager Tata Martino.

Valencia's new start

Valencia went on lockdown against Real Madrid this weekend and it almost worked. Their defeat was only prompted by a goalkeeping blunder from Vicente Guaita on Jese's shot which made it 3-2 to Madrid. But managerless Valencia were lifted before kick off with news that Singaporean businessman Peter Lim was ready to to take over the club.

According to a report in Marca, Lim is ready to commit some $550 million to reduce the club's debt, finish building the stadium and invest in the squad. Given that the debt currently stands at $410m and that completing the unfinished 75,000-seat Nou Mestalla won't come cheap either, you wonder how much will be left over to spend on players. Still, at least it should offer some security.

The one concern?

According to Marca, the man who brokered the deal is superagent Jorge Mendes. Given his already outsized influence at a number of clubs (Atletico Madrid, Monaco, Porto), you hope his involvement will be closely monitored.

Mendes does his job within the rules, but his interests don't always match with those of the Spanish game. As with everyone else in his position, what's needed is oversight and transparency.

Understanding Vincent Tan

The problem with doing something stupid once -- beyond the actual deed -- is that folks will believe you're capable of doing stupid things. If you're the kind of guy who generally doesn't speak out and who lives halfway around the world, all sorts of rumors tend to stick with you, simply because they're plausible and you're not around to deny them.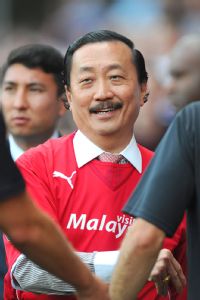 Stu Forster/Getty ImagesVincent Tan bought a controlling share in Cardiff in 2010.
Cardiff City owner Vincent Tan did something foolish. He trampled all over history to change the color of the club's kit from blue to red and altered the crest, removing the bluebird and replacing it with a dragon. We're not sure why exactly he did this, though his entourage say it has to do with being more appealing to fans in Asia who, apparently, like the color red and would rather go into a battle with a dragon than a bluebird.

As a result of this and the fact that he once said he wasn't fully familiar with all the laws of the game, anything becomes believable when it comes to Tan.

Like the fact that, as was reported in many newspapers, he instructed his manager, Malky Mackay, to take more shots from inside his own half, thinking that, due to the law of averages, you could score an average of two or more a game that way.

So even before the events of the past week, we were left with the predictable narrative whereby Tan is an unpredictable owner who wrecks everything in his path and Mackay is the blameless victim with a stiff upper lip.

- Mackay feared the sack

We're not privy to their discussions so we don't know. What we do know is that Cardiff, bankrolled by Tan, had the highest net spend of any team in the Championship last year. And this season they outspent -- in net terms -- every single Premier League club bar Manchester City, Chelsea and, by a whisker, Arsenal.

The media all agree that Mackay is doing a "fantastic job" but you can also see how a businessman who, by his own admission, has a limited knowledge of the game might look at the situation and come up with a slightly different conclusion. Perhaps this?

We spent more than everybody last year and won the league, as expected. We're the fourth-biggest spenders this year, surely we should be if not top four, maybe top eight? Top 10? Instead we're 15th, four points above the drop zone. Malky is a nice guy and all, but surely I'm entitled to expect more?

It's the usual conundrum of how to judge managers and the job they're doing. Analytics folks will tell you that metrics like net spend and wage bill are fairly accurate predictors of a league finish. Well, if Tan buys into that, then maybe Mackay hasn't quite been doing a fantastic job.

Maybe it's Tan and his tens of millions who have done the "fantastic job," and if the job Mackay has done is "fantastic" then how good a job has Steve Bruce -- also newly promoted, but three slots higher in the table with Hull -- done? Outstanding? Phenomenal?

It's a highly simplistic reading, of course. But then it's what you might expect from someone who has shown a frisson of foolishness in the past and is far more a businessman than a fan.

When is a dive not a dive?

After Adnan Januzaj was skewered by the media for his dive against West Ham, which earned him a booking, none other than Gary Neville came to his defense.


So Januzaj Dived - Collins pulled out! A point Ronaldo made years ago- How do I know a big clumsy def will pull out- What if he doesn't?

— Gary Neville (@GNev2) December 22, 2013
If Collins follows through and Januzaj doesn't jump then he gets whacked! Maybe hurt badly! That's why this isn't black and white!

— Gary Neville (@GNev2) December 22, 2013


Neville makes a valid point. There are situations when a player may take evasive action to avoid injury. It's not as if every time you need to call a foul or book someone for diving; there is such a thing as a non-call. That said, I'm not sure James Collins on Januzaj is the best example of this ...

Falcao's uncertain future

Talk about rumors gaining steam. Radamel Falcao hasn't scored in 45 days -- in part because he missed four games through injury, in part because he missed a penalty against Valenciennes -- and the buzz is all about how he will be sold by Monaco in January.

His move to the principality was always somewhat murky. Sure, there was a hefty raise and a massive transfer fee, but Monaco? Really? That's why, all along, the rumour was that the move just a layover on his way to a traditional juggernaut.

Monaco need to play this right and that means either persuading the Colombian to stick around until the summer or selling him to the right club (he's not cup-tied in Europe, which could be key) and reinvesting the funds with a view to kicking it up a notch straight away.

There's enough young talent for Claudio Ranieri's side to make a run at the Ligue 1 title, especially if they strengthen the squad with two or three veteran heads. For all of Paris Saint-Germain's spending, after they were held at home by Lille, the gap going into the winter break in France is just three points.