AVB's departure, Suarez and Neymar's scoring and Dempsey's decision
Tottenham Hotspur lost 5-0 at home to Liverpool on Sunday, and less than 16 hours later, Andre Villas-Boas was no longer in charge at White Hart Lane.

In situations like these, many ask whether the manager "deserved to go." Only that's the wrong question.

Like any football club, Tottenham aren't about handing out gold stars for good performers. The issue of "deserving to go" only makes sense when juxtaposed with targets, some of which are subjective rather than objective. That's why when you make it about "merit," you can often get lost amid spin of every kind.

The more pertinent question is whether the club are better off with a different manager. And because it obviously depends on who that manager is -- if it's Pep Guardiola or Sir Alex Ferguson, probably "yes," but if it's Miley Cyrus or SpongeBob SquarePants, probably "no" -- you need to weigh the probability of the club getting a guy who is better.

- Report: Villas-Boas fired by Spurs
- Brewin: AVB's light fades
- Fitch: Levy making same mistakes
- Crace: Abject Spurs destroyed by LFC

As I understand it, even after the heavy defeat to Manchester City (6-0 on Nov. 24), the club believed that Villas-Boas remained the best option. They felt he showed last season that he could play a brand of football that was both entertaining and effective. The main reservations had to do with his personality and his reaction to adversity: his references to "hidden agendas" (even if they exist, it's generally not a good idea to discuss them in public), his bust-up with the medical staff and some strained personal relationships.

Still, the feeling was that he would steer his way out of it. That it was part of a learning curve for a man who -- lest we forget -- only turned 36 in October and whose coaching experience is limited to 45 months as a head coach and a decade as an advance scout.

By Sunday night that feeling was wavering, but it was still there. Before being shut out by Liverpool, Spurs had won four of five games, and the other was a draw against Manchester United. Yes, they had been awful against Liverpool, and much of it was down to Villas-Boas in terms of team selection and tactical approach. But maybe it was just another blip.

Besides, there was no obvious Plan B. Parting ways with a manager midseason means either you go with an interim boss while you pursue the guy you really want, or you settle for the best available option out there. But as you might imagine, most managers worth having are currently employed, and prying them loose midseason is expensive and difficult. Which means the "best available permanent option" often isn't great or, in any case, isn't not a better option than Villas-Boas.

That was the mindset heading into Tottenham's postmortem summit meeting Sunday night. When the meeting was over, the mindset had changed. And by the time they reconvened again Monday morning, it was more about managing Villas-Boas' exit.

So what happened between the final whistle on Sunday and the announcement Monday at 11 a.m. London time?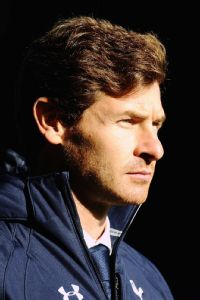 Tony Marshall/Getty ImagesParting ways with Villas-Boas was a big decision for Spurs. Now they face more.
We don't know. But every indication is that something did happen, something that convinced Tottenham that cutting Villas-Boas loose was the right decision. It's hard to explain otherwise, not least because there isn't an instant upgrade out there who is free to join immediately. But mostly because for all of Tottenham's ills -- and three truly wretched performances against Man City, West Ham and Liverpool -- there are only five clubs ahead of them in the table. And fourth place is just five points way.

What's next? My understanding is that Spurs were somewhat unprepared for this. The hunch would be some sort of internal solution (Tim Sherwood?) in the very short term while they consider whether to go with an interim boss until the summer, when many more quality managers will be available, or whether they try to prise their permanent boss loose from some other club.

If there is a silver lining to all this, it's the way Spurs are organized. Unlike some Premier League clubs, there was no omnipotent manager but rather a technical director (Franco Baldini) and a technical co-coordinator (Sherwood) who are responsible for the club's medium-term strategic vision. They ran the summer transfer campaign together with AVB and, presumably, they believe in the signings. What this means is that (again, presumably) in making the appointment, Spurs will choose someone who shares their vision and their belief in the summer newcomers.

That will spare the club what we so often see in the Premier League: a manager coming in midseason and demanding money to "bring in his own players." Whoever's appointed will have to take ownership of this squad from day one.

Suarez keeps on scoring

Wow. It's now eight goals for Liverpool striker Luis Suarez in his last three games, which puts him at 17 goals in 11 Premier League appearances this year.

He's on pace to score 40 league goals this season, which would pulverize the PL record of 34 jointly held by Andy Cole (1993-94) and Alan Shearer (1994-95). But it doesn't end there. Oh, no. Suarez, of course, missed the first five games of the season due to suspension. Not only that, but Cole and Shearer set their marks at a time when the English top flight featured 22 clubs (and therefore 42 games, four more than now).

- Usher: Watershed win for Liverpool?
- Walsh: Reds' rampant midfield

A striker on this level can carry a team on his back, though to be fair, the entire Liverpool side were exceptional on Sunday. So much so that some have even suggested that this team might be better off without Steven Gerrard, who was absent against Tottenham (as was Daniel Sturridge).

Let's not get carried away here. Gerrard may be slowing down -- he's 33 years old -- but his game is adjusting, as well. And in terms of technical ability, Suarez aside, Gerrard remains one of the most gifted players at the club. It's now up to Brendan Rodgers to make this team work with Gerrard in the middle.

A true "dream team"?

It's actually nice when footballers do the kinds of things that fans like to do. Like play that game where you figure out how many players from one team would get into another. It doesn't happen often because, well, taken in the wrong spirit it becomes media fodder.

- Schaaf: Bayern are Herbstmeisters!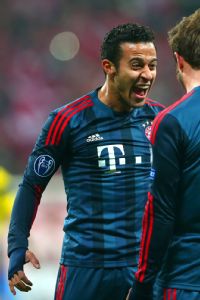 Alexander Hassenstein/Bongarts/Getty ImagesThiago moved from Barcelona to Bayern in July.
Maybe it was the fact that he has started Bayern Munich's past five games following a three-month injury layoff, including the 3-1 win over Hamburg on Saturday that saw the Bavarians crowned the Bundesliga "winter champion." Either way, it was rather neat to see Bayern midfielder Thiago Alcantara pick his combined Barca-Bayern XI while speaking to Spanish radio network Cadena Ser.

As a club, Alcantara takes Bayern over Barca (understandable) and as a city, Barcelona over Munich (with respect, equally understandable). Then, position by position, he comes up with the following:

Victor Valdes -- Dani Alves, Gerard Pique, Dante, David Alaba -- Sergio Busquets, Xavi, Andres Iniesta -- Thomas Muller, Lionel Messi, Neymar

Add them up and Barca win out 8-3. Which seems rather harsh.

(Though, to be fair, the either/or line of questioning had him choosing Sergio Busquets or Phillip Lahm, with the latter as a midfielder. As a right-back, you'd think he may have taken the German over Dani Alves, who instead was paired with Rafinha.)

Taking Victor Valdes over Manuel Neuer might also raise some eyebrows, and taking Xavi over himself was also something of a "gimme."

Ultimately it's a talking point and something to debate, something which fans do all the time. I just hope he doesn't get pilloried for it in the media (or, worse, in the dressing room).

What does Aguero's absence mean?

It will be interesting to see how Manchester City manager Manuel Pellegrini copes without Sergio Aguero. The Argentine striker is reportedly out for a month, which presents a bit of a tactical conundrum that was the only sour note emerging from City's 6-3 victory over Arsenal.

Do you replace Aguero with another forward, like Edin Dzeko or Stevan Jovetic? Or do you go 4-2-3-1, with David Silva, Samir Nasri and Jesus Navas behind Alvaro Negredo?

- Curtis: Electric City

A fully fit and productive Jovetic would probably be the most natural replacement but he hasn't played since October. A Dzeko-Negredo partnership would certainly be unorthodox for the opposition but, likely, a big adjustment for City as well.

My guess is that we'll see plenty of Negredo on his own up front as the base formation. Bear in mind, though, with the usual congested fixture list over the holiday season, Pellegrini will necessarily have to rotate.

And that's not a bad thing, as it will allow him to experiment a little bit and make City an even more rounded attacking force.

Neymar finds his scoring touch

After Neymar's double strike against Villarreal – which came days after a hat trick against Celtic -- he now has 10 goals and 10 assists in all competitions for Barcelona this season.

It's premature to suggest that his club can do without Lionel Messi and not miss a beat -- witness the back-to-back defeats to Ajax and Athletic Bilbao -- but clearly the Brazilian is growing and can pick up the slack.

- Tomas: Neymar sinks Villarreal

Villarreal manager Marcelino's tight 4-5-1 formation congested the space effectively for much of the first half and, with hindsight, Barca manager Tata Martino's choice of playing Alex Song and Sergio Busquets together might have been defensive overkill. But once Cesc Fabregas dropped deeper and Neymar had more license to roam, things picked up for Barcelona and they grabbed a 2-1 victory.

Argentina's defensive solution?

"Musacchio is an Argentine" read the banner laid out by Villarreal supporters at the Camp Nou. No mystery over who it was aimed at: Argentina coach Alex Sabella.

Mateo Musacchio, the 23-year-old central defender, has been a rock this season for his newly promoted club, who are currently fifth in the table.

He does have two caps for Argentina, but those came way back in June 2011, before Sabella took over. Since then, Musacchio has been regularly ignored, possibly because he's not exactly of a hulking size.

Sabella's attitude toward the defender is somewhat curious, particularly since the days of Daniel Passarella and Oscar Ruggeri are long gone, and it's not as if Argentina are particularly deep at the position.

It seems bizarre that guys such as Fedo Fernandez and Facundo Roncaglia get considered for La Albiceleste, but Musacchio remains overlooked.

Welbeck takes his chance(s)

There have been enough false dawns that there's reason to be cautious, but if manager David Moyes plans to line Manchester United up the way he did against Aston Villa, then Danny Welbeck may well be the right stand-in for Robin Van Persie.

Welbeck played furthest forward -- with Wayne Rooney behind and Adnan Januzaj and Antonio Valencia wide -- and scored two goals in United's 3-0 win.

- Okwonga: United's grand day out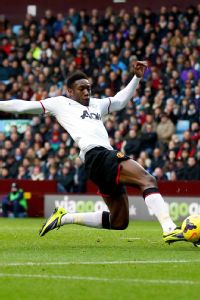 Matthew Lewis/Getty ImagesWelbeck took his tally of goals this season to five with a brace at Villa Park.
The knock on the 23-year-old is that he doesn't score much, and it's true: 15 goals in 75 Premier League games for the Old Trafford side is not prolific, though many of those games were either as a substitute or as a winger.

But if Welbeck does his thing, he doesn't need to score to be effective. The threat of his raw speed over the top forces opposing defences to sit deeper, and his willingness to make runs opens space for Rooney and the wingers.

Relative to "Chicharito" Hernandez, Welbeck can make more of a contribution in this system even when he's not getting goals.

A case for the defence

So much for the stereotypes, eh?

Napoli's Rafa Benitez and Inter's Walter Mazzarri both are managers with a reputation for stout, organized defending, but there was precious little of it on display in Napoli's 4-2 win over Inter on Sunday night. So is it the managers or is it the personnel?

I'd lean toward the latter. Hugo Campagnaro is an overachiever; when Andrea Ranocchia plays badly, he really, really looks bad; and Rolando looked like what he is -- a short-term loan body.

As for Napoli, Raul Albiol is intelligent and gifted, but painfully slow. Fedo Fernandez has hardly played (31 league starts in two and a half seasons) since moving to Europe from Estudiantes, and you can see why. And there's a reason why Antoine Reveillere was unattached to any club until last month.

It's not that these two sides are attacking juggernauts, but when both defend so poorly, the forward players go to town.

Dempsey's decision

The Guardian has reported that Clint Dempsey could return to Fulham for a two-month loan on Jan. 1, with a view to returning to the Seattle Sounders for their preseason. You're not going to fault a guy for wanting to be out there on the pitch, but you wonder if it's the right decision.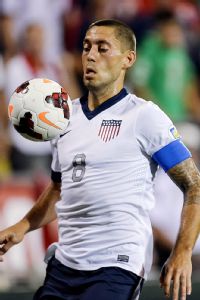 Jamie Sabau/Getty ImagesBack to the Cottage? Dempsey has been linked with a Fulham return.
Dempsey is 30 and missed nearly a month of the MLS season from mid-September to mid-October. Fulham don't have an immediate, obvious need for someone in his position. And, of course, with the World Cup coming up next summer, perhaps Dempsey could use some rest.

That said, an intelligent, self-aware athlete knows his body like no one else. If Dempsey thinks this is what he wants to do and it's good for him, you need to put your faith in him.

And if you're managers Sigi Schmid of the Sounders or Jurgen Klinsmann of the U.S. national team, you keep your fingers crossed.

Muntari may eat his words

Last week AC Milan midfielder Sulley Muntari was asked who he hoped his side would get in the Champions' League draw.

"Atletico Madrid, because they're the weakest side," he said.

It was classic "careful-what-you-wish-for" stuff. Milan will indeed face Atletico Madrid, and the Ghanaian just provided them ideal bulletin-board material while making everyone else wonder whether he's paid much attention to La Liga or to the Champions League group stage.

On Sunday Atletico rolled over Valencia 3-0, becoming the first team to keep a La Liga clean sheet against them in nine months. Diego Costa scored twice to bring his league total to 17 and draw him level with some guy named Cristiano Ronaldo.

Manager Diego Simeone's crew remain level at the top with Barcelona. Will Atletico Madrid slow down at some point? Probably, if only because their squad isn't that big.

But one thing is sure. If Muntari is happy at the prospect of facing Atletico Madrid, rest assured the feeling is mutual.

Tragedy in Brazil

On Saturday, a construction worker fell 115 feet to his death at the Arena da Amazonia, the partly built World Cup venue in Manaus. It's the second work-related death there this year and the third in less than a month.

Whatever pressure is being put on Brazilian authorities to finish the venues on time needs to be tempered by concern for worker safety. That much is not up for debate.

All we can do is hope for a full investigation and, if there is no way to finish the work on time while also guaranteeing an acceptable standard of safety for the construction workers, then it becomes time for Plan B.

Twelve venues are planned, and nine are finished. There were only 10 in South Africa, with the same number of games. Safety is paramount and, if necessary, what you do is simply reallocate the matches.

But you never -- ever -- compromise when it comes to safety.