Violence in Brazil, pressure on Moyes, Leverkusen's season
RIO DE JANEIRO -- Images of the graphic drogue-like violence at Sunday's game between Atletico Paranaense and Vasco da Gama made their way around the world within seconds. The odd, truculent psychopath excepted, most were sickened.

When it comes to mass public violence, different images resonate differently. We have different triggers. For me, the worst horror lay in the supporter whose head was being stomped into the concrete. And the Atletico PR fan lying upside down on the sloping seats, his limbs at crazy angles.

A friend told me he was most creeped out by the crush that formed when Vasco fans were pushed back against a barrier by the advancing opposition. I can see why -- he was at Hillsborough in the spring of 1989 and once spoke of the "sound of bones breaking."

Incredibly, early reports here in Brazil suggest that only three supporters are still hospitalized and, thankfully, their lives reportedly aren't in danger (depressingly, only six people have been arrested ... hopefully there are more to come).

Coming less than 48 hours after the World Cup draw, it's inevitable that folks will question Brazil's ability to safely stage the world's biggest sporting event. So perhaps some perspective might be in order.

First and foremost, there appears to have been a gigantic -- and irresponsible -- breakdown in security. Atletico PR were playing this game in a neutral venue, Joinville, as punishment for prior fan trouble at home. Local authorities in the state of Santa Catarina decided that safety inside the stadium would be guaranteed by a private security firm hired by Atletico PR and not by the police, who were stationed inside. Law enforcement were to intervene inside the ground only if a "substantial risk" developed.

Well, it did. And while the cops got in there as quickly as they could, it obviously took them more than it would have had they been there are already. Plus, there wasn't much of a deterrent factor.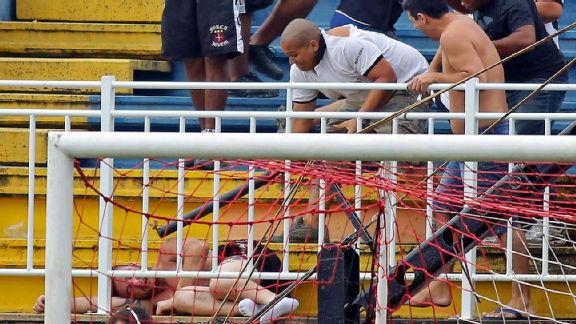 Heuler Andrey/AFP/Getty ImagesThe scenes from the Aletico vs. Vasco game in Brazil were disturbing and illustrates the concerns over security for next year's World Cup.
And as for the "private security"? Brazilian media showed a dozen or so guys in orange bibs lined up in the stands, ostensibly providing a buffer. When the trouble began, they disappeared. To what degree these folks were actually trained to do their jobs, as opposed to being just random people in orange outerwear, is one of the things that must be determined.

All that said, it's worth remembering that the state of Santa Catarina will not be in charge of security arrangements at the World Cup. No games are being played there. Instead, it will be the 2014 World Cup organizing committee in conjunction with the Brazilian government. And with FIFA keeping a watchful eye.

Whatever criticism can be leveled at FIFA -- and there is plenty -- they know how their bread is buttered. When it comes to safety, they demand that authorities err on the side of caution. Violence juxtaposed with the World Cup and the FIFA logo is bad for business. Sponsors, TV companies and the guys who sell the inflated travel packages don't like it. This was obvious -- for better or worse -- at the Confederations Cup, when organizers had to cope with mass street protests that were totally unrelated to hooliganism, but still a major concern.

Beyond that, anybody who knows even a little bit about the game will know that wanton hooliganism and score-settling between degenerate fans has little to do with international football. The Vasco and Atletico PR supporters who fought on Sunday were after one another. In their twisted code, you beat the crap out of your rival (or, where possible, the police). You don't mess with civilians.

International football simply has a different vibe and attracts a different sort of traveling fan (with a few exceptions, thankfully from countries a hemisphere and an ocean away). I remember one of those "hidden camera" documentaries on a British broadcaster airing before Germany 2006. Ostensibly, it featured some kind of "hooligan fixer" working his phone to arrange mass World Cup brawls between German, Polish and English hooligans. None of it ever materialized, despite the fact that these guys were a short train ride or budget airline hop away from one another.

Brazil has serious issues to confront between now and June. They include street crime, logistics, stadium readiness and price-gouging. But what happened on Sunday -- shocking and tragic as it was -- has little to do with the World Cup.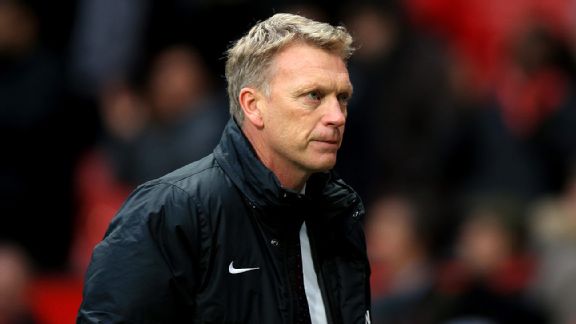 Richard Heathcote/Getty ImagesDavid Moyes's future is looking more uncertain with each loss.
Pressure's really on David Moyes: Saturday's defeat at Old Trafford against Newcastle was Manchester United's second straight home loss. It also means United will go at least a month between Premier League victories, and that the pressure is very much on David Moyes.

Every indication is that the Glazers will stick with Moyes. He has the backing of Sir Alex Ferguson, sacking managers is expensive, whoever comes in will likely want licence to rebuild the squad (which will be even more expensive) and, most of all, there is confidence that Moyes can get it right.

You can deal with one bumpy campaign if there's a payoff -- aka steady improvement -- in Year Two.

But there is one factor that can change that outlook considerably: failure to qualify for the Champions League. Here, the numbers don't look to be in Moyes' favor.

United have 22 points from 15 games, a clip that would see them finish on 56. Compare that to Manchester City, currently fourth, who are on pace to end up with 73. Assuming City maintain that rate, United would need to accumulate at least 51 points from their final 23 matches, or 2.22 points per game. Or if you prefer another model, in the past five seasons, the fourth placed side gained an average of 70.4 points. That works out to 2.13 points per game.

It's doable. United has bettered that mark in eight of the past nine years. But, of course, that was Sir Alex's United. And what's more, there is very little margin for error left.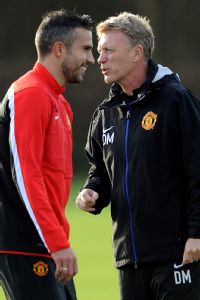 Chris Brunskill/Getty ImagesNeither David Moyes nor Robin Van Persie will be smiling if United miss the Champions League.
On paper, United can run the table in the next six games: Aston Villa, Hull and Norwich away, plus Spurs, West Ham and Swansea at home. They'll need at least four wins out of those six. Less than that and getting into the Champions League will likely require at least 41 points from their final 17 fixtures, which include trips to Stamford Bridge and the Emirates. And that could simply be too much to ask.

Failure to reach the Champions League means missing out on anywhere from $40 million to $100 million in revenue. The club is obviously a cash cow and it can take a hit or two in the revenue department. Then again, the Glazers -- as has been abundantly clear since they rolled into town -- are running a business, one designed to maximize profit. The double whammy of enormous lost revenue and, presumably, Moyes telling them he needs new investment to get back in the Champions League, could lead them to think they'd simply be throwing good money after bad by giving him access to the checkbook.

That's the risk Moyes is running right now, which is why the next five weeks could determine whether he's back next year. The margin for error is already very small. A couple more missteps and it could become wafer-thin.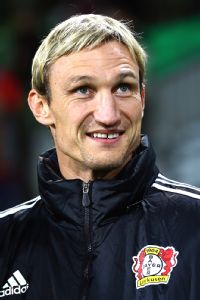 Alex Grimm/Bongarts/Getty ImagesBayer Leverkusen's Sami Hyypia has turned the side into a legit Bundesliga contender.
Bayer show that results don't require beauty: So much for the idea that we live in an age where you need to play sparkling football to win. Bayer Leverkusen aren't just second in the Bundesliga, they have 37 points from 15 games. Only twice in the past decade has a team accumulated more points after 15 rounds. And in both cases, that team was first by a comfortable margin. Leverkusen, on the other hand, are stuck four points behind table-topping Bayern, which tells you all you need to know about the Bavarian steamroller.

The remarkable part is that Sami Hyypia's team are a throwback. Direct and physical against smaller teams, cynical and counterattacking against their equals. We saw it again on Saturday against injury-riddled Borussia Dortmund. Leverkusen sat deep, punished a defensive error by Manuel Friedrich (starting again in a back four with zero first-choice players) with Heung Min Son's goal and then played on the counter the rest of the way. They were outshot, outpossessed and outpassed but, hey, it didn't matter because they got the three points.

In Hyypia's defense, Leverkusen were missing regulars such as Stefan Reinartz and Sidney Sam, but that pales compared with Jurgen Klopp's injury issues: His starting lineup was lacking not just the aforementioned first-choice defense, but also the likes of Ilkay Gundogan and Marco Reus.

There's nothing wrong in doing it the Hyypia way. It's intense, it's spirited and, ultimately, a manager has to play to his strengths. Though it may not always be aesthetically pleasing -- and when it goes wrong, it goes wrong badly, as in the CL hammerings at the hands of Manchester United or the league defeat to cellar-dwelling Eintracht Braunschweig -- but it's nice to see some variety among Europe's top teams.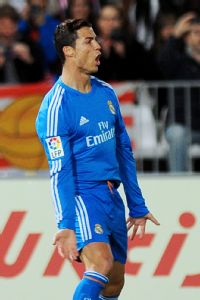 Jorge Guerrero/AFP/Getty ImagesDespite rumors suggesting otherwise, Cristiano Ronaldo appears to be pretty loyal with Real Madrid.
Ronaldo revelations? So Leonardo, Paris Saint-Germain's former director of football, has confirmed that PSG "did everything possible" to sign Cristiano Ronaldo. He told the French TV show "TeleFoot" that, "however, it was simply impossible."

Not because, according to Leonardo, Real Madrid weren't willing to do a deal. But, rather, simply because "he wanted to stay."

In some ways, that's comforting. It's confirmation that some superstars are motivated by more than simply money. Because when you make north of $30 million a year, another $10 or $20 million aren't going to change your life.

What to do about Pirlo? Andrea Pirlo becomes a free agent in June and the suggestion in Italy is that the hold-up isn't financial, but rather down to him wanting a three-year deal. Juventus would be best served to think long and hard about this before they sit down with his representatives, most likely in February.

Pirlo has been outstanding, yes. And he's been -- incorrectly -- written off once before. But he turns 35 in May and at some point, injuries are going to catch up with him (in fact, they already have, as he's out until the new year).

Having already locked up Arturo Vidal to a long-term contract, the priority now must be taking care of Paul Pogba, not Pirlo. Juve are blessed with four top-quality central midfielders in Pogba, Vidal, Pirlo and Claudio Marchisio, who is slowly coming back after a rough start to the season. They have the luxury of playing the waiting game with Pirlo and hard-balling him if they so choose.

As such, Juve ought to think of the future and do just that before they lock themselves into an expensive, long-term deal that could mean fewer resources to throw at Pogba.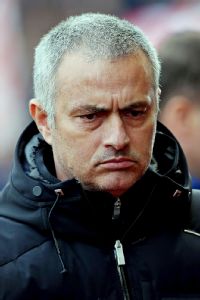 Scott Heavey/Getty ImagesJose Mourinho may have to look at himself and his tactics to turn Chelsea's striker struggles around.
Time for Mou to change? So Jose Mourinho is frustrated that his strikers aren't scoring. He rattled off the goal totals of a range of Premier League front men and added: "If we had [a striker with] eight [or] 10 [or] 12 goals we would be top of the league. That's a reality, but my strikers give everything and the team works hard. What more can you do more?"

As I've said before, it's too simple to point to the fact that there's a Chelsea striker with eight goals already this season in Romelu Lukaku; it's just that unfortunately for Mourinho, he opted to loan him to Everton.

Equally, it's obvious that Fernando Torres, Demba Ba and Samuel Eto'o haven't performed as hoped. But it's worth remembering that Eto'o was hand-picked by Mourinho, and that only two Premier League sides -- Liverpool and Manchester City -- have scored more goals than Chelsea this year.

All that said, if your game plan is so reliant on your front men scoring and they're not getting it done, maybe it's time to come up with a different plan.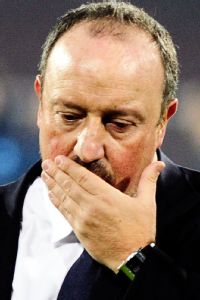 Roberto Salomone/AFP/Getty ImagesRafa Benitez needs to improve Napoli's defense if the club wants to be a Serie A contender.
Napoli's leaky defense: There's something ironic in the fact that Rafa Benitez, who built so much of his success on a strong defensive base and tactical acumen, should be saddled with the kind of back four Napoli have.

Saturday's 3-3 home draw with Udinese was a back four horror show. If Napoli don't clinch a Champions League slot this season, you'll know where to look.

Yes, some of it is on Rafa. His star defensive signing is Raul Albiol, a guy who started an average of 11 league games in the past three seasons. While intelligent and gifted in the ball, he's hardly a speedster and at 28 years old, he isn't going to get any quicker. Christian Maggio is a wonderful wing-back, but put him in a back four and you're rolling the dice. Miguel Britos is not a starter at this level, and the less said of Fedo Fernandez, the better. On the left, Rafa gets a pass given the rash of injuries, and indeed, Antoine Reveillere looked like what he is: a guy unattached to a team who was plucked off the street.

Benitez himself says they need to improve the back. Maybe help will come in January. But it's surprising that this would be the weak spot in a Benitez team. The real shame is that it could undo all the excellent work he has done with Napoli at the other end of the pitch.

Final word: Bayern's undefeated streak in the league is now at 40 games, following the 7-0 pounding delivered to Werder Bremen. The next longest is Roma's 17, followed by Everton and Inter at 8, then Wolfsburg and Juventus at 7. Crazy stuff.