Barca's bad week, Prem spending outrage, Rooney's form, more
One of Tata Martino's tasks as Barcelona manager was to vary their style of play and make the team less dependent on Lionel Messi by helping Neymar's integration into the side. By and large, Martino was getting there without sacrificing results, as evidenced by the 16 wins and four draws in the club's first 20 games of the season in all competitions.

But after back-to-back defeats -- against Ajax in the Champions League and at Athletic Bilbao on Sunday -- it's inevitable that his progress would be reassessed. And while the overall impression is that you can explain away many of Barca's issues -- starting, obviously, with the absence of Messi, but also of Dani Alves, Jordi Alba and Victor Valdes -- the club showed little progress Sunday .

Playing Cesc Fabregas as a theoretical "false nine" obviously isn't like having Messi in the role. Fabregas doesn't accelerate and take on opponents in the same way. He becomes another guy to hold possession in the middle of the park, which is fine when Xavi and Andres Iniesta are on top of their game, but less so when they're not.

Also, if you're going use Fabregas in that way, you can't keep Alexis Sanchez and Neymar as wide as they were at the San Mames because it means you then lack an outlet or a vertical threat. The result is a lot of possession -- 62 percent for Barca -- but much of it sterile, which is part of the reason why Athletic outperformed Tata's crew both in terms of shots and shots on goal.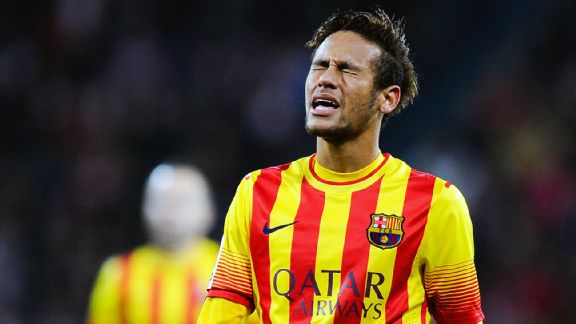 David Ramos/Getty ImagesBarca's woes could easily be a hiccup, but Neymar & Co. need to work on their consistency.

And sure, Ander Iturraspe probably should have seen red rather than yellow for hauling Neymar down as he bore down on goal, but that was nearly an hour into the game. And Barcelona did little before that to show they were clicking, while poor old Gaizka Toquero was fluffing multiple chances at the other end.

- Rigg: Liga momentum swings to Madrid
- Ledwith: Time for Barca to worry?
- Busquets: Barca loss down to ref
- Wrap: Bilbao's stunning win

"They deserved to win," Sergio Busquets said afterwards. "The game got more physical and they had more intensity than we did." He's right, but Athletic showing physicality and intensity at the San Mames against Barca is about as surprising as rush-hour traffic.

So did Martino get a single game wrong or are there deeper problems?

Tata didn't help himself, but the good news is that there are only three games left until the much-needed winter break, and Barca have more than enough to win all three. Some of the individual performances, though, require review. Javier Mascherano looked iffy and Neymar inconsistent (though he did force a tremendous save from Gorka Iraizoz). Out wide, Martin Montoya and Adriano offered confirmation of just how different Barca can be without Jordi Alba and Dani Alves. As for Xavi, the old physical bugbears popped up again. The old warrior is slowing down, and Barca need to figure out if it's a blip or something more worrying. If it's the latter, how do you best use him?

As for Bilbao, their early-season jitters seem gone. They've lost just once since September -- and that was away to Atletico Madrid. Ernesto Valverde is squeezing the best out of them after last season's collapse, but as a neutral, you watch this with a bit of melancholy. You wonder what this club might be like if Javi Martinez and Fernando Llorente (the real one, not the emasculated version of last season) were still around. Sure, this is a business and players move on. But Bilbao is a big club. And there's something wrong, frankly, with a game that makes it so difficult for a traditional powerhouse to hang on to its stars.

Well done, Wayne
Wayne Rooney was arguably man of the match for Manchester United against Tottenham, just as he was their best player against Cardiff. He's in sparkling form, and that's key for United given the weighty absences of Michael Carrick and Robin Van Persie.

- Brewin: Rooney saves United
- Read: Team of the Weekend
- Okwonga: United lose more Prem ground
- Fitch: Spurs take forward step
- Nicol: Manchester mediocrity?
- Hislop: Are Spurs happy with a point?

Without Carrick, the midfield simply isn't working. Without Van Persie, Rooney seems to be thriving. The challenge for David Moyes will be to make sure both find a way to be productive and to make each other better once the Dutchman returns. Given United's problems this season -- and how long it's taking Moyes to fix them -- the club need their three key attacking weapons to work together in harmony now more than ever before.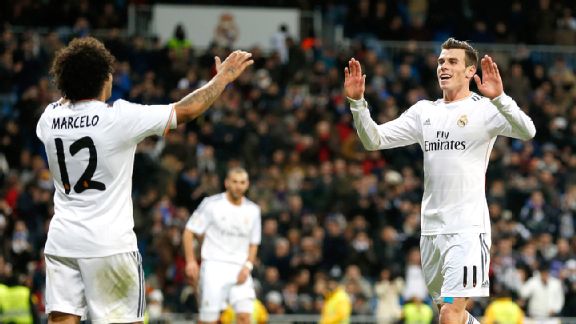 Helios de la Rubia/Real Madrid via Getty ImagesGareth Bale's hat trick underscored the embarrassment of attacking riches at Real Madrid's disposal.
Bale comes up big for Real
It's called a "perfect hat trick" -- left foot, right foot, header.

And it's what Gareth Bale delivered on Saturday for Real Madrid against Real Valladolid. Even before this game, he had delivered six goals and six assists this season in just 755 minutes on the pitch. For a guy whose massive fee led to considerable skepticism (including from yours
truly) those are pretty good numbers, particularly when you consider he didn't have the benefit of a preseason.

- FC on TV: Bale hits three
- Train: Bale eases Ronaldo loss

There may still be some issues of balance for Carlo Ancelotti to sort through when Cristiano Ronaldo returns. But what appears clear is that Madrid's core of attacking midfielders -- take those two and throw in Isco and Angel Di Maria -- are playing as well as any group in Europe.

Cut the outrage over Prem spending
Every year around this time, a report is issued listing the amount each Premier League club paid in fees and commissions to agents last season. This year, it's nearly $160 million between Oct. 1, 2012 and Sept. 30, 2013.

Predictably, it was greeted with the usual moans of agents "taking money out of the game," whatever that means. I guess it's a tiny bit of transparency in a murky sport, but taken out of context, the figure means nothing. A $4 million commission on Player A might be a colossal waste of money if it wasn't necessary to deliver the player or if the player is useless. Or it could be cash extremely well spent if the guy is a superstar and the transfer fee is low or you might not have gotten him otherwise.

If the game is serious about transparency, it should itemize the fees: who paid how much and to whom and for what player. And while they're at it, make the transfer fees public along with the size and length of the contract. That's how you promote transparency. That's when you can have crowd-sourced oversight. That's when it becomes harder for bribes and backhanders to be paid out. That's when you can then ask questions and demand accountability.

Until that happens, these numbers are completely meaningless. And as for "taking money out of the game," it's a trite, silly thing to say.
It's not as if money paid in wages "stays in the game" either. Or money paid in compensation to coaches and club executives.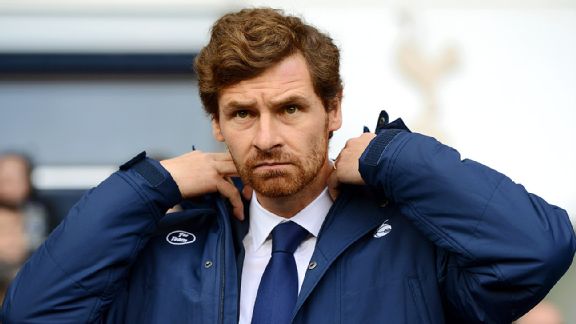 Michael Regan/Getty ImagesAndre Villas-Boas is feeling the heat from fans and media alike, but a few wins will cool any such speculation.
No agenda against AVB ... yet
Andre Villas-Boas is angry. He feels the criticism against him is "aggressive and agenda-driven." In a perfect world, he would have the opportunity to illustrate his point further.

Whose agenda? And does it even matter?

If he thinks there's someone within White Hart Lane who is conspiring against him, then it does matter. But from what I've been told, that's not the case. For better or worse, Daniel Levy isn't looking to undermine him just 16 months into his tenure and after achieving Tottenham's highest points total since 1985 last season. Nor is the club's director of football, Franco Baldini, out to get him. Remember, this is the guy who tried to sign Villas-Boas when he was at Roma and the guy who AVB wanted on board to help deliver players. I don't know that there's anyone else in the Spurs hierarchy whose opinion matters.

(One guy whose opinion definitely does not matter in this case is Alan Sugar, the club's former owner, who has been crucifying Villas- Boas on Twitter all season long.)

- Crace: Does Villas-Boas have a point?
- Report: AVB hits back at media

If he's talking about the media, there's a pretty simple rule. Not everyone gets the same treatment. You build up credit over the years, based on how you perform and how you treat the guys who cover you.

Villas-Boas hasn't been around very long. He may be a former managerial wunderkind (yes, he's still just 36 years old) but he doesn't have years of obvious achievements of the kind that would prompt the critics to go easier on him. Plus, he doesn't suck up to the press. He's clashed with some pretty powerful folks -- players, managers and ex-managers -- in the English game in the past two and a half years. Guys who don't need much prompting to rubbish him and his ways.

But guess what? String a few results together and it will all go away. The "anti-AVB agenda" becomes a problem for him only when his bosses buy into it. And they know better.

How to use a guy like Mario Goetze?
One of the more intriguing facets of Pep Guardiola's Bayern revolution was what he was going to do with Mario Goetze. With plenty of options already in attacking midfield, the rumor was that he would turn the wunderkind into a "false nine," Bayern's answer to Lionel Messi.

- Schaaf: Bavarians grind out a win
- FC on TV: Can Bayern be stopped?

We've seen Goetze start only a couple of games in this role and the jury remains out. Yes, Bayern win when he plays up front -- he set up one of Arjen Robben's goals in Saturday's 2-0 win over Eintracht Braunschweig -- but then again they usually win anyway. He certainly has the technique to play the position and the movement and vision to make it work. The question, though, is whether it makes sense to push this experiment when you know Robert Lewandowski is on his way next year and you'll have to move Goetze elsewhere.

Then again, Pep likes his options. And in the modern game, maybe fixed positions are overrated anyway.

Man off the mark for Monaco
James Rodriguez was in serious danger of being remembered as the summer's biggest transfer bust. Monaco paid $60 million for his services, yet before Saturday's game against Rennes he had started just eight of 14 Ligue 1 games and generally failed to impress.

He got off the blocks on Saturday, scoring a goal and turning in his best performance yet in Monaco's 2-0 win. And he did it playing effectively in a free role, behind Emmanuel Riviere and 17-year-old Anthony Martial (Radamel Falcao was injured). Claudio Ranieri evidently put his trust in the right guy at the right time.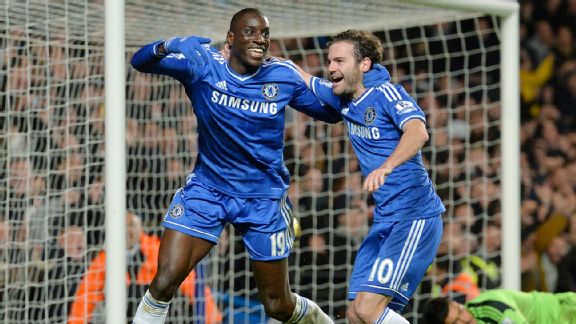 Ben Stansall/AFP/Getty ImagesDemba Ba and Juan Mata, two marginalized men under Jose Mourinho, profited from Chelsea's halftime tweaks and led the Blues to victory.
Mou's changes rescue the Blues
Sometimes managers at top clubs simply sit and let their highly paid superstars make the difference on the pitch. And sometimes they very much earn their keep.

Jose Mourinho's Chelsea were coming off a horrid performance away to Basel in the Champions League. They went a goal down against Southampton within seconds following an errant back-pass from Michael Essien. And for the entire first half, they were pegged back by Mauricio Pochettino's high press.

At halftime Mourinho made the tactical switch that changed the game. Demba Ba came on and Chelsea changed to a 4-4-2 formation, which turned into a 4-3-1-2 when in possession as Juan Mata tucked inside from the left flank. It enabled the home side to break Southampton's grip and afforded Mata (who, it's well-documented, hasn't been Mourinho's favorite player this season) the chance to influence the match.

- Lythell: Chelsea turn second-half tables
- Delaney: Blues find form

Chalk this one up to the manager. He may have made a mistake in starting with Essien and may have been out-thought tactically in the first half, but he found the right approach in the second 45 minutes. Furthermore, he ensured that his team maintained the mental strength to bounce back.

Milan's frustrating flirtation with change
So now Adriano Galliani is apparently sticking around at Milan. After 27 years at the club -- and 28 trophies, as he likes to point out -- his resignation has been withdrawn. Or, more correctly, it won't be tendered, much to the chagrin of those who thought that change at the club was good and necessary, so much so that they were willing to roll the dice on the 29-year-old Barbara Berlusconi (albeit with Clarence Seedorf and Paolo Maldini ready to help out).

Supposedly, a two-hour meeting with owner Silvio Berlusconi led to the mother of all compromises. Galliani will deal with the playing squad and the Academy. Barbara will handle everything else. They will be co-chief executives.

- FC on TV: Milan's 'makeover'

OK, so the guy who was being criticized for his scouting network and for not pushing the youngsters (or developing them), and who seemed to deal only with a small circle of agents, will still be running the football side.

And the commercial side, which was actually doing quite well, will now be run by a 29-year-old with little discernible experience on this scale. And, again, there will likely be no place for Seedorf or Maldini.

Sometimes it's better to pick one path and stick with it. But hey, at least this way Berlusconi saved himself that insane $60 million severance package that was reportedly heading Galliani's way.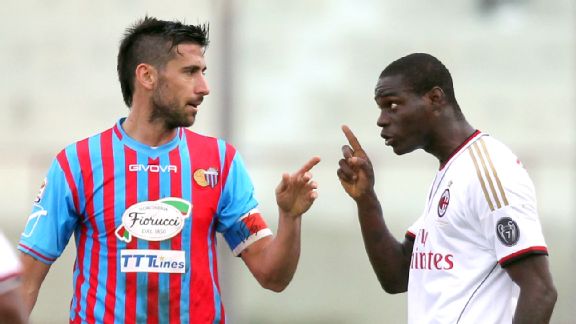 Maurizio Lagana/Getty ImagesIt might never be clear what Nicolas Spolli said to Mario Balotelli, though if the Catania defender is found guilty, new guidelines will punish him firmly.
Spolli under the spotlight
During Milan's 3-1 win at Catania, Mario Balotelli claimed he was racially abused by Argentine defender Nicolas Spolli. TV pictures show Spolli saying something to Balotelli following a clash on the pitch and Balotelli reacting angrily. And he voiced his complaint to the fourth official.

- Report: No proof of abuse?
- Gladwell: Balo subbed after Spolli's slurs

The early indication is that nobody heard what was said, except for Balotelli. And it may well be that -- as Catania manager Luigi De Canio said -- it was "a misunderstanding." Only Spolli knows for certain what he directed at the Milan striker. But if it's proved that it was racial abuse, he faces an automatic minimum suspension of 10 matches under the new Serie A guidelines.