Bayern's mole problem, Evra's outburst and why Martino's adjustments are working
Guardiola has a leaky issue

There are 21 games left in the Bundesliga season, so you're not going to call the race just now. But following Bayern's 3-0 win at Borussia Dortmund, there are plenty reasons to do just that.

Bayer Leverkusen are four points back, but you can't imagine them holding this sort of pace the rest of the campaign. Project Leverkusen's numbers over a whole season and Sami Hyypia's men would end up with 81 points.

That would be enough to win the title in every single Bundesliga season ever ... apart from last year and, most likely, this year. It ain't going to happen.

As for Borussia Dortmund, they have an injury list as long as your arm and their deficit is seven points. What's more, both Leverkusen and Dortmund get to travel to the AllianzArena in the second half of the season.

Then there's the fact that Bayern can get better. Much better. Mario Goetze, Javi Martinez and Thiago Alcantara have made a combined total of seven league starts. Get them contributing regularly -- as Goetze did, off the bench, on Saturday -- and you have several more levels to go to.

- Schaaf: All the stars
- Honigstein: Flexible Bayern find way to win

There's also an issue with Bayern themselves. There wasn't anywhere near a three-goal margin between them and Dortmund in terms of what we saw on the Signal Iduna Park pitch.

Bayern deserved to win for their second-half performance, but given how high Pep Guardiola sets the bar, he will no doubt realize that, but for Manuel Neuer's otherworldly save off Marco Reus and some poor decision-making on the counter that led to Henrikh Mkhitaryan's chance, we might have a different result.

And that was against a Dortmund back four made up entirely of reserves. Not just any second string, mind, but one that included a recycled winger (Kevin Grosskreutz), a 21-year-old in his debut season (Erik Durm) and a 34-year-old centre-back they signed off the street a few weeks earlier (Manuel Friedrich).

Guardiola, no doubt, is working on fixes for all of the above. And given his record, you wouldn't bet against him finding them.

But just as you thought this sort of perfection-seeking would be his only concern, enter Bayern's very own Spygate. Prior to the game, Bild -- Germany's biggest-selling newspaper -- had published a highly detailed account of his likely tactics, formation and game plan.

Excellent educated guesswork from the folks at Bild?

Not quite. More like a mole in the camp. A dedicated Benedict Arnold willing to pass on Bavarian state secrets to the public at large. At least, that's how Guardiola took it.

Bild -- possibly relying on the very same mole, or possibly a different one -- reported that Pep read his players the riot act.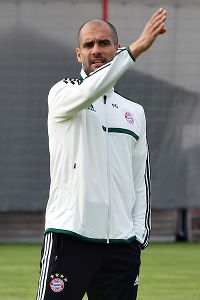 Alexandra Beier/Getty ImagesDespite impressive results, Guardiola has plenty to deal with at Bayern.
"No matter who it is, heads will roll ... he will not play any more games under me," Guardiola threatened, according to Bild.

Those might not have been his exact words -- remember, just because Bild's spy in the camp was correct when it came to his tactics doesn't mean he got the information verbatim -- but Bayern president Karl-Heinz Rummenigge confirmed the manager's anger later on Sunday.

"I can only advise whoever is doing this to stop," Rummenigge said, after saying they would weed out the culprit.

In some ways, this was the worst possible outcome for Guardiola.

Having a mole is bad enough but having one with the cojones to then leak again when you threaten the squad about the leaking (assuming it was the same guy) is worse. It undermines authority and sends a clear message: "Go ahead and rant and rave. I'm going to do as I please."

The bizarre thing is that it's unusual to see this when teams are doing well. It's usually when managers are struggling that the malcontents come out. Sure, Bayern have a deep star-studded squad and there may be some who are unhappy with playing time, though Pep has gone out of his way to spread the minutes around.

Bayern have, historically, been a leaky club. That's what happens when you have a big club with big, outspoken personalities and no clear top-down omnipotent force keeping everyone in line. Such a situation is both a strength AND a weakness.

The next step will be critical for Guardiola. Whatever he does next -- whether ignoring the issue and moving on or starting an all-out hunt for the culprit -- must be done in the right way and with conviction.

Either way, it's a distraction that he and Bayern do not need right now. Unless, of course, their dominance is such that they feel the need to make things a little more interesting by handicapping themselves.

How will Moyes view Evra's noise?

Patrice Evra is outspoken and forthright. He was also given the captain's armband by Sir Alex Ferguson, so perhaps it should not be surprising that he took ownership of Manchester United's poor performance on Sunday in the 2-2 draw with Cardiff.

"We are Manchester United," he told the BBC. "I don't like to find any excuse. We didn't show enough of Manchester United the way we played. We didn't create a chance until [Danny] Welbeck came on [with 22 minutes left]. We didn't deserve more than a draw."

- Okwonga: Southampton ghosts back in Cardiff draw
- Brewin: Three things: Cardiff-Man United

Yet you wonder if he would have been so candid in previous years, when there was a different Scottish manager at Old Trafford.

You can't really fault his analysis. Without Robin van Persie, United packed little attacking punch in Cardiff. The midfield was bossed around and the result could have been much worse if Wayne Rooney had been sent off -- as he should have been -- early in the first half for kicking out at Jordon Mutch and if United alumnus Fraizer Campbell's shot had dipped a little bit earlier, rather than hitting the woodwork.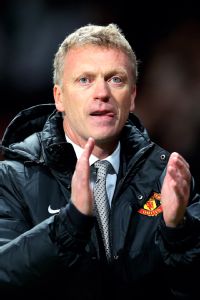 Alex Livesey/Getty ImagesMoyes' boys dropped points at Cardiff on Sunday.
It will be interesting though to see how David Moyes takes Evra's public statement. Does he take it as a positive, an acknowledgement of the club's current issues and the need for everyone to take responsibility? Or does he view it as an attack on his management, tactics and personnel decisions?

He may have faced situations like this before, but obviously never on a scale this large. This is where he earns his bacon.

Tata's tinkering is paying off

Some purists still needle Tata Martino. Fair enough. Barcelona don't serve up the fluency we saw in the Pep years.

But guess what? Time passes. Rather than chasing the past, Martino is trying to build a future with a team that can vary its style of play more effectively. A team that can withstand key players getting older and help younger ones go to the next level. And yes, a team that plays in a way that Martino is more comfortable with.

There will be hiccups along the way. We've seen them already. But there are also encouraging signs. The Barcelona team that defeated Granada on Saturday 4-0 was missing four of the first-choice back five, as well as Xavi in midfield and that Lionel Messi guy up front. Still, it was a no-sweat victory that offered encouraging dividends.

Youngsters like Martin Montoya and Marc Bartra got valuable minutes at the back. Their future may or may not be at the Camp Nou, but if it isn't, Barca will have made an informed choice.

- Ledwith: Use youngsters against Ajax

Alexis Sanchez took his seasonal tally to eight goals in La Liga, already as many as he had in last season's star-crossed campaign. Neymar continues to grow up front, showing the personality to lead even in Messi's absence.

Sure, it will take a bigger test than Granada to fully judge where Barca are. But for now, Martino is showing the courage to experiment, which is what Barca need, at least until Messi returns.

Tottenham's issues ruthlessly exposed

Manchester City were, at once, ruthless and dazzling in their 6-0 evisceration of Tottenham on Sunday. There was an obvious performance gap against one of the better squads (on paper) in the Premier League and credit obviously goes to Manuel Pellegrini and his crew.

But it's equally true that when you score straight away, particularly at home, things get a whole lot easier. And when Tottenham seemingly don't show up to play, well, it's easier still.

Andre Villas-Boas said he was "ashamed" of the way his team played.

- Darke: Pressure mounting on Villas-Boas
- Crace: Spurs can no longer ignore flaws

If there's a pattern to Tottenham's shortcomings this season it's perhaps the fact that when something rattles their game plan -- like conceding straight away -- they struggle to find an alternative.

I thought Tottenham's summer transfer activity was excellent, but in the past five weeks or so they've been proving me wrong. The pieces simply aren't fitting together and you wonder to what degree rotation is to blame.

Just three Spurs midfielders or forwards -- Andros Townsend, Roberto Soldado and Paulinho -- have started more than two-thirds of the club's Premier League games this season. That can't be good for cohesion on the pitch, particularly when you consider that most of the projected front six is entirely new.

It's not that squad rotation is necessarily a bad thing. It's just that it tends to work better when you first build a clear pattern of play.

Mediocrity continues at Milan

OK, it's now one win for Milan in their last 10 games, dating to September. The fans aren't happy and they showed it, blocking the players' parking lot exit after Saturday's 1-1 home draw with Genoa until two team representatives -- Kaka and Christian Abbiati -- came out to speak to the supporters.

Mario Balotelli -- reportedly -- wanted to come out and meet with the fans as well until the police, perhaps predictably, dissuaded him.

When you're at home and play 64 minutes against 10 men, miss a penalty and fail to go beyond a draw, your fans are bound to be angry. And no, the fact that Milan outshot Genoa 39 to 2 (10-1 in terms of shots on target) isn't much of a consolation.

- Paul: Celtic trip a test of character

Massimiliano Allegri will get a boost in the January transfer window when Adil Rami and Keisuke Honda come on board. And things will improve when Mattia De Sciglio and Stephan El Shaarawy are fit again.

But frankly, anything he or the team do on the pitch right now won't address the deeper structural problems at the club. Results will only paper over cracks, like putting a big bandage on a badly infected wound.

Change needs to come and it needs to come from the top.

Isco takes his chance

Sami Khedira's injury is a blow to Real Madrid. The German midfielder won't be back until May at the earliest, which leaves Carlo Ancelotti somewhat undermanned in the middle of the park.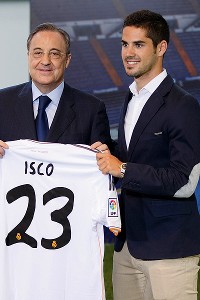 Gonzalo Arroyo Moreno/Getty Images
Away to Almeria, he brought Isco back into the fold, giving him licence to roam behind the front trio of Gareth Bale, Karim Benzema and Cristiano Ronaldo (the BBC, as some have -- rather unimaginatively -- dubbed them). The 21-year-old responded with arguably his best performance since September.

- Train: Ronaldo injury mars Real performance

There will be games in which Real Madrid simply won't be able to carry that front three plus Isco, which is why the base formation will likely remain one with Luka Modric as one of three central midfielders. However, it's a useful variation to have at your disposal.

Furthermore, in typical Ancelotti fashion, it ensures that Isco -- who had started just one game in the past month -- remains in the mix.

Enyeama's resurgence inspires Lille's unlikely challenge

Lille are second in Ligue 1 despite a massive summer clear-out that saw them say "au revoir" to veterans like Aurelien Chedjou, Dimitri Payet and Benoit Pedretti, as well as a budding star like Lucas Digne -- a clear-out that brought the club some $50M in net terms -- and a big chunk of the credit has to go to the stingy defense.

After Sunday's 1-0 win over Toulouse, they have conceded just four goals in 14 Ligue 1 games. Only Roma -- who ironically are coached by the man who was in charge of Lille last year, Rudi Garcia -- have given up fewer.

The man who epitomizes the Lille back four right now is Vincent Enyeama. It's been quite a year for the Nigerian No. 1. He captained his country to World Cup qualification and proved more than a few skeptics wrong upon his return to Lille after a season on loan back in Israel.

It seems crazy that it has taken Enyeama this long to cement a spot in a top European league. Now that he's been given the chance, he's running with it and, as a result, Lille are emerging as the most viable challengers to Paris Saint-Germain.

Llorente finds form with Juventus

Blame the fact that his signing was locked up six months before he actually arrived. Or that last season, because of his contractual dispute with Athletic Bilbao, he hardly started, logging just four league goals. Or maybe it was just because his transfer fee was zero.

Whatever the case, Fernando Llorente's arrival at Juventus this past summer was treated as decidedly ho-hum by much of the public, certainly compared to that of Carlos Tevez. And it took a while for things to click on the pitch, especially the movement required in Antonio Conte's 3-5-2.

However, on Sunday the big man scored in his third consecutive game for the Bianconeri in their 2-0 win at Livorno and, in doing so, showed that he's much more than just a powerhouse centre-forward.

- Rzouki: Five straight for Juve

Expect Conte to continue tweaking his system to suit Llorente's skill set, mixing it up with more long balls and crosses. Goodness knows, there is no shortage of folks at Juve who can deliver an accurate long pass.