The unbelievable truth of Mario Balotelli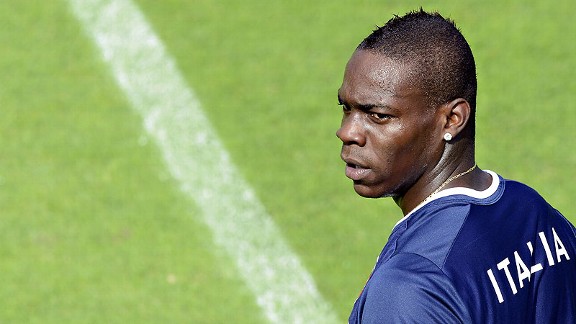 Claudio Villa/Getty ImagesMario Balotelli can make headlines even when he's not playing -- and even when we're not sure who said what.
Mario Balotelli hasn't played a minute of competitive football since Oct. 6. Since then, as far we know, he hasn't tried to break into a women's prison, set his house on fire or thrown darts at human beings. But that doesn't mean he's not making headlines -- or that people aren't making headlines for him.

Sometimes it's guys who are supposed to be looking out for him. Such as Brian Marwood, who is Manchester City's football administration officer and de facto sporting director. Other times, it's former teammates whose quotes of dubious provenance circle the world at the speed of light. Like Zlatan Ibrahimovic, who is about as nutty and distant as Balotelli and so you can attribute anything to him and have it be believable.

Let's start with Marwood. He was speaking about his club's values and the many resources City make available to players in their academy (including cooking classes, presumably so that when they're away from the club, they don't subsist on pizza deliveries and mystery meat curries) when someone asked him about Balotelli and whether he was a good role model.

Marwood could have said Balotelli was not an academy graduate and so the question was irrelevant to what he was talking about. Or that if Balotelli had gone through City's academy he would have been better equipped to face some of the challenges facing young footballers. Or pretty much anything other than what he said: "I think -- and we all know who we are talking about -- that you will get people within the system who do not show the right values and the right behavior."

Leave aside for a minute what you think about Balotelli. Talking down one of your club's assets -- an expensive asset with a big contract -- makes no sense. The message to Balotelli from one of his bosses is "you're a bad egg who doesn't show the right values and the right behavior."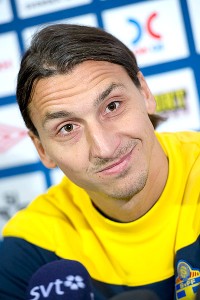 Jonas Eksstromer/Getty ImagesZlatan Ibrahimovic supposedly said, "Barcelona would suit [Balotelli] more, a mediocre club for a mediocre player."
Not very clever from Marwood, which explains why he doesn't often speak on the record to the media. If, when he does, he is going to conjure up stuff like that and generate another negative Balotelli story, well, best to shut up and get on with your job.

And Ibrahimovic? You may have seen the quotes where he was asked if Balotelli might one day join Real Madrid.

"Real Madrid? I can't see it. … Barcelona would suit him more, a mediocre club for a mediocre player," said Ibra.

Ibrahimovic is quirky, idiosyncratic and prone to saying silly things. But he's not an idiot. And only an idiot would call Barcelona mediocre, no matter how much he may hate the club. Second, Ibrahimovic and Balotelli have the same agent, Mino Raiola. Would Ibrahimovic really go and rubbish one of his own agent's clients without provocation? I didn't think so.

This led me to believe that if Ibrahimovic did say this, he was clearly speaking in jest. So I did a few Google searches.

English-language wire reports attributed the story to a Honduran website called Diez. I was unfamiliar with it and immediately wondered why a Swede of Bosnian decent would be granting exclusive interviews to Honduran media. I looked a bit more closely and found the original story on Diez, which cites another Spanish-language website. Was it the original source? Did Ibrahimovic speak to that website? Nope. Another Google search revealed that the first reference to this comes from a Peruvian website on Oct. 8.

I'm not the media police, so I left it there. But it struck me as rather insane how shreds of dubious-sounding quotes could make it around the world. On Thursday, Ibrahimovic said 95 percent of what is attributed to him is made up, 2.5 percent might be accurate, and 2.5 percent is accurate. On Sunday, Raiola denied that his client said what was attributed to him.

By that point, the horse had bolted. Another Balotelli and Ibrahimovic story to be happily cited as evidence of their respective insanity. Just as Marwood's ill-advised quotes could be used as evidence of Balotelli's negative influence.

Casillas Clears the Air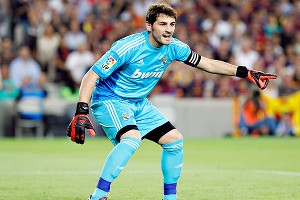 Victor Carretero/Getty ImagesIker Casillas took to his Facebook page to set the record straight.
Iker Casillas turned to his Facebook page to address the many rumors relating to what is going at Real Madrid and his relationship to Jose Mourinho. Casillas has been accused of not supporting Cristiano Ronaldo enough, of leaking negative stories to the media, of not celebrating team goals. It all fits within this narrative of a supposed split between Casillas, Sergio Ramos and a few others on one side, Mourinho and his loyalists on the other.

Casillas denied everything and reiterated his support for Mourinho, crediting him for taking the club back on a winning path. As Real Madrid's captain, it was the right and responsible thing to do.

But this doesn't mean the stories will go away. Mourinho's modus operandi at previous clubs calls for extreme loyalty. He goes to bat for his players and, to a man, they are fiercely loyal to him. At Real Madrid, perhaps because there are players who have won important trophies with other managers or at the club itself before Mourinho's arrival, it hasn't been quite that straightforward.

Casillas and Mourinho both want to see Real Madrid victorious. Both were precocious wunderkinds -- one as a player, one as a coach -- and both have grown over the years. Both are intelligent men who, with a bit more flexibility and a bit less pride, can work together toward their common goal. Heck, it was only six months ago that they were winning La Liga with a record points total.

Now You See Them ...

It's a sign of the times that the defending world and European champions were not on live television in their own country when they traveled to Belarus for their World Cup qualifier Friday. Negotiations with the rights holders broke down, and even as kickoff neared and the price tumbled from $3.9 million to $1 million, there were no takers.

Blame the state of the Spanish economy, but also blame the greed of some nations who see the visit of a big foreign team as their one chance for a fat payday. The good news? When qualification for Euro 2016 rolls around, the sale of TV rights will be centralized, pretty much guaranteeing that nobody gets left out.

See? Sometimes UEFA gets it right.

Messi Amazing for Albiceleste

Remember when Lionel Messi would get crucified for not producing with the Argentine national team? When folks would suggest that because he moved to Barcelona at a young age he wasn't quite as loyal to the Albiceleste as he should be?

Well, since Alex Sabella was appointed coach of Argentina following the Copa America debacle, Messi has scored 13 goals in 13 games, including the two he put past Uruguay in their 3-0 win on Friday. Argentina's record in that period? 10 wins, two draws and one defeat. Oh, and along the way Argentina has defeated the likes of Brazil, Germany, Uruguay, Colombia and Nigeria.

Guess rumors of his inability to produce for his country were somewhat premature.