Arsenal shouldn't panic, Juve win big, don't rush Messi, more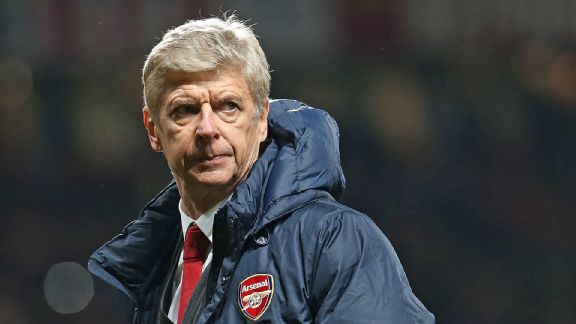 John Peters/Man Utd/Getty ImagesArsene Wenger won't be happy to lose in Manchester but it's not the end of the world.

It was supposed to be Arsenal's first big Premier League test given that, until that point the Gunners had faced just two top-10 teams, both of them at home. The fact that they came out of Old Trafford defeated doesn't necessarily mean they failed.

Ultimately, it was their seventh straight away setback against Manchester United, and it's the kind of loss for which you can budget. Outplayed in the first half but stronger in the second, the difference between these two teams ended up being a set piece.

Wenger can live with that. Or rather, he can live with the outcome. I'm not sure he can live with the way the corner kick that led to Robin van Persie's goal was defended.

Despite what some say, the problem wasn't zonal marking. Arsenal aren't as good in the air as United, and when that's the case -- in short, when you can't rely on your guys to win the individual aerial battles -- turning to that defensive system is often the right decision. The problem here was that when you replace Per Mertesacker with Thomas Vermaelen, who is six inches shorter, you also need to adjust the assignments and structure of your zones. For whatever reason, that didn't happen, and van Persie had the freest of headers. Systems are only as good as the execution.

The fact that Manchester City, Chelsea and Tottenham all dropped points on the same day to supposedly inferior opposition somehow softens the blow, at least psychologically.

Full coverage:
- Cox: Two sides of Moyes' master plan
- Okwonga: Phil Jones adds value to United
- Payne: RvP brings Arsenal back to earth
- Brewin: Rapid reaction
- McNicholas: Gunners' missed opportunity
- Jolly: Tactics Board
- FC on TV: United ups the ante
- Watch: FC Extra Time

As for Manchester United and David Moyes, there was a safety-first feel about the side, but that's not a bad thing. When you're comfortable performing that way and when you're facing an opponent like Arsenal it makes sense, particularly when you haven't been firing on all cylinders.

Wayne Rooney's prodigious work rate and the bite of Phil Jones -- first in midfield and later, after Nemanja Vidic's exit, in defense -- helped limit the service to Olivier Giroud, as did the somewhat overlooked blue-collar performances off the ball from Antonio Valencia, Shinji Kagawa and Chris Smalling.

There's nothing wrong with riding your superstars and letting the rest of the team do the grunt work in these situations, and both Rooney and van Persie lived up to the billing. Going forward though, United won't often be in this situation, and Moyes knows this. The blood-and-guts, lunchpail stuff we saw against Arsenal was effective and showed that his crew are united and "on message." But he has to develop an identity that goes beyond that in the coming weeks, one that fully exploits the squad at his disposal.

Most felt it was going to take time. And they're being proved right.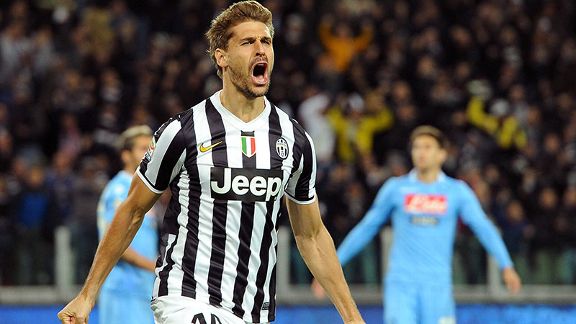 GettyImagesFernando Llorente celebrates after opening the scoring early on for Juventus.
A deserved win for Juve: If you're a rose-tinted spectacles -- or, in this case, light-blue-tinted spectacles -- type of person, you might argue that Napoli got things right against Juventus on Sunday night. They're in the hole almost immediately due to Fernando Llorente's offside goal, they absorb pressure for the rest of the first half and then come out guns blazing in the second, almost finding the equalizer on several occasions. Then, with a quarter of an hour to go, they concede two more, albeit on the kind of prodigious individual efforts -- Andrea Pirlo's free kick and Paul Pogba's fearsome volley -- for which nobody can legislate.

It's a valid enough narrative, too. Compounded with Rafa Benitez saying that Napoli are still "at just 75 percent" and the fact that Juventus were at home, you'd almost be tempted to give them a pass. But in fact, this was one game when Benitez got it all wrong in the first half. There were times when it looked as if they were defending the 0-1 deficit. It was after the break that Napoli finally regained their shape and battled back, blow for blow.

Too late. Too little, too? It might not have been but, just in case, Pirlo and Pogba put the game out of reach in their own unique ways. It was a reminder that, physically, Napoli simply can't hang with Juventus right now. And that when it comes to individual difference-makers, it's no contest. Marek Hamsik is one, though he was poor in Turin. Lorenzo Insigne is on his way to being one. Gonzalo Higuain can be one but only if you get him service. Contrast this with Juve who can count on Pirlo, Pogba, Arturo Vidal and Carlos Tevez off the bat.

The only way you're going to close that gap in a game like this is by tactically outcoaching your opponent. And, on the night, Antonio Conte's team not only outfought Napoli, they also outthought them.

More records tumble in Germany: Talk about winning without breaking a sweat. Bayern's 3-0 victory over Augsburg looked ridiculously simple: 72 percent possession, 23 shots on goal (to six), two-nil up and game over at half-time. (The third was a gift from a generous referee who awarded the softest of penalties.)

- Schaaf: Pep's men win again

The victory means that Bayern are now undefeated in 37 consecutive games, breaking the record set by Hamburg three decades ago. Pep Guardiola's team broke the Bundesliga points record last year by 10 points (91 to 81). This season, they're on pace for 101. Even the news that Bastian Schweinsteiger is injured and won't return until the after the winter break can be greeted with a shrug of the shoulders now that Thiago Alcantara is back.

And to think that we haven't even seen the best of Guardiola yet ...

All hail Super Zanetti: He's back and he's already making a difference. Javier Zanetti came on as a substitute with eight minutes to go and Inter hanging on to a one-nil lead against Livorno. His every touch greeted by a standing ovation, he proceeded to win the ball in midfield, gallop into the final third and lay it off for Mateo Kovacic (a guy 19 years his junior) who set up Yuto Nagatomo for Inter's second goal.

- Horncastle: Saluting Inter's Superman
- Wilson: Dominating Livorno

Exactly 195 days earlier, Zanetti ruptured his Achilles tendon. It's a tough enough injury to recover from when you're in your 20s ... this man is in his 40s! But then, we realized a long time ago that Zanetti is the bionic man.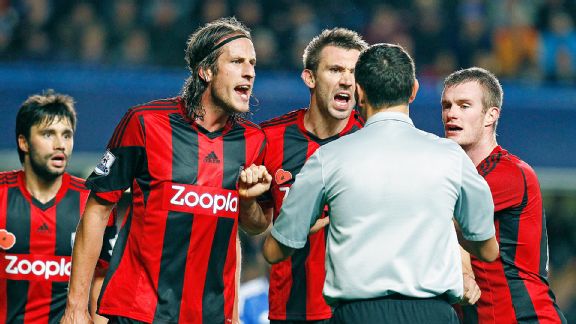 Charlie Crowhurst/Getty ImagesAndre Marriner's gaffe helped Chelsea in more ways than just the end result versus West Brom.
Dubious call makes brutal Blues: Andre Marriner's decision to award Chelsea a late, late, late penalty for the collision between Ramires and Steven Reid made all the headlines. Most of the world, except for Jose Mourinho, seems to think it was not a penalty and that Chelsea were fortunate to avoid a home defeat at Stamford Bridge.

The fact that we're talking about Marriner's decision and not Chelsea's performance helps mask the fact that for the third straight game, Chelsea haven't played well. They were poor in the two-nil defeat at Newcastle and they were lackluster against West Brom. Sandwiched in between was the 3-0 win over Schalke, but don't be fooled by that, either. Mourinho wasn't happy with the way Chelsea performed and with the ease with which Julian Draxler in particular cut through the midfield to create chances.

- Worrall: Hazard spares Blues' blushes
- Evans: Baggies blighted
- Brewin: Ref to the rescue

It's a tough time for Chelsea and Mourinho. Nothing he hasn't seen -- and overcome -- before, but he needs to steady the ship. He needs to decide whether Petr Cech is having a wobble or whether there's something deeper going on. He needs to refocus David Luiz (again).

Most of all, he needs to find the balance in central midfield. Marco van Ginkel's long injury lay-off (he won't be back before March) has left Mourinho short-handed and basically forces him to play a 4-2-3-1 formation every week. The minutes are now shared out among just three men: Ramires, John Obi Mikel and Frank Lampard (who, lest we forget, is 35 years old). Unless he decides that Michael Essien can in fact contribute -- we've only seen him in the League Cup thus far -- or he decides to revisit the Luiz-as-midfielder experiment, that won't change until the transfer window reopens in six weeks.

Things haven't been clicking in the front four either, but at least that's an area of the pitch where he has options. In midfield, there are far fewer. And that's where his coaching nous has to come into play.

Don't cry for Real just yet: Despite the doom and gloom in some quarters, Real Madrid's results haven't been that poor this season. Seventeen games in all competitions have yielded 13 wins and just two defeats: at home against Atletico Madrid (which hurt), and away to Barcelona (which hurt too, though you can budget for that).

What was missing was the performance. We finally got it on Saturday as they pummeled Real Sociedad 5-1. They were 4-0 up at the half, but it could have been much more. The return of Xabi Alonso and his range of passing helps tremendously, of course, as do -- obviously -- Cristiano Ronaldo's heroics. But against La Real it was very much a team performance. Even the much-maligned Karim Benzema is starting to repay the faith Carlo Ancelotti has shown in him.

- Rigg: Benzema wins over the Bernabeu

By the way, speaking of Ronaldo: for those keeping track at home, it's now 24 goals in 17 games this season and 62 in 53 in 2013, making it three straight calendar years on the bounce beyond the 60-goal mark.

Calm needed at Man City: So Manuel Pellegrini doesn't believe he needs to change much despite Manchester City having now lost four away games, including some eyebrow-raisers like Cardiff, Aston Villa and now Sunderland.

"In those matches we played well, we just need to improve a little," he said following Sunday's one-nil defeat. "I don't think we need to make big changes." The statistics seem to bear it out. Leave out the Chelsea game -- the one A-list opponent among City's four defeats -- and they've outshot the opposition by an average of 20 to seven, while having 67 percent of the possession.

- Heneage: Three things: Sunderland-Man City
- Curtis: More careless points dropped
- Mooney: City's travel sickness
- Randall: Sunderland's winning habit

There's a school of thought that as long you're creating chances and playing the way you want to, you shouldn't panic when those opportunities don't translate into goals, because that's just down to chance and probability.

Maybe so. But it's also true that no top team has as big a drop-off between the first-choice central defenders and their reserves. Or indeed between the wealth of attacking talent and the depth of quality (or lack thereof) at the back. There's an enormous gap between Vincent Kompany/Matija Nastasic and the two guys who played Sunday, Martin Demichelis and Joleon Lescott.

It's probably no coincidence that of the four defeats, we only saw the Nastasic-Kompany tandem against Villa. Sometimes a watertight back four can tide you over until your front men find their shooting boots.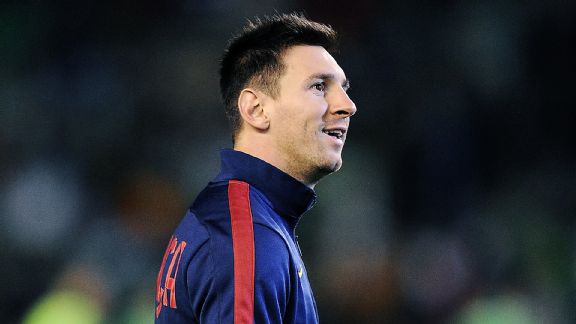 Denis Doyle/Getty ImagesLionel Messi's injury is an obvious concern for Barcelona but they have time and reason not to panic and rush him back.
Another injury for Barca's star: Lionel Messi came off injured 20 minutes into Barcelona's 4-1 away win at Real Betis. This time it's a hamstring tear, which means we won't see him again before 2014. You hope it's not the result of some kind of accumulated stress; this is the third time this season Messi's been hurt, and the fifth since last April.

Don't expect Barcelona to take any chances here. Nor Messi, who is doubtless also keeping an eye on the World Cup.

- Report: Messi sidelined
- Watch: Messi reaction
- Tomas: Barca dominate despite big injury

From now until the clash with Atletico Madrid on Jan. 12 -- coincidentally, exactly two months away -- the schedule is particularly kind to the Catalans. Qualification in the Champions League is all but wrapped up. Thanks to the international and winter breaks, Barcelona will play only five Liga games between now and the Atletico match. Anything can happen, but the only ones that appear tricky are Athletic Bilbao away and Villarreal at home. Frankly, there is no reason to risk a thing.

Let Neymar continue to grow, let Alexis Sanchez prove that he has regained his mojo, give Cristian Tello a shot. Treat this as an opportunity to show that you can win without Messi.

Roma slips again: Two straight games without a win shouldn't be a cause for worry unless, perhaps, you're Roma and you began the season with victories in each of your first 10 matches. Conceding a last-second equalizer is always galling but more so when it's against Sassuolo, a newly promoted team in the relegation zone with the leakiest defence in Serie A.

- De Martinis: Keeping perspective

Rudi Garcia talked after the game about his lack of available strikers. It's a valid alibi. Mattia Destro has yet to kick a ball this season while Francesco Totti and Gervinho have been out since Oct. 18. The one recognized striker he has left is Marco Borriello, who wouldn't even have been at the club if they had managed to shift him in the summer, and he came off after 33 minutes.

Provided there are no major changes elsewhere, things should improve markedly once the front men return.

Up-down times for Dortmund's keeper: It was quite a week for Roman Weidenfeller. First, the Borussia Dortmund keeper got his call-up to the German national team ... at age 33. Given how deep Joachim Loew is at the position -- in addition to the entrenched No. 1, Manuel Neuer, you have Rene Adler and up-and-comers like Ron-Robert Zieler and Marc-Andre ter Stegen -- and Weidenfeller's age, few would have seen it coming.

Yet the celebrations didn't last long. On Saturday, Dortmund let a 1-0 lead at Wolfsburg slip away to lose 2-1, a defeat that drops them four points behind Bayern. What's more Weidenfeller bears some responsibility for both goals, particularly the first. With Dortmund hosting Bayern when the Bundesliga returns after the break, he'll get an instant opportunity for redemption.

Al Ahly's heart-warming win: Even if you don't follow African football, Al Ahly winning the CAF Champions League is the kind of story that warms the heart. After all, this is a team that hardly played league football for the past two seasons following the political instability in Egypt and the tragic death of 72 of their supporters in the Port Said stadium disaster.

The 2-0 victory over South Africa's Orlando Pirates gave Al Ahly a 3-1 aggregate win and sealed their eighth CAF title. It also means that we'll get to see Mohamed Aboutrika at least two more times in an Al Ahly shirt -- the African champions will compete in the FIFA Club World Cup in Morocco.

And to anyone who loves the game, that's special. Because Aboutrika will retire this year at age 35, following a stellar career, albeit one which never saw him take his talents to one of the big European leagues. He may well be the greatest player ever to have never played in Europe or South America.

Given that barring a miracle he won't be at the World Cup (Egypt are 6-1 down following the first leg of their playoff with Ghana), this will be the last chance for a global audience to appreciate his skills.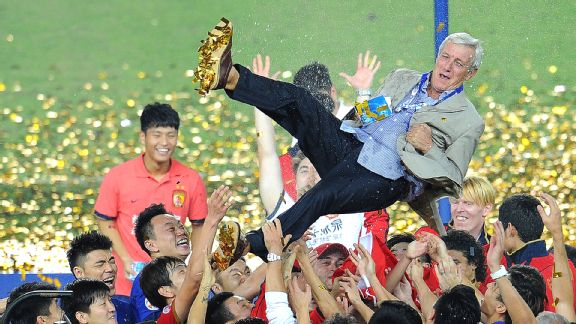 Thananuwat Srirasant/Getty ImagesMarcello Lippi's accomplishments in China are to be applauded.
Magnificent Marcello: Meanwhile, Marcello Lippi made history. Again. On Saturday he guided Guangzhou Evergrande to an away-goals victory over FC Seoul in the final of the Asian Champions League. In doing so, he became the first manager ever to win a continental title in two different confederations, adding to the UEFA Champions League crown he won with Juventus in 1996.

Lippi said after the game that winning this Champions League "felt equal" to the "other" one he won, the UEFA version. "I count them as my greatest managerial successes, apart from winning the World Cup," he said.

- Duerden: Asian glory for Lippi

It's easy to be cynical about this. But anyone who has spent any time with Lippi will tell you he probably does feel that way. Once he immerses himself in his work, his players and his staff, he is as single-minded and obsessive as they come. Which helps explain why in just over 18 months in China he has already won two league titles and a domestic cup, as well as the AFC Champions League.

Mancini's hard road continues: Galatasaray traveled to Fenerbahce's Sukru Saracoglu on Sunday with the aim of breaking their 14-year jinx (they haven't won there since the last millennium) and cutting Fenerbahce's lead to a more manageable six points with a game in hand.

- Rothwell: Gala left clutching at straws

It wasn't to be. Fenerbahce coasted to a 2-0 win that leaves Galatasaray 12 back. If Roberto Mancini is going to get any joy this season, it will probably have to come from the Champions League.