Lloris' health, Milan's misery and a close call for Real Madrid
Looking at the Lloris situation

If there's one good thing to come out of the collision between Hugo Lloris' head and Romelu Lukaku's knee, it's that maybe now the Premier League will adopt some kind of proper protocol for these situations, beyond the current one that calls for a "pitchside" examination by the club doctor.

Andre Villas-Boas was criticized by many for not substituting Lloris after he was knocked unconscious with 13 minutes to go in Sunday's scoreless draw between Everton and Tottenham. But Villas-Boas can only go by what the medical staff tell him.

Villas-Boas wasn't the one assessing Lloris and, even if he had been, he's not a doctor. All he did -- as far as we know -- was allow Lloris to continue after he had undergone the pitchside examination.

"Once the relevant tests and assessments were carried out, we were totally satisfied that he was fit to continue playing," said Spurs' head of medical services, Wayne Diesel (yes, Diesel), in a statement on Monday.

And once Lloris was cleared to return by the club's own doctors, it's not as if Villas-Boas could be expected to put on his latex gloves, grab his stethoscope and play doctor himself by overruling them.

That said, the bare facts are very disturbing. Lloris was knocked unconscious, he was confused and did not recall what had happened. Yet a five- or six-minute assessment by Tottenham's medical staff on the pitch of a noisy stadium in front of 40,000 supporters apparently suggested he was fine to continue.

Maybe so. And you pray that Lloris is just fine.

I'm not a doctor, but enough have weighed in suggesting things ought to be handled differently, including ones from other clubs and FIFA's own chief medical officer, Jiri Dvorak.

Some have cited the NFL's concussion policy, though to be fair, that's a different sport, one based on collisions by guys who are bigger and heavier and wearing helmets, so the risk factors are different.

But one obvious starting point might be having the player assessed by an independent doctor, not somebody working for the player's employer who, in the more extreme cases, might be facing a conflict of interest.

And perhaps, in the case of possible head injury, you might even consider tweaking the Laws of the Game. If the independent doctor believes that a more thorough assessment is necessary, substitute the player, do the assessment in the dressing room and, if all is well, let him back on.

True, it would mean infringing upon the sacred footballing principle whereby substituted players can't come back on the pitch. But given the stakes, it may well be worth horrifying the purists for once.

Assigning blame for Milan's misery

After Saturday night's 2-0 home defeat against Fiorentina, Milan are just three points above the drop zone, with four points in their last five games. It was the kind of setback that was bound to have consequences, though few, perhaps, could have predicted just how things would unfold.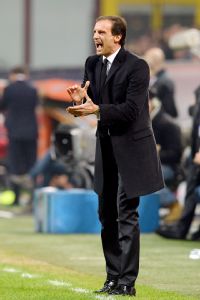 Claudio Villa/Getty ImagesAllegri's Milan have already lost five league games this season.
It looked to many as if the blame would fall squarely on the manager, Max Allegri. After all, as the old saying goes, it's easier (and cheaper) to change the man in charge rather than a whole squad of players.

Allegri himself had to endure a long wait at the end of last season to get confirmation he'd be returning as Milan boss (despite finishing first, second and third in his three years at the club.)

And just to add fuel to the fire, late last week Clarence Seedorf, still the darling of ownership and widely tipped as management material, was widely quoted as attacking Allegri in an interview with a Brazilian broadcaster.

Seedorf's words were badly twisted and mistranslated and the Botafogo midfielder himself came out and clarified what he said. But of course by that point Allegri had a big target on his back and he could be forgiven for thinking that some in the Milan hierarchy weren't displeased that Seedorf's quotes were presented the way they were.

Yet, on Saturday, the message from Milan fans at the San Siro seemed pretty clear. Many seemed to vent their anger not so much at Allegri but rather at the players (fair enough, given the performance) and at the club itself, for not properly addressing the team's needs in the summer.

That was a direct indictment of decisions made upstairs -- Allegri has little input in transfer dealings -- and meant calling out Adriano Galliani, the club's chief executive. A few hours later it came to light that Barbara Berlusconi, the daughter of the owner (and probably not Galliani's biggest fan) had contacted her father asking for a "shift in philosophy."

She's right, of course. Whether this means showing Galliani the door after nearly 28 years at the club is another matter. But it's obvious that Milan made a series of transfer blunders in recent years and this squad pales by comparison with the one Allegri had just two years ago, let alone the one Rossoneri fans admired in the glory years.

Allegri obviously bears some responsibility, but it's interesting -- and encouraging -- how so many fans are seeing right through this "blame-it-all-on-Max" trope that some are peddling.

It's not all doom and gloom. Mattia De Sciglio is fit again and Adil Rami is on his way. Between them, that ought to be enough to settle this back four (provided Rami behaves and doesn't act up the way he did in his final stint at Valencia).

Giampaolo Pazzini is also close to a return and Keisuke Honda is expected to join from CSKA Moscow in January. All this offers a boost and if Mario Balotelli regains his mojo and turns in a second half like he did last season, then Milan will bounce back.

But that will only amount to papering over the cracks if tough decisions aren't made farther up the food chain. And that doesn't necessarily mean axing Allegri. It goes beyond that. The supporters seem to get it. Milan fans will want to hope that one of the Berlusconis, hopefully Dad, gets it too.

Close call for Carlo's men

Carlo Ancelotti must have known the drill ahead of Saturday's clash with Rayo Vallecano. Paco Jemez plays the game one way: downhill. His teams stream forward, always on the attack, always looking to outscore you. They concede plenty but always pack a punch up front.

It's the formula they used last season to finish eighth -- a remarkable achievement for a club with the lowest wage bill in La Liga -- despite conceding the second most goals in the league.

So Ancelotti went for an attacking lineup, albeit one that could devastate on the counterattack. Karim Benzema up front, the fleet-footed Gareth Bale and Cristiano Ronaldo out wide, Luka Modric and Angel Di Maria backing up from behind plus Dani Carvajal instead of Alvaro Arbeloa at fullback. The idea was to punish Rayo's buccaneering style and simply outscore them.

It worked insofar as Real raced out to a 3-0 lead. It nearly proved suicidal, though, in the second half as Rayo clawed back two goals and were on the receiving end of some pretty dubious officiating decisions.

Back to the drawing board, evidently, for Real Madrid. The good news is that few teams play the way Rayo do. The bad news is that, psychologically, taking a second-half beatdown from the team with the joint fewest points in La Liga cannot be good for you.

Gunners continue to confound the sceptics

A 2-0 win over Liverpool saw Arsenal extend their lead at the top of the Premier League to five points. The analytics crew are still skeptical. They see a regression to the mean. They argue that Aaron Ramsey can't possibly continue playing at this level.

That the lack of depth in the squad (up front in particular) will likely hurt the Gunners, as injuries are inevitable. That the other contenders have had various uncharacteristic hiccups thus far. And they point out that they've only faced two teams currently in the Premier League's top 10 -- Tottenham and Liverpool -- and that both games were at the Emirates.

All very logical. And yes, we'll get a test very soon, this weekend in fact, when the Gunners travel to Old Trafford. But it's equally true that while some players can't realistically be expected to keep going at this level all season long, there are others who have contributed relatively little thus far who can reasonably be expected to contribute more: guys like Santi Cazorla, Theo Walcott and Jack Wilshere. That will be the challenge for Arsene Wenger, ensuring others step up if and when the likes of Ramsey and Ozil have their dips.

On paper, there are better squads than Arsenal's. But those teams will pay a price for the points already dropped. As for squad depth, it's only a problem if Olivier Giroud or one of the centre-backs gets injured. And that's by no means guaranteed.

Right now, if you're Arsenal, you just enjoy the ride and take it one game at a time. It may not be PROBABLE that the Gunners win the title (analytics folks speak in terms of probability) but it's certainly possible. And few would have said that in the summer.

No first 11 for Roma

So Roma's win streak comes to an end at 10 after the 1-1 draw away to Torino on Sunday. The mark set by Bill Nicolson's Tottenham remains safe.

With Napoli and Juventus just three points back, this is no time to let up because Serie A has a bona fide title race on its hands. The big boost for Roma is that they have no Champions League or Europa League to worry about. We've seen in recent years how much of a boon that can be: fewer injuries, less fatigue, more time to prepare.

But rather than reflecting on the three-point lead at the top, the more relevant number for Roma may be nine. Those are the points separating them from fourth place. The plan this season was always to improve and to try to get into the Champions League. Achieve that and there will likely be more meaningful investment from the owners.

That's how you grow. The core of this team -- apart from Francesco Totti, and you wouldn't put anything past him -- is still relatively young. Go to the next level and you will have a shot at getting the reinforcements you need.

Ramifications for Rodri's handy work?

You want to talk retroactive punishment for guys who cheat?

OK, start here. On Saturday, Almeria beat Valladolid 1-0. The difference between the two teams was the single goal scored by Rodri. With his hand.

Don't believe me? It's here.

This is just wrong on so many levels.

You wonder how the match official, Cesar Muniz Fernandez, missed it. (Umpteenth call for additional assistant referees, but hey, nobody's listening.)

You wonder how Rodri came up with such an absurd explanation for his action: "Yeah, it hit my hand, but it was unintentional." OK then, Rodri, no need to come clean and admit it at the time.

You wonder how much chutzpah Rodri must have to go and celebrate the way he did -- somersault and all -- knowing full well that he scored with his hand. Which, lest we forget, is NOT allowed in this sport.

Most of all, you hope that, with Valladolid and Almeria both likely to be involved in the relegation dogfight this year, Rodri's cheating won't be the difference between who stays up and who goes down.

Bayern's ugly side

Who said Pep Guardiola can't win ugly?

Bayern's 2-1 victory at Hoffenheim Saturday was as homely as they come, as Guardiola himself admitted afterwards: "This wasn't our best performance, in situations like these, you just have to be grateful for the result."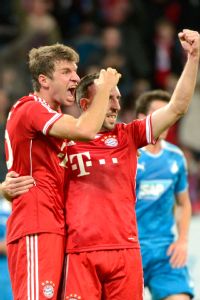 Thorsten Wagner/Getty ImagesMuller's fourth Bundesliga goal of the season clinched victory for Bayern.
Bayern's first goal came after Franck Ribery's free kick crashed into Mario Mandzukic's crotch and deflected past the goalkeeper. Their second, courtesy of Thomas Muller, arrived after Andreas Beck figured it would be a good idea to try to dribble his way out of his own Bayern-infested penalty area. It wasn't.

If there is a cause for concern, it could be the fact that it's the third straight game that Bayern go a goal down. As for Manuel Neuer's colossal blunder for Hoffenheim's goal, maybe that's less of a worry. As we've pointed out before, while the German number one is one of the best in the world and makes very few mistakes, when he does, they're howlers.

Before you panic too much, though, it's worth remembering that, since the German SuperCup back in July, Bayern have played 17 games in all competitions, winning 14 and drawing just three. And that Saturday's victory extends the unbeaten streak to 36 Bundesliga games, dating back to October 2012.

This ties the record set by Hamburg 30 years ago. And with Augsburg up next at the Allianz Arena, you'd expect it to be shattered next weekend.

Dutch race wide open

It's curious to note how, when most of Europe's top leagues feature one or more teams running away with it at the top, Holland's Eredivisie remains remarkably tight. Groningen, down in eighth place, could go top next week, depending on results elsewhere. That's what you get when you have eight clubs in the space of just three points at the top.

Is it a dearth of quality or a sign of strength in depth?

Who cares? Even if it's the former, Eredivisie fans are in for an entertaining ride.

Messi's barren spell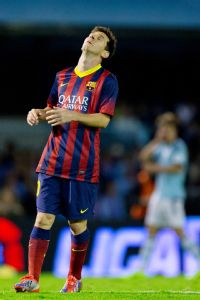 Gonzalo Arroyo Moreno/Getty ImagesMessi last scored for Barcelona on 22 October.
Lionel Messi has now gone 337 minutes without scoring. It's the longest goal drought he has experienced since January 2012, when he went 354 minutes without finding the back of the net. And if he fails to get on the scoresheet in his next game, it will be the longest run since February 2010.

Reason to panic?

Not really. Not yet. We're still talking about a guy who has scored 12 goals in 12 games this season. That's how high Messi has set the bar.

Will Irish eyes be smiling?

So it looks as if the Republic of Ireland are banking on a managerial "Dream Team" of Martin O'Neill and Roy Keane. Apparently there is good chemistry between the two.

It will certainly be interesting to watch. But you can't help wondering why someone like O'Neill needs Keane by his side. Or why Keane feels he wants to be a number two at this stage of his career, having already managed in the Premier League and Championship.

Begovic stays humble

Asmir Begovic is a classy guy. That's why he didn't celebrate after scoring for Stoke with that wind-assisted clearance that beat Southampton's Artur Boruc on Saturday.

It's the goalkeeping fraternity. Freak goals -- a gust of wind, a bad bounce -- are a keeper's nightmare. And Begovic knows full well that this was a case of "There but for the grace of God go I."