Bale's spinal injury, FIFA's world rankings actually work and Balotelli ... again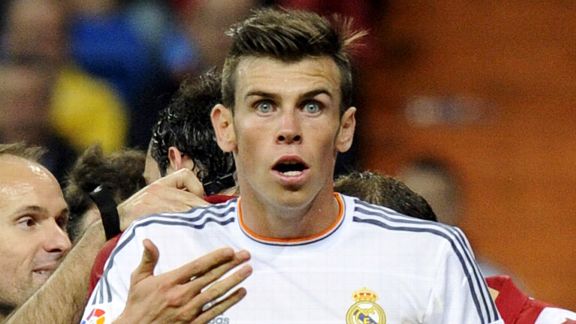 Getty ImagesGareth Bale's injury concerns have frustrated the player and Real Madrid's fans.
I'm not a doctor and even if I was, I have not examined Gareth Bale to determine whether he has a "slipped disc on the L5-S1 vertrebrae and a bulge on the L4-L5" as the Spanish newspaper Marca reported or whether he simply has a "chronic disc bulge" which is "common" among footballers, as Real Madrid insist.

What's obvious, though, is that something is up.

Either Marca's story is accurate or somebody with enough credibility to convince the paper (possibly within the club) wants to peddle the idea that Bale might as well be made of glass, because he's a chronically injury-prone athlete.

Medical science can be fuzzy but I'm told you either have a slipped disc or you don't. A "bulge" is something entirely different.

The broader story here is the malaise among many in the Real Madrid sphere who are questioning the wisdom of breaking the bank for Bale. And, as several outlets have reported, whether club president Florentino Perez's obsession with the player was so great that not only did he lavish a world-record fee on a guy he probably didn't need, he also ignored medical advice.

The curious thing is that Bale's history actually suggests he's quite durable. True, he suffered some serious long-term injuries earlier in his career. But in the last three seasons at Tottenham -- in a physically demanding competition -- he appeared in 87 percent of his club's games. Once you factor in suspension and rotation, it's actually a very good record.

There is a way for Real Madrid to knock this on the head once and for all. They can take legal action. Or, with Bale's consent, release his medical records. You'd need to think long and hard before you took either route. But the risk is that the negativity surrounding him could get out of hand. And it won't go away until he starts and lives up to the hype.

Madrid say it could be as early as the Clasico on Oct. 26. Now, that would be an excellent time to begin.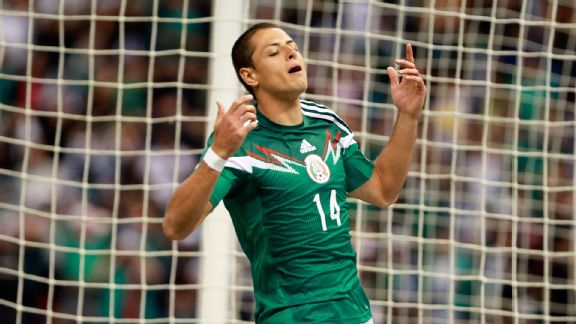 AP Photo/Christian PalmaAside from Mexico's stunning fall from ninth place, most nations have lived up to their FIFA rankings in World Cup qualifying.
National teams live up to FIFA's rankings

"Chalk" is the term used in the NCAA basketball tournament when the favorites win out and there are no upsets.

With qualifying for the 2014 World Cup almost over, it does look as if the whole exercise has been rather chalky. Sure, you'll find surprises here and there. And some great stories too. But across the board, the big boys (or at least the bigger boys) have either gotten it done or are on the way to doing so.

Comparing the FIFA rankings when qualifying began with what actually happened on the pitch tells its own story. Start with Asia. The top four when qualifying began were Japan, Australia, South Korea and Iran. And those four are going to Brazil. The playoff to take on the fifth-placed team in South America (probably Uruguay) was between Jordan (sixth at the time it all began) and Uzbekistan, with the Jordanians advancing.

Oceania, of course, was never likely to throw up surprises, and it didn't. New Zealand ran the table, winning every game. The All Whites now face the fourth-placed team in CONCACAF, probably Mexico. The fact that El Tri will almost certainly have to go through the playoffs was a legitimate surprise, as they were ranked first in CONCACAF (and ninth in the world) when it began. But ultimately, the sixth-highest-ranked teams all made the Hexagonal. Costa Rica moved up from sixth to second, Jamaica fell from third to last. Hardly earth-shattering stuff.

South America? One semi-surprise is Uruguay, ranked first (and fourth overall) when things got rolling, but now seemingly headed for a fifth-place finish and a playoff (albeit a very manageable one against Jordan). Still, La Celeste will almost certainly be in Brazil, as expected. The more legitimate shock, perhaps, was Ecuador, only ninth at the start of the qualification tournament and now, barring divine intervention, likely to qualify. Still, five of the top six (the exception being Paraguay, who dropped like a stone) at the beginning of the process will be in Brazil (assuming whoever goes to the playoffs doesn't implode).

UEFA get 13 spots in the World Cup. Nine qualify directly and another four via two-legged playoff. And of the 13 highest-ranked nations who went into qualifying, just two -- Denmark (eighth at the time) and the Czech Republic (13th) -- are out of the running. Three of the top six -- Germany (second), Italy (fifth) and Holland (sixth) -- have already clinched a place. Another two -- Spain (first) and England (third) -- should also win their groups and guarantee passage. The one team that have significantly underperformed are Portugal -- fourth at the time but who have had a tricky qualifying campaign -- though they are heavily favored to make the playoffs. Greece (10th at the time), Russia (ninth), Sweden (12th) and France (11th) have already made at least the playoffs, while, in addition to Portugal, Croatia (seventh) are also just about there.

Some will point to Switzerland (14th) and Belgium (29th) and the fact that they've clinched qualifying as evidence of surprises. But really, Switzerland's track record (and a fairly cream-puff group) and Belgium's deep and talented squad suggest that many saw this coming.

Bosnia (19th) is a great tale given the nation's history. They're guaranteed the playoffs and could yet win the group, but again, looking at the talent in the squad and the relative weakness of the group, it's not really a shock.

Iceland -- 46th in Europe, 130th in the world when qualifying kicked off -- have a shot at the playoffs, which would be remarkable for a nation of just 300,000. But given the seeded playoffs and the possibility of facing France or Portugal, the shock would be if their journey did not end there.

Africa are down to five two-legged playoffs for their spots. And eight of the 10 highest-ranked teams -- including the top seven -- when the process began in November 2011 are in the playoffs. Of the two "interlopers," one is Burkina Faso, who was 13th at the time, so not entirely a surprise package. The other is Ethiopia -- 37th -- and that would be a shock. Alas, following the eventful 2-1 home defeat at the hands of Nigeria in the first leg of the playoffs, you wouldn't hold your breath.

What all this suggests is that maybe the FIFA rankings aren't as absurd as they sometimes seem. Or, at least, they weren't this time around. The vast majority of the teams that were supposed to make it did make it.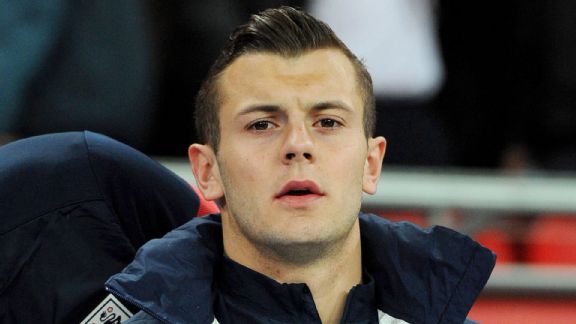 Steve Barden/Getty ImagesJack Wilshere has taken a lot of criticism for his controversial England comments over the past week.
Wilshere's comments and being English: A slow news week coupled with Jack Wilshere's comments ("English people should play for England") placed the 21-year-old midfielder centre stage last week. The reaction from has ranged from the hysterical to the self-serving.

Wilshere didn't say you had to be born in England. He simply said you had to be English. All those cases of players and athletes born abroad who represented England that his critics cite are, frankly, silly. Sure, people like Wilfried Zaha and Raheem Sterling were born abroad. But they moved to England at age 4 and 5, respectively. And they became English not because somebody figured that one day they'd be good at playing football, but simply because they emigrated to England at a young age and were awarded citizenship.

Sam Allardyce's assertions about a multiracial or a multicultural society are equally silly. Unless you've been asleep for the past 40 years, you sort of take it as a given that being white isn't a prerequisite for being English. And that Wilshere isn't saying that at all.

If there is one criticism you can level at him it's that he should have said he wasn't directing his feelings at Adnan Januzaj, when -- quite clearly -- he was, unless there's a glut of other foreign players the FA would consider naturalising that we haven't heard about.

Then again, you can see why he didn't do that. Given the media's likely reaction -- and the possibility -- however remote, that these two might one day be teammates -- it was a lose-lose situation. And frankly, that's a shame. Because a young man speaking his mind in a way that is not offensive on an issue on which many people hold the same view is not something to be discouraged.

The whole Januzaj affair, frankly, is pretty depressing.

To think that the Football Association -- at a time when they bleat constantly about the need to promote English talent and rail against the Premier League for importing foreigners -- would consider naturalising a guy who won't even be eligible until 2018 (and who, thus far, has turned down the chance to play for Belgium, the country where he was born and raised, because he feels an allegiance to his Kosovar roots) is simply quite sad.

Almost as sad as the FA's justification for even pursuing it. They're peddling the line that they "lost out" on guys like Lewis Holtby and Victor Moses -- who have opted for Germany and Nigeria -- respectively, so they're now taking a closer look at the issue.

Well, that's simply idiotic. Holtby's father is from Liverpool. He never needed to be naturalised; if they wanted him they could easily have approached him and let him choose who he wanted to play for.

Moses is an even more extreme case. He came to England as an asylum seeker at age 11. He actually played for England at under-16, under-17, under-19 and under-21 levels. He opted for Nigeria, the country of his birth, after having been in the English system. What does "exploring the possibility of naturalising Januzaj" have to do with Moses' case?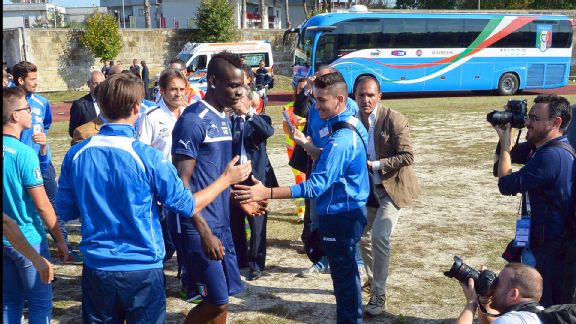 Claudio Villa/Getty ImagesMario Balotelli called out a newspaper for saying he wanted to take a stand against organized crime in Naples.
Balotelli drawn into another controversy: Mario Balotelli is personally responsible for a chunk of his issues. No argument there. There have been times when he's been silly, childish and immature.

But some of his problems are thrust upon him by folks who think he should be a symbol of whatever they're trying to promote. It doesn't really matter whether you're trying to push a positive message, whether it's anti-racism or multiculturalism or whatever.

The guy is a footballer who happens to be Italian and happens to be black. To paraphrase Charles Barkley, he's paid to play the game; he's not there to be a role model or a human rights campaigner. If he chooses to -- and one day he might -- then great. Maybe he'll embrace every cause, the way Hollywood stars do (it certainly would match his Hollywood lifestyle), but it has to be his choice.

On Sunday morning an Italian newspaper suggested that, because Balotelli was heading to Naples for Italy's game against Armenia on Tuesday night (despite being unwell) he was going to be "a symbol for the fight against organized crime."

Balotelli responded by tweeting a photograph of the headline and commenting: "That's what you say! I'm coming [to Naples] because football is beautiful and everyone must play it where they want and, besides, there's a game on."

The backstory here is that a few years back Balotelli went to Naples for an awards ceremony and -- having watched various mob movies -- went with some friends on a tour of a crime-ridden neighborhood. Cue fanciful stories and unfounded accusations of consorting with gangsters (for which he said he would be taking legal action).

Balotelli is not from Naples. He has never lived in Naples. He's not a gangster. He has nothing to do with organized crime. He doesn't need to be a symbol of anything if he doesn't want to.

Sure, it would be nice if he lent his image and his likeness to every worthy cause out there. But even a child understands that when you are compelled or forced to do something, it loses a lot of meaning.

Judge Balotelli for what he does on the pitch. And, if his behaviour warrants it, for what he does off it. But don't force your own ideas and priorities on him only to crucify him if he doesn't live up to the image of what you want him to be.