Bayern's Bayer blues, Suarez-Sturridge success, Juve prevail, more
Bayern Munich took the pitch against Bayer Leverkusen on Saturday just one point off the top of the Bundesliga, knowing that Borussia Dortmund had lost at Borussia Monchengladbach earlier that day. This meant that a draw would be enough for first place. But, because this wasn't exactly secret intel, Leverkusen also knew that a win would take them top.

Anybody who expected a more conservative Bayern Munich and a more progressive Leverkusen was disappointed. What we got instead was an old-school siege on Leverkusen goalkeeper Bernd Leno's goal.

The numbers don't fully do justice to Bayern's hegemony, but here they are anyway: Seventy-two percent possession, 27 shots on goal (to Leverkusen's 5) with 11 on target (to the opponents' 3). If Leverkusen had defended any deeper, Sami Hyypia's back four would have been crowded around Leno on the goal line. The final score: 1-1.

- Schaaf: Spoils shared
- Wrap: Dortmund stunned
- Report: BvB injury crisis?

Leverkusen are a direct side at the best of times. And there's nothing wrong with that. But it's one thing to be direct and get men in support to pick up knockdowns, but quite another to lump balls in the general direction of Stefan Kiessling and hope he'll somehow turn into Marco Van Basten and find a way to score on his own.

Bayern Munich's Toni Kroos gave the visitors the lead, a blunder by Manuel Neuer erased it less than 60 seconds later, and we went back to our script, with Leno's heroics and Leverkusen's mass of big bodies clogging up the penalty area.

As a columnist, part of the job is to second-guess the managers and explore what they could have done differently. But in a game like this, you struggle to come up with much. Sure, Bayern Munich manager Pep Guardiola has more options than Miley Cyrus has leering, Web-based admirers. He opted to give Xherdan Shaqiri a go in place of Arjen Robben. And, just as Guardiola had done so effectively against Manchester City in midweek, he stuck with Thomas Mueller up front instead of Mario Mandzukic.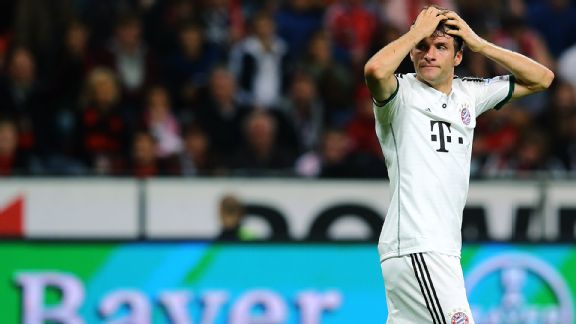 AllsportBayern tried hard but couldn't break Leverkusen.

(By the way, let's not speak of a "false 9" when Mueller leads the line, simply because we're used to seeing him in midfield. When he's up front, he's a center-forward: a mobile, hyperactive center-forward, much like Mandzukic, but a center-forward nonetheless.)

But, frankly, Mueller (ugly-headed miss aside) and Shaqiri got the job done. All that was missing was the second goal ... and the third, and the fourth. Guardiola can't very well look at this and fault himself. Whatever hiccups there were are down to the fact that this team is still on a learning curve. Guardiola's style of football does a good job at magicking up space and shooting opportunities out of thin air, but eight guys in the box are still eight guys in the box. You can't go through them; going around them is extremely difficult; and when you do, you run into an octopus-like Leno who saves everything in sight.

Teams did the same to Guardiola's Barcelona side, but with two critical differences. Barca's midfield had an extra oomph -- in the form of Xavi and Andres Iniesta -- and an extra familiarity of execution that Bayern doesn't have (not yet, anyway). And, of course, Barca had Lionel Messi, the guy who could paper over almost any crack. Needless to say, as gifted and as deep as this Bayern side are, nobody comes close to Messi.

As for Leverkusen, Sami Hyypia had a game plan, stuck with it, and was rewarded. It wasn't pretty and it was rather darn one-dimensional, but hey, he's not there to entertain the neutral. Playing like that long term won't get you very far. Then again, Leverkusen play Bayern and Borussia Dortmund only four times a year. They don't need to do this every week.

Liverpool makes it work: So now we know. Those of us who were wondering how on earth Brendan Rodgers was going to find a way for Luis Suarez and Daniel Sturridge to exist on the same pitch got their answer over the past two weeks.

How did Rodgers do it? By using a 3-4-1-2 formation, something about as common in the Premier League as a day without Jose Mourinho-related headlines. It's probably a bit premature to speak of partnership in the traditional sense. Suarez and Sturridge don't necessarily link as smoothly as they might, which is understandable given the scant amount of minutes they've had together. But the neat thing about the formation is that it frees them from most defensive duties and allows them to follow their attacking instincts as opposed to caging them in some kind of scheme.

- Usher: Suarez, Sturridge the best around

Service comes from wide areas and from Steven Gerrard, ever the deep-lying quarterback. Victor Moses acts as the spoiler behind the strikers, not a natural role, perhaps, but one to which he has adapted effectively. And when Philippe Coutinho returns, he'll be yet another source of assists, hopefully without upsetting the balance of the side. It's not perfect -- far from it -- but at least Rodgers is trying to innovate, something too few of his Prem colleagues seem to be doing.

Liverpool are now joint top after the 3-1 win over Crystal Palace. This time last year they were 14th, with just six points, 10 fewer than they have now. A manager's impact is often overstated, for better or worse, but in this case it's safe to say this team would look very different with someone other than Rodgers at the helm. He has both the creativity to draw up formations that suit the personnel and the nous to get his players to execute.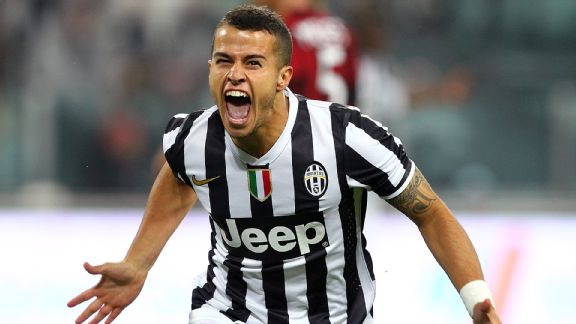 Marco Luzzani/Getty ImagesSebastian Giovinco should start for Juventus.
Juve prevail in feisty encounter: Milan traveling to Juventus at full strength would have been a tricky affair. Let alone doing so without Mario Balotelli, Mattia De Sciglio, Stephan El Shaarawy, Kaka, Giampaolo Pazzini and Valter Birsa. But the rossoneri were gifted the lead after 18 seconds and for much of the game managed to frustrate Antonio Conte's crew.

But such is the gulf in quality right now that you couldn't see it lasting. And it didn't.

Take Andrea Pirlo. He clearly was having an off night, mis-hitting passes and distributing the ball with uncharacteristic imprecision. But when you're Pirlo, it takes only a moment to make a difference. His whipped free kick befuddled Christian Abbiati, who should have done better. Later, Pirlo hit the post and, on the rebound, Giorgio Chiellini poked it home (with his right foot, no less). In between, Sebastian "The Atomic Ant" Giovinco came on, did a little shimmy and produced a Romario-esque finish. And that was that.

- Rzouki: Struggle for Juve vs. 10-man Milan
- Paul: No excuses after the break

Milan battled gamely throughout, and Muntari's deflected second goal offered a glimmer of hope at the very end. If there's one thing that this game showed, it's that these Milan players are willing to battle, willing to do the dirty work, and willing to listen to Massimiliano Allegri. That's all a manager can ask; he can't, however, turn an Alessandro Matri into a Balotelli.

Speaking of Allegri, his postgame defence of Philippe Mexes was ill-advised. Referring to the roundhouse the Frenchman delivered to the back of Chiellini's head while defending a corner, he said: "First off, it wasn't a punch. It was a challenge; he didn't even hit him in the face. These are things that happen thousands of times in football."

To paraphrase what Alejandro Moreno said Sunday night on ESPN FC: Yeah, maybe in prison football.

When you strike an opponent, you're in danger of getting sent off. It doesn't matter whether it's in the face or in the back of the head. Mexes doesn't need me to tell him that. He'll likely face retroactive punishment. While it's true that Chiellini rolled around holding his face when Mexes hit him in the back or side of the head, that's his problem. There's no question about what Mexes did.

Retroactive referee-bashing -- a favorite sport in Serie A, though thankfully on the wane -- isn't going to help either. The officiating wasn't good, and many questions did seem to go against Milan: Did Carlos Tevez dive to win the free kick that led to the first goal? Was Kevin Constant's yellow card fair? Should Leo Bonucci have been sent off for the coming together with Robinho? But it's equally true that the big one went Milan's way and that this wasn't the game you'd expect to get something from.

Ultimately, Allegri would be best served to focus on his positives. This isn't the real Milan. It can't be. But the guys who were out there -- with a few exceptions -- showed character.

As for Juventus, the three points were key. The performance wasn't great and Antonio Conte still has to figure a few things out. Such as whether Fernando Llorente can be trusted to play significant minutes, and whether Paul Pogba as an emergency wing-back really is an idea worth revisiting.

Blanc has work to do in Paris: The knock on Paris St. Germain -- pretty much ever since the Qatari moneybags landed -- was that this was a disjointed, disunited bunch. They won games because of individuals and, when the going got tough, they tended to crumble, each player retreating into his own thoughts and paychecks.

Laurent Blanc may be taking baby steps in terms of turning PSG into a viable, functional footballing unit. But on Sunday night, away to Marseille, they showed that whatever else they may lack, it's not character or spirit. PSG went a goal down thanks to a dubious penalty and a red card to Thiago Motta after half an hour. With Marseille buzzing, you could almost sense a rerun of previous episodes. The crowd was howling, PSG seemed undermanned, the midfield looked overrun, Zlatan Ibrahimovic was sulking, Marseille were physical ... but no! PSG hung in there, well-marshaled by Blaise Matuidi and Marco Verratti in midfield.

- Johnson: Blanc's tactics decisive in win

Then, Ibrahimovic did his thing. He set up Maxwell's equalizer and then converted the winning penalty. It wasn't pretty, but it was hugely important. Not just because it means PSG keep pace with Monaco (2-1 winners over Saint Etienne) but mostly because this once-divided squad showed just how tough they can be when they pull together.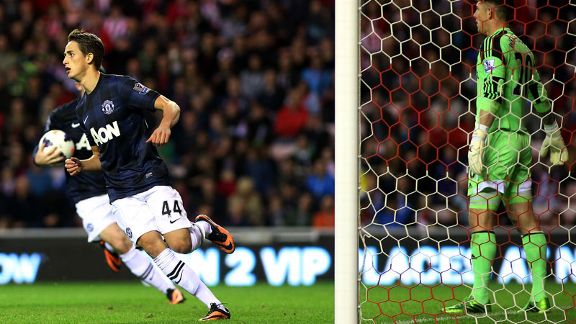 AllsportAdnan Januzaj saved Man United's blushes but David Moyes still has work to do.
Januzaj rescues, redeems Moyes: After 55 turgid minutes against the league's cellar dwellers, Manchester United was a goal down, and then an 18-year-old wunderkind making his first start saved the day. Probably not what David Moyes had in mind just a few months ago.

There is obviously work to do, and we've had confirmation that simply banishing Ashley Young and Antonio Valencia to the bench and replacing them with more gifted players -- Adnan Januzaj and Nani -- won't immediately fix everything. Nor will eschewing the Michael Carrick-Marouane Fellaini partnership that, against most opponents, will inevitably be outpaced.

- Payne: Young Belgian obscures defensive woe
- Okwonga: Januzaj tries hand at leading man

As for Januzaj, that level of technique makes him special. And he clearly has the personality to be unfazed by more experienced players and bigger stages. He's a bonus for Moyes, but surely he's not being counted on as a difference-maker just yet. Not when you're not even certain if he's still going to be at the club next season: Januzaj is out of contract in June and the fear is that he might go the way of Paul Pogba and jump ship for free.

English FA lacking class regarding Januzaj: Speaking of Januzaj, he was born and raised in Belgium and is of Kosovar and Albanian descent. He has thus far refused international call-ups, which has prompted the Football Association to look into the possibility of naturalizing him as English.

I can think of few ideas which are worse and less ethical. First and foremost, England have a gentleman's agreement with the other home nations. It may not be legally binding, but it's still a gentleman's agreement.

Second, he's been in England for only two and a half years. He won't even be eligible for naturalization for another two-and-a-half years. How about at least waiting a little while longer before you humiliate yourself in public?

Third, and most importantly, the guy isn't English. Not by birth, not by ancestry, not because he's a political refugee who has sought asylum, not because he spent most of his childhood here. Sure, there have been plenty of self-serving naturalizations in the game recently -- Diego Costa comes to mind -- but at least they waited until he was eligible before making their move. A bit of decency, please.

Can someone steady Real Madrid, and fast? These late jailbreaks are no fun if you're a Real Madrid fan. Carlo Ancelotti's crew have won six of eight league games this season, and on three occasions -- against Betis on opening day, at Elche and on Saturday at Levante -- the winner came after the 85th minute.

If the Elche game was marked by some horrid refereeing, the Levante win was notable for just how poor Madrid were for much of the game. Isco looked way out of his depth on the left (at least in this setup), Karim Benzema was his usual wasteful self, and the less said about the two full-backs, Alvaro Arbeloa and Fabio Coentrao, the better.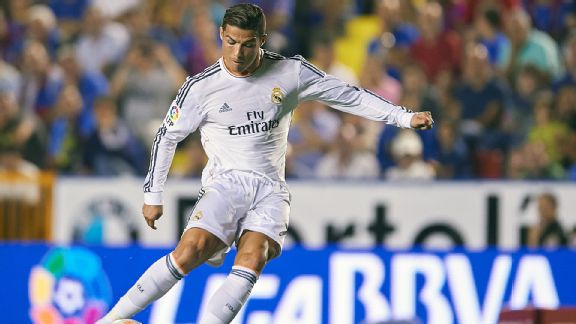 Manuel Queimadelos Alonso/Getty ImagesReal can't rely on Cristiano Ronaldo to bail them out every week. As such, Carlo Ancelotti needs to sort things out.

The agony lasted just under an hour -- 59 minutes in which Madrid were predictable, slow, clunky and, above all, disjointed. Whatever good there was came through the brilliance of individuals or from set pieces. It's clear that Ancelotti still needs to get his moving parts to move in unison.

The good news? After minute 59, Marcelo came on and offered an instant boost down the left, precisely what Fabio Coentrao had failed to deliver. And after Alvaro Morata replaced Isco a short while later -- even scoring the equalizer to boot -- things finally got going before Cristiano Ronaldo's usual late-game heroics sealed the victory.

- Train: Defense best form of attack
- Rigg: Real shows character vs. Levante

There is a lot of work for Ancelotti to do here. And the frustrating part is that even if he builds something now, he'll most likely have to go back to the drawing board when Gareth Bale is fully fit. He'll also need to make a call on the Morata-Benzema dichotomy. Thus far, the Frenchman has been ahead despite some poor performances, mainly because benching him would damage his already fragile psyche further and would reduce any potential sell-on value. Furthermore, Morata is young and can handle a substitute role. But if things continue the way they have been, Ancelotti won't be able to justify it much longer.

Record-breaking giallorossi: Roma are in the history books following their 3-0 away win at Inter. Seven wins out of seven to start a season, 20 goals scored (only Barcelona have done better on a goals-per-game basis in Europe's big five leagues) and just one conceded (and here, nobody has done better). Superstitious romanisti won't want to hear this, but of the seven teams that started a Serie A campaign with seven straight wins, all but one went on to win the title.

- De Martinis: More history made

The record for consecutive victories to start the season? Nine. Doable? Well, it will be tough. Napoli visit the Stadio Olimpico next week, followed by a trip to Udinese and a home tie with Chievo. But, frankly, you wouldn't put anything past this Roma team right now.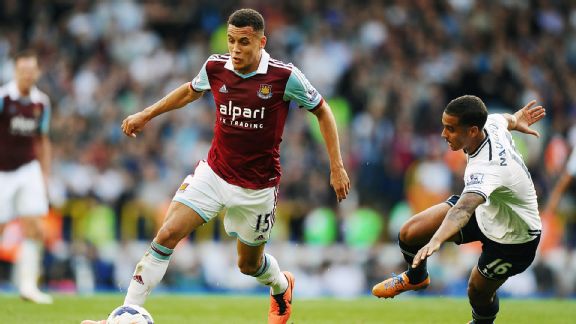 Mike Hewitt/Getty ImagesAgainst Spurs, Ravel Morrison showed why he was once so coveted -- and why he could still one day be great.
Morrison shines vs. Spurs: Ravel Morrison's goal summed up the afternoon for Tottenham and West Ham. Spurs were caught flat-footed, Jan Vertonghen was too slow, and Michael Dawson was too uncoordinated to stop the former Manchester United starlet. As for Morrison, his lung-busting run from his own half rather epitomized Sam Allardyce's approach, one that yielded a 3-0 away win: defend deep and break intelligently with your midfielders since you don't really have any strikers.

- Thorne: A hammering good day
- Delaney: AVB outfoxed

Three years ago, Morrison was the next big thing in the English game. Two-and-a-half years ago, he was found guilty of two counts of intimidating a witness in a trial. Just over 18 months ago, Sir Alex Ferguson cut Morrison loose, letting him join West Ham for an initial fee of about a million dollars.

He's just 20 years old, and one great goal doesn't mean he has turned any kind of corner. But you can't help but wonder if this isn't the start of something really big. And, if it is, what a coup it will prove to be for West Ham.

Blaugrana keep rolling: Barcelona made it eight wins out of eight, coming from behind to whip Valladolid 4-1. Given the starting XI that Tata Martino sent out, it's a testament to Barca's depth. (Jordi Alba, Javier Mascherano, Andres Iniesta, Pedro, Sergio Busquets and, of course, Leo Messi were all missing.)

Operating in the Messi role, Neymar was devastating, suggesting he can be much more than the (albeit deluxe) touchline-hugger he has been of late. (It may have been a coincidence, but on the same day Barcelona confirmed the final price tag of the Neymar deal to their shareholders -- $88 million, making him the fifth-most expensive player ever -- he certainly played like it.

- Tomas: Neymar, Alexis excel

The other big positive was Alexis Sanchez. Twenty-six goals and a super-sub role in his first two years at the Camp Nou were somewhat disappointing, given the expectations following his transfer. This season though, perhaps because of Martino's more direct style, he's thriving. Sanchez already has four goals under his belt and is proving to be an outstanding alternative to Pedro and Cristian Tello as the third leg in Barca's attacking trident.

Final point: With Standard Liege (which had won their first nine league games) falling to Zulte Waregem on Sunday, only Roma, Barcelona and Atletico Madrid remain perfect in their domestic leagues. (Atletico Madrid defeated Celta 2-1, with the ubiquitous Diego Costa notching two goals to bring his season total to 10.)

A scan of the upcoming fixtures suggests that Atletico Madrid might actually be best-placed to make it to 10 for 10.