Carlo Ancelotti prepared for Real Madrid hot seat, Moyes' media mix-up, Zlatan vs. everyone
You can understand why Carlo Ancelotti looked glum -- or at least more hangdog than usual.

It wasn't just the defeat to Atletico Madrid, though losing against the perennial second bananas in the league for the first time since the last millennium and slipping five points back in La Liga didn't help. Rather, it was the realization that there is so much to be done. And, maybe, doubts over how long it will take this squad to get it together. Atletico won by a single goal, but were better at most things most of the night. Three days earlier, it took a controversial -- some might say made-up -- penalty deep into injury time to best little Elche (Elche!).

Ancelotti opted to go conservative in the derby, knowing full well that, in Spain, if such a decision backfires there is hell to pay. Luka Modric, Gareth Bale and Daniel Carvajal on the bench, Asier Illarramendi, Angel Di Maria and Alvaro Arbeloa in the starting lineup. Three justifiable choices: Illarramendi offers more muscle than Modric, Bale had played just 87 minutes, Arbeloa gives you the kind of experience and defensive nous the 21-year-old Carvajal lacks and that can be critical in a derby. But also three decisions that could come back to haunt you. And they did.

- Video: Mourinho storms out
- Train: Stop calling it a crisis

By the time Modric and Bale came on at the half, Real were stunned by Atletico's first-half blitz and edge-of-the-seat intensity. It was Ancelotti's third change that brought out the boo-birds, the first sign that the honeymoon is over. With 17 minutes to go and Real a goal down, it was time to send on Alvaro Morata.

No argument there. But for whom?

Sami Khedira's size and athleticism were needed. Cristiano Ronaldo -- obviously -- had to stay on the pitch. The full-backs were useful for crossing purposes and, in any case, this was no time to go three at the back. It came down to either Isco, the Ultras' darling, or Karim Benzema, the Ultras' favorite target.

Ancelotti made the unpopular call and, predictably, boos echoed around the Bernabeu. The substitution didn't work and the Merengues fell 1-0.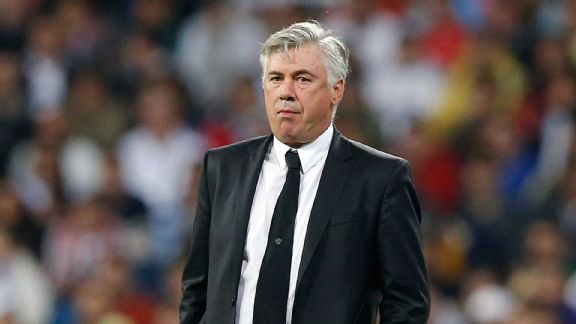 Helios de la Rubia/Real Madrid/Getty ImagesCan Carlo Ancelotti get the most out of Karim Benezma? If not, he'll need to find a solution in January.
To his credit, Ancelotti explained his rationale afterwards. He saw no sense in replacing a striker with a striker when you're chasing the game. That's Football 101. With Bale and Ronaldo on the pitch, you had a chance to win the kind of set pieces that might lead to a goal with two aerial threats up front. True, Benzema had been poor and his confidence was shot to pieces, but yanking him at this stage meant dealing his ego another blow. There are times when it's worth doing that to a player. But with just two centre-forwards in his squad, the fact of the matter is that alternatives are thin on the ground. At least until the transfer window reopens, Ancelotti needs Benzema.

On the other hand, Isco hadn't unlocked the Atletico back four in the previous 71 minutes, he had started every game this season, yet he was (in Ancelotti's eyes) the logical choice.

It didn't work out and the reaction was predictable. Defensive Ancelotti. Ugly Ancelotti. Long ball Ancelotti, removing the creative passer so he can pack the box and pump long balls into the mixer.

He has been around the block enough times to know how to let the criticism wash over him. The bigger concern is lifting this squad, a team that suddenly doesn't look quite as well-assorted as it did in the summer. Against Atletico, Raphael Varane, still recovering from injury, was on the bench, while Marcelo was injured, as was Xabi Alonso. That's three of Ancelotti's first-choice back five right there.

More to the point, there's a palpable emptiness to Real right now. The Bale hype has come and gone; this looks like a spent unit. Three years of Jose Mourinho with the emotional highs and lows has left them drained. Whether they were Mourinho loyalists or those who revolted against him, Real's players were swallowed up by the circus and acrimony.

It will take time for them to recover mentally. And that's where Ancelotti is going to earn his bacon.

He pointed out that yes, five points is a big gap, but there's still a long way to go. And, most importantly, that it's his job to get the side playing better. He's not hiding. But in this day and age, simply taking responsibility isn't enough. Madrid need to kick it up several notches, Benzema has to regain his mojo (either that or Morata needs more minutes), Bale needs to contribute, the central defenders need to stop playing as if they're fighting to avoid relegation to the fifth circle of hell.

Ancelotti knows what he has to do. He's been here before.

Moyes puts foot in mouth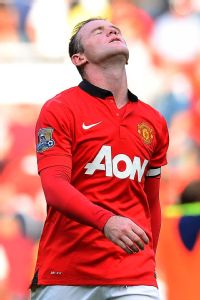 Andrew Yates/AFP/Getty ImagesWayne Rooney is one of the few world-class players who have had to carry the load at Manchester United.
So it's Manchester United's lowest points total since the 1989-90 season, the one that saw Alex Ferguson close to getting the sack.

That's the en vogue stat now. Of course on Thursday, after the League Cup win against Liverpool, there was another doing the rounds. At that point, manager David Moyes -- in winning five of eight games in all competitions -- was enjoying the best start of any new United boss since Sir Matt Busby way back in 1946.

Obviously not all stats are created equal. And the latter one was particularly misleading, given that Moyes is only the seventh man to manage the club since Busby's first stint. But the point is that there is no escaping the fact that this is Moyes' first major speed bump in his new job. It can't be otherwise when you lose three of your first six league matches and haven't scored from open play in the Premiership since August 17, the first week of the season.

How he handles this -- in public and in private -- will likely impact how quickly things will settle down at Old Trafford. And, most likely, they will settle down. Much has been made of the monumental task of replacing Ferguson. Less talked about is the fact that Moyes spent the past 11 years at the same club. When you're not used to moving around, transitioning to a new environment -- let alone one like Old Trafford -- is bound to be that much more challenging.

Moyes took it on the chin after the 2-1 home defeat to West Bromwich Albion, saying his team were "lackluster in all departments." It's a credit to him that he's not hiding, but his next statement was somewhat puzzling.

"To win the Champions League, you have to have five or six world-class players," he said. "We've not got that yet. What we have got is experience and several players who are in that category or close to it."

He probably knew it was the wrong thing to say the second it came out of his mouth. He may well have meant that United simply aren't playing well enough right now to win the Champions League (nobody would argue with that) and that they'll need to raise their level to do it (fair enough). But the way things get reported, it was a lay-up for the Moyes critics.

Wait, you manage Everton for 11 freaking years, get handed a Manchester United side that won the league by 11 points (and had the highest points total in each of the past three seasons) and you complain that you don't have half a dozen world-class players at your service? And you pipe up now? What did you do all summer long when you had your massive war chest and only managed to add Marouane Fellaini to the squad?

What players do you consider "world-class," anyway? Robin van Persie, Wayne Rooney, Nemanja Vidic ... fine. What about your other guys? Do you really think you're helping by suggesting they're not good enough?

That's what you get when you manage Manchester United, especially when your name isn't Sir Alex Ferguson, and you say stuff like that. It's not fair, but that's the game. Compared to what Moyes faced at Everton -- in terms of scrutiny, pressure and the parsing of his words -- we're not even in the same constellation.

The good news is that results can cure all that. On paper, United can run the table between now and the Arsenal game on November 10 (Southampton and Stoke at home, Sunderland and Fulham away). A point away to Shakhtar Donetsk and a win against Real Sociedad and they'll be on their way in Europe as well.

It can't come soon enough.

Diego Costa has turned his anger into firepower

Maybe somebody has turned in a better performance this season than the one Diego Costa delivered on Saturday night at the Bernabeu. If there is, I can't think of it offhand.

For casual fans, it was nothing less than a coming-out party for the Atletico forward who, until that point, was known as the classic uber-talented volatile hothead, as evidenced by the seven red cards he has already racked up in his career (and he's just 24).

He epitomizes the notion of playing the game on a knife-edge, a blend of physicality, technique and sheer ferocity. When he was booked, his manager, Diego Simeone, jumped up from the bench and frantically tapped his index finger at his temple: "Use your head! Use your head!"

Diego Costa looked to him and seemed to nod, as if to say, "Never mind the smoke coming out of my ears and the froth at my mouth, I know what I'm doing, boss."

He has scored as much as Lionel Messi in the league and Atletico have won seven of seven, just like Barcelona. Years ago, I spent some time with Simeone, who talked about the benefits of "channeling rage" in a positive way on the pitch. He certainly got Diego Costa to do that.

Now -- amid some controversy -- he's following in the footsteps of fellow Brazilians Marcos Senna, Catanha and others in taking Spanish citizenship (he's set to get his first call-up next week). Because of course that's just what La Roja needs: more offensive firepower.

Manuel Pellegrini's confidence is warranted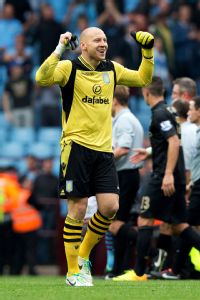 Neville Williams/Aston Villa FC/Getty ImagesGoalkeeper Brad Guzan was brilliant in Aston Villa's stunning victory over Manchester City.
Manchester City also lost this past weekend, falling 3-2 at Aston Villa after twice taking the lead. Manuel Pellegrini, as ever, says he isn't concerned because City played well.

He's right. Unlike some previous instances when his crew dropped points (Cardiff and Stoke come to mind), City probably did enough to win.

It's just that this is a sport of episodes. Aston Villa scored an offside goal, made it 2-2 with the kind of stunning free kick for which you can neither legislate nor prepare, and notched the winner after a long punt from Brad Guzan and some questionable goalkeeping from Joe Hart.

That's not to take anything away from the home team -- who were without Christian Benteke and Gabriel Agbonlahor but showed tactical nous and spirit -- but rather to point out that City's performance was far from worrying. Roll on Bayern Munich in midweek.


Roma is becoming a legitimate Serie A contender

So it's now six out of six for Roma after the 5-0 hammering of Bologna. The Giallorossi haven't just run the table, they've also scored 17 goals while conceding only one. So much for the doom and gloom of the summer.

Lost in the negativity was the fact that they got themselves one heck of a manager in Rudy Garcia (it wasn't that long ago that he won the French double at Lille), plus they bolstered the midfield with Kevin Strootman (a guy everybody wanted), the defense with Mehdi Benatia (still one of the most underrated centre-backs around) and the attack with Adem Ljajic (how much better would Milan be if they'd managed to secure him instead of Kaka and Valter Birsa?).

The most remarkable bit, perhaps, is the transformation of Gervinho. He looks nothing like the ghosting figure we saw at Arsenal last year. Some players evidently require a certain type of manager to perform at the highest level, and now that he's reunited with Garcia (for whom he scored 28 Ligue 1 goals over two seasons) he seems back to his best.

If you're the kind of person whose glass is half-full, you'll be sure to dampen enthusiasm. Apart from the derby against Lazio (and even then their opponents were missing most of the starting back four), Roma haven't really played anyone of note yet. The next two games -- Inter at home and Napoli away -- will offer a much clearer assessment of where they stand.


Chelsea, Tottenham draw had plenty of storylines

So much has been made about the relationship between Andre Villas-Boas and Jose Mourinho, mainly because -- deep down -- we're not that imaginative and it's a familiar script. Master and apprentice, prodigal son turning his back on the father, now they won't talk to each other or even about each other ... personally, I'd rather we just let them be. As Mourinho points out, he's 50 years old. He doesn't need to explain things and he doesn't need to be fake or "play nice."

The game itself was far more interesting, with Tottenham dominating the first half (and Mourinho going conservative, with Ramires in the front four) and Chelsea storming back in the second half and equalizing through a familiar John Terry header.

Juan Mata got his 45 minutes with Chelsea chasing the game and served up a reminder of what he can do.

Fernando Torres was Mr. Intensity

Given the amount of false dawns Torres has had, nobody is going to predict that he's about to turn the corner. But for a guy who is supposedly lacking in confidence, seeing him so jacked up and ready to go is encouraging. He wasn't sent off -- and probably should have been -- when he raised his hands to Jan Vertonghen, but in a karmic comeuppance was shown his marching orders for what was pretty much a "nothing" collision later in the game.

Villas-Boas will be annoyed. Tottenham should have put the game to bed in the first half. Still, those first 45 minutes were delightful if you're a Spurs fan, and it's the kind of thing you can build on.


Extra bitter rivals: Juventus, Torino

Juventus squeezed past Torino 1-0 in the Turin derby Sunday, in a game that was marked by poor officiating and a venomous postscript of web-based jibes and tweets. Paul Pogba's deciding goal should have been disallowed as Carlos Tevez was offside. Juve boss Antonio Conte admitted as much after the game, but also pointed out that Ciro Immobile should have been sent off for a bad foul on Tevez earlier.

Torino responded on their official website with a detailed retrospective of refereeing decisions that could have gone differently and Juventus replied later by citing an array of statistics that underscored their superiority on the pitch.

Rivalries are great, and this tit-for-tat spices things up between two proud clubs. But you wonder whether it makes sense for Conte to get embroiled in this and whether it benefits his club.

You got the three points, you admitted that you got lucky with the offside decision, leave it at that. No need to bring up Immobile -- most sane people know that sometimes you get the call, sometimes you don't.

Zlatan's at it again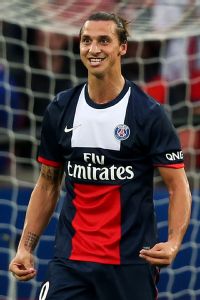 Franck Fife/AFP/Getty ImagesZlatan Ibrahimovic can't avoid controversy.
Take that.

The outspokenness of Uli Hoeness, the Bayern president, is well-documented. So too are Zlatan Ibrahimovic's feelings about Pep Guardiola.

Now that Pep is the Bayern boss, Hoeness felt the need to go to bat for him.

"We have a completely different opinion than Zlatan Ibrahimovic," he was quoted as saying in the German newspaper Bild. "Ibrahimovic is a bitter prima donna, if you ask me. He has never really gotten over his Barcelona exit. No team has ever been happy with him. He always brings problems with him."

Stick the popcorn in the microwave and wait for Zlatan's response. In the meantime, though, Zlatan seemed to live up to Hoeness' view of him on Saturday against Toulouse. He found a way to get into a war of words with Jonathan Zebina, who was sitting on the Toulouse bench. Zebina's expression after Ibrahimovic threatened him was priceless. In fact, these two have a history. Back when both were at Juventus nearly a decade ago, they got into a furious fistfight in training (not the only teammate that Ibrahimovic has gotten into it with; just ask U.S. international Oguchi Onyewu). Of course, Zebina isn't the most level-headed guy either, as this old clip of him slapping a cameraman suggests.

Wonder if we'll get to see Onyewu and Zebina in a handicap cage match (managed by Hoeness and Guardiola, of course) against Zlatan (with Mourinho) in his corner and Fabio Capello as special guest referee any time soon.

In the meantime, though, the good news for Paris Saint-Germain is that their 2-0 win, coupled with Monaco's disappointing 1-1 draw at Reims (a game Claudio Ranieri's men could have easily lost), means they are back alongside the Monegasques at the top of the Ligue 1 table.


German Bundesliga is must-watch TV

Seven rounds, 63 games, and we still haven't had a scoreless draw in the Bundesliga, while seeing a sizzling 3.36 goals per game (relative to 2.94 in Serie A, 2.79 in La Liga, 2.22 in the Premier League and 2.20 in Ligue 1).

At some point, no doubt, all these numbers will regress to some kind of mean. The goals will settle to between 2.5 and 2.8 (they usually do) and there will be a scoreless tie. But for now, enjoy!