Barca and Real should be happy with Clasico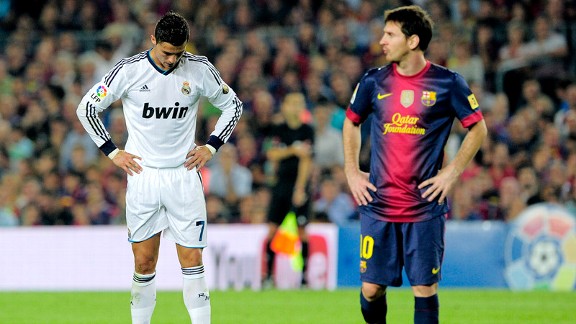 Josep Lago/AFP/Getty ImagesRonaldo and Messi lit up the scoreboard in the Clasico, but now attention turns to Real Madrid grinding out league results to catch Barcelona.
We sometimes say that a draw shouldn't suit either team. Yet after last night's Clasico, there are plenty of reasons for both Real Madrid and Barcelona to be happy with the 2-2 impasse.

Sure, Barcelona can reflect on the fact that they passed up a chance to win and extend the lead over Real Madrid to 11 points. But when you consider that they finished the game with Martin Montoya (a 21-year-old making only his second appearance of the season), Javier Mascherano (a more than capable centre back when he's alongside Gerard Pique or Carles Puyol; less so with non-specialists next to him), and Adriano (a reserve wing back) making up three-quarters of the back four, you realize things could have been far worse.

It's a credit to Tito Vilanova that he changed things around to weather the storm. Barca emphasized possession as a defensive tactic and kept their back four much deeper than they normally do. They also were more cautious in their pressing up the pitch. In that sense it was a departure from the Barcelona seen in recent years, but not because Vilanova is now in Pep Guardiola's seat; after all, he was Pep's tactical guru. Rather, because Vilanova correctly chose to be more pragmatic against an opponent who, especially in the first half, was turning in their best performance of the season.

Real Madrid might tell themselves they should have won the game and rue that Karim Benzema miss in the first half. But there are plenty of positives to take from this, first and foremost the fact that the deficit remains at eight points. Eleven back in October is huge, not just practically but psychologically as well. Eight is still a lot, but you win the head-to-head at the Bernabeu and it's five. Surely Real Madrid has to believe they can make up five points in the remaining 30 Liga games, especially given Barca's hit-or-miss performances this season.

Most encouraging, though, was Real Madrid's performance. We saw a genuine 4-2-3-1 that generally held its shape even in non-possession, eschewing the temptation of everyone tracking back and trying to hit on the counter when Barcelona had the ball. When Mourinho's Madrid have done that, they have generally done better. Keeping the wingers up the pitch limits what the opposing full backs can do. It also shows confidence and a big-time mentality. Most of all, it gives Real the option of scoring through movement and schemes rather than via individual brilliance, as sometimes happens when the script goes out the window. At one-nil up, Mourinho may have been tempted to lower the team's center of gravity; the fact that he did not and stuck to his guns even when Barcelona went ahead showed tremendous belief in his players. And they rewarded him by leveling the score at the end.

Special One Was Spot On

One more thing on the Clasico. Jose Mourinho tends to polarize opinion, but I think he nailed it when discussing Cristiano Ronaldo and Lionel Messi after the game.

"Those two are from another planet," he said. "Saying that one is better than the other ought to be forbidden. Of course, I want my guy to win, but they're both outstanding."

They proved it again Sunday night. They showed leadership and work rate and, between them, scored all four goals. They belong in the same conversation as Pele, Diego Armando Maradona, Alfredo Di Stefano and others you may care to name. And one day we'll be able to tell our grand-children we witnessed this stellar rivalry first-hand.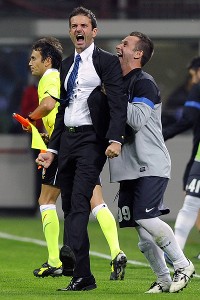 Claudio Villa/Getty Images Taking a page out of Mourinho's playbook, Andrea Stramaccioni credited Inter supporters for the team's win over AC Milan.
All About The Fans

Inter boss Andrea Stramaccioni was likened to Jose Mourinho by his boss, president Massimo Moratti. That may be well premature, but there was one obvious parallel after the Nerazzurri's 1-0 win over AC Milan in the derby. After the final whistle, Stramaccioni ran under the Curva Nord, home to the club's most passionate fans, and shouted "It's yours! It's yours!" at the top of his lungs. The message was
clear: They were responsible for the win.

Shades of when Mourinho, after winning his first Chelsea title, threw his winner's medal into the Matthew Harding Stand at Stamford Bridge. A genuine appreciation for the lift that supporters can give a club? Or a cheap kowtowing to the fans?

A cynic will opt for the latter, a romantic for the former. Either way, getting the fans on your side is a smart thing to do. As is showing some love for the folks who, ultimately, pay your salary.

Ferguson's New System

We've now had two straight games of Manchester United's diamond, with Wayne Rooney in the hole behind Robin van Persie and another striker (Danny Welbeck against Newcastle, "Chicharito" Hernandez against Cluj). As systems go, it's intriguing, but it's a bit early to say whether this will be the way forward or whether it's the kind of formation you only use in certain situations. It worked against a not-very-good Cluj side (seventh in the Romanian league) and a Newcastle team who were without four of their first-choice back five. Let's wait and see how it performs against tougher opposition.

While it gives Rooney free rein and responsibility (and I think he performs better when he feels more responsibility) and allows you to shoehorn another good striker into the side, it also means no room for wingers. That's not irredeemably bad, but, again, it requires the front three and Shinji Kagawa, if he's in midfield, to take turns getting into wide areas and liaising with the attacking fullbacks. It's doable, but it takes time to fully take it on board.

The other concern is simply in terms of personnel. Do United have enough bodies to consistently put out three top-drawer central midfielders, allowing for injuries and suspensions? And if you do that, how soon before the likes of Nani and Antonio Valencia grumble over playing time?

My guess is that this formation, far from being a permanent tactical shift, is simply an alternative Sir Alex is working on. He has built so much of his success over the years on wingers that it's hard to see him moving away from it.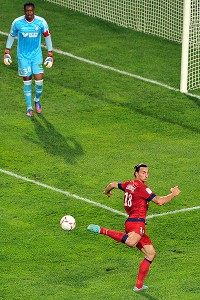 Gerard Julien/AFP/GettyImagesIbra showed his trademark flair for the dramatic against Marseille, but his manager Carlo Ancelotti needs to depend less on the big Swede over the long run.
Drawing Conclusions

Those, like me, who were predicting an inevitable Marseille collapse against Paris St.-Germain -- owing largely to the fact that OM's performances have been nowhere near as good as their results, and that the 4-1 loss at Valenciennes was no fluke -- were proved wrong Sunday night.

Credit to Elie Baup, who put out a side that was in no way intimidated by PSG's big names and even bigger salaries. On the night, Andre-Pierre Gignac (yes, the same Gignac who spent last August in fat camp and who scored one Ligue 1 goal in 21 appearances last season) proved equal to Zlatan Ibrahimovic, who was himself outstanding.

PSG remain three points back and there's no reason to panic. But Carlo Ancelotti knows there's a danger in being over-reliant on Ibrahimovic. He certainly has the talent at his disposal to wean the club off the big Swede while keeping Ibra happy. Whether he can do it will be a test of his skills, both as a man-manager and as a tactician.

Look who's No. 1

Look who's top of La Liga, alongside Barcelona: Atletico Madrid, who have had their best ever start to a season. Diego Simeone has added a level of steel and organization to a side that, in recent years, has been long on flair but short on discipline.

Radamel Falcao -- who has eight Liga goals this season, just like Messi and Ronaldo -- gets the headlines, but Alteti has also been very solid defensively. Diego Godin and Miranda at centre back, Mario Suarez in midfield and Thibault Courtois have formed a tremendous defensive spine, which is a big part of the reason the side have conceded just three goals all year.

Can it last? From a neutral's perspective, you certainly hope so.

Damaging Day for Dortmund

Everything was going swimmingly for Borussia Dortmund on Sunday away to Hannover. Jurgen Klopp's men were a goal up and dominating, just as they had done at Manchester City in midweek. But when the final whistle blew, Klopp was left to assess a very damaging day for the Bundesliga champions.

It's not just Hannover's late equalizer, which left Borussia nine points behind Bayern. It's the fact that Mats Hummels, Sven Bender and Kuba Blaszczykowski all went off injured. Early indications are that Hummels and Bender will be out for at least two weeks -- God bless the international break -- while Kuba is unlikely to return until late November. With the big derby against Schalke scheduled for Oct. 20 and Real Madrid rolling into town four days later, the injuries could not have come at a worse time.

Dortmund's squad is supposed to be deeper this year and the side is supposed to be better equipped to deal with the strains of both the Bundesliga and the Champions League. We'll soon find out how true that is.