Pellegrini's belief, doomed Di Canio and Barca gets out-Barca-ed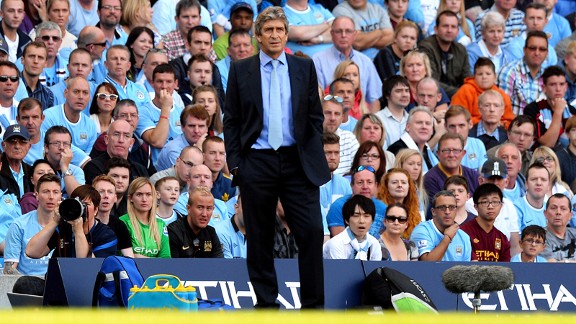 GettyImagesManuel Pellegrini was full of conviction ahead of Manchester derby.
Last Friday, ahead of the Manchester derby, Manuel Pellegrini said City were "mentally stronger" than United. When you think about it, that was quite a statement.

When managers lose games, they have one of four alibis: blame the referees; admit that their team isn't as good as the opposition; use the "mental strength" trope; or take responsibility, conceding that their decisions cost them.

What if City had lost at home to United and there were no contentious incidents, meaning no blame placed on the officials? Pellegrini couldn't very well say his team wasn't as talented as United, because, well, it would be a big, bold lie. And if the "mental strength" bit was out-of-bounds, too, well, he would have had to shoulder the blame himself. Talk about putting yourself on the line. But Pellegrini obviously was supremely confident in his crew. And on Sunday, they delivered in their 4-1 win.

- Curtis: The City is Blue

Ashley Young and Antonio Valencia were swept away on the wings. Marouane Fellaini looked like what he was: a guy who had been playing an entirely different position the past few seasons and now had to reinvent himself deeper. Sure, the mere presence of Robin van Persie might have been a game-changer for David Moyes' men. But this was as much about City playing at full throttle as it was about United's deficiencies.

Jesus Navas blistering down the wing. Yaya Toure, a one-man wrecking crew in the middle of the park. Samir Nasri, at once subtle and workmanlike, in a way he rarely had been under Roberto Mancini. Sergio Aguero, clinical with his finishes and deadly with his movement. Alvaro Negredo, who arrived with a reputation for disappearing in big games, proving the naysayers wrong with his continuous running and pinpoint passing. And, of course, Vincent Kompany, marshaling a back four that truly played like a unit.

Good managers do two things. They place their best players in positions and situations where they can exact maximum damage on the opposition. And they have a multiplier effect on their teams, making them greater than the sum of their parts. On Sunday, that's exactly what Pellegrini did.

It doesn't mean City will run away with the title. It doesn't mean that he has suddenly and seamlessly adapted to the Premier League. What it does mean is that he has shown his team how they can play. And he has proved to them that they can reach this level. That's no small breakthrough. No wonder he felt so confident about that whole "mental strength" thing.

Advantage Monaco after Le Cashico draw

The battle between the nouveau riche and the nouveau nouveau riche -- or, if you prefer, Le Cashico, ended in a stalemate on Sunday night. But it's pretty obvious that Claudio Ranieri's Monaco can be happiest. It's not just the fact that they maintain their two-point lead at the top of the Ligue 1 standings. There's also the matter that they've already weathered away trips to Marseille and Paris Saint-Germain, the two most credible contenders for the title.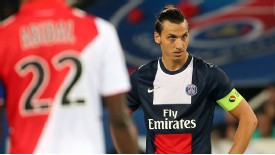 GettyImagesPSG's Zlatan Ibrahimovic cuts a frustrated figure against Monaco.
Most of all, Monaco showed tremendous cohesion and maturity, particularly in the second half. Sneer all you like, call them arriviste, but the fact remains that Claudio Ranieri fielded five players aged 21 or younger and they weren't fazed by the Parc Des Princes or the pedigree of the opposition players. It's equally remarkable how quickly Ranieri has managed to get this team to jell (in sharp contrast to PSG) when you consider that, apart from the homegrown Layvin Kurzawa and goalkeeper Danijel Subasic, every other player involved in the game has been at the club less than 15 months.

As for PSG, it's two points lost. You got the sense in the second half that, perhaps Laurent Blanc opted to take his foot off the gas a little, doing some quick cost-benefit analysis and concluding that the pluses of a victory would be outweighed by the minuses of a defeat, thereby settling for the draw.

- Johnson: Cavani problems continue

PSG weren't helped by the early injury to Thiago Silva, either. With Alex unavailable, on came the 34-year-old Zoumana Camara to partner with 19-year-old Marquinhos, making only his second start for the club. Far from ideal, and the second-guessing over the departure of Mamadou Sakho no doubt already has begun.

The real concern though is that while there were signs of PSG developing an identity and a game plan, it was disappointing to see, in a match like this, the club revert to their usual reliance on Zlatan Ibrahimovic. This Ibra-dependency tends to manifest itself in tougher matches when the fear of failure prompts the team to "go to the well." And that means plenty Ibra and not much Edinson Cavani.

If the Uruguayan looked willing and effective cutting in from his wide position in recent games, against Monaco he regressed to playing second fiddle to the Big Swede. It's not a knock on Ibrahimovic, it's more a reflection on the fact that if you ride his admittedly wide shoulders for too long, you become predictable. And there is no excuse for a team with PSG's budget and talent to be predictable.

Balotelli saves Milan from themselves

You shudder to think what might have happened against Napoli if Mario Balotelli hadn't had one of his finest performances in a Milan jersey, albeit one marked by a saved penalty (his first as a professional) and a red card after the final whistle.

There were times when it looked as if the Rossoneri consisted of Mario and 10 guys plucked off the street (OK, eight other guys: Nigel de Jong and Andrea Poli did their part) -- not necessarily because the rest of Milan's starting 11 is composed of poor players, but because on the night, they were so ineffective.

- Paul: Mario super, but errors cost Milan

It goes back to two factors. One is that Napoli played extremely well and rightfully share the top spot in Serie A with Roma. That part is beyond the club's control. But the other is entirely self-inflicted. Sunday night, Alessandro Matri was playing centre-forward, with Valter Birsa on one flank and Balotelli on the other. Those first two guys shouldn't be there, based on everything Milan and Max Allegri have worked toward in the previous nine months. Matri was signed because they thought that, with Kaka's return, the Brazilian would function best behind two strikers, so they needed another. And Birsa came on board because, now that they have Kaka, they felt they needed someone who could fill in for him.

So yeah, it's down to Kaka, who, of course, is injured right now. His presence -- or in this case, his absence -- led to Milan tearing up a functional blueprint (what's wrong with believing in players like Stephan El Shaarawy, although he's currently injured, and Mbaye Niang?) and chasing a utopia with two more run-of-the-mill players in the mix.

Doomed Di Canio

The thing about criticizing players in public is this: You have to get it right. Some take ownership and responsibility when they're held to account in public. Others lose confidence. Others simply get angry.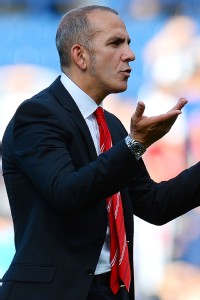 Andrew Yates/AFP/Getty ImagesPaolo Di Canio: Tabloid target.
Paolo Di Canio evidently misjudged his players and that's part of the reason why he's no longer manager of Sunderland. The club announced they were parting ways on Sunday night. Monday's papers are filled with stories whereby several senior players angrily took him to task for criticizing them after Saturday's 3-0 defeat at West Brom. Di Canio reportedly responded by telling them that, if they felt that way, they should go to owner Ellis Short and ask that he fire the manager.

Well, they did. And Short did.

Because the media loves simple, easy-to-understand storylines, the narrative here is basic: Crazy Di Canio and his odd behaviour upset everyone. No fewer than 14 new signings in the summer, a nutty recipe for instability. It was always going to end badly.

- Randall: Paying the price of failure

I've known the guy for the best part of two decades. Perhaps I can shed some light on the "odd behaviour" on Saturday, which basically consisted of him going up to angry traveling fans after the game, apologizing and saying it was his fault. Di Canio said he understood their anger and, had he been in their place, he would have been even angrier.

That's taking ownership of your actions. That's taking responsibility. Di Canio knows this because, before becoming a professional, he, too, was a fan, making endless journeys to away games and spending every last dime to follow his team. That part was genuine.

Other odd behaviour? Supposedly "breaking in" to his office at Swindon in the middle of the night following his dismissal. Well, it wasn't a break-in. He was with his assistant, who unlocked the doors for him. He removed personal effects. Family photographs. His notebooks. A picture that his daughter had drawn for him. And he went at night to avoid the awkwardness that you get when a fired employee returns to the workplace. But, hey, to the tabloid media it's crazy Di Canio and another break-in.

The 14 signings? Well, for a start, he wasn't in charge of transfers. Sunderland have a director of football. Beyond that, 10 players did leave the club and another two are transfer-listed. So, in net terms, that's not exactly huge. The 14 newcomers -- four of whom are loan signings and four of whom are 20 or younger -- cost a combined $30.5 million, which is roughly what Sunderland got back for the players they sold. In fact, only four clubs had a lower net spend than they did.

The bottom line is that Sunderland had one point after five games and evidently Short felt the need to act. Sacking a guy after 12 matches in two seasons seems distinctly premature. You won't be doing the new guy any favors, either, given the club's next two games are against Liverpool and Manchester United.

Maybe Di Canio had to go and Short's decision will be vindicated. But if that's the case, it won't be because of the club's signings or his supposedly "odd" behaviour. Because there isn't -- or shouldn't be -- anything odd about a guy taking responsibility for his performance.

As for his supposed bad man-management and inability to get along with his players, his fiercest critics thus far were the guys he shifted out or tried to. Lee Cattermole, Phil Bardsley, Titus Bramble, all these guys had an axe to grind. We'll get a better sense of how the dressing room felt when those players who predate his arrival and have been at Sunderland a long time -- Sebastian Larsson, Craig Gardner, John O'Shea -- speak up. That's when we'll know if that really was the problem.

Barca out-Barca-ed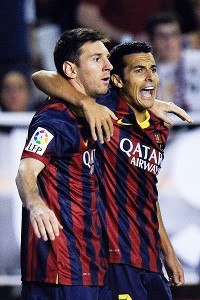 David Ramos/Getty ImagesPedro's hat trick against Rayo Vallecano wasn't as easy as it looked, as Lionel Messi and Barca lost the possession battle for the first time in 316 games.
After five years and 316 games, Barcelona's streak of consecutive games in which they had the bulk of possession came to an end Saturday against little Rayo Vallecano. (The last team to see more of the ball than the Catalans against Barca? Bernd Schuster's Real Madrid in 2008.)

To paraphrase Gerard Pique: no longer slaves to tiki-taka then? Apparently not. And while the final score -- 4-0, punctuated by Pedro's hat trick -- looks gaudy, Barca made hard work of it, which is what you'd expect from a team that's transitioning.

- Ledwith: Not as easy as it sounds for Barca

The style was clearly more direct, but the rhythm was off. Sergio Busquets was missed and his understudy, Alex Song, did a better job winning the ball back than he did setting the tempo out of the back. Too often, Barca would lose the ball, usually on low-percentage passes and then labor to win it back again. And, in fact, at times, they had to rely on Victor Valdes who quietly is turning his supposedly final year at the Camp Nou into his best season.

Building something takes patience, and Gerardo "Tata" Martino is taking it one game at a time. Right now, all he really has to show for it is results -- Barca sit atop La Liga having won five of five -- and that's nothing to be sniffed at. The challenge will be getting the new, more varied approach to work on a consistent basis. And that may take a while.

In the meantime, the psychological barrier of not bossing possession and still putting four past your opponents has been broken. That's one step forward.

Mou's maddening Mata mulling

Jose Mourinho was extremely (and, unusually, by the standards of today's managers) forthright in explaining his reasons for dropping Juan Mata. The Chelsea boss explained that Oscar is his preferred choice to play in the hole and, given that he plays there for Brazil, it makes sense. That means that, if Mata, wants to get on to the pitch, he needs to play wide in Mourinho's 4-2-3-1.

Two problems with that. In Kevin De Bruyne, Eden Hazard, Willian and Andre Schurrle, he's competing with four others guys for two slots.

The other issue is that Mata lacks the speed and athleticism to perform in that role, given the style Mourinho wants to play. It's not a question of talent -- he may well be the most gifted player on this squad -- it's simply that, in his current incarnation, other players are a better fit.

That, in a nutshell, is Mourinho's take. Which is fine, he's the guy in charge, he's entitled to it. That said, it's a bit silly to simply say it's a matter of fitness and doing defensive work. Mata can train all day every day, he's not going to acquire speed and athleticism on the training ground. If you want to have a Mata in your side, you need to make allowances for him, which is what Rafa Benitez did. (But then he didn't have Schurrle, De Bruyne or Willian.)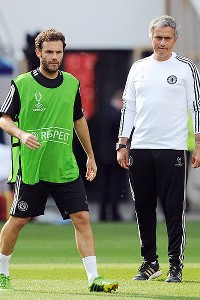 Chris Brunskill Ltd/Getty ImagesJuan Mata is perhaps Chelsea's most gifted player, but he's not a good fit in Jose Mourinho's system.
The one thing that doesn't quite add up is this: It's not as if Chelsea only discovered Mata's physical attributes last week. And it's not as if someone as meticulous as Mourinho only figured out how he wanted to play in September.

So why didn't Chelsea cash in on Mata when they had the chance? Why -- in this era of Financial Fair Play -- did they not halve the nearly $90 million transfer deficit by moving him on? That part remains a mystery. And you suspect it wasn't entirely Mourinho's decision.

On Saturday, in the 2-0 win over Fulham, Chelsea looked labored and, more worryingly, narrow. Mourinho's sides -- particularly this season -- don't push the fullbacks on, which means width must come from the wingers. But both Schurrle and Hazard relentlessly cut inside, rather than staying wide to stretch the opposing back four. Things only really improved when Oscar and Hazard began switching positions in the second half and the Brazilian was able to find some space against Fulham's two banks of four.

Guardiola's science lab

More experiments for Pep Guardiola against Schalke, except this time -- despite facing, on paper, their toughest test of the season -- Bayern got instant results. Phillip Lahm lined up in the defensive midfield position, with Bastian Schweinsteiger further forward alongside Toni Kroos. The result was a trio who managed to keep the ball effortlessly -- 69 percent possession -- while going north-south with precision and efficacy, as evidenced by their four goals.

Is this a long-term solution?

It's tough to tell. It would mean dropping Thomas Mueller who, while not the most natural fit on a Guardiola team, works so hard and often delivers. And it begs the question of what to do with Thiago Alcantara when he returns from injury.

It's also not clear that it really makes sense to play Lahm in the defensive midfield role because presumably, when Javi Martinez returns, the Bayern captain will revert to fullback and Rafinha will take his place on the bench. But, right now, Pep is treating Bayern like some kind of giant laboratory. And that's just fine. It will be fascinating to see what he does when the games really start to matter and he has everyone fit.

Roma keeps rolling

"We don't play derbies. We win derbies." Credit Rudy Garcia for saying exactly what Roma fans wanted to hear ahead of Sunday's Rome derby. Credit him more for helping deliver the win.

In masterminding the victory over Lazio, Garcia erased the painful memory of the derby defeat in the Coppa Italia final. (Which, in typical Roman fashion, had a disproportionately big effect: Were it not for that defeat, Erik Lamela might still be at the club.) He took the sting out of Lazio and then made the right substitution at the right time: Adem Ljajic for Alessandro Florenzi early in the second half changed the game.

Few cities have Rome's ability to get carried away, so you'll want to say it softly. But it's now four wins out of four, Roma's best start to a Serie A campaign since 1961. Could this be the year they finally live up to their potential?

Record-breaking Ronaldo

Cristiano Ronaldo's two goals in Real Madrid's 4-1 win over Getafe bring his career total to 208 in 205 games, meaning he's up to fifth in the club's all-time goal-scoring list. He may well catch Ferenc Puskas (242) this season, and then the chase is on to equal Carlos Santillana (289), Alfredo Di Stefano (305) and Raul (323).

But speaking of goal scorers, the situation with Karim Benzema continues to puzzle. A portion of the Madrid fans -- mostly the Ultras Sur -- do nothing but boo the guy, particularly when he doesn't play well, such as was the case Sunday. Their chants for Alvaro Morata were audible and almost immediate.

Now, the fans will always have the sacrosanct right to boo and jeer. And Real Madrid probably should have bought another striker after selling Gonzalo Higuain, if only to have options beyond Benzema and Morata.

But the transfer window doesn't open for another three-plus months. This is it. This is what you have: Benzema and Morata, nothing else. Simply crucifying Benzema in public at every opportunity isn't going to help. The encouraging thing is that the Bernabeu seems split, with a fair portion of the crowd trying shush the Benzema-haters. That, and the fact that his teammates look to be rallying around him: Both Pepe and Alvaro Arbeloa appeared to try and get the fans to stop.

Of course, the easiest way for this to be resolved is for Benzema to simply start scoring and playing well again. From Carlo Ancelotti's point of view, that could be as important a project as finding room for Gareth Bale in his formation.