Bale's seismic move, Sturridge on form, Bonucci shines, more
OK, so it's done. Gareth Bale is a Real Madrid player. Bet you didn't see that one coming, eh?

This has been percolating for so long, there were only a few things left to sort out. The first was the fee. According to Real, it's $120 million, but talk to Tottenham and it's $132 million.

Why the discrepancy? Well, there's a micro answer and a macro one. The micro theory is that Real are going with the lower amount because it's equivalent to 91 million euros, which is less than what the club paid for Cristiano Ronaldo back in the summer of 2009. And, supposedly, Cristiano is so sensitive that nobody wants to upset him. Boy, would he be upset if he wasn't the most expensive player at this club.

Personally, I don't buy it. Folks who know Ronaldo much better than I do call him a "diva," and that's fair enough. But he's not an idiot. He has Internet access and he can read English. To suggest that by saying the fee is less than it really is, he'll somehow remain in the dark about the fact that there's another version of events being peddled in England is, frankly, insulting to Ronaldo. Almost as offensive, in fact, as thinking his ego will somehow be bruised because Real Madrid saw fit to pay more for someone's services than they paid for his four years ago.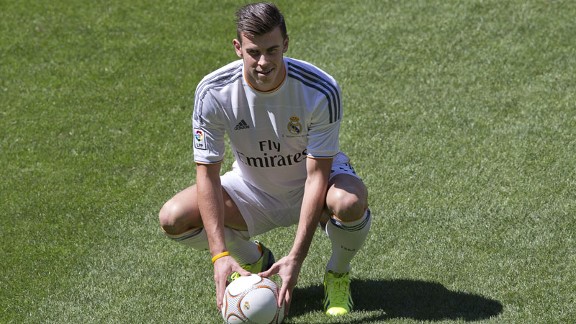 AssociatedGareth Bale poses on the Bernabeu pitch after signing for Real Madrid.

The macro theory is simple. There is very little transparency in the game and most clubs can pretty much say what they like because nobody is going to check in the short-term. Sure, you could get a forensic accountant to pore over the books of Tottenham Hotspur (last year's annual report is right here) and Real Madrid, but good luck figuring out where that $12 million discrepancy went.

Or you could get someone at FIFA to spill the beans. Since it's an international transfer, presumably the two clubs had to enter all the details in FIFA's Transfer Matching System (if you like this sort of thing, the details are here). Both clubs have to input all the relevant figures, including commissions, and as the name implies, they need to match otherwise the deal won't go through.

Would it kill FIFA to make all transfer fees public? Would it really be so damaging to a club's competitive advantage? I don't think so. But until that happens, the simple fact of the matter is that Tottenham have an interest in quoting a higher number and Real in quoting a lower number.



The other issue is how Bale's arrival impacts Madrid. It looks as if Mesut Ozil and Kaka are the pair on their way out, which makes sense as otherwise there would have been a glut of attacking midfielders in Carlo Ancelotti's team. Real also make back roughly half of Bale's fee by selling Ozil and save themselves a bundle -- close to $50 million -- by ditching Kaka.

We can debate whether they overpaid for Bale until the cows come home. But shifting Ozil and Kaka at this stage could be almost as important to the club's season.

Sturridge versus Suarez? On Sunday, Daniel Sturridge made it three goals in three Premier League games. It amounts to three straight one-nil wins for Liverpool and, more importantly, top spot in the table. You have to go back 19 years to find the last time Liverpool won their opening three games.

Going back to the start of Luis Suarez's ban, it's now 11 goals in nine games for Sturridge, who turned 24 on Sunday. The obvious question is what happens when the Uruguayan returns. Does Brendan Rodgers play them together? And if so, does he keep the 4-3-3, shunting one of them wide? And if he does, which one? (Reputation would suggest Suarez central and Sturridge wide, but remember, the former Chelsea forward has been less productive when employed as a winger while Suarez was very effective one season at Ajax starting wide when Klaas-Jan Huntelaar was up front.)

Or does Rodgers -- who is a bit of a tactics nerd and knows his schemes -- introduce a wholly new formation, perhaps with two strikers up front? Whichever way he plays it, it will be interesting to watch.

Another unsung Juve hero: Juventus romped all over Lazio on Saturday night, and there were plenty of performances you could pick out, from Arturo Vidal to Paul Pogba. Yet the win also underscored the qualities of one guy who is often lost in the shuffle but could be as important as any other Bianconeri player.

That man is Leo Bonucci, who served up two assists with long, accurate passes. He's far and away the most comfortable on the ball in Juve's three-man defense -- indeed, neither Andrea Barzagli nor Giorgio Chiellini will be mistaken for Franz Beckenbauer anytime soon -- and against opponents who successfully press Andrea Pirlo and Pogba, he's crucial to building from the back.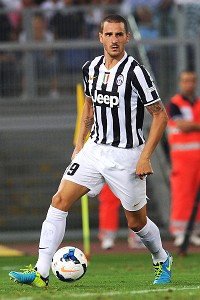 Giuseppe Bellini/Getty ImagesLeonardo Bonucci's ability to play the ball out from the back is a major asset to Juve's flow.

There also is no natural substitute for Bonucci on the Juve bench. Angelo Ogbonna and Martin Caceres are better suited to filling in for Chiellini or Barzagli, which means Antonio Conte will want to make sure he stays fit.

In recent years, we've seen a marked decline in the ball-playing centre-half. There simply aren't many of them around, and some of the ones who could do the job aren't asked to do it because of the way their sides play. In that sense, Bonucci is a throwback and one Juve need in order to keep ticking against better opponents.

It takes time: Tottenham looked like what they are at the Emirates on Sunday: a team in which six of the starting 11 played for other clubs last year. Andre Villas-Boas' crew has yet to come together, and there are plenty of mitigating circumstances, starting with the simple fact that it takes time to jell, especially given AVB's fairly sophisticated schemes.

They faced an Arsenal team who needed a win and, on the day, simply exploited their advantages: the early goal, the familiarity with the conditions of a North London derby, the ability to hang on. Most likely, we won't see AVB's handiwork for another six to eight weeks. The challenge for Spurs will be to not drop too many points until this side jells.

Don't sleep on Fio: Fiorentina may not win Serie A this year -- though some of us did see them as dark horses before the sale of Adem Ljajic -- but there will be few teams in Europe more entertaining to watch.

The partnership of Giuseppe Rossi and Mario Gomez in particular -- four goals between them in the 5-2 away win at Genoa -- looks devastating. Rossi is fully fit after his two-year nightmare, and Gomez, as he proved over the years at Bayern and Stuttgart, will score goals in industrial quantities if the team creates chances. And very few teams in the world create as much as Fiorentina do. Throw in a midfield packed with guys who can pass and create -- David Pizarro, Mati Fernandez, Alberto Aquilani and Borja Valero -- and an absolutely unique offensive weapon on the wing in Juan Cuadrado and there is little question that the Viola will be fun to watch. Indeed, that's why Vincenzo Montella is one of the hottest coaching commodities out there.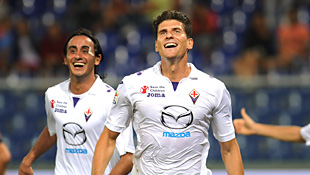 Valerio Pennicino/Getty ImagesFiorentina's thrilling start to the new season owes much to Mario Gomez and manager Vincenzo Montella.

Could Fiorentina use help defensively? Sure. Neto has looked shaky in goal. And at the back -- whether Montella goes with a back three or a back four -- you don't necessarily have the man-for-man quality other clubs have. But as the Fio manager himself told me last year: "This club and these owners believe in entertainment and winning in a certain way. We're not going to deviate from that."

Dortmund moving forward: Mario who? OK, that's a bit unkind. Henrikh Mkhitaryan hasn't quite erased the memory of Mario Goetze, the homegrown star who walked out to join Bayern over the summer. But judging by his performance at Eintracht Frankfurt on Sunday, he'll be getting a lot of "Echte Liebe."

The Armenian virtuoso scored both goals in the 2-1 win. His second was special, an elegant right-to-left movement capped with a delicious long-range, left-footed finish. Borussia Dortmund are now 4-for-4 and sit atop the Bundesliga. Defensively, there's plenty of room for improvement -- Roman Weidenfeller was forced to make two huge saves of the kind keepers don't usually make -- but at the other end of the pitch, things are rolling along quite nicely.

High-scoring Italy: Forty-three goals in Serie A this weekend. That's a staggering amount. Forget the old-time jokes about catenaccio and all that. The simple truth of the matter is that the number of goals scored in Europe's big leagues is actually pretty similar year after year. Last season, it ranged from 2.54 in France to 2.93 in Germany.

This is simply probability and chance; you don't want to attach too much importance to it, just like you don't want to read too much into the fact that there were just 13 goals in nine Premier League games this past weekend.

Mixed weekend: Darkness and light for Barcelona in their 3-2 away win at Valencia. The good news is that (in case anyone doubted it) Neymar and Lionel Messi can play together. There were times when they were breathtaking during a first half in which Messi notched a hat trick.

- Tomas: Messi nets sweet hat trick

The flipside is that defensively there is still a huge amount of work to do. Valencia simply never went away, in part because Messi fluffed a number of chances after the break and in part because the back four still look shaky at times, particularly in terms of positioning.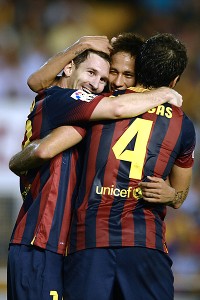 Lluis Gene/AFP/Getty ImagesMessi and Neymar can play well together -- surprise, surprise -- but Barca's priority should be on firming its defense.

It's still a big win in a difficult place to go against a good side, and maybe that's what matters right now. But Barcelona need to do a better job at killing off games, the way they did in recent years, if they are to retain the Liga title. Right now, that should be the priority for Tata Martino.

Unlikely hero: Monaco got a big win at Marseille this past weekend and jumped to the top of Ligue 1, much to the joy of Dmitry Rybolovlev, the billionaire who currently bankrolls the newly promoted club. On the day, they more than held their own at the Velodrome and fully deserved the three points.

The winner was scored by Emmanuel Riviere, who now has five goals from two starts and two substitute appearances. That's right; Riviere, who came over from Toulouse last January for $7.5 million, an absolute pittance compared to the huge money the club have spent on the likes of Radamel Falcao, James Rodriguez and Lucas Ocampos.

Riviere is now averaging a goal every 36.8 minutes. If he keeps this up, there's no way that Claudio Ranieri will be able to keep him out of the starting lineup.

Guardiola's intriguing tinkering: I love Philipp Lahm. Wonderful player, great leader. Pep Guardiola evidently likes him, too. But he's a bit more fascinated by his versatility than I am -- and perhaps more than he should be, too.

On Friday night in the European SuperCup against Chelsea, Lahm lined up alongside Thomas Mueller in a central, attacking midfield position, with Toni Kroos shifted back as a deep-lying playmaker in front of the back four and Rafinha in at right back. Guardiola gave it a little over half an hour, just enough to establish once and for all that this wasn't going to work. Lahm is a wonderful passer and runner but he's not cut out to receive the ball on the half-turn with his back to goal -- or with an angry holding midfielder on his backside as inevitably happens in that role. Bayern switched it around, with Kroos moving forward to his customary position and Lahm moving deeper.

- Schaaf: Revenge vs. Chelsea

Credit Guardiola for fixing the situation. But maybe it's time not to put yourself in those situations in the first place. Playing Lahm somewhere other than right back weakens the positions because it means Rafinha gets on the pitch. What's more, with Javi Martinez and Bastian Schweinsteiger available in the long run, it's presumably not something you're going to need to resort to very often. (That said, Kroos as deep-lying playmaker may be worth another look at some point, depending how things shake out elsewhere in the lineup.)