First shot of new Clasico era, Hart's mistakes, Napoli's start, more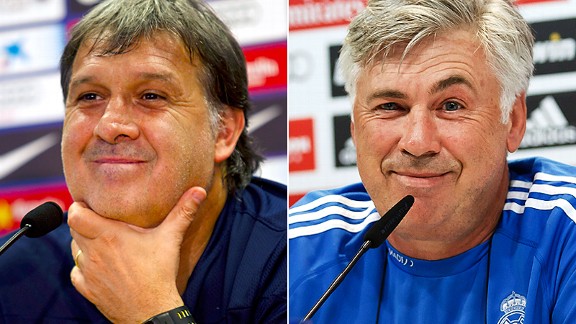 Getty ImagesMartino's words were confusing, provocative and short-lived, but it has moved the Barca-Real rivalry on from the Pep-Mourinho era.
The next Clasico is 64 days away, but maybe it can't come soon enough for Gerardo "Tata" Martino. It doesn't quite carry the venom of the Pep Guardiola-Jose Mourinho era, but saying that Real Madrid's reported mega-bid for Gareth Bale showed "almost a lack of respect towards the world in general" -- as Tata did on Saturday -- was always going to stoke fires.

Was it a throwaway comment? Was he trying to poke his club's archrival? Whatever the case, the Barcelona manager's comment was necessarily going to evoke a response. And Carlo Ancelotti delivered it in his own style, which meant no escalation of hostilities but also the distinct message that Real weren't going to be pushed around.

"I didn't understand it," he said. "He hasn't been here for long. Maybe he doesn't understand European football and doesn't understand how his own club works. Barcelona buy players with money, too. It was certainly a strange thing to say."

- Report: Martino tries to calm Ancelotti row
- Rigg: Few surprises for Real at Granada

It's too easy to simply point out that there's more than a speck of pot and kettle here. Barcelona's entire history is littered with enormous transfers. From Johan Cruyff, Ronaldinho and Diego Armando Maradona to, more recently, Zlatan Ibrahimovic, David Villa and Cesc Fabregas, Barca have had little hesitation when it comes to splashing the cash. Heck, figuring out Neymar's actual fee requires an accounting Ph.D., but what isn't in doubt is that he was extremely expensive as well.

Arguing that it's a matter of degree makes little sense. How is it that $130 million (or whatever the final figure turns out to be) for Gareth Bale shows a lack of respect, but, say, $100 million for Ibrahimovic is just fine and dandy?

Some folks believe that the enormous salaries and transfer fees are immoral when teachers, nurses and cops -- people who shape, save and change lives -- are paid a fraction of that. But if you are going to take an ethical stand on this issue, then lead by example. Barcelona managers also earn many times what these people make and you don't see Martino announcing that he's going to live on a teacher's salary while at the Camp Nou.

This is how the game works. It's a free market; people charge what it can bear. If Real Madrid elect to spend their own money on Bale or anyone else, it's their choice. They do it because they see value in it.

Martino gets all this. He's too intelligent not to. So let's take this for what it is: a wind-up, an early jibe ahead of Oct. 27 when these two teams settle matters on the pitch.

Barca's on-field struggle: Speaking of matters on the pitch, Martino's Barca had to huff and puff to get the best of Malaga. With Leo Messi injured and Neymar, again, on the bench (though he looked terrifyingly sharp once he came on), Tata dusted off the "false nine" with Cesc Fabregas at centre forward.

Malaga may have lost some big hitters over the summer -- Joaquin, Jeremy Toulalan, Martin Demichelis and, of course, Isco -- but they're still tricky at home. Tactically, Bernd Schuster was far more conservative than anything you'd have seen from Manuel Pellegrini last season, and in the end, the difference between the two sides was Adriano's long-range effort and some excellent saves from Victor Valdes in the second half.

- Tomas: Neymar merits starting spot

It may amount to stating the obvious, but Barcelona -- particularly against opponents who park the bus -- are a heck of a lot more efficient with either Messi or Neymar on the pitch.

Our first Prem shock of the season: Cardiff's 3-2 win over Manchester City was the tale of the weekend in the Premier League. The Bluebirds (can we still call them that when they're in red?) milked the raucous crowd to maximum effect while displaying discipline and organization. Malky Mackay's belief in the guys who got Cardiff up -- Kim Bo-Kyung, Fraizer Campbell and Aron Gunnarsson -- was rewarded, proving, at least on Sunday, that while the club have spent money, you don't necessarily need a brand-new squad when you make the jump to the top flight.

Manuel Pellegrini rather pooh-poohed Cardiff, saying that they put ten men behind the ball and exploited set pieces for the win. Well, when you're an attacking possession-based team with a huge budget and wage bill, opponents will tend to look for the counter. And, as for set pieces, this is the Premier League.

- Curtis: City's skill trumped by Welsh muscle
- Morris: Record crowd propels Cardiff to glory
- FC on TV: Man City's away blues

The fact of the matter is that City blew it on both of Campbell's goals. Vincent Kompany and Matija Nastasic were sorely missed. Javi Garcia, recycled as a centre back, and Joleon Lescott are a major step down. Pellegrini may either want to address this in the transfer market or use Yaya Toure more often as a stand-in defender.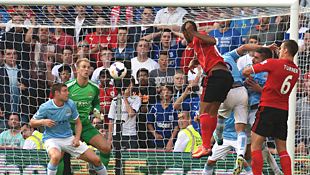 Andrew Yates/AFP/Getty ImagesFor all Man City's attacking riches, the club looks woefully thin at the back, as exploited by Cardiff on Sunday.

The other issue is Joe Hart. He had wobbles late last year and he's wobbling again this season. Some have even suggested giving Costel Pantilimon a run in his place, but that's probably premature. Goalkeepers are unusual "animals" and it's obvious Hart has the physical tools to be among the world's best. Whatever's happening to him is purely mental. City's challenge is figuring out whether he can get out of his slump on his own or whether their coaching staff can help him do that.

Given this team's attacking potential, there's no need to panic just yet. But both situations -- the fitness of the centre halves and Hart's state of mind -- need to be monitored.

Destined for greatness: Paul Pogba began 2013-14 where he left off in 2012-13: on a constant upward arc that could soon make him one of the scariest players around. Maybe even, as his manager Antonio Conte suggested, "the best midfielder in the world one day."

Juventus's 1-0 away win against Sampdoria wasn't gaudy, but rather professional and intense. Like Conte and Pogba, in fact. Seeing how Conte uses him this season will be a major storyline. Claudio Marchisio's injury paved the way for him to start against Samp, but you wonder what will happen when everyone is available.

- Rzouki: Important opening-day win
- FC on TV: Tevez has happy debut

Meanwhile, Carlos Tevez looked sharp up front although obviously, in terms of partnerships, there's still a way to go. He and Mirko Vucinic were both effective, albeit without linking up as often as they might. And of course Fernando Llorente, who came on as a late sub, is also in the mix.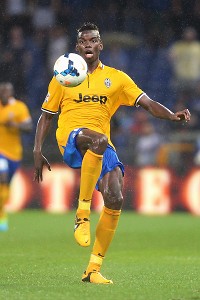 Claudio Villa/Getty ImagesPaul Pogba shone again for Juventus this weekend, providing more proof of his limitless potential.
Bayern still searching for perfection: Pep Guardiola's experiments in the Bayern laboratory continued in the 2-0 win over Nurnberg on Saturday. At times it looked almost like a parody of tiki-taka, with Bayern enjoying an outrageous 81 percent possession but really only getting into gear in the last 25 minutes or so after Toni Kroos and Thomas Mueller came on for the debutants, Mario Goetze and Thiago Alcantara.

Before that, we watched their endless ball control crashing like feeble waves against Michael Wiesinger's two orderly banks of four. Sure, the game might have taken a different turn had David Alaba not missed his penalty in the first half, but what we saw -- evidently -- isn't what Pep has in mind.

The good news is that Bayern made it three wins out of three, one of four Bundesliga teams to have run the table thus far. And defensively, apart from Daniel Ginczek hitting the crossbar, Bayern looked more solid than before, but that may have had more to do with Nurnberg's catenaccio and inability to counter effectively.

- Schaaf: Alcantara injury not so bad?

The bad news, of course, is Thiago's injury. He won't be back until mid-October at the earliest. Obviously Bayern are capable of winning without him. But they aren't going to grow the way Pep wants without him on the pitch.

Gunners win, but still lacking: Following two convincing away wins -- against Fenerbahce in the Champions League and on Saturday at Fulham -- Arsene Wenger was sounding bullish. The Arsenal boss talked about "brainwashed" fans who fuel the negativity surrounding the club and regularly overreact.

He's right in the sense that supporters and media too often let short-term results impact their view of the big picture, but it works both ways. Had Arsenal defeated Aston Villa on opening day, it wouldn't have changed the fact that this is still an undermanned squad that hasn't signed anybody of note despite supposedly sitting on an enormous budget. And that's not good.

- Tyler: Ramsey shines in Fulham win

So these two important wins -- and they were important, especially the one midweek in Turkey -- shouldn't change the reality either. Arsenal will win games -- big ones, too -- because Wenger is a good manager and he has some very talented, game-changing players (above all, Santi Cazorla and, when he's fit and his head is right, Jack Wilshere).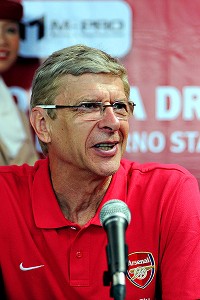 David Price/Getty ImagesArsene Wenger may be feeling confident again after two superb away wins but even he can't dispute that the Gunners need more players in order to compete.

But unless something changes in the big picture -- read: long-term transfer strategy -- this club won't come close to reaching its potential.

A new era for Napoli: Rafa Benitez called Napoli's 3-0 hammering of Bologna "the best debut of my career." (If you look at the stats, this isn't saying too much; he won only two season openers in the past decade.)

Tactical wonks will have enjoyed the win because, simply put, Napoli were close to perfect on the pitch. Even the switch to a back four compared to last season's back three didn't affect the quality of the two wingbacks, Camilo Zuniga and Christian Maggio. The guy who looks to benefit most from the change is Marek Hamsik, who scored two goals. Without Edinson Cavani in front of him, he has space in which to run and Gonzalo Higuain, more than most, excels at drawing defenders with him. "I can feel it, this is my year," Hamsik said after the game.

It remains to be seen how it will work against tougher opposition, but the early indication is that this team is built for the Slovak midfielder, who seems tailor-made for what Benitez is trying to do. Either that or Benitez tailored his tactics to suit his best player. Which is exactly what a good manager does.

Formation swap benefits Blanc: Paris Saint-Germain win at the third attempt, thanks in no small part to Laurent Blanc's switch to a 4-3-3. It's a gamble, evidently, because Javier Pastore is shoehorned into the middle of the park and Edinson Cavani shunted wide, at least when not in possession. But it also gives Ezequiel Lavezzi the freedom to run rampant down the flank and lets Ibrahimovic do his own thing -- dropping deep, wandering around -- without negatively impacting the side.

- Johnson: PSG finally off the mark

It remains to be seen whether this set up can work against better opponents of the sort PSG will face in the Champions League. But in Ligue 1, where PSG often struggle against teams who "park the bus" and congest their defensive third, it can be effective as a way to find room in which to operate.

Milan thin on defense: If Saturday's defeat at Verona is anything to go by, Milan could pay a hefty price for not strengthening the back line. Maybe last season's stunning second half of the season lulled the Rossoneri into a false sense of security, but Cristian Zapata and Philippe Mexes aren't exactly a centre back partnership to write home about. And Kevin Constant at left back still looks like what he is: a central midfielder playing out of position.

But while it's true the back four won't be Milan's strong suit this year, it's also true that the kind of defending that led to Luca Toni's two headed goals was more about mental mistakes than defenders who aren't the natural heirs to Paolo Maldini and Franco Baresi.

- Paul: Stunner vs. Verona
- FC on TV: Balotelli's busy day

Toni is 36 years old. Age may have made him slower and less coordinated, but it hasn't made him any smaller. He's still 6-foot-4 and still one of the best headers of the ball around. Leaving Constant to mark him or, worse, trying to play some weird offside trap that saw Zapata trying to outjump him one-on-one is a case of simply switching off.

Supposedly, the club have one more big signing planned, either Keisuke Honda or Adem Ljajic. They could use either one, of course. But what they could really use is some help at the back.