Arsenal's ineptitude, Real and PSG labor, Pogba's potential, more
OK, let's take Arsenal manager Arsene Wenger at face value. Let's presume he's serious and he means it when he says: "We are there to spend money. People say: 'Buy players, buy players, buy players.' But who? We analyze every single player in the world and work 24 hours a day for that."

Note that by presuming Wenger is serious here, I don't mean the part about working "24 hours a day" and analyzing "every single player in the world." I'm assuming he misspoke or was trying to be funny.

But what's terrifying -- or ought to be -- is the "But who?" part. Because the implication is that the only players out there who could make Arsenal a better team are those who are not for sale or otherwise unobtainable. And we know that's not the case. That's why Arsenal employ dozens of scouts and a gaggle of executives whose very job is to identify players and get things done. If, as of today, they have just one player to show for the efforts of the past three months -- Yaya Sanogo, a 20-year-old with just three top-flight starts to his name -- there can be only three reasons why.

We can discount the first: Arsenal don't have any money for signings. We know this isn't true because they keep telling us how large their mountain of cash is -- nearly a quarter of a billion dollars, according to their 2011-12 accounts. And we know they made a profit of $57.8 million in 2011-12, the last year for which published accounts are available.

So that leaves two possibilities. Either they can't identify anybody worth signing (which may explain why the three players they were strongly linked with this summer -- Gonzalo Higuain, Luiz Gustavo and Luis Suarez -- play for tiny, obscure clubs liked Real Madrid, Bayern Munich and Liverpool). Or they lack the chutzpah and nous to actually close a deal.

In either case, heads should roll. Because, frankly, we've been here before. The memory of the summer of 2011, when 12 weeks of sitting on their hands coupled with a horrid start to the season yielded a frantic five signings in the final 48 hours of the transfer window, ought to be fresh in everyone's mind.

(For those who don't recall, Arsenal's desperation quintet that season were Per Mertesacker, Mikel Arteta, Andre Santos, Park Chu Young and, on loan, Yossi Benayoun. The latter three contributed close to nothing while the first two could and should have been secured earlier.)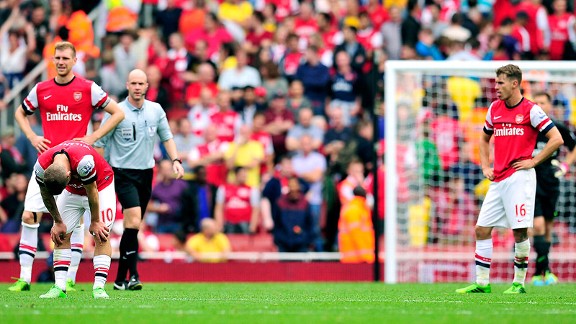 AllsportArsenal's woe is to a large degree self-inflicted. But when will those responsible be held accountable?

Saturday's home defeat to Aston Villa brought out the boobirds and desperate pleas to spend some money. That message should have been there even if Arsenal had won (and, to be fair, with somewhat different refereeing, they might have). None other than Lady Nina Bracewell-Smith, the club's honorary vice president and one of the shareholders who paved the way for Stan Kroenke to take over the club, took to Twitter to voice her anger, writing "How deeply I regret selling to Kroenke."

This club has done so much right during the Arsene Wenger era. But it has also displayed a staggeringly glaring inability to get things done properly in the transfer department, particularly since the departure of David Dein.

It can't be a coincidence. Nor can it all be Kroenke's fault. The grim realization here is that Wenger is a far better coach and manager than he is a transfer guru. The sooner he -- or the club -- realize this and the sooner they deal with those responsible for the summer fiascoes, the sooner Arsenal can move forward.

New club, same struggles: Carlo Ancelotti won the Ligue 1 title the hard way, grinding out results, suffering through games, and struggling to turn his pricey Paris St. Germain side into something greater than the sum of its parts. His Liga debut with Real Madrid served up much of the same.

Pepe Mel's Real Betis -- a team that often creates problems by showing no fear away to bigger clubs -- had the upper hand for much of the first half, forcing Real Madrid to hit too many long balls (Karim Benzema, incredibly, managed to stray offside five different times). Things improved a bit in the second half, and a well-worked Marcelo-Isco combination gave Madrid the win, but it's obvious that things need to improve.

You wonder, too, about Ancelotti's decision to pick Diego Lopez ahead of Iker Casillas between the sticks. The former didn't look too assured out there, which means we may see Casillas real soon. Either way, this selection proved that beneath the "nice guy" exterior and rumpled appearance, Ancelotti isn't afraid to make big decisions, like dropping the club captain and national team goalkeeper. (And, unlike last season, when Jose Mourinho also relegated Casillas to the bench, doing it for purely technical reasons.)

Proving his worth at Bayern: Mario Mandzukic was tipped by some to be the ugly duckling who wouldn't fit into Pep Guardiola's brave new Bayern. But on Saturday it was his gorgeous goal that helped the Bavarians to three points at Eintracht Frankfurt.

Compared to the opener, Bayern conceded less defensively -- but, possibly as a direct result, produced less at the other end. What's more, when their opponents did pierce Bayern's defensive lines, things got really hairy, as evidenced by one dubiously disallowed Eintracht goal and a very strong penalty appeal at the end for a foul on Alexander Meier.

It's still baby steps for Pep's crew, and we still need to see Thiago Alcantara from the first minute plus Mario Goetze in any capacity -- and, probably, Javi Martinez as the midfield stopper with Bastian Schweinsteiger shunted elsewhere. Therefore, withholding judgment is only fair. For now.

A bright start for Moyes: Manchester United manager David Moyes could have scarcely hoped for a better league debut. He got his three points in the bag against a Swansea side that looked threatening early on. Wayne Rooney didn't get booed and barracked by the traveling United supporters and, when he did come on, played rather well. Nemanja Vidic showed just why, when he's fully fit, you can count on one hand the central defenders who are in his league. And, perhaps most tellingly, Danny Welbeck scored two goals, twice as many as he managed last season, and one of them, a lovely chip over Michel Vorm, oozed genuine class.

• FC TV: Rooney's debut

There are still unresolved issues, of course, from Rooney to the new signings we've been promised. At this stage, the rejected $44 million bid for Marouane Fellaini and Leighton Baines is something of a head-scratcher, not least because you'd think given his recent history Moyes would have a clear idea of what it takes to secure the pair.

But the win reaffirms what we already know about Moyes: When it comes to X's and O's and putting out a strong XI that can get results, his formula can work at Old Trafford the way it did at Everton.

Appearances can deceive: When you're up 6-nil at halftime, there's only so much you can read into a game. So let's not get carried away with Barcelona's seven-goal trouncing of Levante since many of the issues that dogged the club all summer remain.

But there was an ease and a carefree vibe to Barca that we hadn't seen in a long time. Guys like Alexis Sanchez and Pedro -- both of whom you'd think might be concerned about playing time this season -- got their goals early and looked bright and directed, almost as if they'd been given a spark by the arrival of Neymar, who offered a 26-minute cameo of his own in the second half.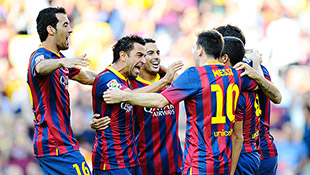 David Ramos/Getty ImagesIt's hard to divine much from Barca's romp given the opponent. What will resonate, though, is the performance of Cesc Fabregas.

Yet the one who looked most comfortable of all was the guy linked with Manchester United for most of the summer: Cesc Fabregas. He set up four of the goals, bossed the midfield, and played unselfishly and effectively. Stranger things have happened, but it's extremely difficult to imagine him anywhere else or to even think he might want to leave Barca based on Sunday's performance.

Good problems ahead at Chelsea: Jose Mourinho couldn't have hoped for a better outcome in his return to the Chelsea bench. Forget the 2-0 score line: Chelsea were so dominant (and Hull so awful) in the first half that it could easily have been 5-0.

What we got instead was a team taking an unassailable lead (against this level of competition) and then playing conservatively in the second half: slowing things down, "making the pitch big" and showing Mourinho-esque qualities. Kevin De Bruyne, the most overlooked newcomer, started and was extremely effective. You wonder what this might mean going forward for Juan Mata, who remained rooted to the bench.

Given the number of attacking midfielders at Mourinho's disposal -- De Bruyne, Mata, Eden Hazard, Victor Moses, Andre Schurrle and Oscar -- the manager may have a tricky juggling act on his hands, unless someone is shifted before the end of the transfer window.

PSG struggling early again: Just like last season, Paris St. Germain are winless after two games, collecting their second straight draw at home, this time against Ajaccio. No, it wasn't a good performance, but then it couldn't have been. Ajaccio took an early lead with a gorgeous Benoit Pedretti goal and then "parked the bus."

• Zlatan: We should have won

Laurent Blanc's answer was to hurl his big guns -- none more so than Edinson Cavani and Zlatan Ibrahimovic -- at Ajaccio's brick wall, hoping that all that huffing and puffing would eventually breach Guillermo Ochoa's goal. The result was PSG outshooting Ajaccio by an incredible 37-1. In normal circumstances, the Parisians would have scored a couple of goals in each half, but Ochoa was simply otherworldly, Cavani and Ibra too often got into each other's way, and Ajaccio somehow hung on until Cavani's late individual effort.

It's still hard to tell whether Cavani and Ibrahimovic can play together, and you're not really going to find out against a team sitting as deep as Ajaccio. What seems obvious, however, is that PSG need to start getting results to go along with their learning curve; otherwise they'll fall too far behind.

Pogba destined for greatness: It's true: Paul Pogba is scarily good. On Sunday in the Italian Super Cup, he came on after 20 minutes for the injured Claudio Marchisio and changed the game, scoring one goal, setting up another and spending the rest of the evening single-handedly beating Lazio's midfield into submission in Juventus' 4-0 win.

This will likely be Pogba's last season as a squad player as there is no way you can keep someone with his skill set out of your starting lineup on a regular basis for much longer. The interesting challenge for Juve manager Antonio Conte will be whether he tries to integrate Pogba into the Bianconeri midfield alongside Marchisio, Arturo Vidal and Andrea Pirlo -- which would likely force the club to change formation, possibly abandoning the three-man defence that served them so well or going to a lone striker system -- or whether one of the men in the middle makes way for him. Right now, there seems to be no limit to what Pogba can become.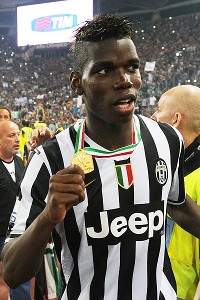 Giuseppe Bellini/Getty ImagesIt's clear that Paul Pogba is destined for greatness. But how will Antonio Conte make him fit in his carefully constructed formation?
A compromising payoff: So Borussia Dortmund striker Robert Lewandowski is getting a salary bump (about $3 million) without actually extending his contract, which expires in June, at which time he'll presumably join Bayern Munich as a free agent. It seems counterintuitive, but Borussia general manager Michael Zorc believes it's both fair and clever. Lewandowski was arguably underpaid last season, and this is a way to show him gratitude and keep him from becoming a lame duck.

Maybe Zorc is right. But if you were cynical, you might reach the opposite conclusion. You're basically saying Lewandowski needs another $3 million to show up and play. And he'll still be leaving on a free transfer next summer. It's curious and, as far as I know, unprecedented. And it's the sort of thing where you'll never know whether giving him the extra cash was necessary. Unless, of course, this is some sort of "pay it forward" situation and Zorc is still hoping Lewandowski will change his mind about leaving...