Ronaldo's retort to Mourinho, Viola fury
At first glance, it began innocently enough, with this chat between our own Roger Bennett and Jose Mourinho.

"I was 30 and I was coaching Ronaldo, not this one [Cristiano], the real one, the Brazilian Ronaldo," Mourinho said.

Maybe I'm naive, but I thought it was no big deal. The fact that it was even a story struck me as silly, fodder for the oversensitive.

(I once made the "mistake" of referring to the Brazilian Ronaldo as the "original Ronaldo" prompting plenty of abuse from the Cristiano Crew who thought I was arguing that their Ronaldo was somehow a fake or a fraud. Actually, by "original" I meant the guy who came first. But hey, trolls gonna troll.)

Cristiano, evidently, felt slighted. And he knows Mourinho better than I do.

"There are things in life which do not deserve comments," he told ESPN Deportes. "That is something I am not going to talk about for obvious reasons.

"I always respect my coaches and set out to learn from them. In Portugal, people say: 'I do not spit in the meal I am eating.' So that. I prefer to stick to positive things."

You don't have to be a genius to figure this one out. The implication is that Cristiano felt it was a needless barb from a rather ungrateful former boss. Why did Mourinho use that word, "real"? Especially after Cristiano scored 120 goals in 106 Liga games under the coach, a tally that contributed enormously to whatever success the Special One obtained at the Bernabeu.

What happens next will be interesting. If this was in no way meant as a barb towards Cristiano, Mourinho can fix this very easily. He can pick up the phone and call him and resolve it privately. After all, he's known Cristiano for years and worked with him for three seasons; he knows what his ego and personality are like. And, if he's still not sure, they are represented by the same agent, Jorge Mendes, who no doubt will be glad to fill him.

And if he wants the media speculation to go away, he can go one better. In addition to talking to Cristiano privately, he can clarify what he meant in public.

Or he can do nothing and let this hang in the air. Which may have been his intention all along. It's his call.

Mourinho is a very bright guy. Cristiano, for all his foibles, isn't dumb either. The first gambit about the "real Ronaldo" may have been innocent and accidental (jury is out); Cristiano's response was not.

When tension between the two came to the fore late last season, you could chalk it up to the stress of a Liga campaign that was falling apart. But what's eating them now?

Does Cristiano simply want to distance himself further from Mourinho given the way it all ended for the Special One?

Does Mourinho somehow feel let down by Cristiano and that's why he directed his little barb at him, knowing he would respond?

Whatever the case, it feels weird and unnecessary to see these two taking pot shots at each other.


---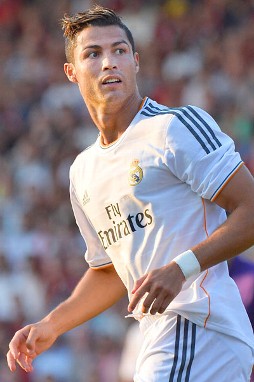 Ben Stansall/Getty ImagesRumors suggest Ronaldo, far from being unsettled, has agreed a new deal with Real.
Speaking of Ronaldo (the one from Madeira, how's that?), Marca are reporting that he has reached a deal in principle with Real Madrid to extend his current deal through 2018. The Spanish daily quotes a figure of $22.5 million after tax, which works out to a monstrous $46.8 million gross.

In pre-tax terms, he'd be the highest-paid player in the world (at least until Francois Hollande's 75 percent top tax rate kicks in for France, assuming it ever does). In terms of take-home pay, he's behind Samuel Eto'o, whose Anzhi megadeal comes to an end this season.

There is no confirmation yet, so you obviously take it with the usual caveats. Then again, on certain things (not all, by any stretch) Marca are pretty close to being the club's media mouthpiece. They may have jumped the gun, but this isn't the sort of story they usually get wrong.

If it's true, it's good news for Real Madrid. Ronaldo's current deal expires in 2015; they either lock him up now or things get extremely hairy. Once a player enters the final 18 months of his contract, the balance of power shifts decisively in his direction. And the club lose the option of selling him for anything close to fair market value.

Some are already suggesting the pursuit of Gareth Bale was just a smokescreen to get the Cristiano deal done. Or to have a backup plan, in case things fell apart and Real Madrid were forced into a quick sale. I have no idea whether this is correct -- we'll find out soon -- but right now reaching a resolution on Ronaldo is more important than adding Bale or anyone else.


---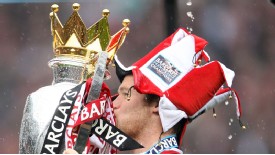 PA PhotosManchester United must be confident they can land more silverware with Rooney in the ranks.
So Manchester United have turned down another Chelsea bid for Wayne Rooney. This one reportedly for $38 million plus a series of extras based on appearances and performances that could push the fee into the $50 million range.

Still can't wrap my head around this one. We've heard Mourinho say it was "Rooney or bust," we've had United's confirmation, so it's plausible. But is it logical from Chelsea's perspective? Or, indeed, United's?

We've been here before. Unless there's a secret cabal of clubs ready to snap up a bunch of Chelsea's attacking players for huge fees, it doesn't make sense -- in this era of Financial Fair Play -- to go for Rooney.

And unless there's something we don't know, it doesn't seem like a bad offer for a guy on enormous wages whose contract expires in less than two years and who turns 28 in October. A guy who has already called out his manager, David Moyes, with those "angry" and "confused" comments, based upon a rather curious twisting and parsing of words. A guy who started just 30 of United's 54 games in all competitions last year. In fact, a guy who has started just over 70 percent of the club's games since 2007-08, when he was in the prime of his career.

Yet United turned it down. Which suggests that they are really confident that they can get Rooney back to his best, that they can get him to sign a new deal and that he is going to play a big part in Moyes' plans.

Either that, or we're living in some weird parallel universe where things don't make sense.


---

A report compiled by Humboldt University in Berlin, the contents of which were leaked to a German newspaper over the weekend, suggests there was widespread -- if not systematic -- doping in that country in the 1950s and 1960s. It extended across a number of sports, including football; in fact, it specifically cites the 1954 World Cup that West Germany won, defeating the legendary Hungary side of Ferenc Puskas and Sandor Kocsis in the final.

Once the full report is published, it's bound to have repercussions. Every time someone shines a light on this sort of stuff, it can only be a good thing. However, assuming ugly truths do emerge, we need to also recognize that there is so much that we don't know about that era. And that Germany have at least had the guts to go back and do some digging into their own past.

Who knows what went on elsewhere?


---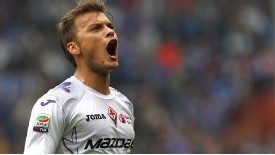 GettyImagesFiorentina's Adem Ljajic could be Milan-bound.
Milan's pursuit of Fiorentina's Adem Ljajic continues, much of the annoyance of the Viola, who thought they had him all locked up. Call it a case of talking to the wrong guy.

Ljajic is coming off a stellar season in which he scored 11 goals (in just 21 starts) and cemented his reputation as one of the better young attacking midfielders around. Fiorentina, naturally, wanted to lock him down to a long-term deal, as his current contract expires in June 2014.

They spent a long time talking to the man they thought represented him, Fali Ramadani. He's the guy who took Ljajic to the club. He also represents Stevan Jovetic, who joined Manchester City earlier this summer for $33 million, and the two deals were linked. Ljajic's contract nearing expiry gave Ramadani leverage and allowed him to shift Jovetic for somewhat less than the $40 million the club wanted.

They relented on Jovetic, hoping Ramadani could then get Ljajic to put pen to paper and commit to a long-term deal. And to be fair, he was in advanced negotiations to make it happen when the story took a twist.

A man named Samir Furtula emerged, claiming to be Ljajic's agent. He has the blessing of the player's dad, Samir. And, from what we can tell, he'd rather not extend his deal but rather force through a $10.5 million move to Milan.

Fiorentina, as you'd expect, are furious, both towards the agents involved and towards Milan.

The Rossoneri are bemused. "I don't know why they're so angry, all we did was bid for one of their players during the transfer window, which is what clubs ordinarily do," quipped Milan director Adriano Galliani.

You feel for Fiorentina, but to some degree they have themselves to blame. First, in not establishing clearly who can legally act for Ljajic, whether Ramadani or Furtula. And second, for not making sure they nailed down Ljajic as soon as the Jovetic deal went through (or better yet BEFORE it went through).

The risk now is that they could end up losing both Jovetic and Ljajic, who are 23 and 21 respectively, for less than $45 million. Which, given their talents, is a relative pittance. And that would be a real shame for a club that thus far have done just about everything right.