Gareth Bale transfer reports and the interests they serve


Deep breath. We don't have official statements, we don't have quotes, we merely have "reports." And if there's one thing we've learned over the years is that clubs often tell reporters stuff to serve their interests. Which doesn't make the reports untrue, merely self-interested. And -- crucially -- preserving full deniability.

So what do we have?

Real Madrid supposedly making a $125 million bid ($130 million, according to some) for Gareth Bale. Tottenham saying they haven't received an "official" bid but making it clear they are not considering a sale. Gareth Bale's camp making it known he is a bit miffed because he thought there was a "gentleman's agreement" in place whereby he could consider a move if the bidding hit a certain number ($123 million). And, according to some outlets, Spurs chairman Daniel Levy is ready to fly home from his vacation to personally deal with Bale.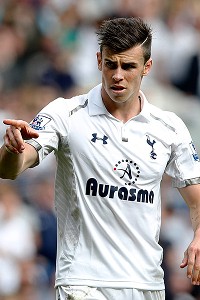 AP Photo/Sang TanThe two Real Madrid players reportedly proposed for Gareth Bale seem overvalued for what they're paid, making cash a more feasible option.
Let's start with the "gentleman's agreement." It's not a release clause. It's potentially a my-word-against-your-word thing. But that doesn't make it any less valid in the sense that if one party -- Bale, in this case -- believes that it is somehow being violated, he won't be happy and it will have repercussions. Nobody wants to play for a club run by a guy who he thinks lied.

That said, every indication coming out of Spain is that the bid -- if it exists -- is not exclusively a cash one. It's Angel Di Maria, Fabio Coentrao and $57 million in exchange for Bale. Implicit in all this is that Di Maria and Coentrao are worth $68 million combined.

That makes a huge difference. And you can see why Levy might have been rather more impressed with a $125 million cash bid than what he supposedly received.

Cash is something you can use to buy what you want. If you happen to want Di Maria and Coentrao and you think they are worth $68 million (or more), then they're as good as cash. If not, you're losing out.

Both Coentrao and Di Maria are 25. They are locked into deals through 2017 and 2018, respectively, which means that if you sign them, you're committing to more than $90 million in combined wages during the next five years. That rather reduces your wiggle room.

Real Madrid paid an initial $33 million for Di Maria plus up to an additional $14.5 million in performance- and appearance-related bonus (they've paid up on roughly half of that). Coentrao cost $40 million. When used properly, Di Maria showed he could be a world-class winger, offering work rate, tactical nous and quality. Coentrao, on the other hand, was somewhat more hit or miss, at least relative to the fee Jose Mourinho paid for him.

Yet valuations are based on supply and demand. And there is no way these two guys add up to $68 million, even if they were at the top of Tottenham's shopping list. The fact of the matter is that, with the return to fitness of Marcelo and the acquisition of Isco, neither Coentrao nor Di Maria is a bona fide starter at Real Madrid. And Transfer Law 101 tells you that when you have guys on big long-term deals who aren't full-time starters, then their value starts to slide. And because there aren't many teams who can afford these guys, it dips even further.

From Tottenham's perspective, there's obviously a number at which it makes sense to sell. Maybe, in fact, it's considerably less than $125 million. But that's a cash figure. Once you start sticking other guys into the mix, different factors come into play and everything changes.

As for Real Madrid, you can see what they were hoping to do. Take the $65 million from the sales of Gonzalo Higuain and Raul Albiol, chuck in two guys whose minutes were bound to drop substantially and you've landed Bale, with plenty of change left over. In one fell swoop you clear out four players you were willing to sell anyway, you save yourself money on wages (which you can then use to give Cristiano Ronaldo the bump he deserves) and you get arguably the hottest commodity in the Premier League.

Nifty, eh?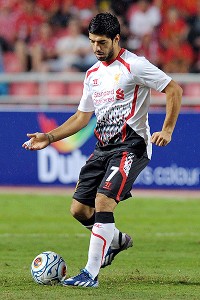 Getty ImagesCould the pursuit of Gareth Bale serve as a smoke screen for Real Madrid to snag Luis Suarez, who is a better fit?
Levy put a stop to it, at least on those terms. But you really have to wonder whether Bale is what Madrid need right now. Sure, the idea of two elegant, prolific, athletic freaks galloping down either wing to terrorize the opposing goal is a nice one. But tactically, we'd be in uncharted waters. How is poor old Carlo Ancelotti, Real's new manager, supposed to make it work? What would it mean for the "other" attacking midfielder, whether it's Isco or Mesut Ozil or the somewhat forgotten Luka Modric? Or, indeed, what's the implication for the center forward -- at present, as far as we know, it's the star-crossed Karim Benzema? Is this the best way for him to regain his mojo?

Sure, the adage that great players can play together isn't entirely unfounded. You could sacrifice Benzema and employ Ronaldo as a center forward (and Ancelotti has said he'd like to see him operate closer to the opposing goal) and stick Bale wide. But Bale operated centrally last season -- and liked it -- so is that the best way to use him? It all smacks of needlessly complicating matters.

Maybe this is president Florentino Perez going all Galactico on us once again. For Real's sake, you hope that's not the case. You hope there is some broader plan at work. Like maybe a giant smoke screen aimed at prying Luis Suarez -- a signing that would make far more sense -- loose from Liverpool.

Football's fascinating rivalry

Borussia Dortmund's 4-2 win over Bayern in the German Super Cup shouldn't be read as some kind of sign that Jurgen Klopp's team have absorbed the departure of Mario Goetze and coped with the Robert Lewandowski-affair without missing a beat. Nor is it really vengeance for the Champions League final.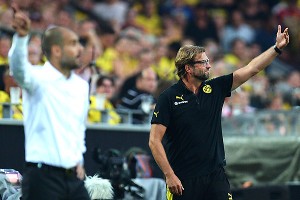 Patrik Stollarz/AFP/Getty ImagesDon't read much into Dortmund's German Super Cup win over Bayern, but how Pep Guardiola and Jurgen Klopp mold their pieces will be fascinating.
For a start, the Bavarians gifted their opponents two goals thanks to two blunders from two guys -- Tom Starke and Daniel van Buyten -- who ideally won't be seeing much of the pitch this season. Thomas Mueller hit the crossbar with 10 minutes to go: a shade lower and it would have been 3-3 and the whole game would have taken a different turn.

Most of all, Dortmund were a well-drilled unit, fielding 11 returning veterans from last season (basically, the starting XI, minus Lukasz Piszczek, admirably replaced by Kevin Grosskreutz, and Goetze). They did their high-energy pressing routine against a Bayern side still finding their feet in Pep Guardiola's system and without Manuel Neuer, Javi Martinez and Franck Ribery and with Dante and Bastian Schweinsteiger only making late cameo appearances.

We still don't know how Dortmund's newcomers, especially Henrikh Mkhitaryan, will fit in. And Pep's Bayern remains a mystery, though it was fascinating to see his outside-the-box thinking. Xherdan Shaqiri, a guy lost in the shuffle somewhat, deployed as a centerforward, with Mario Mandzukic out wide and Mueller and Toni Kroos alongside each other. Shaqiri is especially fascinating. He's a genuine talent who didn't get to play much last season. The idea that Guardiola could reinvent him as a frontman is both left field and intriguing.

What is undeniable is that watching Klopp and Guardiola mold their respective pieces of clay this season will be absolutely fascinating.

Fool's gold for CONCACAF?


Conflicting thoughts on the Gold Cup. On the one hand, it's encouraging that 57,000-plus gathered to watch the United States' second string dispatch Panama in the final. On the other, this is one demented competition: From the fact that it's held every two years to the fact that because of World Cup qualifying -- and in Mexico's case, the Confederations Cup -- CONCACAF's two best nations sent out under-strength teams.

How to fix it?

From a fan's perspective, the easy answer is to get CONCACAF and CONMEBOL to put their differences aside, figure out some way to combine it with the Copa America and play every four years. You can figure out a formula, whether it's adding six CONCACAF nations to turn the Copa America into a nice and neat 16-team tournament or, heck, chuck them all in and figure out a way to whittle them down.

Whatever the case, there has to be a better way than this. Combining the two would mean increased revenue for the South American teams and better -- and more varied -- competition for their CONCACAF brethren. It would also be more fun for the neutral.

Sorry, England, you're on your own

The Premier League may be a global commercial juggernaut but it can't please everyone. In fact, in some quarters, it's seen as the source of all ills. So if England fail to punch their weight at national team level then, logically, it must be the Premier League's fault.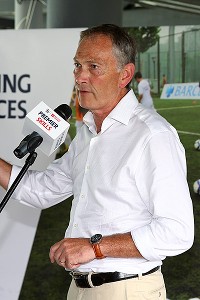 Robert Cianflone/Getty ImagesRichard Scudamore makes a good point about England's World Cup performance from 1966 until the birth of the Premier League, over which he presides.
Like most successful ventures, the Premier League is overhyped, and that can be annoying. Whether it's the needy commentator/cheerleaders who keep telling you what a fabulous game you're watching, or how this competition is "the best in the world," or the rampant over-commercialization, or the scant oversight -- which allows dubious and dubiously funded owners into the big tent (not that it's much better in Italy or Spain) -- there is plenty the Premier League could do better.

But helping the English national team isn't one of those things. It's not the Premier League's job. If anything, the Football Association should count their lucky stars that the Premier League exists.

That's why it was understandable -- and even overdue -- for Premier League chief executive Richard Scudamore to hit back at the critics. "We have not won the World Cup since 1966," he said. "[The Premier League] didn't start until 1992. What happened between 1966 and 1992? Whose fault was that? The whole thing is immensely frustrating. It cannot be our fault on any level."

Leaving aside the fact that the five-year period between 2002 and 2006 (three consecutive quarterfinals in major tournaments) was actually England's second-most successful ever (and it came 10 years after the Premier League was founded) the truth is that the English game is fortunate to have a league where top English players can stay at home and where clubs spend huge amounts to develop talent.

England's (supposed) underachievement is a complex issue. But both the Football Association and the Premier League have an interest in developing young talent. And if not enough is developed, it does no good to simply blame the more successful half of the equation.

Not when there are dozens of things the FA haven't done or have done badly.