Barca's future, Man City's signings, Reina's exit, more
Tito Vilanova's sudden relapse obviously lies beyond the realm of sports. You can only wish him the best and hope he surrounds himself with family and loved ones.

And maybe, hope that among them will be Pep Guardiola, who expressed his own pain and worry over Vilanova after last week's news. Relationships between two men - especially to who have been close for nearly three decades -- ought to be private affairs. It's a shame it all became public but, if there is a silver lining to all this, perhaps it's the opportunity for these two friends, Tito and Pep, to rebuild their friendship, ideally away from the media.

Report: Barca moving for Martino?
Hunter: Get well soon, Tito

In the meantime though, Barcelona needed a new boss. The initial long-list of candidates -- as compiled by the Catalan media -- was whittled down to two, with Gerardo Martino appearing certain to get the nod over Luis Enrique.

Both men, in their own way, are somewhat counter-intuitive options. They speak volumes about the current thinking at Barca (or, at least, from Sandro Rosell). Experience -- particularly in Europe, particularly at the highest level -- is secondary to knowledge (of Barcelona and/or, evidently, of Lionel Messi). Why hire a pricey big-name boss who'll want a huge multi-year deal and make demands on the club's transfer policy when you can go for a cheaper option? Last year's record-equaling season under Vilanova proved that if you get the right guy, he doesn't necessarily need to be a household name.

Martino, the man known as "Tata," is either a case of lateral thinking or of kow-towing to the Messi camp. It's not that he lacks the credentials to manage a club like Barcelona, but more that it seems to be a huge leap. True, this is a man who won five league titles (and he's only fifty), but four of them were in Paraguay and just one, the latest, was in his native Argentina.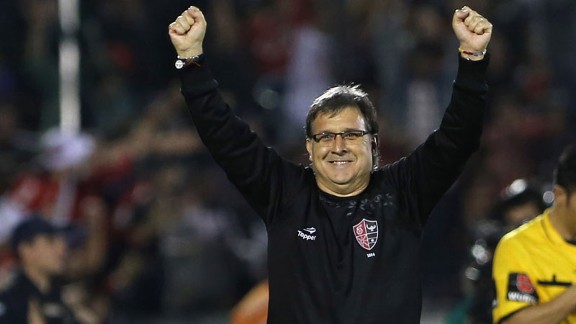 GettyImagesGerardo Martino looks likely to take charge at Barcelona

Again, without wishing to disrespect anyone, you do wonder why it took so long for anyone in his native land to pick up on him. Especially since he was, after all, a very high-profile player with Newell's Old Boys.

Then there's the fact that apart from the last stint at Newell's, he hasn't actually managed a club side since 2006. Again, it's not as if he spent all those years sitting around -- he coached Paraguay and took them to the quarterfinals of the 2010 World Cup -- but it's a big leap from Paraguay or even Rosario to the daily media grind at the Camp Nou, particularly for a man who has never coached in Europe.

Tactically, he's seen by many as a disciple of Marcelo Bielsa who coached him when he was still a player at Newell's and therefore would offer a seamless tactical transition from Vilanova. (That's the narrative anyway. In reality, Martino is much more of a pragmatist, though it's rather funny how every Argentine coach who ever crossed paths with Bielsa and doesn't instruct his players to kick opponents black and blue is presented as some kind of chip off the old Bielsa block.)

Without wishing to go all x's and o's on you, the tactical aspects of the Martino appointment are highly debatable. There is no question he has a clear vision and that it tends to dovetail with Vilanova's work. But it's one thing to dream up schemes and philosophies, another to get the players to buy into them. That will be one of the early challenges, as will be redrawing Vilanova's script to accommodate Neymar alongside Messi.

Speaking of Messi, the good news is that Martino will have a key ally in the dressing room. In fact, if local media are to be believed, Martino was Messi's handpicked choice. After all, like Messi, he hails from Rosario and both played for Newell's (Martino for 13 years as a senior pro, Messi as a child in the youth system).

It's almost too easy a narrative to buy into and, in some way, it doesn't matter if it's true or not, because folks will assume it is: that Messi picked the next Barca boss. It would be quite a coincidence though if in the few days since Vilanova's prognosis, Barcelona did an instant worldwide search of available bosses and just happened to settle on the guy from Messi's backyard. Viewed from afar, it's one thing to take the wishes of your best player into consideration but quite another to possibly give so much say to a guy who may be the best in the world, but is still just 26 and, as a professional, has known no club other than Barca.

Whatever the case, Martino is a bold statement. And it's somehow refreshing that a club like Barcelona are, once again, getting creative with their appointments rather than chasing the latest out-of-work uber pedigreed big-name coach.

Man City spends to support Pellegrini:
In last week's Monday Musings, we pointed out how Manuel Pellegrini had underscored the need for two more strikers and how it was critical that Manchester City move quickly and not leave it until the dying hours of the transfer market.

Surely it's a coincidence, but in the space of a few days, City got the two frontmen they wanted: Steven Jovetic and Alvaro Negredo. Kudos to them for moving decisively, not least because the extra time in preseason training should help them settle better in a new league. At a combined fee of around $65 million -- and it could yet go higher -- the pair aren't cheap, so the question is whether it was money well-spent.

Curtis: Pellegrini's aesthetic responsibility
Jolly: Intrigue over City's project
Horncastle: Jovetic an asset
Report: Negredo signing completed

The answer to that depends on how Pellegrini uses them. That's because on paper they're not an upgrade over Mario Balotelli and Carlos Tevez, the two guys they are effectively replacing. But you can't just think of it that way. You have to evaluate them in turns of what Pellegrini might do and what impact they'll have on the players around them.

Negredo has size and strength to go with an impressive goal-scoring record on a not-so-impressive Seville team. His numbers are gaudy, but he is probably more of an all-rounder -- who is good on the ball and creative -- rather than simply a dead-eye finisher, and that suits Pellegrini just fine. The knock on him in the past is that he's been inconsistent, especially against bigger teams, but that's probably a bit unfair: in the past two seasons he did not have a great supporting cast.

Jovetic played as a central striker for Fiorentina last season but it was often because of a lack of alternatives than a natural knack to play center forward. He's at his best when he has freedom to roam, finding mismatches out wide or in the hole, dragging markers out of position. You imagine Pellegrini is aware of this and that the thinking, therefore, is to deploy Jovetic behind the striker in a 4-2-3-1, a position that might otherwise be occupied by Samir Nasri or, under Roberto Mancini, Yaya Toure.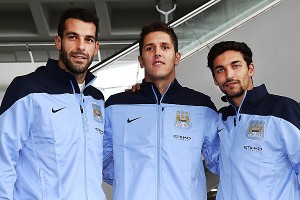 Jessica Hromas/Getty ImagesMan City's Manuel Pellegrini has plenty of new players -- like Alvaro Negredo, Stevan Jovetic and Jesus Navas -- but it's up to him now as to how it all fits together.

Adding Jovetic and Negredo to a strike force that includes Sergio Aguero and Edin Dzeko means that, right now, Pellegrini has four very different strikers, allowing him a genuine range of options. Depending on how he plays, you might see as many as three of these guys start or as few as one.

Options are great if you have the time to figure out which ones work best in which situations and you make the right choices at the right time. City have given Pellegrini the chance to figure out what works. The latter bit is up to him.

Reina move makes sense for all sides:
Following the $13.5 million signing of Simon Mignolet, it made sense for Liverpool to let Pepe Reina go, at least on loan. That part is pretty obvious; you can't have two No. 1s -- on "No. 1"-type money -- at a club, especially one that won't be playing in Europe.

Walsh: Rodgers' goalie conundrum

Reina obviously had some ups and downs last season. They were enough for Brendan Rodgers to convince himself that Mignolet was a better option and one worth spending big on. Was he right? Only time will tell.

In the interim, though, Reina's loan to Napoli was a clever one for all involved. Liverpool get most of his salary off the wage bill. Reina is reunited with Rafa Benitez and gets to play Champions League football. Napoli get a guy who, for my money at least, is an upgrade over Morgan De Sanctis, and if things go well could stick around.

Celebrating Ronaldinho:
It's remarkable how quickly he's been forgotten in some quarters, but Sunday was the 10-year anniversary of Ronaldinho's move to Barcelona. At the time, Real Madrid's Galacticos had won three of the previous five Champions Leagues. Barcelona, on the other hand, had not won a trophy of any kind in four years.

In his five seasons at the Camp Nou, Ronaldinho established himself as arguably the best player in the world while winning two Liga titles and a Champions League. (And that was despite petering out in his final 18 months, as some of his off-the-pitch behavior caught up with him.)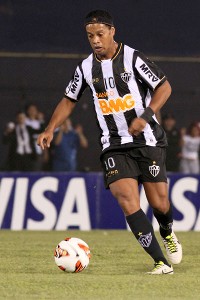 Luis Vera/Getty ImagesRonaldinho, finished yet? Hardly. He's currently helping Atletico Mineiro in its quest for a Copa Libertadores.

Most of all though, he came to embody a certain type of superstar, one totally devoid of the brooding edge we often get at the top of the game. Come what may, he was smiling and actually seemed to enjoy himself. (Imagine that...) Whether he was getting hacked down in the box or conjuring up one of those twilight zone moments of genius, his look was always the same. He was always channeling joy.

On Wednesday, Ronaldinho will lead Atletico Mineiro as they attempt to overturn an 0-2 first-leg deficit against Olimpia Asuncion on the Copa Libertadores final. If he succeeds, he'll be only the seventh player in history to have won both the Libertadores and the Champions League.

A few years ago, some questioned his desire. The fact that he's still playing at age 33 tells you just how crazy a notion that is.

Roma does good business:
Those who compare Kevin Strootman to Mark van Bommel are somewhat unkind... to Strootman. As Van Bommel himself has conceded, Strootman is superior technically and athletically (though he lacks van Bommel's dark heart).

At about $26 million, he didn't come cheap, but Roma are convinced they picked up a guy who would otherwise have graced a top Champions League club. They may be right: If he lives up to even a portion of the hype, given the fact that he's just 23, he'll be quite a bargain.