The Alcantara affair and overpriced Marquinhos
"This is the only player I wanted ... it was him or no one."

Pep Guardiola couldn't have made his delight at signing Thiago Alcantara any more obvious if he'd planted a big wet kiss on his forehead. Kudos to Bayern for keeping the move under wraps for so long, but this is one transfer filled with subplots and knock-on effects.

For a start, the price. Barcelona say it's a $32.5 million deal, Bayern claim it's closer to $26 million; the difference possibly being some kind of friendly match to be arranged between the two clubs and the way VAT is calculated in Spain and Germany.

(Two quick thoughts: Given some of the things Guardiola had to say about Sandro Rosell - more below - you wonder how "friendly" it's going to be. And $6.5 million sounds like a fortune for an exhibition game.)

Never fear; the interesting part isn't the apparent confusion over the fee, it's that Thiago had such a relatively affordable release clause to begin with. It was inserted when he signed his new deal in 2011 and stipulated that, if he failed to play at least 30 minutes in 60 percent of Barcelona's official games that season, the release clause would become effective, provided it was exercised by July 31. (Thiago had a different release clause too, of the kind that is written into every Liga contract and which, like many such stipulations, was engineered to be set so high it became meaningless. His was around $117 million.)

Thiago appeared in 36 of Barcelona's 60 games this season - which is exactly 60 percent - though he only passed the half-hour mark on 15 occasions. You can see why Thiago insisted on the clause. If he wasn't getting playing time, he wanted the option to move elsewhere. Less clear is why Barcelona agreed to it, but, again, you guess they figured it was necessary to get him to make a long-term commitment at a number they were comfortable with.

That said, injuries early in the season - Thiago missed the first three weeks and then two months between September and November - meant that Barcelona would have had to physically shoehorn him into the line-up to get him to the 36-game mark. Assuming they had some bean-counting nerd deputized to keep track of his playing time, they would have realized by January that there was no way he was going to make it. Which only underscores what a boneheaded decision it was to agree to the clause in the first place.

Rosell, in one of his many pitches aimed at persuading Thiago to stay, talked about how he could bide his time and one day follow in the footsteps of Xavi and Andres Iniesta. Nice thought, but Thiago turned 22 years old this past season. And in the seasons they turned 22, Xavi and Iniesta played in 35 and 33 of Barca's league games, respectively. That fact, evidently, was not lost on Thiago. Nor was the fact that Sergio Busquets and Iniesta have several seasons left at the highest level and even Xavi, at 33, has three years left on his contract. Plus, there's the small matter of Cesc Fabregas: more competition in the middle of the park at the Camp Nou.

You could see how Thiago might have been tempted by a move even if Guardiola weren't waving to him from Bavaria. Or even if his agent weren't Pere Guardiola, who just happens to be Pep's brother.

But the question remains whether it makes sense for Bayern. It's easy to look at their midfield and wonder where Thiago fits in amid the likes of Bastian Schweinsteiger, Luiz Gustavo, Toni Kroos, Javi Martinez, Thomas Muller and Mario Gotze.

The answer is that, odds are, Guardiola himself doesn't know. The impression is that he's getting to know this group of players and figuring out what works and what doesn't. Besides, he has plenty of flexibility: Martinez, Gustavo, Muller and Gotze can all play in other areas of the pitch, the former two in central defence, and the latter two out wide. Thiago gives him the kind of creative passer in the middle of the pitch that - Kroos aside - Bayern lack, should he think of recreating his Barca-style tiki-taka. But Thiago's also a young player with plenty of upside, who's still developing.

It may well be that his future at Bayern looks nothing like what we thought his future at Barca would be. Just as Pep's new team may play nothing like his old one.

• We were so used to seeing Guardiola turn the other cheek during his time at Barcelona - especially vis-a-vis Jose Mourinho - that his attack on Rosell caught many off guard. Guardiola blamed Rosell for not "leaving him alone" during his sabbatical year and for saying that he didn't visit Tito Vilanova, his successor and former assistant, while the latter was undergoing cancer treatment in New York.

Guardiola refuted the claims, but most of all he slammed Rosell for "using Tito's illness" in this way. We don't have all the facts, so it's difficult to apportion blame here. Still, it's not surprising that Guardiola feels hurt by the claims. It is, however, remarkable that he hit back in such a public way.

Given Guardiola's status at the Camp Nou and his relationship with Vilanova, whatever Rosell said - or, more accurately, whatever Guardiola believes Rosell said - isn't helping things. Barcelona needs this latest controversy like they need a hole in the head.


---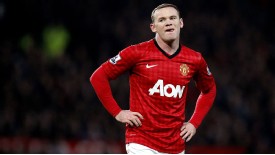 PA PhotosWayne Rooney left Man United's Far East tour with a hamstring injury, amid conspiracy theories.
This past weekend, Ed Woodward, Manchester United's new chief executive, reiterated that the club would have no problem letting any player's - let alone Wayne Rooney's - contract run down.

"There are no contract renewals that are being discussed," he said, speaking from the club's Asian road show. "I am not sitting down with any player on an extension and there is no trigger date in the diary. Would we be afraid to run a contract down? Of course not."

Maybe "afraid" isn't the right word, but textbook management suggests you don't want to let a player enter the final two years of his contract without an extension or a sale. And that's exactly where Rooney is right now.

As I've written many times before, a sale is unlikely for many reasons, not least the fact that Rooney is on a huge contract, is coming off a season in which he made just 22 league starts (his lowest total since the 2002-03 season at Everton, when he was 18), there isn't a gaggle of top clubs beating a path to Manchester United's door and that David Moyes genuinely seems to want to work with him before deciding on what to do with him.

Thus, every indication suggests there will be an extension at some point. In what circumstances and on what terms, though, won't be purely based on money. If Moyes finds a home for Rooney on the pitch where he feels important and turns out to be effective and consistent, you could see this getting wrapped up relatively quickly. If not, the cat-and-mouse will continue.

Of course, not every case is a textbook case, and maybe this is one of those situations where not budging and letting Rooney's contract run down makes sense. United did just that with Roy Keane in 2000 and, while he re-signed, the club ended up paying through the nose. (Not that it wasn't money well spent; it was just expensive.)

The obvious difference - apart from the fact that 13 years have passed, Sir Alex is gone and United now have a different type of owner - is that Keane was far more integral to the team than Rooney is now.


---

Anyone getting a strange sense of deja vu?

A year ago, Roberto Mancini complained about the moves that Brian Marwood was making - or not making - in the transfer market. He failed to sign Robin Van Persie and the club ended up signing two squad players - Maicon and Javi Garcia - on Aug. 31, deadline day. (Jack Rodwell's arrival also took some time to complete; he only arrived on Aug. 12.)

Manuel Pellegrini isn't complaining, but you wonder whether he's starting to get a little antsy. Especially because, up front, City suddenly look a little light.

"We need strikers," he said. "[Mario] Balotelli and [Carlos] Tevez were here last season, two very important strikers, and we need to replace them. We're trying to bring in at least one.

"We need two or three more players but we're not in a hurry to bring them here by tomorrow. We have the whole month and we'll try to find the best players we need."

Not only are City going from four strikers to two; one of them, Edin Dzeko, moans regularly about not getting more playing time. The other, Sergio Aguero, is coming off a season in which he made just 22 league starts and was slowed by injuries.

If Pellegrini, as expected, plays just one man up front, City won't need four forwards; three will suffice. And you can see their logic in working, simultaneously, on Fiorentina's Stevan Jovetic and Sevilla's Alvaro Negredo. Almost like a reverse auction, keeping both balls in the air as long as possible means you'll hopefully spend less than you would have otherwise. And if you then manage to find a home for Dzeko, you might even end up picking up both of them.

But there is a risk attached to playing this sort of game if you're not good at it. You could end up with nothing or close to it, as the final week of the transfer window approaches. And that's when you panic-buy and make mistakes, usually in the form of overpaying.

It happened last year with Marwood and it probably cost him his job. Txiki Begiristain was brought in precisely to avoid such situations. The ball is in his court.


---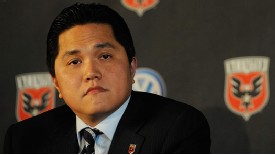 GettyImagesErick Thohir, the Indonesian billionaire, is interested in buying Inter Milan
Negotiations over the sale of Inter continue to rumble on, with Massimo Moratti now apparently open to selling a majority stake to Erick Thohir, the Indonesian billionaire who also owns a chunk of Major League Soccer's DC United and the NBA's Philadelphia 76ers.

Moratti is something of a dying breed, the fan-owner rather than the businessman-owner and over the years, by his own admission, it has sometimes clouded his judgment. That's why, until recently, he seemed intent on only selling a minority stake in the club, rather than the whole thing.

Obviously, it was always going to be a turn-off to serious investors. You're not going to go and hand X million over to Moratti without then getting a say in how the club is run. Especially when the club in question is Inter, one that seemingly racks up losses year after year.

Moratti's loyalty to Inter is admirable. His love for the club undeniable. But maybe the best possible gesture he could make at this point is to sell Inter to the right man who can take it forward and turn it into what a club needs to be in 2013. Maybe that man is Thohir, maybe it isn't, in which case he'll have to turn to someone else. But there comes a time when, if you love something, the right thing to do is to let it go.


---

Aston Villa's $37.5 million valuation of Christian Benteke is deemed high in some quarters. But the Midlands club are doing the right thing in holding out for maximum value. By all accounts, they hold all the cards here.

Benteke is locked in through 2016. At 22 years old - and with a World Cup in 11 months' time - he'd be crazy to challenge the club head-on and try to force a move. After scoring 19 league goals last season and playing a huge part in keeping Villa up, he's entitled to a new deal and possibly a move, but not on his terms.

Expect this one to play out in one of two ways. Either he moves this summer for something close to what Villa want or he extends his contract, with a raise and a promise of a move a year from now.


---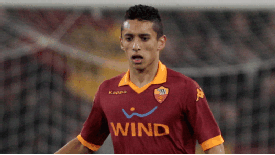 APMarquinhos has attracted plenty of interest.
Right now, Marquinhos is an outstanding prospect and a very good footballer. But he is not a $45 million man. He's a 19-year-old kid who has started a grand total of 31 games as a professional.

That's why reports of PSG supposedly offering the aforementioned amount for his services seem absurd. (Though, in the strange world of the Qatari Parisians, anything is possible.)

Roma would likely be willing to part ways with him for $30 million, having bought him for around $5 million a year ago. One way to read PSG's higher-than-market-value offer is as a pre-emptive strike to ward off Barcelona, another club that showed an interest.

The danger with Marquinhos, wherever he goes, is that he's pushed too soon, too fast. He is a phenomenal athlete with very good technique and plenty of speed. But he's also generously listed at 6 feet, which is small for a centre back these days. And a price tag that size would only increase the pressure on him, regardless of where he plays next year.

You can pay big money for a young attacking midfielder or striker and bring him along slowly, easing him into the team gradually; a couple of substitute appearances here, a cup game there. But it's much harder to do with a centre back. In that position, managers don't like to mix and match; you generally get thrown in and need to perform straight away.

You only hope Marquinhos and his advisers make the right decision here. And that might actually be sticking around at Roma for another year, fully mastering his craft and then moving for silly money next summer, when he will have just turned 20.