Lewandowski game of chicken, Mourinho's return and samba steps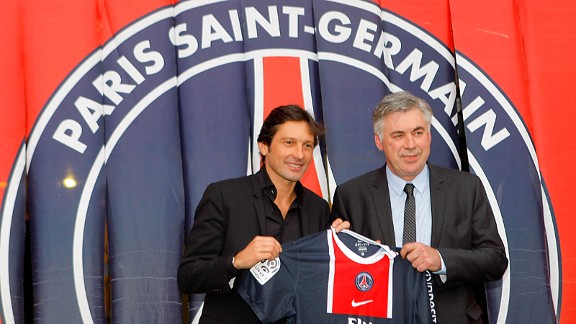 APLeonardo (l) has said PSG want Real Madrid target Carlo Ancelotti (r) to stay but an unhappy manager makes for an unhappy club.
Much of what goes on in the summer transfer window is really one giant game of chicken.

Nobody wants to blink first. But at the same time, you know that one of the two parties has to relent, otherwise you end up with a giant car crash.

You see it at Paris St. Germain. Carlo Ancelotti wants to leave for Real Madrid, and PSG don't want to let him go until they either get some amount of compensation or find somebody to replace him.

- Ancelotti compensation talk rejected

It's classic chicken because, if the standoff isn't resolved, both end up in a situation they don't want. Ancelotti stays in Paris and misses out -- again -- on his chance to work at the Bernabeu. PSG get stuck with a guy who doesn't want to be there, and the only way to then get rid of him is to fire him, which means getting no compensation.

Of course, sometimes there's another outcome: the Pinocchio solution. Real Madrid change their mind, PSG say they never thought of ditching Ancelotti, and he says he never thought of leaving. And everyone lives unhappily or so for the next few months.

But the most interesting game of chicken this summer is the three-way dance of Borussia Dortmund, Robert Lewandowski and Bayern Munich.

Bayern want Lewandowski. Lewandowski wants Bayern, having called the Bavarians "my dream club."

But Borussia Dortmund -- having already suffered the humiliation of watching their homegrown star, Mario Goetze, join their archrival -- don't want to sell Lewandowski to Bayern. Michael Zorc, the club's director of football, was crystal clear in that regard on Sunday: "We have communicated to the player and his advisers that we will not agree to a transfer to FC Bayern this summer."

That's what you call an impasse. Except it's the kind that goes tick-tock and can explode in your face.

Why? Because Lewandowski has a year left on his contract. Thus, Dortmund's options are limited. They can try to get him to agree to a new deal. They can sell him to Bayern. Or they can try to sell him somewhere else.

The first scenario is far-fetched -- Lewandowski has said he won't put pen to paper -- and extremely risky because next June, he'll become a free agent and instead of the $30 million to $40 million Dortmund would get for him now, the club will get a big fat zero.

The second is what Dortmund don't want to do.

The third is what Lewandowksi by all accounts doesn't want.

Talk about a tough spot. But it's not that straightforward for Bayern, either. They can wait, but there's a knock-on effect. Mario Gomez is up for sale, but if he's sold and Lewandowski doesn't arrive, they'll be short on front men, beyond Mario Mandzukic.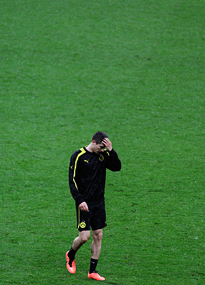 APRobert Lewandowski is the lonely figure in the middle of a Borussia versus Bayern tug-of-war.
They can push the boat out further, believing that Zorc's mind can be changed with a few more million on the price. But how far do you go, especially for a guy whom you'll be able to get for free in just a year's time? And lest we forget, Bayern did just fine without Lewandowski this past season. Maybe waiting around might not be such a crazy idea after all.

Dortmund are doing the right thing in trying to drum up interest elsewhere. First off, there's a question of ego and image. If you're going to be taken seriously as a footballing power, you can't have a scenario where someone walks into your house and takes your nicest stuff. Bayern, of course, have been doing it to the rest of the Bundesliga for decades. But if the league is going to grow further, someone needs to stand up to them.

More importantly, there are other clubs out there, ones who can match or even surpass Bayern in terms of throwing money around and who are looking for a center forward. There's Real Madrid, if Gonzalo Higuain goes. Manchester City. And, of course, Chelsea.

All three have been linked to Edinson Cavani. But they can't all get Cavani. And while the big Uruguayan may be one of the very best center forwards around, he's also 18 months older than Lewandowski AND far more expensive, with a release clause of more than $90 million.

Sure, Lewandowski may say he wants to move to Bayern. But throw a few million more on his plate, and you can bet he'd happily consider life at Real Madrid, City or Chelsea as well.

This is one game of chicken that could go on a while.

Low-key Mourinho will need iron resolve: Whatever else you may think of Jose Mourinho, he knows how to deliver a sound bite. Asked today at his unveiling if he was still the "Special One," he replied: "I am the happy one."

Happy to be back. Happy to be where he is loved. Happy to be home.

- Mourinho: I am the happy one

The risk, as ever, is that folks will remember the past with rose-tinted glasses and expect him to instantly deliver heaven and earth. This is a different Mourinho than the one who arrived at Stamford Bridge nine years ago, and it's a different Chelsea, too.

He may have led the club to the promised land of trophies, but others kept them there after he left. Ancelotti, Guus Hiddink, Rafa Benitez and Roberto Di Matteo all won trophies after he did. Team owner Roman Abramovich knows this. So, too, does Mourinho.

The experience at Real Madrid no doubt will have been seminal. They say you often learn more in failure (which is how it has been described) than with repeated success. Failure brings questioning and humility. Then it's up to you to turn the self-questioning into something you can use to make you better.

Maybe that's why it was a far more low-key Mourinho, not just compared to the first time around, but also relative to his first news conference at Inter Milan and Madrid.

He has a huge amount on his plate and he'll have to operate under the straitjacket of Financial Fair Play. He'll have to deal with veterans, possibly the same ones who once were willing to run through brick walls for him but today might expect to be treated differently. Tactically he'll have to shift from a team built to play possession to one based around what he likes to call "transitions." And then there's the small matter of the center forward and thorny issue of Fernando Torres.

Chelsea need the best Mourinho here. And Mourinho needs to be at his best to make it work.

Hidden beneath the mellow, understated veneer, there had better be the kind of iron resolve we've seen from him in the past.

The Bernabeu bloodied Mourinho. Sometimes animals (and people) are at their most dangerous when they're wounded.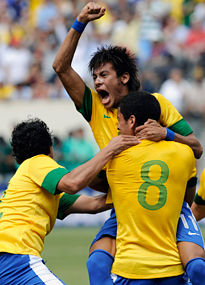 APNeymar needs to wake up and play to his ability for Brazil to deliver.
Small samba steps for Brazil: Brazil's 3-0 hammering of France needs to be viewed in context. Sure, it may have been something of an experimental team that Didier Deschamps put out, they may have been thinking of their summer holidays, but it's the Selecao's second win in seven outings since Luiz Felipe Scolari took over and a "W" papers over many cracks.

- Oscar scores ahead of Confed Cup

The front four still look disjointed; too often there does seem to be a gap between the guys at the back and the two central midfielders on the one hand and the front men on the other. But that's not too dissimilar to how Scolari's Brazil looked in 2002 (except it was a front three back then) and we all know who won the World Cup that year.

The good news is that the defense is solid, that Oscar looks more at home every game, that Julio Cesar is playing better between the sticks than he has in a few years and that Hernanes is very much on fire. Indeed, if he keeps performing like this, it's only a matter of time before the nation will demand that he be given a shot in central midfield, ahead of one of the two ball winners, Luis Guastavo or Paulinho.

If Neymar wakes up and plays to his ability -- rather than providing only intermittent genius, as he did against France -- then Brazil's status as early favorites to win it all will be justified. Either way, the Confederations Cup will provide a much better health check.

Rooney a no-go: The much-rumored -- and from where I sit, totally artificial -- transfer saga of Wayne Rooney to PSG rumbles on. Fueling the latest chapter is the fact that Thiago Silva, asked about the Manchester United striker for the umpteenth time, said some nice things about him.

Great. What's he supposed to say? Rooney is rubbish and I never want to play with him?

The reality is that right now, PSG have a manager who doesn't want to be there (Ancelotti) and a director of football who has been banned for nine months (Leonardo). Until someone with actual decision-making power (the latest to be linked is Guus Hiddink) is appointed by the club, nothing will happen.

And frankly, even when somebody is appointed, don't hold your breath on the club blowing a huge chunk of money on Rooney. Looking at the squad, he is certainly not a priority. And even if he was, there is better value out there, both in terms of likely transfer fee and wages. The most obvious scenario, as I see it, is Rooney staying at United with a new deal, possibly one that involves a pay cut.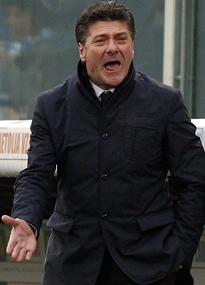 APWill Walter Mazzarri turn to the Inter youngsters who are doing so well for Italy's U-21s?
Inter the future: Walter Mazzarri is the latest man charged with turning Inter from a basket case back into a viable club. At Napoli he did exceptionally well, but then, he had a strong, well-run unit behind him. The same can't be said for Inter; just ask the five guys who managed the club before him in the past three years.

He's tactically savvy, he's a players' coach, he's safety-first. In that sense, he's a poor man's Mourinho, a guy who excites the crowd and enflames the club (in a good way) through passion and execution rather than sparkling attacking play.

- Italy U-21s reach semis, England out

Like the Special One, he's not one to push kids into the lineup, preferring to rely on somewhat more mature players. That's why it will be interesting to see how he deals with the huge array of talented youngsters on Inter's books, most of whom never got a chance under his predecessor, Andrea Stramaccioni (which was curious in itself, given that he worked with many of them at the youth level).

Italy are through to the semifinal of the European Under-21 championship, having won their first two games, and their entire back four (Luca Caldirola, Giulio Donati, Cristiano Biraghi and Matteo Bianchetti) are Inter players. So, too, is the goalkeeper, Francesco Bardi. And the guy who is supposedly the best of the bunch -- Simone Pasa -- was deemed to be too young for the Under-21s.

Given the state of Inter's defence last year -- conceding a monstrous 57 goals, despite a shutdown keeper like Samir Handanovic -- you wonder if any of these guys are going to get a chance. Or if Mazzarri simply will take the well-trodden past of splashing money on veterans.