Trebles increasing, LFC fine without Suarez, more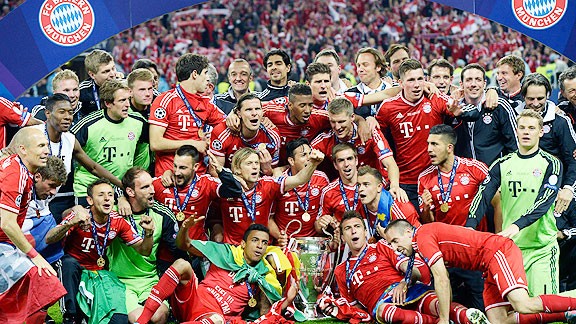 Christof Stache/AFP/Getty imagesWas Bayern's treble-winning season just a quirk or is it a sign of the widening gap between the haves and have-nots?
Hey, maybe it's a statistical quirk.

When the European Cup, the precursor of the Champions League, was created in 1955-56, it meant that for the first time clubs had the opportunity to win a treble. Yet it took 12 years for it to happen. In 1966-67, Celtic's "Lisbon Lions" won the European Cup, Scottish League and Scottish Cup. Five years later, Johan Cruyff's Ajax did it. In 1987-88, it was another Dutch club, Guus Hiddink's PSV Eindhoven, and in 1998-99, Manchester United pulled off the feat.

Here's the twist, though. On Saturday, Bayern Munich defeated Stuttgart in the German Cup final to complete their own treble, having won the Champions League the previous week and the Bundesliga by a huge margin. When you consider that Jose Mourinho's Inter Milan in 2009-10 and Pep Guardiola's Barcelona in 2008-09 also won trebles, it means that it has happened three times in the past five seasons, after occurring just four times in the previous 53.

Delaney: Assessing Bayern's place among greats

You can chalk some of it up to the Champions League format, which since 1992 has allowed teams other than national champions into the competition. Indeed, under the old format, the trebles won by Bayern, Barcelona and Manchester United would never have taken place; those sides would not have been admitted because they didn't win their domestic leagues the previous season.

There's no "magic bullet" theory that I can come up with to explain it, other than the fact that inexorably, the gap between the haves and the have-nots continues to grow, and that increasingly, the circle of clubs with a legitimate chance of achieving such a feat continues to shrink.

Liverpool will be fine without Suarez: So Liverpool are apparently holding out for $76 million for Luis Suarez. The Uruguayan striker said last week that he was looking to leave the Premier League, citing among other things the unwelcome media attention.

He said the media "don't treat me well" and that he "no longer feels comfortable." His critics will no doubt point out that he brought most of the hostility unto himself, but that's largely irrelevant at this stage.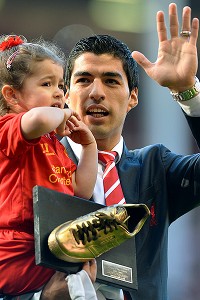 Getty Images/AFP/Paul EllisLuis Suarez has been superb for Liverpool but it's clear that the Reds can survive -- and maybe even thrive -- if he leaves for La Liga this summer.

If he doesn't feel comfortable in England (and given that he had nothing but nice things to say about Liverpool as a club and Liverpool fans, you assume that's the issue), then the club just need to deal with it, particularly because this isn't a situation that a fat, new contract can resolve. He got the big pay bump a year ago and to his credit, responded with a career year. (So much for the old maxim whereby athletes overperform until they get the money and then slack off.)

Reports suggest that Real Madrid are ready to put some $60 million on the table. One-half to to two-thirds of that will come from the sale of Gonzalo Higuain, who reiterated this past Saturday that he too wants a change of scenery.

It's not a bad deal for a guy who turns 27 in January and who will miss the first six games next season. Those who say "but $60 million won't be anywhere near enough to replace Suarez!" are missing the point.

Walsh: LFC's transfer moves bode well

If he goes, Liverpool won't be able to afford to replace Suarez like-for-like even if they sold him for $100 million. Why? Because the guys who could replace him aren't the kind of people who'll move to Anfield for the simple fact that there's no Champions League football there, and won't be until 2014-15 at the earliest.

But shifting Suarez won't just bring a boatload of cash -- whether it's $60 million or $70 million or more, it's still a boatload. It will allow Liverpool to free up wage space, thereby allowing the club to make three or four key signings. It will also enable Daniel Sturridge to play as a week-in, week-out central striker, a much more natural role for him and a better fit in Brendan Rodgers' vision. In fact, the absence of Suarez will make it easier for Rodgers to do his job and for the club to evaluate his progress.

To his credit, the Liverpool boss gave his Uruguayan star striker a lot of freedom. Although it paid dividends in terms of goals (and probably also papered over cracks), it also stunted the team's tactical development.

And that's what Liverpool need most right now: a chance to grow together as a team. Suarez is the kind of added-value striker you need when you're competing to win the Champions League. That's not where Liverpool are.

Not yet, anyway.

Barca treated Eric Abidal fairly: Barcelona received some stick for the fact that Eric Abidal wasn't offered a contract extension after making his return following his repeated battles against cancer. Instead, rather than a playing contract, he was offered a place on the club's backroom staff.

You can only admire Abidal's strength and courage in his fight against illness, as well as his contribution on the pitch over the years. But the fact of the matter is that Barcelona are running a business.

Abidal turns 34 in July. During his illness, he didn't play for more than 13 months and tallied 186 minutes of football this year after his return. Jordi Alba is ahead of him at left back and at centre half; you'd think that Gerard Pique, Javier Mascherano and whichever new centre back Barca sign will be ahead of him too, possibly along with Marc Bartra and Carles Puyol. In those circumstances, can you really justify another year's wages?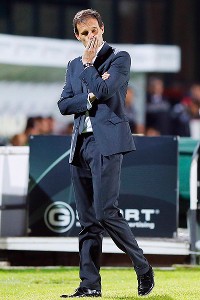 Fabio Muzzi/AFP/Getty ImagesMilan fans will be happy that Max Allegri is going to continue as the boss, but are dismayed at the rather public nature of the haggling by Silvio Berlusconi.

The Frenchman says he'll continue playing elsewhere and you can only wish him the best. He's a class act. The last thing he deserves is to be treated like a charity case.

Milan handles Allegri situation poorly: He's in, he's out, he's back.

Max Allegri will return as manager of Milan next season, capping an extraordinary five weeks of U-turns and misdirection that makes you wonder whether the rossoneri have become as dysfunctional as their rivals across town.

Paul: Allegri survives -- for now

It began when news leaked that club owner Silvio Berlusconi was ready to get rid of the manager. Multiple sources confirmed that it was all but a done deal. A definitive tete-a-tete between Berlusconi, Milan chief executive Adriano Galliani and Allegri was scheduled and twice postponed.

It finally came to pass Sunday night as the trio gathered at Berlusconi's home, and official confirmation arrived at midnight. Allegri would be staying but would not be getting a new contract. And all parties went through their "obligations and responsibilites" to each other, which in hindsight sounds like the kind of stuff a marriage counselor might come up with.

The impression is that Galliani battled hard to change Berlusconi's mind on Allegri. And that this, coupled with the fact that -- other than the improbable pursuit of Clarence Seedorf -- no convincing viable candidates had been lined up, ultimately led to Allegri staying.

Good news for Milan?

In the short term -- and as I wrote two weeks ago -- yes. But, in fact, the cat is out of the bag. Allegri will go into next season without the clout of a long-term contract and with the world knowing that his boss harbors serious doubts over his ability to lead the club. It can only make his job more difficult.

This is the kind of thing that ordinarily didn't happen at Milan.

When there were disagreements, they did a good job of keeping them in-house. The fact that all of this unfolded in the open makes the club -- and Berlusconi -- look weak.

Mourinho's farewell highlighted deep rifts: Jose Mourinho said Sunday night he'll be the Chelsea manager "by the end of the week." As it turned out, confirmation would be made on Monday morning by the club that he was returning.

In the meantime, his farewell to the Bernabeu was remarkable. Some of the crowd booed him. Some -- most of the Ultras Sur, but not just them -- applauded and thanked him. He played a mixture of reserves and youngsters against Osasuna while dropping Pepe, Iker Casillas and Cristiano Ronaldo, saying that "they declared themselves injured."

Report: Mourinho back to Chelsea
Brewin: Bold to go back to the Bridge
Lythell: Mou motivated to win a title
Palmer: Understanding Abramovich

Mourinho sometimes speaks off-the-cuff but most of the time he knows exactly what he's saying. His implication was clear: Those three guys refused to play for me.

Pepe? Casillas? No surprise. Relations with Mourinho had been rocky for a while.

But... Ronaldo? Remember, this is the same Ronaldo with whom he shares an agent, Jorge Mendes. The same guy who, in public, backed him to the hilt.

Doubtless we'll hear much more of this soon. In the meantime, it only serves to underscore just how toxic and broken down relationships at the Bernabeu had become.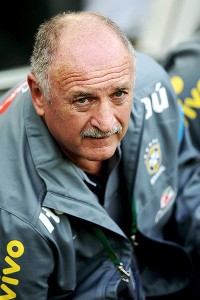 Friedemann Vogel/Getty ImagesBrazil's Luiz Felipe Scolari has a lot of work to do ahead of next summer's World Cup -- assuming he's still in charge then.
Brazil should be concerned about Scolari's Selecao: Nothing like end-of-season friendlies pitting teams with different goals and mindsets against each other. Germany and England approached their games with a palpable "last day of school" mentality. They were tired, distracted and generally poor. But while you can sort of understand it in England's case -- Roy Hodgson played most of his starters and you can't really blame him if they weren't exactly uber-motivated -- it's more difficult to fathom with Germany. Yes, it was a B-team, but one filled with guys who could have seized the chance to impress.

On the other hand, the stakes were high for both the United States and Brazil. With the former preparing for a crucial World Cup qualifier this Friday, it was about as good a tuneup as you could ask for. The latter are preparing for the Confederations Cup in less than two weeks' time. Screw up the Confed and the Selecao could be looking for a new manager.

Ultimately it's Brazil who stood out most -- and not in a good way. A first half that saw them dominate England produced no goals, while in the second half, during the brief spell when England actually looked sharp, they conceded two goals. And their own scores came not as a result of coherent attacking play, but were rather individual efforts.

Brewin: England, Brazil lack major sharpness
Carlisle: U.S. attack arrives vs. Germany

Luiz Felipe Scolari had a rocky time in the buildup to the World Cup the previous time he was Brazil's manager (in 2002), and we know what happened next: The Selecao ran the table, won seven of seven games and became world champion for the fifth time.

Unless things improve dramatically in the Confederations Cup, Scolari will be hoping that his bosses are the kind of superstitious folks who believe that lightning strikes twice and that the fact that Brazil were poor and then won it all 12 years ago under "Big Phil" means it is bound to happen again.

Gabriele Marcotti is a London-based journalist and broadcaster who covers world soccer. He is the author of three books, the world soccer columnist for The Times of London and a correspondent for the Italian daily Corriere dello Sport. You can catch him on ESPN Press Pass and read him here twice a week. Follow him on Twitter: @marcotti.