Arsenal's remarkable run, Atletico's triumph, Balotelli's fight against racism, and more
Arsene Wenger gets plenty of ridicule for it, but 16 straight seasons with Champions League football is an achievement. We can all point out how the Gunners could and should have been better the past few seasons. But the fact that they've avoided even a single year of catastrophic failure for so long is not something to be glossed over.

-- Here's to the sore winners
-- Atletico will support Falcao decision
-- Milan dramatically seals Champions spot

Indeed, from owner Stan Kroenke's perspective, you'd probably rather have consistent Champions League appearances year after year than a season in which you win the title (or come close) followed by a fifth- or sixth-place finish. Investors prefer steady returns to roller-coaster performances.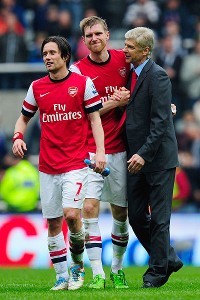 Stu Forster/Getty ImagesArsene Wenger's consistent results year in and year out cannot be overlooked, given Arsenal's challenges this season.
At the start of the season, it didn't seem unreasonable to predict that Arsenal would finish in the top four, with improvements in terms of points (73 to 70) and distance from the top (16 back to 19 back).

Yet what if you had been told the following:

That Wojciech Szczesny would be dropped in the spring and then brought back six weeks later.

That Bacary Sagna would miss the first 2 1/2 months of the season.

That Abou Diaby would hardly play.

That the "Wenger Out" movement would reach its noisiest peaks since the Frenchman arrived in North London 15 years ago.

That in his first 10 Premier League appearances, Olivier Giroud would score just once.

That Thomas Vermaelen, the skipper, would get dropped in March.

That Jack Wilshere would come back, play for a while and then make just two starts after March 3 (some of it through injury, most of it the manager's choice).

What's remarkable isn't where Arsenal have ended up. It's how they've done it and what they've overcome to get there (and, admittedly, some of what they've overcome was self-inflicted). This is a team that ended up with the second-best defensive record in the Premier League with a defensive partnership of Laurent Koscielny and Per Mertesacker, two guys who were excellent down the stretch after heavy criticism earlier this year.

What this shows is that, while Wenger is sometimes depicted as a staid dinosaur who won't change his ways and who is inflexible in his pursuit of a certain kind of football, this isn't the case. Arsenal have changed. Whether this is enough to satisfy supporters or lay the groundwork -- with some investment -- for a title challenge any time soon is another matter.

Atletico finally punch their weight

It was nasty, it was testy, it was ugly and it made history.

Atletico Madrid's 2-1 win over Real Madrid in the Copa del Rey was more about drama than anything else, and the Colchoneros were perhaps a bit lucky in beating their crosstown rivals for the first time since 1999. After all, the referee, Carlos Clos Gomez, did lose control of the game -- though given the behaviour of some of the players, keeping some semblance of order was a tough task -- and Real did hit the woodwork three times, while Thibaut Courtois made a string of outrageous saves.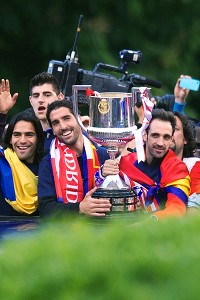 Denis Doyle/Getty ImagesAtletico Madrid's Copa del Rey conquest was a step in establishing a much-needed "third force" in La Liga.
But it doesn't change the fact that the victory -- the third piece of silverware in two seasons, after the European SuperCup and Europa League last year -- caps two seasons during which Atletico (and we don't say this often) finally punched their weight.

With two games to go, they've sealed third place and done it with the highest points total since 1995-96, when they last won La Liga. Radamel Falcao, with 28 Liga goals, has been tremendous, but it's far from a one-man team. The likes of Courtois, Arda Turan, Miranda, Diego Godin, Filipe and -- for all of his foibles -- Diego Costa have at different times stepped up. Credit has to go to Diego Simeone, who has shown that he is much more than a former hardman turned motivator. He's a real coach, who prepares well, exploits opponents' weaknesses and has a clear vision on the pitch.

The sad part for Atletico fans is that because of the way this team has been run -- between debts and third-party ownership deals -- it will be difficult to build on this success and turn them into the much-needed "third force" in La Liga. Atletico supporters deserve better, though, for now the joy of winning their 10th Copa del Rey will assuage some of the concern about where their club is going.

Heartbreak for Fiorentina in Serie A

For 71 minutes, Fiorentina were playing Champions League football next season. They went into the last round of matches two points behind Milan, but with a better head-to-head record. They duly took the lead at Pescara and scored early and often, while hoping that already-relegated Siena could do a job at home against the rossoneri.

For a while, it looked as if we'd be heading toward an improbable ending to the season. Claudio Terzi put Siena ahead, against the run of play. Milan became nervous, Massimo Ambrosini was sent off. But scarcely a minute later, Siena were themselves reduced to 10 men as Christian Terlizzi was given his marching orders. Six minutes for time, the referee awarded what can best be described as a generous penalty to Milan, as Felipe "held" (I use that term loosely) Mario Balotelli, who flopped in the box. Balotelli, of course, doesn't miss in those circumstances. One-one and still shards of hope that were swept away three minutes later when Philippe Mexes scored Milan's winner.

Fiorentina, understandably, felt robbed. But there is no grand conspiracy. If there were, the referee would not have sent off Milan's captain with 20 minutes to go. And it wasn't the ref who made Terlizzi fly in with a high boot for his red card. Nor was it the match officials' fault that the Siena defense "lost" Mexes at the far post for his goal.

Given the way the Viola have played this season, it's a shame we won't get to see them on the big stage. But the second half of Milan's campaign showed they deserve to be there.

One more point, regarding Siena's performance. Already-relegated side, nothing to play for, missing some key players -- Francesco Valiani, Alessio Sestu, Simone Vergassola -- many expected them to roll over and play dead (not least because of a millennial rivalry between Siena and Florence). Instead, they played their hearts out.

Now, that's the way it should be, but it's not the way it often has been in these situations (and not just in Italy). All credit to Siena.

England's Golden Generation

Gary Neville is already gone. Jamie Carragher, Michael Owen, Phil Neville, David Beckham and Paul Scholes played their last bits of football this season. The rest of England's so-called Golden Generation -- Frank Lampard, John Terry, Rio Ferdinand, Ashley Cole and Steven Gerrard -- are still around, but they, too, are a step closer to retirement (though you'd expect the latter two to stick around for a while).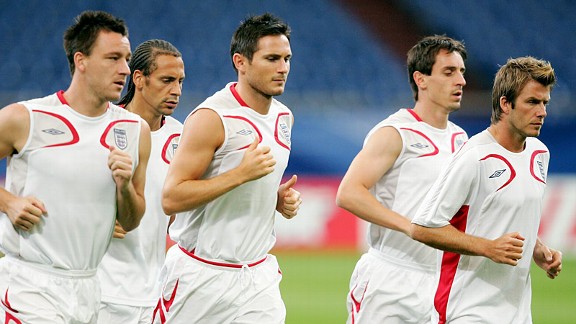 Ross Kinnaird/Getty ImagesFrom left: John Terry, Rio Ferdinand, Frank Lampard, Gary Neville and David Beckham form part of England's shrinking Golden Generation.


In the popular imagination, England's Golden Generation has been some kind of failure because they did not deliver a World Cup. Maybe so, but the three consecutive quarterfinals in major tournaments between 2002 and 2006 were England's second-best run. And the fact they all became household names worldwide, capable of lifting major silverware at club level, isn't to be overlooked either.

You could argue that you have to go back a long way to find the previous time England expressed a better group of players as the group born between November 1974 (Scholes) and December 1980 (Cole).

Barcelona's manager dilemma
There's not much you can say about the dilemma facing Barcelona over Tito Vilanova's health. He needs to undergo further treatment for his throat tumor and you can understand why the club might want to develop some kind of Plan B should it take too much of a toll on him and should he have to miss significant time next season.

There really is no good way to handle this. It's a delicate situation, you hope for the best -- a swift, permanent recovery -- and prepare for the worst. Needless to say, his health comes ahead of everything else. But Barcelona's job is to do what's best for the club. Simply put, it's a horrible situation you would not wish on anyone.

Schalke's in-house solution

Schalke also sealed their place in the Champions League last weekend, which is no small feat when you consider they sacked manager Huub Stevens halfway through, found themselves in the bottom half of the table as recently as February and had to deal with Klaas-Jan Huntelaar's contract renewal.

Jens Keller has stepped up nicely after his internal promotion to replace Stevens and he was given a two-year deal last week. It's a just reward for a guy who worked quietly at youth level and steered Schalke to safety. They were linked with a number of big-name managers before his extension, and the prospect of Champions League football no doubt would have helped them land a "name manager." But sometimes it makes sense to look in-house.

Balotelli's battle

Mario Balotelli announced last week that the next time he's subjected to racist abuse, as he was against Roma two Sundays ago, he'll walk off the pitch. Predictably, the head of the Italian referees, Marcello Nicchi, reminded him that if he does that without the referee's permission, his team will be down to 10 men.

Balotelli, who is now on Twitter, tweeted that such a measure was "not human."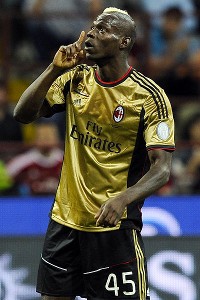 Claudio Villa/Getty ImagesMario Balotelli must adhere to the procedures in place against racist abuse for the sake of unified effectiveness.
He's right that you can't send a guy off for abandoning the pitch after being racially abused. Pierluigi Collina, head of UEFA's referees, said as much Monday. Technically, leaving the pitch without permission draws a red card, but "you can't get to the point where a guy has to leave the pitch to defend his right to play without being abused," he said. "If it should happen, you can't treat it like sending off."

But Balotelli is wrong to threaten to walk off the next time he is racially abused.

There are rules in place to fight the kind of racist abuse that both he -- and lesser known -- players face. There's a clear procedure. The referee notes the abuse, the fans are warned. If they don't stop, the game is suspended, and if the abuse persists, the game is called off and everyone walks off the pitch. (There are other measures that kick in after the game, such as banning fans and fining clubs.)

Give these measures a chance to work. If they do (and they have worked in the Netherlands, for example), they'll be far more effective than a player or a team electing to walk off. Why? Because the response will be institutional. Football as a sport will be saying, we're not tolerating this and if you do it, we're out of here. Those who racially abuse will be isolated and singled out.

The best way to fight this is for the game to provide a unified response. But that can happen only if procedure is followed.

Now, if Balotelli is racially abused and the referee doesn't do anything about it, then it's a wholly different matter. Then it becomes hard to blame him for taking such a step. And he would have the support of just about everyone. But until it gets to that point, give the system a chance to work.

Porto's moment of triumph

Porto's 2-0 win at Pacos de Ferreira sealed their 27th Portuguese league title. Manager Vitor Pereira weathered the Sept. 1 departure of Hulk (and, to a lesser degree, Alvaro Pereira) and put together a sparkling season that saw the club go undefeated in the SuperLiga and lose just four times in all competitions.

The turning point was a week before, when Kelvin's last-gasp winner propelled them past Benfica and sent them on their way to the title. You know what's next. Porto will be raided by wealthier clubs, with the likes of Jackson Martinez, Eliaquim Mangala, Joao Moutinho and James Rodriguez at the top of many shopping lists.

But that's nothing new at Porto. There's a reason why they've won nine of the past 11 domestic titles. They're used to losing talent and replacing it -- often with the help of third-party deals, which are not illegal in Portugal -- without missing a beat. Of course, hanging on to Vitor Pereira for another year at least would be a big help.