Mancini's halted progress, praise for Barca, Ferguson and Rooney, more
Managers get sacked for different reasons. We're told results are all that matter, but that's a rather short-sighted perspective.

Take Jurgen Klopp. He's one of the hottest bosses in the game, one of the few who can write his own ticket. Yet had Felipe Santana been (correctly) flagged offside against Malaga, to those who only pay attention to results he'd be little more than the eccentric Borussia Dortmund coach with the hair transplant who got knocked out of the Champions League by an insolvent club and who finished 20-odd points behind Bayern in the Bundesliga.

I trust we can agree Klopp is much more than that. And he'd still be an impressive up-and-comer even if that late goal against Malaga had been struck off. Sometimes, results only tell part of the story.

I tend to think you make a managerial change if you think there's a better option and if you think you're not progressing (or not progressing quickly enough). Otherwise, you stay put. And results are just one of the ingredients in the formula we use to measure progress.

At some point in the next few weeks, Roberto Mancini will likely no longer be Manchester City's manager. It won't be -- or, rather, it shouldn't be -- because his team lost the FA Cup final. Had they won, it would have been three major trophies in three years, following on from last season's Premier League title and the FA Cup the year before. Mancini's side was outplayed by Wigan for long stretches of the game but ultimately lost because of individual errors: Gareth Barry's mis-hit back pass that prompted Pablo Zabaleta's red card-inducing tackle and Jack Rodwell losing his man at the near post.

Stein: 12 wild hours at Wembley Stadium
Curtis: City dances off the end of the pier
Jolly: Martinez writes fairytale script
Brewin: Man City makes no case for Mancini
Report: Mancini facing the sack
Latest: Pellegrini denies Man City deal

Mancini can argue -- and possibly will argue -- that those individual errors are beyond a manager's control and for the "results-are-everything" gang, it may be a compelling argument.

But in evaluating his managerial performance, you have to go beyond that. You have to ask yourself whether City are a better team now or a year ago. That's how you measure progress, and it's not simply a matter of comparing points totals.

The answer -- and granted, this is subjective -- is "no."

City are no more fluid than a year ago, no more a team than a year ago. They don't look as solid defensively and going forward, they aren't the intimidating force of last season. (Numbers only tell part of the story, but it can't be a coincidence that with two fewer games played this year, they've scored 31 fewer goals.)

Mancini showed at Lazio and in his early time at Inter (pre-Zlatan Ibrahimovic) that he can field attractive, cohesive teams. For whatever reason, he never hit those heights at City, and given this year's regression, you can see why the club may be wanting to move in a different direction.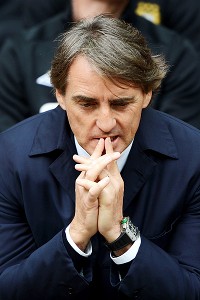 Michael Regan/Getty ImagesDo the results merit Roberto Mancini's dismissal as Man City manager? Maybe not, but the club's stagnation in terms of style and attacking potency might.

He wasn't helped by the fact that some of his players have slipped badly. David Silva had a poor campaign, as did Sergio Aguero (the latter wasn't helped by turmoil in his personal life). Vincent Kompany and Joe Hart, rock-solid in 2011-12, also turned in sub-par campaigns by their standards. Indeed, with the exception of Carlos Tevez -- who was a non-factor last season -- and the dependable Pablo Zabaleta, you struggle to find any holdovers who improved year-on-year. Equally, of his newcomers, only Matija Nastasic made a significant contribution.

This isn't entirely on Mancini, of course, but he too must bear some of the responsibility. After all, getting the best out of players is a big chunk of a manager's job.

Repeatedly reminding the world that City screwed up their transfer campaign last summer also wasn't clever. Sure, he has a point. Had Robin Van Persie and Daniele De Rossi signed for City, maybe the season would have taken a different turn. Heck, picking up Cristiano Ronaldo instead of Scott Sinclair, Javi Martinez instead of Javi Garcia and Phillip Lahm instead of Maicon would have been nice too.

But what's done is done and once the transfer window slammed shut, whatever the deficiencies of the club's then-transfer guru, Brian Marwood, he still had one of the best squads in the Premier League and in a season where most of the other big hitters were distinctly unimpressive. And he still failed to get the best out of what he had.

"You can stick Pellegrini up your a**!" sang a fair chunk of the City faithful on Saturday. It's pretty obvious that Mancini still enjoys the support and gratitude of many City fans. For a guy with a supposedly "difficult" personality that led to a host of internal conflicts (a bit like it did at Inter Milan), the way he connected and resonated with the support is remarkable. You would hope that the club's decision-makers also took that into account when making their decision.

And while it's easy to point to the hundreds of millions spent over the past five years to minimize Mancini's achievement, the fact remains that he helped break the goose egg and delivered the biggest prize in the English game after 44 years of abstinence. If City are on the global map today, a lot of it is down to him.

Still, that doesn't mean he's invulnerable or should have a job for life. His remit wasn't just to deliver trophies -- it was to build something and make City better year after year. Yet that progress was halted this season. It may have resumed next year but the way things are looking, we may never know. But you can't fault City if they think they might be better off with someone else at the helm.

Imperfect Barca still deserve high praise: Barcelona's 22nd league title felt somewhat anti-climactic for a number of reasons. For one, they won it on Saturday night when Real Madrid were held by Espanyol, 1-1. It was virtually wrapped up months ago.

And of course, the sting from Champions League humiliation at the hands of Bayern still smarts. Tremendously.

Tomas: Strange game but Barca crowned
Hunter: Barca's win in context
Ball: The view from Spain

But it's also worth celebrating what Barcelona have achieved domestically and in what circumstances. Manager Tito Vilanova was in his first-ever senior job, battled against a tumor all season long and missed six weeks to undergo treatment. Carles Puyol made just 12 Liga starts. Xavi showed signs of age and wear and tear. Alex Song was a bust, Victor Valdes announced he was leaving at the end of the season and Alexis Sanchez only lived up to his price tag for brief spells.

And yet Barcelona are still on pace to finish with 99 points, the second-highest total in history. In fact, if they win their last three games -- not impossible given that it's Valladolid and Malaga at home and the derby with Espanyol away -- they can actually equal Jose Mourinho's 100-point record from last year.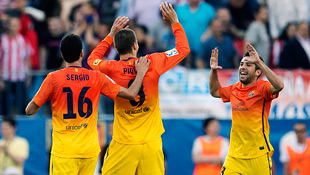 Dani Pozo/AFP/Getty ImagesBarca's title win is impressive for many reasons, in particular the club's navigation through injuries and illness en route to Liga domination.

Again, this was Vilanova's first season and he was sick for much of it. Sure, Barca showed worrying cracks in the Champions League -- and not just against Bayern -- but the campaign is still one to be celebrated. And it seems pretty clear they're just a couple tweaks away from regaining their status at the top of the game.

Ferguson no nicer to Rooney in retirement: Whatever else you may think about Sir Alex Ferguson, even his adieu to Old Trafford (at least in a managerial guise) is no reason to deviate from business as usual. In his view, Wayne Rooney needed to be put in his place and he was. On Sunday, that place was the executive box.

Sir Alex's post-game comments were crystal-clear. Rooney was out because he wasn't "keen to play" as evidenced by the fact that he handed in a transfer request.

I still think this is purely a contractual issue and that this is little more than both sides playing a part. Rooney wants to get an extension at a wage he's happy with while United want to extend him at a number of years they're happy with. I think that's the goal both sides are pursuing, though there's a third option, I guess, both would be satisfied with: Rooney moving to another club of his liking with a contract he likes and United getting a big fee they're happy with.

Payne: Old Trafford bids Fergie farewell
Report: Rooney wants out

Trouble is, that seems rather far-fetched right now.

Truth is, I suspect that Sir Alex doesn't want David Moyes to inherit the Rooney contract hot potato any more than he'll already have to. It's a situation that matured (or degenerated) before his arrival and one that can be solved. It's also an example of something Sir Alex can do in his new role that won't interfere with Moyes' work.

PSG's title soured in typical fashion: Paris St. Germain celebrated the first trophy of the Qatari era following their 1-0 win at Lyon. It wasn't particularly convincing, much like most of their domestic season, yet Carlo Ancelotti said they had achieved their objectives in terms of results: winning Le Championnat and reaching the Champions League quarterfinals where they were only beaten on away goals by Barcelona.

Report: Ibra dismisses transfer talk
Johnson: Title wait is over
Video: Ancelotti coy on future

Strictly speaking, if results are your only metric then Ancelotti is correct. But those who expected this team to be more cohesive and to truly reflect the impressive (and expensive) squad assembled -- and yes, I think Ancelotti is among them -- will be slightly disappointed by the performance.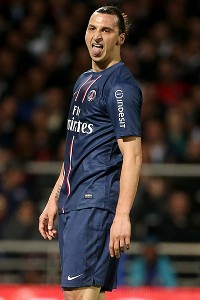 John Berry/Getty ImagesLove him or hate him, there's no denying the quality of Zlatan Ibrahimovic.

In fact, their year was nicely summed up after the match in the dressing room. The players were all celebrating when -- with the TV cameras rolling -- Zlatan Ibrahimovic threw one of his trademark hissy fits. The big Swede lost his rag and began shouting at Leonardo, the club's director of football. "You left me alone like an idiot! You always ruin everything!" he roared.

Why was he so upset? Ibrahimovic had been drawn to provide a urine sample for the post-game drug test. He was angry that he had to do his business while his teammates were celebrating and angrier still that nobody came to fetch him -- apparently he needed an escort to leave the dope testing room -- for, his words, "20 minutes."

As ever with Ibra, you have to take the good with the bad -- and the bad with the insane.

Muntari's madness might hurt Milan: It's hard to tell what goes through a player's mind sometimes. Sulley Muntari is 28 years old and has 75 caps for Ghana, experienced in playing on the biggest stages in the game.

So what could possibly have possessed him to think that it would be a good idea to grab the referee's wrist in a vice-like grip to prevent him from pulling out his cards?

It happened just after Mario Balotelli was booked for a tackle on Marquinho. Muntari ran over, shouted something and was shown the yellow card. He reacted by grabbing referee Gianluca Rocchi's wrist and holding it for -- yep, somebody bothered to put a stopwatch on it -- a whole 33 seconds. If Rocchi was initially going to let off Muntari with a yellow and a warning, as the seconds ticked away it became obvious there would only be one outcome: a red card.

Paul: Dire night ensures nervy finale
Report: Blatter appalled by racist abuse
Watch: Allegri believes action must be taken

Down to 10 men for most of the game, Milan were held to a 0-0 draw by Roma. It could have gone either way as a draw or defeat made no real difference to the Rossoneri in terms of finishing ahead of Fiorentina for that third Champions League spot. They needed a win -- and went for it -- but ultimately it was Roma's futility in the second half that spared them a defeat.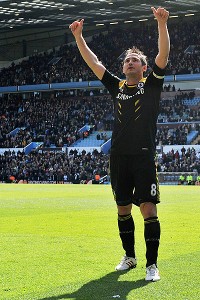 Paul Ellis/AFP/Getty ImagesBeyond Frank Lampard's goals for Chelsea, his remarkable longevity will resonate long after his retirement.

As it stands, Milan are two points clear but Vincenzo Montella's crew have the better head-to-head record, which means they'll need to win on the last day of the season to be assured of third place.

Lampard a shining light in London: Frank Lampard's late brace against Aston Villa on Saturday not only helped Chelsea virtually secure third place in the Premier League -- and a place in the group stages of next season's Champions League -- but it also meant he became the club's all-time goals leader with 203.

Plenty of superlatives have already been proffered. He also happens to be fourth on the all-time Premier League scoring chart (or as we should really call it, the post-1992 chart, since contrary to what some believe, English football existed before then) ahead of marquee center-forwards like Robbie Fowler and Michael Owen.

Lythell: Lampard cements Chelsea legend

Impressive as those numbers are, what stands out just as much to me is this: Between August 2001 and August 2007 he appeared in 227 of Chelsea's 232 games. That is a testament to durability, professionalism and a guy who earns his paycheck every week.

No time for Benfica to be sad: It's hard to imagine a crueler week for Benfica and their boss, Jorge Jesus. A week ago, they were undefeated domestically and enjoyed a healthy four-point lead over Porto (also without a league loss). They were then held to a nervy 1-1 draw at home by Estoril, which cut the margin to a single point ahead of Saturday's clash with Porto in the penultimate round of the season.

Still, there was no disputing who was in the driver's seat: A draw would have kept Porto at bay and allowed Benfica to control its destiny in the final game of the season.

Things looked promising when Rodrigo Lima gave Benfica the lead. A shot deflected off Maxi Pereira leveled things up but hey, no need to panic. Not until deep into injury time that is, when the Brazilian substitute Kelvin popped up to score Porto's winner. Talk about deflating.

Brassell: Gambler Pereira hits Porto jackpot

Yet there's no time for Jorge Jesus' men to dwell on it as the Europa League final against Chelsea beckons on Wednesday. After that, it will be all about beating second-bottom Moreirense and hoping that Pacos de Ferreira -- third in the table but 21 points off the pace -- manage to hold Porto at home.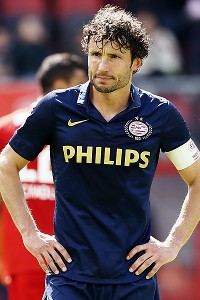 Peter Lous/AFP/Getty ImagesMark van Bommel's career ended in an unfortunate fashion, though he only has himself to blame.
Van Bommel's classic farewell: Mark van Bommel was sent off on Sunday for PSV against Twente. That wouldn't be noteworthy per se -- he's had nine red cards since 1999 -- if not for the fact that this was the final game of his career.

Van Bommel was the cartoon villain, the guy that so many loved to hate. He pushed (and crossed) the boundaries of the Laws of the Game early and often, usually with impunity. He wasn't shy about taking a tumble when necessary and he was often in the ear of the referee or the opponents.

Even that final red card was vintage van Bommel. He had already been booked and so -- presumably -- figured the referee was going to let things slide and wasn't about to flash a red to send off a great player with 20 minutes left in his final game.

But this was one gamble van Bommel got wrong. And the curtain descended on a career that saw a scrappy kid rise from Fortuna Sittard to grace the likes of PSV Eindhoven, Barcelona, Bayern Munich and AC Milan, winning a Champions League title, four Eredivisie crowns, a Liga, two Bundesligas, a Serie A title and playing in the 2010 World Cup final.

To some van Bommel was a cheat and a dirty player, an all-around bad egg. To others he's simply someone who was willing to do whatever it took to win.

Gabriele Marcotti is a London-based journalist and broadcaster who covers world soccer. He is the author of three books, the world soccer columnist for The Times of London and a correspondent for the Italian daily Corriere dello Sport. You can catch him on ESPN Press Pass and read him on ESPNFC twice a week. Follow him on Twitter: @marcotti.