Arsenal at a familiar crossroads, Atletico's shot at redemption, Zanetti's injury, more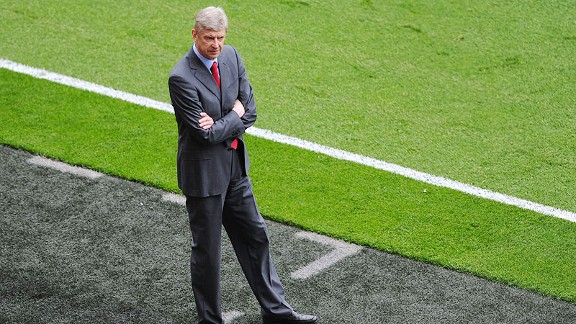 David Price/Arsenal FC/Getty ImagesArsene Wenger finds himself at a familiar crossroads, with his team in need of leadership, accountability and some kind of a plan.
Arsenal looked rather tame Sunday against a Manchester United side which, understandably, displayed a post-title (and perhaps post-title celebration) sluggishness. Yet even with the visitors taking some time to find their feet and conceding an early (offside) goal, the Gunners failed to capitalize. With neither team sparkling, it was United that arguably carved out the better chances in the 1-1 draw.

Yet here's the thing. We can all note United's superiority to Arsenal this season. And we can all identify the Gunners' evident weaknesses this season.

Wojchiech Sczcesny and Thomas Vermaelen, supposedly bona fide regulars not that long ago, were both benched at different times this season and appear to have gone backward. Bacary Sagna was slowed by injuries and, as his contract winds down, isn't the player he was. Abou Diaby is injured (again). You may not want to call Lukas Podolski a bust just yet, but he appears to be neither an accomplished center forward nor a winger in this system.

- Mangan: Gunners frustrate ... again
- Will Arsenal blow their chance for Champions League football?

Of the incumbents, you struggle to count many who played better this season than last. Jack Wilshere, obviously, because he didn't play last season. Maybe Alex Oxlade-Chamberlain, though it's clear manager Arsene Wenger doesn't consider him starter material just yet. Aaron Ramsey may be playing better (and more regularly) of late, but last year he was a full-time starter. Theo Walcott? Well, he's scored more, but played less -- 21 starts thus far, whereas last year he had 32 -- which makes it hard to argue he contributed that much more than last season.

Of the newcomers, Santi Cazorla started very well before tailing off a bit and Olivier Giroud went through the process in reverse, ending strong after a tricky start. Nacho Monreal has provided stability at left back, but remember, we're talking only eight starts.

And, of course, nobody needs to be reminded who left in the summer: Alex Song, who may have divided opinion but also provided legs and drive in the midfield, and Robin Van Persie, who supposedly was close to irreplaceable.

Yet Arsenal are on track to finish with 70 points, which is exactly what they had last season. They could end up anywhere between third and fifth (they were third last year), but overall they are roughly where they were (last season, with three games to go, they could have ended anywhere between third and fifth).

If you're a glass half-full type of person, you could put a lot of positive spin on this. Arsenal were one of only three teams in Europe to beat Bayern Munich this year (and did it away). They weathered the trauma of losing two bona fide starters such as Song and RvP rather well. The fact that so many guys had off-years actually bodes well. Imagine how good the Gunners will be when the players who underachieved this season return to their full potential.

That's one way to read it. The other is this: The reasons why so many were angry with the club's ownership and so many Gunners were questioning even Wenger's future haven't gone away. Nor have they been answered.

Sunday, once again, highlighted Arsenal's shortcomings. Not in terms of results, perhaps, but in terms of performance. This was a chance to step up and, in fact, in years past Wenger's Arsenal have played better against better teams. There was little of it on display at the Emirates.

This is still a club at a crossroads. What it needs most is leadership, accountability and some kind of a plan. The worst thing that could happen at this stage is complacency and a sense that merely finishing in a Champions League spot despite losing your best players year after year equals success. It's not success. Not for a club like Arsenal. It's an achievement, perhaps, but the reaction ought to be, "How can we retain the players we want to keep and continue to grow?" rather than "Haven't we done well, despite losing so-and-so?"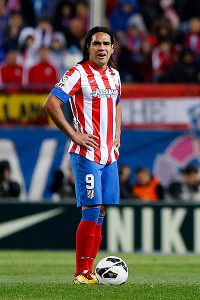 Cesar Manso/AFP/Getty ImagesA close to full strength Atletico still came up short against Real Madrid, but the Copa del Rey final offers a chance at redemption.
Atletico stumbles, hopes for Copa redemption

From Atletico's perspective, the home team's supporters were the best part of the Madrid derby. "110 Years of Immortal Legend" read the giant banner at Atletico's Vicente Calderon Stadium.

Everything seemed geared toward Atletico breaking their streak of futility against the crosstown rival, a sequence which dates back to the last millennium (October 1999, to be precise).

Real Madrid, of course, were totally focused on Tuesday night's return leg against Borussia Dortmund and preparing for an improbable -- but not impossible -- comeback. Real manager Jose Mourinho started guys like Nacho, Morata, Kaka, Ricardo Carvalho and Raul Albiol. In fact, you'd probably conclude that only three, maybe four, Real players who started versus Atletico have a shot at starting against Borussia.

Meanwhile, Atletico were at close to full strength. And they got the gift of an early goal, when Diego Lopez failed to hang on to Gabi's free kick, allowing Diego Godin to set up Radamel Falcao.

Early lead, at home, against an opponent that prefers playing on the counterattack, is resting all but a handful of starters, and clearly has other priorities.

Points in the bag, right?

Not when you're Atletico. Not when, even as the years go by and the cast of characters changes, you seem to continue to suffer some kind of psychological block when you see those guys in white shirts.

Atletico allowed the game to get spiky. They lost whatever confidence they had and lost track of Angel Di Maria, who forced an own goal, scored one of his own and set up what should have been a goal for Karim Benzema, if Thibaut Courtois hadn't pulled off a miracle save. Atletico manager Diego Simeone himself said afterwards that, while they played better than Real for most of the match, "it's the goals that count."

This is their best domestic season since 1995-96. And, as Simeone pointed out afterwards, Atletico have the chance to redeem themselves soon against Mourinho's crew, in the Copa del Rey final on May 17.

By that point, the stakes could be huge for both managers. For Mourinho, it could be the final chance to avoid finishing a full season without a major trophy for the first time in his career. For Simeone and Atletico, it will be the opportunity to prove that they are a grown-up side, free of psychological complexes and mental blocks.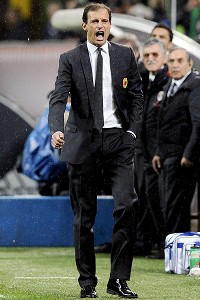 Getty ImagesThis is the time for Milan to rally around Massimiliano Allegri, not undermine him.
Third place is Milan's to lose

Despite what some people think, newspapers don't generally make up stories. On Sunday, the day Milan hosted Catania in a crucial game for the Rossoneri's hopes of hanging on to that third Champions League spot, the front-page story in Italy's biggest-selling sports newspaper was about how the club was looking to Clarence Seedorf to replace manager Massimiliano Allegri. And it wasn't there by accident.

This isn't really about whether Allegri ought to keep his job or be replaced by Seedorf. For my money, Seedorf is one of the most intelligent people -- let alone footballers -- I have ever met. He's also still playing -- for Botafogo, in Brazil -- and as far as I know, he hasn't expressed any interest in retiring and walking into the Milan job. Meanwhile, Allegri -- despite losing Zlatan Ibrahimovic and Thiago Silva over the summer and seeing his club's wage bill slashed -- managed to keep Milan competitive while making the squad much younger. There's always somebody better out there, but frankly, replacing the manager shouldn't be Milan's priority right now.

-Video: Allegri being undermined?

What would possess the club to think it's a good idea to leak a story like this on the day of such a crucial game? Milan fans made their thoughts very clear on this one, displaying a huge banner which read: "Respect for Allegri please."

They're right. If you want to weigh other choices, you don't do it this way.

The good news is that it didn't affect Milan in the pitch. They came out of the gates straightaway, dominated Catania, somehow contrived to twice fall behind, and then won 4-2. The game had everything. Milan played well, showed character in coming back, and ultimately got the three points they needed to leapfrog Fiorentina.

The race for third will go down to the wire. Manager Vincenzo Montella and Fiorentina play some of the best football you'll see anywhere and, given where Fiorentina were this time last year, he has cemented his place as one of the game's up-and-comers. But third place remains Milan's to lose. And if someone continues to undermine Allegri, they may just do that.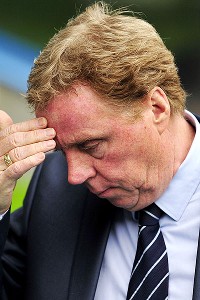 Glyn Kirk/AFP/Getty ImagesHarry Redknapp thinks he has headaches now? Wait until QPR tries to juggle players on high wages in the Championship.
QPR's problems could get worse

The scoreless draw between Reading and Queens Park Rangers on Sunday sealed both clubs' relegation. This is the part where you're supposed to feel sorry for the fans and the players. Frankly, it's hard to, because somebody has to go down and relegation means an opportunity for someone else to come back up.

Reading won the Championship the previous year. They kept their team intact and spent around $15 million on new signings. They evidently picked up the wrong guys. Adrian Mariappa, Pavel Pogrebnyak, Chris Gunter, Danny Guthrie, Stephen Kelly … it's not as if these guys are bad footballers, but they obviously didn't produce enough. (I'm willing to give them a pass on their January signings -- Nick Blackman, Daniel Carrico and Hope Akpan -- because I'm assuming they were picked up with an eye toward the future, not the present, to which they contributed close to nothing.)

- Smith: Joey Barton was right
- Video: So long, 'Arry
- Video: Relegation battle down to one

As for Queens Park Rangers, it started badly and got worse. It will always be a mystery to me how a clever businessman like Tony Fernandes could simply hand his team (and his money) to guys who seemingly had no plan. Mark Hughes acquired a grab bag of big-name guys who were either past it or -- fairly obviously -- weren't going to fit together. When Harry Redknapp took over, rather than making a few tweaks and figuring out how to make the incumbents better, he acquired a half-dozen new guys and chucked them straight into the team. The results were predictable. The net spend of about $55 million is an absurdity, especially when you consider that the contracts of many QPR players don't have "relegation clauses," which would have automatically reduced their wages next season. Instead, whoever is in charge at Loftus Road next season will be on the hook for an enormous wage bill, which can't be good news for Fernandes.

PSG doing it the hard way

Sunday night sort of summed up Paris St. Germain's season. Away to little Evian, PSG struggled to get things going, lost their discipline (three players were sent off, and while David Beckham's red might have been harsh, those of Salvatore Sirigu and Marco Verratti could have been avoided), suffered until the very end and eked out a win.

- Video: Ancelotti's future

PSG could win the title this coming weekend or, more likely, it will happen the next. Either way, this season has aged manager Carlo Ancelotti a good 10 years.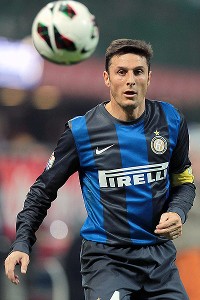 Gabriele Maltinti/Getty ImagesJavier Zanetti ruptured his Achilles' tendon, but you wouldn't bet against Inter's ironman from returning.
Zanetti will be back

It can't end this way. And I'll bet anyone willing to take me up on it that it won't.

The guy who has been Inter's ironman for the past 17 years went down in the 17th minute of Sunday's game at Palermo with a ruptured Achilles' tendon. Javier Zanetti turns 40 this summer. The fact that he's still playing at the highest level makes him a freak of nature. The tireless work he does for a range of charities and foundations in his spare time makes him the finest possible role model.

- Whittaker: Another day, another defeat

It's not surprising that when news of his injury spread, the reaction was universal. Few men in the history of the game have been as loved and respected by all, even their fiercest adversaries.

Injuries like this ordinarily take anywhere from six to nine months to heal. But that's the prognosis for flesh and blood humans. Zanetti is the bionic man.

He himself has promised he'll be back. Inter must do everything in their power to make it happen, even if it's only for one game or indeed, even a few minutes.

The least the game can do is to let him exit on his own terms.