Suarez bites, Mourinho's dilemma, Milan's mess, more
What's done is done.

We could be talking about Rafa Benitez's return to Anfield, a dramatic last-minute equalizer, two potential red cards that went unseen (Fernando Torres' elbow and Daniel Sturridge's high boot), Chelsea's hunt for a Champions League spot amid fixture congestion, plus Liverpool's long, slow rebuilding job and how much better they are (or -- depending on your view -- are not) compared to this time last year under Kenny Dalglish.

Instead, one thread dominates: Luis Suarez biting Branislav Ivanovic and its inevitable repercussions.

As infractions go, it's magnified by its sheer weirdness. When you look at it in the cold light of day, it's not as dangerous as intentionally trying to end a fellow professional's career, as at least one high-profile ex-pro has admitted to doing. Your own sliding scale of morality will tell you where it fits alongside spitting in an opponent's face (which we've seen plenty of times) or turning around and head-butting a player who's off the ball (which we've also witnessed, not least in a World Cup final).

Hirshey: Suarez adds bite to race for fourth
Jolly: No-win position for Liverpool
Walsh: A controversial game "saver"
Lythell: Blues victimized at Anfield
Press Pass Extra: Another Suarez scandal

What's undeniable, though, is that if it a been a punch or a shove or a kick, it would not have been magnified to this proportion. And if it had not been Luis Suarez -- whose track record is filled with controversy -- this issue would not quite resonate in this way. (We know this not least because, when Jermain Defoe bit Javier Mascherano in 2006, all he got was a booking from the referee and mild castigation by the media. No public inquests and crucifixions, no "sky-is-falling-what-does-it-say-about-modern-society" sermons, no wondering whether he needs psychiatric care.)

The other thing that makes Suarez's action stand out is that it's hard to comprehend the motivation behind it. You can understand -- to some degree -- a snap reaction to a foul or pain or whatever. It was like that with Defoe. It was like that with Suarez himself when he had his confrontation with Otman Bakkal back in the Netherlands: The two were at each other's throats, and Suarez lost his cool and bit Bakkal in the shoulder. Even Mike Tyson's chomp on Evander Holyfield's ear can, with some effort, be comprehended -- a very large man is beating the stuffing out of you, you feel adrenaline and pain and you snap, bite his ear and then talk about eating his children. (Maybe the last bit was part of a potential insanity defense.)

But this was different. Suarez was wrestling with Ivanovic. Suarez didn't wake up that morning thinking he was going to munch on Ivanovic's arm, but then it wasn't a red mist reaction, either.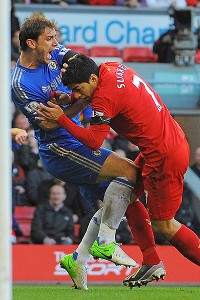 Andrew Yates/AFP/Getty ImagesLuis Suarez has put Liverpool FC in a major bind with yet another inexcusable transgression.

One theory doing the rounds is that Suarez is such an intense competitor who wants to win so badly that he's willing to scrap for any edge he can get. And, in this case, he bit Ivanovic hoping the Serb defender would react with a punch or a shove that would be seen by the officials, who would then send off Ivanovic. It would be a sneaky, cynical and morally reprehensible way of cheating, but at least it would offer some kind of explanation (though never, obviously, a justification).

On to the fallout. Suarez rang up Ivanovic Sunday night and apologized personally. Liverpool issued a substantial club fine. The Football Association have until Tuesday night to charge him and a suspension seems inevitable.

Was there anything Liverpool could have done to mitigate matters?

In an ideal world, yes. But you can't blame the club for it. If someone high up at the club had realized what happened, they could have sprung into action and maybe it might have helped minimize the punishment.

They might have gotten word to manager Brendan Rodgers on the touchline and asked him to substitute Suarez. Then he could have been taken to the side, calmed down and told to issue a full apology at the final whistle.

It likely would have cost Liverpool a point. But it might -- and I stress the word "might" -- have limited the damage. Ivanovic may have been persuaded to minimize the incident. Suarez could have shown his contrition on live TV. The "other" enduring image of the day might have been an apologetic Suarez saying sorry and embracing Ivanovic rather than a guy who should not have been on the pitch celebrating at the final whistle.

Sometimes spin matters more than reality.

It's a moot point now and, to be fair, Liverpool don't have a full-time spin doctor on call to jump in. But, given how the FA's disciplinary folks operate, it might have made a difference.

By Monday morning, Liverpool managing director Ian Ayre was saying the club wanted Suarez to stay at Anfield.

On the one hand, it seems crazy that a club like Liverpool should have to reiterate that they want their star player to stay.

On the other, there's the obvious elephant in the room. Suarez attracts controversy -- sometimes of his own making, sometimes not, sometimes it's somewhere in between -- and when certain media grab hold of an issue, they rarely let go. And this, in turn, influences the way you're treated on the pitch, which has a direct impact on Liverpool's fortunes.

Then there's the fact that Suarez is 26 and one of the top 10 players in the world while playing for Liverpool, a club that -- for all their history -- hasn't played Champions League football since he's been there and won't be doing so next year, either. That has commercial implications. Suarez is a professional and so is his agent. Just as he was linked to moves elsewhere last summer, he's bound to be again. Especially if clubs, most likely outside the Premier League, sense they could force Liverpool's hand because of the Suarez backlash.

If you want to find a silver lining for Liverpool, at least Suarez's moment of lunacy came at a time when they're not competing for titles, silverware or a place in the Champions League. Rarely has a last-ditch equalizer seemed so empty and irrelevant.

Mourinho caught in game of cloak and dagger: Here's further evidence of what rumor and social networks can do. Last week, the Spanish newspaper El Pais, reporting on Jose Mourinho's future from the umpteenth angle, wrote that an informal poll conducted by Real Madrid president Florentino Perez revealed that no fewer than 15 first-team players -- including "five very senior ones" -- want Mourinho gone at the end of the season.

Now, 26 players have appeared for Real Madrid this season. Take out of the mix the players who, like Mourinho, are clients of Jorge Mendes (Ricardo Carvalho, Cristiano Ronaldo, Pepe, Angel Di Maria, Fabio Coentrao), since presumably they want Mourinho to stay and aren't entirely impartial, and you're left with 21 guys. Remove Lassana Diarra (since he's no longer there) and Michael Essien (on loan from Chelsea and therefore probably not polled as to his thoughts on Mourinho) and you've got 19. Now remove Nacho and Jose Rodriguez Martinez, since they're kids who spent most of the year playing for Castilla and haven't been around much.

Rigg: Mesut Ozil peaking at right time
Train: Real bruised, but not beaten

That leaves 17. Which is two more than the number of players who -- supposedly -- want Mourinho gone. Anything is possible, I guess, but I find it really, really difficult to believe that all but two Madrid players who are not on loan, kids or share an agent with him want the guy out.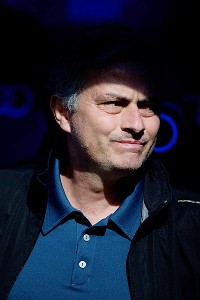 Jasper Juinen/Getty ImagesSocial media and off-the-record whispers are distracting Jose Mourinho at the worst possible time.

Here's the thing, though. Once the story came out, it was followed by plenty of speculation as to who the source of the leak was. And, because Iker Casillas enjoys a good relationship with the media (more than most, mainly because he's a nice guy) and because Mourinho dropped him, fingers were pointed at Casillas. (Still in the realm of rumors and speculation here, remember.)

During Saturday's game with Betis, a rumor started doing the rounds on Twitter. Real Madrid's hard-core supporters, the Ultras Sur, had apparently sung "Casillas is the mole! Casillas go away!"

This was quite extraordinary. The Ultras Sur have been steadfast supporters of Mourinho but, at the same time, Casillas is a Madrid legend and they've always supported him, too.

Except it wasn't true. Nobody in the press box heard it. And an Ultras Sur spokesman denied it ever took place.

So how did it get out there on Twitter? How come several major media outlets in Spain deemed it credible? And, in fact, how come they deemed credible El Pais' story that 15 first-teamers are hell-bent on wanting Mourinho out?

Cloak, meet dagger. Amplified by social media.

There are deep divisions and agendas on both sides at the Bernabeu. The only thing that will make them go away -- and even then, it might be only temporary -- is that 10th European Cup.

Safety first for Milan: Milan coach Massimiliano Allegri faced a tricky challenge away to Juventus on Saturday night. He was already without the suspended Mario Balotelli and taking on the league leader, but he had a classic dilemma.

The Rossoneri went into the game seven points behind second-place Napoli and one point ahead of fourth-place Fiorentina. Second place means direct access to the Champions League group phase. Third place means the qualifying round, where you could get stuck against a Chelsea or an Arsenal. Fourth place, of course, means playing on Thursday night.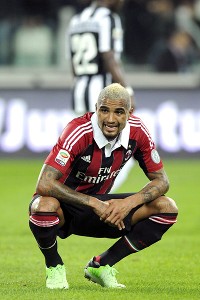 Claudio Villa/Getty ImagesMilan's conservatism vs. Juventus may cost them more in the long run than the three points it gave away on Sunday.

Do you gamble and go for the win in the hopes of catching Napoli? Do you play it safe, knowing that a draw gives you a two-point cushion over Fiorentina?

It seemed that Allegri chose the latter option. Milan had the bulk of the possession, but it was classic, sterile possession, especially in the first half, as Kevin-Prince Boateng sat deep alongside Massimo Ambrosini and Riccardo Montolivo. Nothing wrong with that approach, as long as you either have change-of-pace strikers or the creativity to unlock the opposing defence. Milan had neither that night. And, to add insult to injury, when Marco Amelia clattered into Kwadwo Asamoah and Arturo Vidal converted the ensuing penalty, it was lights-out.

Rzouki: Juve edges closer to title
Paul: Costly error dooms Milan
Press Pass Extra: Scudetto within sight

Hindsight, of course, is always 20-20. But you can't help but feel that if Milan had been a bit more proactive, while they might still have lost, at least they might have made more of a statement. As it stands, they'll have Fiorentina breathing down their necks for the rest of the season.

The curious case of Manuel Neuer: Bayern Munich's Manuel Neuer is one of the best goalkeepers in the world. There is no disputing that. When you concede just 26 goals in 42 games, you're pretty water-tight. Neuer himself has said -- half-jokingly -- that he sometimes gets bored between the sticks because he goes for so long without having to face a shot.

The weird thing about Neuer is that, when he does concede -- and, admittedly, it's not often -- it's not unusual for him to make an absolute howler. In the past two months, it happened against Arsenal in the Champions League, against Kazakhstan (playing for Germany) and, most recently, on Saturday in the 6-1 drubbing Bayern Munich inflicted on Hannover.

These aren't just minor mistakes -- these are enormous screwups, whether it's losing a harmless set piece, mis-controlling a back pass into the path of an opponent, or dropping an innocuous free kick at the feet of the opposing striker, as he did Saturday.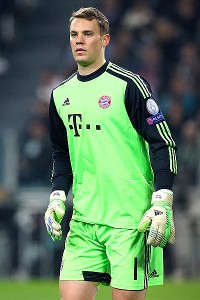 Marco Luzzani/Getty ImagesWhy does one of the world's best goalkeepers, Manuel Neuer, make such glaring errors? Is it more than just boredom?

Note the score at the time of each of the aforementioned howlers: Neuer's team was up 3-0, 3-0 and 5-0. Maybe that has something to do with it. Maybe he just switches off when the game is in the bag.

It's not a knock on him; after all, all goals conceded are worth the same, I guess. But I struggle to think of another goalkeeper of his quality equally prone to making such gross mistakes. As long as he keeps making them when the game is out of reach, it won't really matter to Bayern fans.

City's implosion is anyone's guess: Has anybody figured out Manchester City's meltdown at Tottenham in the last 20 minutes Sunday? No? Me neither.

You can give Andre Villas-Boas credit for his substitutions, praise Jermain Defoe's finishing and Gareth Bale's genius, but it won't change the fact that for 70 minutes City dominated the game and then, out of the blue, everybody seemed to switch off.

Blame Roberto Mancini. Sure, he's the boss. But when your best guys -- Vincent Kompany and Pablo Zabaleta -- have sudden, out-of-the-blue wobbles after not putting a foot wrong all game long, you're bound to be nonplussed.

Fitch: Tottenham's pure joy
Curtis: School's out for flunking City
Martin: Epic rally at White Hart Lane
Press Pass Extra: Mancini's men stunned

If City play like this through the end of May -- even if they win the FA Cup -- the season will end with the most feeble of whimpers. Their fans deserve better. So too do the folks running the club.

Expect a strong reaction the next time they step on the pitch.

Gabriele Marcotti is a London-based journalist and broadcaster who covers world soccer. He is the author of three books, the world soccer columnist for The Times of London and a correspondent for the Italian daily Corriere dello Sport. You can catch him on ESPN Press Pass and read him here twice a week. Follow him on Twitter: @marcotti.