Credit to Arsenal, but problems persist; brilliant Bayern; Spurs sputter; Inter seethe, more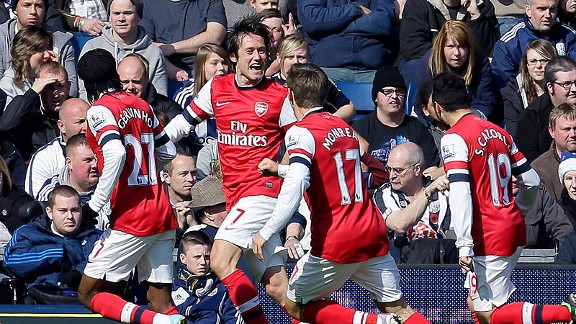 AP Photo/Alastair GrantArsenal have won three league games on the trot and could finish third, but that doesn't change some fundamental problems with the side.
Funny how a season can go. Not that long ago, many were calling for manager Arsene Wenger's head. Heck, many still are. And yet, with a game in hand and a relatively straightforward run-in -- Manchester United aside -- there's a very good chance Arsenal could finish third, just like last season, and with roughly the same points, if not more.

Which, on paper, is pretty good when you consider what the Gunners have had to overcome. In no particular order:

• Robin Van Persie, their best striker since Thierry Henry, leaves in the summer, as does Alex Song, a fixture in the middle of the park.

• Wojciech Szczesny is increasingly erratic, losing his spot as a starter.

• Bacary Sagna misses half the season due to injury, and Thomas Vermaelen is a shadow of his former self.

• Abou Diaby -- again -- is injured and contributes little.

• Theo Walcott goes through a major contractual dispute before eventually putting pen to paper.

Sure, there were bright spots. Santi Cazorla settled in right away and probably surpassed expectations. The return of Jack Wilshere, after missing all of 2011-12, amounted to a new signing. But overall, it was probably the roughest season of Wenger's career.

So if Arsenal do ride it out and finish third, does it mean the future is bright at the Emirates? Not necessarily. It does feel like more of a case of the competition stumbling with the finish line in sight than Arsenal rounding some kind of corner.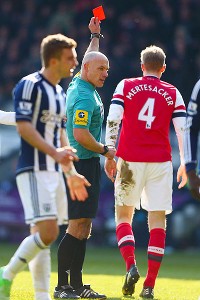 Michael Steele/Getty ImagesPer Mertesacker saw red after his boneheaded decision to scythe down West Brom's Shane Long.
Arsenal's 2-1 win at West Bromwich Albion on Saturday was a case in point. West Brom's race is run; they'll finish somewhere between eighth and 10th, which is a tremendous achievement for Steve Clarke and his crew. Arsenal won thanks to the unexpected sight of Tomas Rosicky, making only his second start of the campaign, dominating in midfield and popping up to score both goals.

Yet it almost all came tumbling down after Per Mertesacker's boneheaded decision to scythe down Shane Long in the box with 20 minutes to go. Arsenal were up 2-0 at the time; even if Long had scored (and it was by no means certain), at least they could have defended their one-goal lead at full strength. Instead, despite being the Gunners' most experienced defender, the big German with 88 caps gave up the penalty and got himself sent off.

- Limbert: Experience counts in run-in

Hey, people make mistakes, even people whom you don't expect to make mental errors. But what was worrying was how the rest of the game panned out. West Brom made the man-advantage count, compressing Arsenal into their own box and creating a half-dozen chances.

All of a sudden, Arsenal seemed terrified. Obviously, on the road and down a man you will concede the initiative late in the game. But not to this degree. Not unless there is something structurally wrong.

Whatever happens and whoever is in charge, Arsenal need to be rebuilt from the ground up, and not just in terms of personnel, but also in terms of confidence and mentality.

Bayern's Brilliance

Bayern Munich are champions of Germany. No surprise there, though the 20-point lead at the top of the table and the number of records Jupp Heynckes' men have either broken or will likely break is fairly staggering. And, of course, this team remains on track for the treble: It's already in the German Cup semifinal, and it's nicely on its way in the Champions League semis.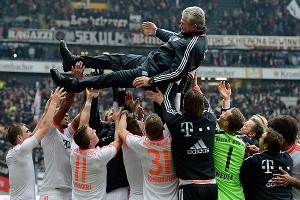 Christof Stache/AFP/Getty ImagesBayern Munich: under the limit.
Much has been made about Bayern's offensive firepower, but what this team has achieved at the other end of the pitch is remarkable. Bayern have conceded 23 goals in 42 matches in all competitions (in the league, it's 13 in 28). It's not just a credit to the back four -- though Manuel Neuer and Phillip Lahm are among the very best in the world in their positions and Dante isn't far off -- it's also a testament to a system that's very well-balanced, ensuring there's always a Javi Martinez or a Luiz Gustavo ready to shield the defence. Plus, the front four press and clog space effectively when Bayern don't have possession.

- Susie Schaaf: Bayern, deutscher Meister!

It will be very interesting to see just how much, or how little, Pep Guardiola tweaks Bayern's defensive organization when he takes over. Because, frankly, there's not much wrong with it.

Life without Messi

Cesc Fabregas and Alexis Sanchez were superstars when they joined Barcelona in the summer of 2011. (OK, those who quibble might say the former was a superstar, the latter one in the making; what you can't argue with is that both went for superstar fees and both earn superstar wages.)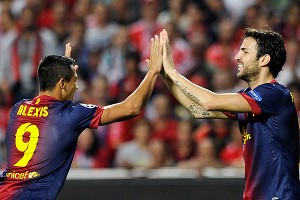 Getty ImagesAlexis Sanchez and Cesc Fabregas have impressed in their ability to adjust to their jobs as squad players.
Neither is an automatic starter at the Camp Nou, and Sanchez, in particular, has blown hot and cold. What's noteworthy, though, is how both men have adjusted to their jobs as squad players, specialists filling roles and making themselves useful without causing a fuss.

Fabregas has been used throughout the Barcelona midfield and attack, Sanchez is reinventing himself as almost a "defensive forward" whose job, first and foremost, is leading the press when the team lose possession and then neutralizing the opposing fullback.

- Tomas: To Messi or not to Messi?

On Saturday they provided Barca's one-two punch against Mallorca: Fabregas netting a hat trick, Sanchez a brace plus two assists. Odds are they'll soon step back and leave the limelight to others.

It's fair to say neither has lived up to the price tag just yet (though Fabregas is just 25 and remains the heir apparent to Xavi), but they are unquestionably valuable options for Barca and have sacrificed personal glory for the good of the team. Yes, they're paid handsomely to do just that, but anyone who has been around footballers at this level will tell you not everyone would have accepted the understudy/specialist role.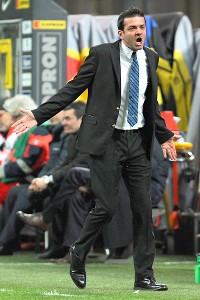 Valerio Pennicino/Getty ImagesAndrea Stramaccioni said he no longer believed in the "good faith" of referees after Atalanta shocked Inter 4-3.
Seething Inter

When you're 3-1 up at home with half an hour to go and you're playing a midtable side with little in the way of motivation, you expect to close out the game. That's the situation Inter found themselves in Sunday night against Atalanta. And it was a perfectly reasonable expectation, even given Inter's injury crisis.

Half an hour later, Inter and coach Andrea Stramaccioni were in shock. The scoreboard read Inter 3, Atalanta 4. Atalanta had a player sent off, and Inter defender Andrea Ranocchia provided a "miss of the year" contender, somehow skying the ball with virtually the last kick of the game.

Inter were furious. Stramaccioni said he no longer believed in the "good faith" of referees. Inter president Massimo Moratti said it was "statistically impossible that Inter have not been awarded a single penalty in the past 20 odd games."

- Controversy, another injury effectively finish Inter's season

I am not one of those who doesn't believe in conspiracies. In fact, the recent history of Serie A shows that, yes, sometimes there are those attempting to manipulate things in the shadows. And, yes, the penalty that made it 3-2 was a gigantic screwup by the referee, who evidently thought he saw Walter Samuel handle the ball when he did not such thing.

But if Moratti and Stramaccioni really want to dissect the officiating, they may want to consider Inter forward Tommaso Rocchi's foul on Guglielmo Stendardo in the buildup to Ricky Alvarez's first goal. Or Ranocchia's obvious and unpunished dive in the second half. Or, in fact, Ranocchia's absurd miss.

And let's leave stats out of it. It's not statistically impossible that a team might go 20 games without a penalty. Between Round 6 and Round 11 of this season, Inter were awarded (and converted) three spot kicks. That's no more "statistically impossible" than this stat.

Spurs sputtering to the finish line

Speaking of numbers, the ugly one if you're Tottenham is this: You have to go back to Jan. 1, a 3-1 win over Reading, to find the last time Spurs beat somebody without Gareth Bale scoring. That's not good, especially because Bale is injured. And as fantastic a player as he is, even Bale can't find the back of the net when he's not on the pitch.

- Fitch: Spurs understudies fail to grab spotlight
- Video: AVB says draw hard to accept

Sometimes you can read too much into it. Is it really Bale-dependency? I'd argue the recent wobbles, like the 2-2 home draws against Basel and Everton -- and Bale did play against the Swiss -- are also down to other factors. First, some credit must go to the opposition. Second, when Aaron Lennon and Jermain Defoe are also out, Spurs lose a lot in terms of speed.

It's not that Clint Dempsey, Gylfi Sigurdsson and Emanuel Adebayor are necessarily worse, as a trio, than Lennon, Bale and Defoe -- it's that they're different players. You simply don't have the threat behind and so you must adjust the way you play. It's something Andre Villas-Boas needs to continue to work on if Spurs are to finish in the top four.

And the wall comes crumbling down ...

Harry Redknapp described the moment Shaun Maloney's free kick went over the wall and into the back of Julio Cesar's net as the "worst of his 45-year career." It meant Queens Park Rangers had just dropped two points to Wigan, a direct opponent in the battle to avoid relegation. QPR are now seven points from safety with six games to go.

- Smith: From joy to despair

You can feel his pain. Especially since Adel Taarabt, standing in the QPR wall, appeared to turn his back, just as Maloney's free kick sailed past. Redknapp defended his player: "He didn't duck, he jumped. He jumped and turned his head and it went past." Many others crucified Taarabt for being, well, a wuss.

Thing is, with a player like Taarabt, you have to take the good -- and there is plenty -- with the bad. If you know he's bound to do something like this, why put him in the wall? Why not find a solution that allows you to have a bunch of guys willing to take one for the team? Even if it hurts?

There's no real point in having a guy stand in the wall if he's going to duck or turn his head away or avoid contact. The whole point of being there is to provide an obstacle.