Chelsea's grit, Messi's goals, Di Canio's hire, more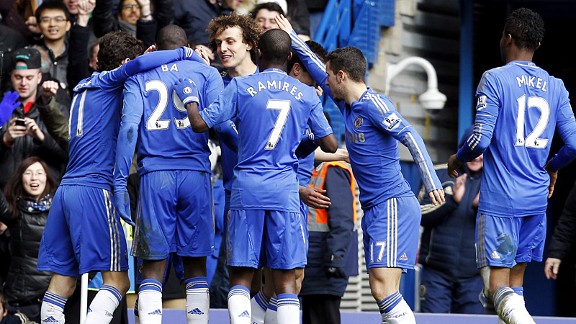 Ian Kingston/AFP/Getty ImagesChelsea's off-field tension is nothing compared to its on-field resilience.
Too often we assume that turmoil means you can't produce anything good, and Chelsea's travails this year are well-documented.

A manager whom most of the fans -- and some of the players -- don't like. A club captain forever in controversy and whose future at the club in uncertain, plus a legendary longtime midfielder whose contract is winding down with no sign of an extension. A trigger-happy owner who seems to change his mind on a whim. An expensive center forward who, by all accounts, has been one of the biggest duds relative to transfer fee in recent history.

Yet for all the unrest (and yes, it's real unrest), once eleven players step on the pitch they share a single goal: winning. And against a strangely flat Manchester United, that was more than enough for Chelsea to grab a 1-0 win and advance to an FA Cup semifinal against Manchester City.

That's because when guys are actually out there, they don't think about much else other than playing. And so Juan Mata can conjure up a pinpoint pass, Demba Ba a Swiss-precision movement and improvised finish. Throw in a couple of excellent Petr Cech saves and it was enough to beat United.

Analysis: Rampant Blues advance in FA Cup
Lythell: Ba magic lifts Chelsea
Payne: United's day to forget

A word here on the likely champions-elect: Sir Alex Ferguson lives and dies by rotation but it seemed counterintuitive to start Robin Van Persie on Saturday vs. Sunderland only to keep him on the bench until the last half-hour on Monday. With Wayne Rooney sidelined by a groin injury picked up on England duty and "Chicharito" Hernandez presumably jet-lagged and fatigued after flying back from Mexico, you can see why Ferguson did it. But with hindsight, it seemed curious not to use your biggest gun against Chelsea, a game in which he could have made more of a difference.

Messi's incredible streak: I know we're all getting bored and blase with Lionel Messi's record-setting but he has now scored in 19 Liga games in a row, meaning that he has scored consecutively against every single Spanish top-flight club. Cristiano Ronaldo achieved the same feat last season, though not in consecutive games.

With nine games to go, Messi needs seven to equal the single-season record of 50 league goals he set last season. Needless to say, he's on pace to do just that.

I've said it before and wish I could say it more eloquently and meaningfully, but the four highest single-season tallies ever were set since 2010: two by Messi and two by Ronaldo.
We live in amazing times.

PSG's erratic league form means nothing in Europe: Almost as predictable as Messi's heroics was Paris Saint-Germain's weekend. Either a tough defeat or an unimpressive victory has been PSG's modus operandi. This past week it was the latter, a 1-0 edging of Montpellier. Following Sunday's results, it leaves PSG seven points clear at the top with eight games to go.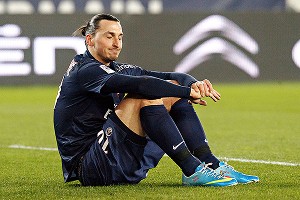 Xavier Laine/Getty ImagesGiven PSG's perplexing league form, it might seem simple to write them off vs. Barcelona. But do so at your peril.

Carlo Ancelotti's team have been underachieving all year in terms of performance. Some of his players need a shrink, not a manager, while others need a swift kick in the rear. The fact that they're on their way to winning Le Championnat, are still alive in the Champions League and also have a legitimate shot at winning the Coupe de France is largely due to the sheer quality of the expensive squad as opposed to any wonderful football they've played.

That said, you look at the Barcelona game this week and you wonder whether maybe they can't pull something off. PSG struggle against teams who sit deep and don't concede space but that won't be a problem vs. Barca, provided they can break the press.

Johnson: Gameiro spares PSG blushes

Then there's the Zlatan Ibrahimovic factor. Not only is he uber-motivated, he also provides huge matchup problems against a team that, Gerard Pique and Sergio Busquets apart, doesn't have much size.

Speaking of motivation, it's obvious that a number of PSG's stars -- Ezequiel Lavezzi and Javier Pastore spring to mind -- were swayed more by the number of digits on their paychecks than the appeal of Parisian cultural life or the thrills of Ligue 1. But facing an 8-1-1 formation in Ajaccio is one thing, strutting out on the big stage against Barcelona quite another. They will be amped up.

Oh, and that Messi guy? When he's on song, he's unstoppable, and even when he's merely very good, you need the world's best defender. And PSG probably have that in Thiago Silva.

It doesn't mean that PSG are favorites. What it does mean is that if Ancelotti plays his cards right, this could be a lot closer than people think.

Misunderstood Di Canio takes Sunderland reins: So Martin O'Neill is out and Paolo Di Canio is in at Sunderland, along with the customary storm of controversy. The club's vice-chairman (and former British foreign minister) David Miliband resigned, citing statements Di Canio had made in the past. He's referring to his club's new manager once describing himself as a "Fascist, not a racist" and making an infamous one-armed salute at the end of a Rome derby back in 2005.

Full disclosure: I've known Di Canio for nearly 20 years. I ghosted his autobiography, which has been an endless source of out-of-context, Mussolini-related quotes for the English media. Funny that they always miss the bits where Di Canio calls him "vile" and "calculating," where he accuses him of "going against morals" and where he says that the desire for power and hanging on to it made Mussolini "compromise his principles." Or the bits where he says immigration is a resource and countries should look to favor it. Or the many stands against racism he has taken over the years.

Randall: Amid the polemic, Di Canio could do well

Sunderland, presumably, were aware of his past when they appointed him, and the fact that you can't put toothpaste back in the tube once it's out. Yet they were probably surprised by the fact that the debate that has raged for the past 24 hours has overshadowed everything else.

Starting, for example, with whether he's a good appointment. After all, Di Canio hasn't been elected to office and he's not moving to Wearside to lecture on politics. (In fact, since that ill-advised gesture in 2005, he hasn't said or done anything political.) Sunderland do have a very tough run-in including Chelsea and Tottenham away, Everton at home, a do-or-die relegation six-pointer at Aston Villa and, of course, the big derby at St. James' Park. But they also have a serviceable lead over the bottom two, which means they're effectively one of three teams fighting to avoid the final drop spot. It's doable, and if it gets done, it will be done with O'Neill's squad, his players and -- since there isn't that much time to work -- probably some of his methods too.

The real evaluation of Di Canio will take place next season, whether in the Championship or the Premier League. Sunderland have taken a long view; as such, the time to judge the job he can do is in six months or so.

Squad rotation slows Barca, Real: Both Real Madrid and Barcelona rested most of their starting lineup at the weekend and both were held to draws by teams fighting to avoid the drop. With big Champions League clashes coming up, you can see the logic in squad rotation.

That said, it does feel a bit like a missed opportunity. Wholesale changes alter the nature of the team and affect the chemistry. They get you through the 90 minutes and ensure that rested players don't get injured, but that's about it. Odds are that Jose Mourinho didn't learn much about the state of his team on Saturday -- apart, perhaps, from gauging Marcelo's progress -- and equally, Barca also didn't pick up much other than confirmation that Cristian Tello brings something different to the table in attack.

Rigg: Real struggles again on the road
Tomas: Weak Barca hurt en route to Paris

The other concern for both these clubs is that by the time they take the pitch in midweek, it will have been nearly two and a half weeks since anything resembling a proper first-choice XI played together. And that can be an eternity in the modern game.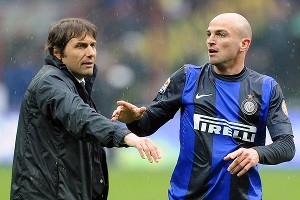 Claudio Villa/Getty ImagesEsteban Cambiasso's red card was unsurprising vs. Juventus. Yet the extent to which he apologized was quite the opposite.
Cambiasso's welcome contrition: Talk about X-rated tackles. Esteban Cambiasso's lunge on Sebastian Giovinco was in the Kevin Muscat ballpark. It came in the dying moments of Inter's 2-1 home defeat to Juventus and frustratingly, in addition to being exceptionally dangerous -- had Giovinco's foot been planted differently, it would have likely snapped his ankle -- it was also probably pointless.

Cambiasso received a one-match ban, a punishment that seems very light. But the league took into account the fact that this is only the second red card of his career (his other one came playing for Argentina against Ecuador nearly eight years ago) and also the fact that he immediately owned up to what he did.

Rzouki: Juve's character guides derby win
Whittaker: Inter frustrated in defeat

He apologized to Giovinco on the pitch, he apologized in public after the game, he went to see him in the dressing room afterwards and he phoned again to check up on him. Not only was it genuine contrition, it was also the right thing to do. Too often players see an apology as some kind of admission of guilt.

Brutal Bayern in brilliant form: 9-2? With a front three who started a combined total of 19 Bundesliga games this season? Are you kidding me?

Schaaf: Pizarro superb in romp

Nope. It's all true. Bayern's march to a record-setting title continued with a 9-2 steamrollering of Hamburg with 34-year-old Claudio Pizarro, the club's third-choice center forward, netting four goals. Hamburg aren't particularly good, but they are a mid-table side. If this were Spain we'd be moaning about how it's a two-horse league. Given that Borussia Dortmund are 20 points back, I'm not sure what we should call the Bundesliga this year: one thoroughbred and a bunch of rocking horses?

Gabriele Marcotti is a London-based journalist and broadcaster who covers world soccer. He is the author of three books, the world soccer columnist for The Times of London and a correspondent for the Italian daily Corriere dello Sport. You can catch him on ESPN Press Pass and read him here twice a week. Follow him on Twitter: @marcotti.