The Ferdinand flap, Pandev's 'ballot,' Costa Rica's protest, more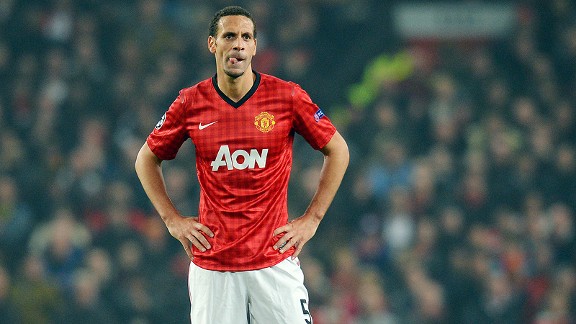 Andrew Yates/AFP/GettyImagesRio Ferdinand is free to do as he pleases (within reason), but his handling of the England call-up showed a serious lack of judgment.
It wasn't too long ago that folks thought Rio Ferdinand's England career was over. Over the past six months he has shown that he can still contribute for his country, especially given the fact that the Three Lions aren't exactly six-deep at centre half. That's why Roy Hodgson called him up to face San Marino and Montenegro. But then, as Hodgson himself explained, Ferdinand pulled out of the squad due to the "detailed pre-planned training and medical programme he must follow."

Fine. Makes sense. Ferdinand is 34, needing to take care of his body, and maybe England don't need him against San Marino and Montenegro. Everyone could understand that.

But what they couldn't understand was what happened next. Ferdinand flew to Qatar for -- as he tweeted -- "pre-planned downtime" coupled with an appearance as a pundit on Qatari TV. Cue Ferdinand receiving plenty of abuse from the traveling England fans in San Marino on Friday, abuse that was so loud it was clearly audible on television. And probably all the way back in Qatar.

Brewin: Montenegro-England preview
Horncastle: Beware the "big game" Vucinic

This is a classic case of bad judgment. Ferdinand, of course, has a right to do whatever he wants with his "down time" (provided, of course, he has Manchester United's blessing). And sure, maybe his "detailed" training and medical program is compatible with an eight-hour flight from Manchester to Doha (and back). And he was going to watch the England versus San Marino game anyway, of course, so why not do it from a Qatari TV studio and get paid for it as well?

But that's where judgment comes in. It didn't take a rocket scientist to figure out that England fans would react badly to this. They simply see it as another millionaire footballer turning his back on his country, using his health as an excuse and then flying halfway around the world to collect a paycheck.

"Haters are gonna hate... also assume everything..." -- that's what Ferdinand tweeted. Maybe he's right. But that doesn't change the reality. If he had shown up in San Marino, they wouldn't have hated. If he had stayed home and worked on his "detailed" training and medical programme, they wouldn't have hated.

Naturally, the FA isn't blameless in this either. Is it really that hard to stay in touch with the England players and the clubs for whom they play? A quick phone call to Manchester United to establish whether Ferdinand was fit, able and willing to be called up would have avoided all this.

Ferdinand may have been totally entitled to do what he did. But all he has done is needlessly make life that much more difficult for himself should he ever want to play for his country again.

A big ballot brouhaha: By now, you're probably familiar with the Jose Mourinho/FIFA Coach of the Year saga and Goran Pandev's ballot. Both Pandev and his agent confirmed that the FYR Macedonia skipper voted for Mourinho and that it's not his signature on the ballot released by FIFA, supposedly to prove his vote was tallied correctly.

It's a mystery all right, but there are a few other things that are clear.

First and foremost, screwing up ballots and votes is something FIFA appear to be good at. Or bad at, depending on your point of view, as this sort of thing happens all the time. The 2010 vote was an absolute farce. A whole bunch of countries never voted, including the likes of Norway, Qatar, Argentina, Ireland, Chile and South Africa; folks whom (you'd expect) would be more than capable when it comes to receiving a ballot, filling it out and returning it.

On top of that, at least seven different voters said they voted for Xavi Hernandez, the Barcelona midfielder, but instead, their votes went to Xabi Alonso, the Real Madrid midfielder.

Was there an inquest? A blue-ribbon fact-finding committee?

Nope, even though you could have made a case for one: Xavi finished third, just a few votes behind Andres Iniesta. Between the ballots that were "lost," incorrectly assigned or deemed "invalid" --- yep, two players and four managers somehow managed to not follow the rules and vote for guys who were ineligible -- we could well have had a different outcome.

But that doesn't appear to be the case here. Vicente Del Bosque, the coach of the year winner, received 68 percent of the vote with Mourinho, the runner-up, just over 20 percent. That points to the fact that the Real Madrid boss wasn't the victim of some kind of vast conspiracy, which would have required hundreds of Pandevs to step forward saying that their ballots had been subject to tampering. Rather, he was the victim of incompetence, possibly by FIFA but more likely by the FYR Macedonia FA.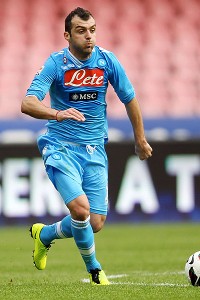 Maurizio Lagana/Getty ImagesJust what happened with Goran Pandev's ballot? One thing for certain is that we shouldn't be surprised of ineptitude at the game's highest level.

You're tempted to ask yourself why Mourinho should even care. After all, it's just another award and one that, lest we forget, he has already won.

But, in fact, it does matter. Mourinho -- and, in fact, every single one of FIFA's constituents, which pretty much includes everyone who loves the game -- has a right to demand that their voting be conducted with honesty, transparency and integrity. It's really not that hard to do and it's certainly not too much to ask.

One final point. Mourinho claims he boycotted the FIFA awards gala precisely because he knew there had been irregularities with the voting. That part is somewhat tougher to swallow. How could he have known ahead of time that Pandev's vote would be miscounted? FIFA didn't make the votes public until the night of the awards.

Mourinho may be a managerial genius, but he's not -- as far as we know -- clairvoyant.

Spain's surprising discomfort: Spain's 1-1 home draw with Finland leaves la Furia Roja in a rather uncomfortable spot. Anything other than a win Tuesday night against France in Paris and Vicente Del Bosque's side will no longer control its own destiny in the group, raising the possibility of having to try and qualify for the 2014 World Cup via the playoffs.

This is one of those situations where results and "eye test" lead you to different conclusions. The numbers are pretty cut and dried. Spain has drawn its last two competitive games at home (the other was against France). The last time that happened was way back in 1982 -- at the World Cup in fact.

But there's also a flip side. Despite being all over the place in conceding Finland's late equalizer, Spain dominated the game and could have been 3-0 up by the time of Teemu Pukki's late goal.

WhoScored: Alba's absence leaves Spain exposed

There's a reason this team won the past three major tournaments it entered. Sure, we can all point to weaknesses. The strikers, as a group, aren't as good as the midfielders. There isn't much depth beyond the starting central defenders, and as good as Gerard Pique is, he also makes mistakes. But top to bottom, few teams in the world can match Spain. And given that they're also reigning European U-19 and U-21 champions, there's plenty more talent in the pipeline.

Bottom line?

Results tell you where you are. Performances tell you where you might be. Spain's had a wobble and could pay a high price for it because anything can happen in the playoffs. But the way they play -- the "eye test" -- suggests they'll be just fine. Start worrying when Spain play really badly, conceding half a dozen chances and creating little at the other end.

Corner turned between Croatia, Serbia? How long does it take for wounds to heal? A fair chunk of the world's media gathered in Zagreb last week to watch Croatia play Serbia. We can tell ourselves otherwise but they were only there on the off chance that something horrible would happen, just in case the anger and bitterness of the bloody fratricide of the early 1990s manifested itself once again.

Furthermore, there was plenty reason to believe that something might happen. In October 2010, a group of Serbian hooligans ran riot at a European championship qualifier in Italy, engaging the local police for hours. Some extremist Croatian supporters had threatened to do the same Friday.

Zagreb was on lockdown. Serbian supporters were banned from the game, while police made it clear they were ready to abandon the match if the home crowd got out of control. Croatia took an early lead and coasted to a 2-0 win that effectively, knocked Serbia out of the running for the 2014 World Cup.

More importantly, the two managers, Igor Stimac and Sinisa Mihajlovic, embraced at the final whistle. There was no needless aggression on the pitch, and even off it, there seemed to be the realization that you can honor your dead and celebrate your past without turning, once again, to the sword.

There is still, undoubtedly, anger and pain on both sides. There are still people who want to fight. Some because they believe it's the right thing to do, whether because they seek vengeance or to correct perceived long-standing wrongs. Others simply because they enjoy it and the symbols of the past are convenient excuses to carry into battle. But you get the sense that the majority are weary of all this. And that, slowly -- at least in the sporting sphere -- we are inching towards normality. Friday may have been a baby step in that direction, but it's all part of that same long journey towards closure.

Denver snow, Monday's woe: So the Costa Rican FA has said it will file an official protest to FIFA after playing its World Cup qualifier Friday in blizzard-like conditions in Denver. Costa Rica lost 1-0, and the players were furious.

It's easy to say they would have been less furious if they had won or even drawn the match. The reality was that the game simply isn't meant to be played in those conditions, with below-freezing conditions, limited visibility -- "It was difficult ... to see anything," said Clint Dempsey, the U.S. goal scorer -- and ground crews clearing the touchlines during the game itself.

News: Costa Rica lodges official complaint
Bennett: Much-needed U.S. unity in Denver
Carlisle: U.S.-Costa Rica grades, recap

The U.S. Soccer Federation said it chose Denver as the venue not because it hoped for horrible conditions (which the Costa Ricans would be less used to), but because it wanted to prepare at altitude given that the U.S. plays Mexico in Mexico City on Tuesday. Fine. Albuquerque is at altitude too. So are other American cities with stadiums capable of hosting the sub-20,000-strong crowd that showed up.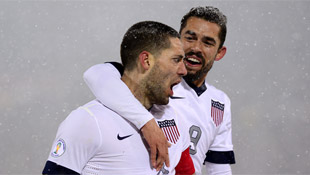 Ron Chenoy/USA TODAY SportsIt wasn't a pretty game for the U.S. on Friday night, but Costa Rica's appeal could be far more ugly in the long run.

Denver in March and snow go hand in hand. You don't need to be a meteorologist to know that. It's true that every nation -- especially in CONCACAF -- tries to get an edge when it comes to playing these qualifiers by selecting the most inhospitable venue. But you wonder whether the U.S. needs to be seen to get involved in that sort of thing.

In any case, responsibility rests with the officials who allowed the game to continue, not with U.S. Soccer. It could easily have been halted and replayed the following day once the blizzard stopped. It would have meant one less day's rest ahead of Tuesday's qualifiers for both nations -- though still two full days off, same as a European club playing Saturday and Tuesday or Sunday and Wednesday -- but at least we would have avoided all this acrimony.

Gabriele Marcotti is a London-based journalist and broadcaster who covers world soccer. He is the author of three books, the world soccer columnist for The Times of London and a correspondent for the Italian daily Corriere dello Sport. You can catch him on ESPN Press Pass and read him here twice a week. Follow him on Twitter: @marcotti.