Man City and United should start to rebuild, Mourinho's plan B, RvP's slump, more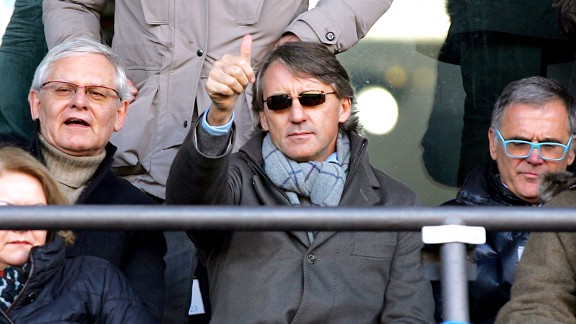 Gabriele Maltinti/Getty ImagesThe title race might be over, but this is precisely the time Roberto Mancini should be rebuilding his side. The same goes for United.
Barring some kind of divine intervention, the title race is over in the Premier League. Indeed, some bookmakers have already started paying out.

The gap is 15 points, with nine games to go. But given Manchester United's sizeable edge in terms of goal difference (plus-38 to plus-25), it's basically a 16-point margin. What this means is that, realistically, to defend their title, City would have to win at Old Trafford AND somehow make up 13 points in the other eight games. Draw away to United and you're looking at 16 points in eight matches, which is basically a purely theoretical chance and nothing more.

Again, stranger things have happened, but I wouldn't hold my breath.

So what do City and United do the rest of the season, apart from contest the FA Cup?

The answer is build for next year. Learn about your players so you can make the tough decisions you'll need to make in the summer. Figure out a way to play that makes sense and can be consistently productive, something both have failed to do with any regularity.

- Analysis: Everton beat City
- Curtis: Old-fashioned values doom City
- Payne: United tighten grip

The stakes are obviously higher for Roberto Mancini. It's not just about the gap from the top, the group stage elimination from the Champions League or the fact that, even if City win all their remaining games, they'll still finish with fewer points than last year. It's the fact that, year-on-year, there has been no discernible progress in terms of style of play.

That's a huge disappointment because in his previous jobs (with the possible exception of Inter after Zlatan Ibrahimovic's arrival) tactical acumen and creativity were Mancini hallmarks and this is substantially the same group of players as last season.

Mancini remains popular with the majority of the fan base and enjoys the support of chairman Khaldoon Al-Mubarak, but if he wants to cement his position -- and, crucially, have a greater say in what happens transfer- wise next summer -- he needs to get City playing better football.

As for United, there are big decisions ahead. Wayne Rooney's contract -- he enters the final two years of his deal this summer -- is obviously one of them, though, it's hard to see him not getting an extension despite whatever posturing might emerge from either side (as happened when he last got a new deal). Equally, there's bound to be a generational change at Old Trafford in the very near future. It's not just Paul Scholes and Ryan Giggs. Rio Ferdinand is 34; Patrice Evra, Michael Carrick and Nemanja Vidic are all 31. The club have already brought in potential replacements, the trick is easing them into the side and finding a mix that allows United to appear convincing week in, week out.

So yeah, it may be over at the very top of the Premier League. But there is still plenty of work to do for both halves of Manchester.

Mourinho's Plan B in action
Jose Mourinho's decision to play an experimental lineup against Mallorca seemed surprising at first. Except for Cristiano Ronaldo and Gonzalo Higuain, the rest of the front six basically consisted of the B-team. Given that Real weren't coming off a midweek game -- so presumably there weren't issues of fatigue -- and given that their next match wouldn't be for another 15 days, you might have thought there wasn't much point to giving the second string a runout.

Indeed, by half-time, it looked like a foolish decision. The home side were 2-1 down (and it could have been 3-1, if Alan Hutton's aim had been a bit better), collective grumbling was clearly audible at the Bernabeu and, most worryingly, there seemed to be little urgency and interest in righting the ship. Throwing on Mesut Ozil and Karim Benzema (and later Xabi Alonso) turned things around dramatically as Mourinho's crew scored four in the second half and ended up 5-2 winners.

- Rigg: Real's Achilles' heel

With hindsight, though, you can see why he did it. The race in La Liga may be over, but there are still two trophies to pursue. And this is a team that relies far too heavily on the regulars, one that has gotten very little production off the bench. It was an opportunity for Mourinho to assess what he has in reserve, should he be hit by injuries.

What we learned was that Alvaro Morata may have a bright future, but it probably won't be as an oversized winger. Kaka is a different player when he has better guys around him, as was the case in the second half. Most of all, that Luka Modric can contribute if you find the right role for him. To get the best out of him, you either need to play a possession game, which Madrid necessarily did in the second half, when they were chasing the match, or play him further up the pitch, though that's going to be difficult to do, given the presence of Ozil and Kaka.

Mourinho needs to find the best possible Plan B for this club. Saturday should be seen as a step in that direction. Sure, it didn't work in the first half. But sometimes figuring out what definitively won't work is just as important as establishing what does work.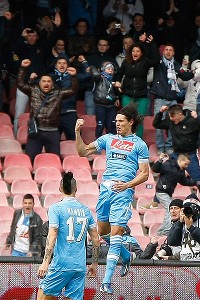 Carlo Hermann/AFP/Getty ImagesEdinson Cavani has become one of the hottest strikers in Europe and seems destined to leave Napoli.
Cavani finds his mojo
When you go seven games without a win -- with three losses along the way -- and when your star center forward hasn't found the back of the net in 729 minutes, you can only be pleased after a win for your crew and a brace for your striker.

Napoli's 3-2 victory over Atalanta not only saw Edinson Cavani bag two goals, it also maintains a two-point margin over Milan, which downed Palermo 2-0 in the race for second place (and automatic qualification to the Champions League group stage).

It won't go down as a stellar performance, and the fact that Napoli twice allowed the visitors to get back into the game, largely because defensively there are still plenty of issues to sort through, remains a concern. But Cavani regaining his mojo can only be a good thing. Especially because it's essential to keep owner Aurelio De Laurentiis engaged and interested. Like clockwork he emerged on Monday reiterating his determination to not only keep the Uruguayan at the San Paolo but also to continue investing in the club. The idea is that even if somebody meets his $80 million release clause, Cavani may want to stay because Napoli may be able to fulfill his ambitions.

And if he doesn't? Well, De Laurentiis will simply cash in. In the age of Financial Fair Play, $80 million is a huge amount of money, especially for a club that has actually made a profit in each of the last six seasons and therefore has a certain amount of flexibility when it comes to spending.

RvP's dry spell continues
Speaking of center forwards and dry spells, Robin van Persie's isn't quite that long: he hasn't found the back of the net in 476 minutes. In terms of minutes played without scoring, it's the worst stretch of his Premier League career.

In fact, to find the last time he went this long without scoring you have to go back more than nine years, to his final season at Feyenoord. Back then, he went 644 minutes without a goal, but bear in mind, in those days, he wasn't playing as a center forward.

No reason to panic just yet, but you can see why Sir Alex Ferguson left him on the pitch for 90 minutes against Reading. Sometimes a goal out of nothing is all you need to break your streak.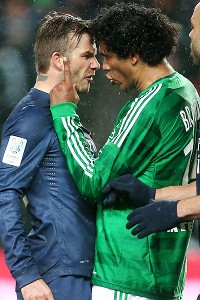 John Berry/Getty ImagesDavid Beckham and Brandao discuss the finer points of the game, which saw PSG lamely drop two points.
PSG shoot themselves in the foot

Another week, another skin-of-the-teeth performance from Paris Saint-Germain, which, ultimately, does no real damage to their title hopes because of the ineptness of their rivals. Saint Etienne may be PSG's bogey team (though, to be fair, there's more than one), given their two wins over the Parisians this season, but Carlo Ancelotti must have felt everything was downhill for his side after 20 or so minutes.

- Video: Ancelotti content with draw
- Johnson: Poor PSG

PSG were two-nil up and what's more, the competition had stumbled earlier, both against Corsican opposition: Lyon had lost to Bastia (4-1) the previous day, while Olympique Marseille had turned in a dreadful scoreless draw against Ajaccio. It was the perfect opportunity to extend the lead at the top of the table, get some breathing room and start to focus on how to deal with Barcelona in the Champions League.

But no. PSG contrived to allow Saint Etienne back in the game, which ended 2-2. Two points dropped? More than that. At times it seemed like PSG were actually fortunate to come away with a share of the spoils.

How good is Totti? Well ...
Francesco Totti scored the 226th league goal of his career on Sunday, meaning he takes one step past the legendary Gunnar Nordahl into second place all-time (behind Silvio Piola). I've waxed lyrical about him before and, at 36, he's still finding ways to contribute beyond his goals.

- Press Pass: Messi's streak

It did occur to me, though, that even as exemplary as Totti has been (and continues to be), if you use numbers as your metric Lionel Messi and Cristiano Ronaldo belong to a parallel dimension. Think about it -- 226 league goals? Funnily enough, Ronaldo has scored exactly the same number of league goals in his career. And he's 28. As for Messi, he is 11 years younger than Totti and he's already at 209.

This isn't to diminish Totti's achievement in any way. Just to point out how freakish the other two are.