Fergie gets it wrong, Barca's test, Juve's title, more
Sometimes, you get things wrong. Badly wrong.

Sir Alex Ferguson was given a pass following last week's Champions League elimination at the hands of Real Madrid and you can see why: until Nani's red card, his plan worked. You can debate the failure to adjust afterward but you can give him the benefit of the doubt.

However, Sunday was a different story. United were gifted two goals at home by the soft center of a Chelsea defense devoid of John Terry (coach's decision equals ask Rafa). Two up at home means the sound of the doors being bolted shut at Old Trafford.

Not this time.

Halfway through the first half, things started going badly wrong in midfield. Too many unforced errors and too much dominance from a Chelsea side that looked far from unstoppable but still had the upper hand.

Hirshey: Ferguson, United fit after being tied
Tyler: More questions than answers in Cup draw
Okwonga: De Gea's saves rescue Red Devils
Watch: What went wrong?

Much of the postmatch focus was on Rafa Benitez's changes and the effect they had on the game. It was true, too; with John Obi Mikel sitting, Ramires had more opportunity to come forward and Eden Hazard is an obvious upgrade to Victor Moses, at least in terms of technique and creativity. But just as telling were Sir Alex's choices.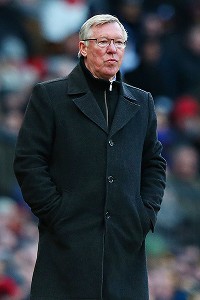 Alex Livesey/Getty ImagesDid United's early lead lull Sir Alex Ferguson and his players into a false sense of security?
Antonio Valencia, clearly going through a rough patch, was disastrous after coming on for the injured Nani. You wonder if Ashley Young's quickness might have been a better option. Hard to argue with Robin Van Persie coming on -- even his initial benching, given that it's now one goal in nine games for the Dutchman -- but perhaps, if you're going to take Shinji Kagawa off, a shored-up midfield (Anderson was on the bench) might have been a better option than sending on Danny Welbeck.

It's almost as if the early lead lulled United into some sense of security and any realization that they were getting squeezed in the middle of the park came way too late. Once they did pick up on it, the solution -- more attacking players -- simply didn't work.

When you have outstanding players on form, you can get away with poor tactics and game-day management but this United side doesn't have that luxury. If they're running away with the Premier League title, it's because Sir Alex has generally gotten things right this season. On Sunday we were reminded what happens when he gets it wrong and his players don't step up.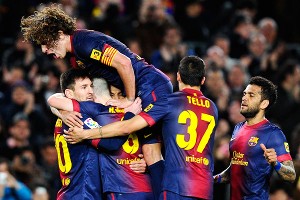 David Ramos/Getty ImagesThis weekend Barcelona defeated Deportivo La Coruna and, perhaps most encouraging, kept a clean sheet, which they'll need to do against Milan in the UCL.
Big test for Barcelona: Choice and options are good things to have but only if you've got a clear vision of what you're going to do. And that might be the single biggest challenge facing Tito Vilanova and Barcelona ahead of Tuesday night's crucial Champions League second leg against Milan.

With Barca two-nil down, keeping a clean sheet will be vital and though scoring four goals is not beyond them, it's a huge ask.

The tricky thing for Vilanova is that he has to gauge from a distance the form of his players. He can watch videos of training sessions, while Saturday night's 2-0 win over Deportivo might have offered some hints. But there is no substitute to actually being there. Not to mention the fact if you have to make some painful choice in terms of who to leave out -- Cesc Fabregas is one of those names rumored to be ripe for a dropping -- it's always better to do it face to face, a luxury he doesn't have.

- Video: Sid Lowe on Barcelona's clash with AC Milan

Two things seem obvious from the first leg. Barcelona must use the flanks effectively and have to be more direct. It might also make sense to move Andres Iniesta back into midfield and find room for a more "North-South" striker -- either David Villa or even the much-maligned Alexis Sanchez, who looked good on Saturday.

Thin Dortmund offer up derby dud: OK, so derbies -- especially intense local rivalries like the Ruhr feud between Schalke and Borussia Dortmund -- supposedly follow a logic of their own and we're not supposed to draw profound conclusions from them.

But Dortmund sleepwalked through the first half of that game Saturday and could have been 3-0 down at the break. As it happened, the deficit was just two goals as some major mental switch-off seemed to affect the heart of Jurgen Klopp's defence on both Schalke strikes.

-- Highlights: Dortmund dud

Klopp went for broke in the second half and, sure, Robert Lewandowski had a chance to snatch a late equalizer, but this was a badly disjointed performance. The critics may be right in saying that it may well be impossible for Dortmund -- at least with this squad and this style of play -- to compete effectively both in Europe and domestically.

They weren't able to do it in the past two seasons when they won the Bundesliga and they're showing that they're unable to do it this year again, as evidenced by the 20-point gap currently separating them from Bayern.

League might be in the bag for Juve: Time will tell whether Juventus effectively won the Serie A title on Sunday with that late win over Catania. With 10 games to go, Napoli are nine points back (which is really 10 points given Juve's edge in the head-to-head) but given their current state of form -- three points from a possible 18 in their past six games -- you just can't see Walter Mazzarri's crew mounting a comeback.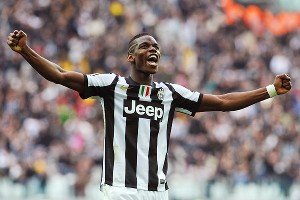 Valerio Pennicino/Getty ImagesJuve's Paul Pogba has future star written all over him.
Once again Juve's mental strength made all the difference as the bianconeri refused to throw in the towel after spending much of the afternoon banging their collective heads against Catania's dogged barricades.

- Conte: We controlled the game
- Mina Rzouki: Juve lead the way

Just as encouraging as the result were the two men who made it happen: the unlikely little-and-large partnership of Paul Pogba and Emanuele Giaccherini. Neither is a regular and both are likely headed in different directions: Pogba has future star written all over him, whereas Giaccherini has probably reached his ceiling and looks headed elsewhere in the summer. But the Frenchman took the team by the scruff of the neck, making up for a rare Andrea Pirlo off-day before the little man came on as a substitute and popped up with the winning goal.

Reds finally beat a big team: Liverpool's 3-2 win over Tottenham leaves Brendan Rodgers' crew seven points removed from a spot in the Champions League. It also marks the first time they beat someone in the top eight of the table.

This wasn't the Reds' best performance this year by any stretch. And, in fact, but for two boneheaded back passes and Gylfi Sigurdsson hitting the post, they might not have had any points from this game.

- Walsh: Character makes welcome return to Anfield

Yet increasingly you can see Rodgers' vision coming together, at least at the attacking end of the pitch. And looking at the run-in -- just one game, Chelsea at home, against sides above them in the table -- you wonder if maybe a top-four finish might not be such a distant possibility. Heck; a month ago, they were a whole 12 points out of fourth...

Real Sociedad making La Liga waves: The race for fourth has been one of the juiciest subplots all season long in La Liga and after winning at Atletico Madrid, Real Sociedad have now staked their claim. And guess what? They look like credible contenders.

Philippe Montanier's side haven't lost since that crazy 4-3 defeat to Real Madrid at the Bernabeu back on Jan. 6, quite a turnaround for a team that was just three points above the drop zone back in November. Carlos Vela is showing he can be a consistent goal scorer, Claudio Bravo has been one of the better goalkeepers in La Liga and Antoine Griezmann, still just 21, is living up to the hype.

Throw in the cohesion that comes from having no fewer than 16 homegrown players in the squad and they may just pip the likes of Malaga, Betis and Valencia to a place among Europe's elite.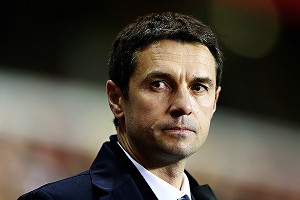 Paul Gilham/Getty ImagesRemi Garde's Lyon must be more daring and positive if they want to keep the one truly contested title race among Europe's major leagues alive.
Dour Lyon draw boosts PSG's title hopes: Sadly, no such excitement this weekend in Le Championnat; Lyon and Marseille seemed far more preoccupied with not losing than trying to keep pace with Paris St. Germain in the battle between second and third on Sunday night.

The scoreless draw does little to help either side really and only benefits PSG, who struggled to come from behind and beat bottom club Nancy the day before. Now that Remi Garde's side is out of Europe, this is all they have left to play for and they can't count on PSG continuing to drop points. Lyon must be more daring and positive if they want to keep the one truly contested title race among Europe's major leagues alive.

Forget video tech, fix the refs: The "ghost goal" in the Edinburgh derby between Hibernian and Hearts really has nothing to do with the debate over goal-line technology. Rather, it's either about vision problems (hey, corrective lenses were invented more than a century ago) or officials falling asleep on the job.

Leigh Griffith's free kick bounced more than a yard behind Jamie MacDonald's goal line before backspin took the ball back out into the field of play. I don't think a more egregious example exists out there, whether on YouTube or elsewhere.

Marcotti is a London-based journalist and broadcaster who covers world soccer. He is the author of three books, the world soccer columnist for The Times of London and a correspondent for the Italian daily Corriere dello Sport. You can catch him on ESPN Press Pass and read him here twice a week. Follow him on Twitter: @marcotti.