United and Real prepare for battle, the North London gap, praise for Francesco Totti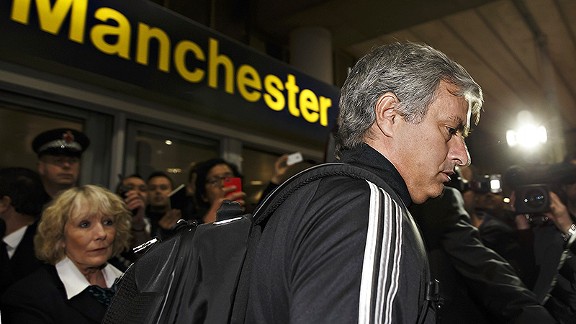 Angel Martinez/Getty ImagesAll eyes will be on Jose Mourinho as he returns to England for Real's clash with Manchester United.
Both Manchester United and Real Madrid recorded wins heading into Tuesday night's cosmic clash at Old Trafford, albeit in different circumstances.

Sir Alex Ferguson chose an XI that, apart from a couple of likely changes, looked a lot like the one we might see at Old Trafford.

Maybe they were thinking ahead in the first 45 minutes; whatever the case, it took United the best part of the first half to get going, not least because Norwich defended very well. Once they did, as so often happens, they were devastating, with Shinji Kagawa netting a hat-trick and Wayne Rooney conjuring up an absolute pearl of a goal late in the game.

Kagawa already showed last season that he seems tailor-made for a Sir Alex-type team. He's fast, energetic, intelligent and skillful. It's tricky to guess what the United manager will do, but the option of slotting Kagawa and Rooney behind Robin van Persie has to be an intriguing one. It would give United two high-intensity workhorses behind the center forward who could effectively press Madrid's build-up
play, in particular the tandem of Xabi Alonso and Sami Khedira.

Of course, such a formation would make it difficult to play with wingers and, on paper at least, Antonio Valencia seems well-suited to try to contain Cristiano Ronaldo. But, especially with RvP going through a slight goal-scoring dip -- he has one goal in his past seven matches -- perhaps it makes sense to gamble a little and squeeze another goal scorer into the lineup.

As for Real Madrid, Jose Mourinho sent out the B-team from the midfield up against Barcelona, but, tellingly, stuck with what will likely be his first-choice back four against United. Sergio Ramos at right back offers a genuine attacking threat and an obvious upgrade over Alvaro Arbeloa. As long as Raphael Varane maintains his exceptional form, central defence won't suffer. It also makes Madrid even more dangerous on set pieces. Ramos, Varane, Pepe, Khedira and Ronaldo add up to five legitimate aerial threats, and this could pose major matchup problems for United.

Performance-wise, the Barcelona clash seemed headed for a draw until half-time, a result that seemed to suit both sides. The tempo was slower -- which may explain why Kaka and Luka Modric seemed more comfortable -- as the two teams prodded without much urgency. At half-time, Mourinho turned to Ronaldo and Real went for the kill. Suddenly, the ball seemed to move north-south rather than east-west. Mourinho's men got a win, which does little for the league table but a lot for morale and, especially, shifting the focus over to Barcelona, as the media try to explain three defeats in the past four outings.

Tomorrow's script, then, calls for United to attack and Real to look to hit on the break. But the intriguing bit is that both managers have enough options to spring a surprise. History suggests that Sir Alex is the more likely of the two to deviate from the script as he searches for an edge. That said, with no disrespect to the Copa del Rey, this is Real Madrid's -- and Mourinho's -- season right here. Lose and it will be an interminable 10 weeks until the end of the campaign.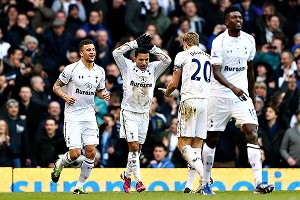 Paul Gilham/Getty ImagesTottenham had plenty to celebrate after defeating Arsenal 2-1 at White Hart Lane.
Watch the gap - the North London derby
It didn't take the North London derby to establish the fact that Tottenham are for real; Sunday just reinforced the point. Arsene Wenger suggested that Arsenal had the initiative and that Spurs' two goals came against the "run of play". But having the initiative doesn't mean simply a lot of sterile, slow possession with few real efforts at goal.

Tottenham won the game in midfield, with the ability to transition rapidly from defense to attack and to deny Arsenal the space in which to play effectively. Credit the players, but also Andre Villas-Boas, who has shown far more pragmatism this season. He built a side around the tandem of Sandro and Moussa Dembele as the link between defense and midfield, and when the former got injured, he was effectively able to slot Scott Parker in his place without missing a beat.

-- AVB: Arsenal fading fast
-- Mangan: Arsenal self-destruct
-- Martin: Dark times
-- Fitch: Below-par Spurs still better

And that's far less straightforward than it appears, because while they both occupy similar areas of the pitch, Parker and Sandro have different skill sets. The old Villas-Boas might have tried to get Parker to impersonate Sandro. The new Villas-Boas is about compromise: Dembele tweaked his game, Parker tweaked his without trying to do things he objectively can't do, and the result is a duo that's working, as evidenced by the fact that Spurs are undefeated since Sandro went down.

Critics say it's all about Gareth Bale. It isn't. Without a balanced framework to support him, the Welshman would simply be a superstar carrying an erratic team. Now he provides genuine added value to a side that's as solid as any Spurs team has been in years.

Should Juve be worried about Napoli?
Napoli made it four straight draws on Friday night against league-leading Juventus. Math and history suggest you can make up six points -- the gap with the table-toppers -- in 11 games. But common sense says this Napoli side can't do it.

-- Juventus blog

There are only so many chances you get over the course of a season. And choking every time you get the opportunity to close the gap simply isn't good enough. There were times in that second half when Napoli seemed content with the 1-1 draw, when they appeared to forget that this was their chance to reopen the Serie A title race.

If Napoli finish second this season -- as appears highly likely -- this will be, statistically, the best campaign of Walter Mazzarri's four- year tenure. But given the squad at his disposal and the performances on the pitch, it's fair to say he did a better job last year or, indeed, in 2010-11.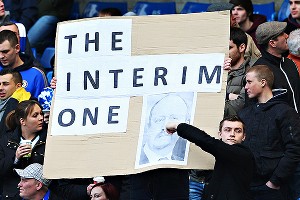 Julian Finney/Getty ImagesChelsea fans aren't pleased with Rafa, but the notion that most of them aren't supporting the club is absurd.
Chelsea's marriage of convenience
It never ceases to amaze me how folks continue to conflate some Chelsea fans' booing of Rafa Benitez with a lack of support for the team or the players on the pitch. Or the knee-jerk way some media react.

On Saturday -- three days after Benitez's public complaint about how the lack of support for him could cause the side to slip out of the top four -- the anti-Rafa protests weren't as noisy or disorderly as some had predicted. There were stickers, homemade banners (plus a rather official-looking one in the Shed End with the hashtag #RafaOut which, strangely, was not removed), the 16th-minute ode to Roberto Di Matteo, repeated songs for Jose Mourinho and the usual anti-Rafa chants ("You're not wanted here!" and "We'll sing what we want!").

-- Chelsea's three amigos

But for most of the game, as in most of Chelsea's matches this season, the crowd spent most of the time supporting the guys on the pitch.

To some who, evidently, haven't been paying much attention, it was some kind of sea change. Less abuse of Rafa and, therefore, Chelsea go on and win. As if the two things had anything to do with each other.

Chelsea defeated West Bromwich Albion 1-0 without exactly putting on a sparkling performance against a tough opponent. Benitez is still in charge; most of the fans still want him gone.

They'll get their wish in a few months. In the meantime, though, it's a marriage of convenience. Chelsea's players, supporters and Benitez himself all want to finish in the top four, while, ideally, winning the
Europa League and FA Cup. As long as the fans don't turn on the players themselves -- and they haven't -- whether he continues to get booed won't make a jot of difference.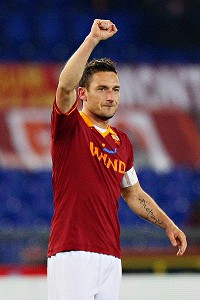 Paolo Bruno/Getty ImagesFrancesco Totti moved alongside Gunnar Nordahl as the second all-time leading scorer in the history of Serie A with 225 goals.
Totti's big day
By converting that first-half penalty in Roma's 3-1 drubbing of Genoa, Francesco Totti moved alongside Gunnar Nordahl as the second all-time leading goal scorer in the history of Serie A. That's 225 goals in 525 career Serie A games over 21 seasons.

For a guy who spent a sizeable chunk of his career playing either out wide or in the hole, it's a tremendous result. But all this pales next to the fact that guys like Totti and a handful of others are that rarest of commodities in the modern game: homegrown youngsters who got to star for the team they supported as kids and got to spend their entire career with the club they love.

-- Martinis: All hail king Totti

Critics will always point to the fact that Totti could have moved to a more successful club -- a Milan, a Real Madrid, a Manchester United -- and won far more silverware. Totti's response has always been the
same: "One title at Roma to me is worth 10 at another club."

It's hard to argue with that.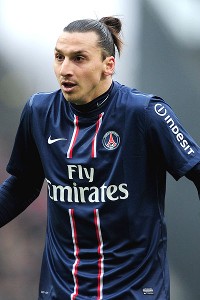 Jamie McDonald/Getty ImagesSlump? What slump? Zlatan Ibrahimovic and PSG have lost twice in their past four outings.
PSG - built for Europe?
Rumors of Paris Saint-Germain finally turning the corner were clearly premature. After rattling off a streak of 13 wins and one draw between December and mid-February, PSG have lost twice in their past four outings, most recently on Saturday, in a horrible game away to Stade de Reims, which saw them beaten 1-0 despite enjoying a man advantage for the final half-hour.

PSG director of football Leonardo offered up an explanation: "If you analyze the situation, we can say that we are not made to play these types of games. PSG is for Europe, not for France. The pitch conditions worked against us while playing against an ultra-defensive team, as did the fact that we play every three days."

-- Limp PSG

Leonardo of all people should know that when you have a very good side filled with attacking talent, opponents will park the bus and make life difficult for you. Heck, Barcelona, Bayern Munich and Manchester United deal with the same problem every week. And when you have one of the most expensively assembled sides in the world, you're not going to get much sympathy.

That said, he may have a point. PSG's record this season across all competitions against Lyon and Marseille, the clubs who lie second and third in Ligue 1, is very good: four wins and one draw in five games. And on Wednesday they have the chance to advance to the quarterfinals of the Champions League; they're at home against Valencia, leading
2-1 on aggregate.

Cellino's legal battle
Cagliari owner Massimo Cellino was imprisoned on Valentine's Day after being charged with irregularities in the construction of his club's new "Is Arenas" stadium. He was granted house arrest on Saturday, apparently -- he says -- against his will.

Those close to him say it's because he wanted to fight his legal battle from prison. Others suggest it's more a case of basic superstition. With Cellino behind bars, Cagliari won both their games. On Sunday, hours after his release, they fell away at Bologna, losing 3-0.