Milan derby, Mancini's mentality, Beckham is back, more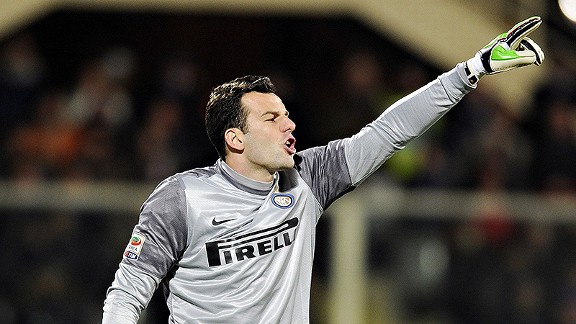 Claudio Villa/Getty ImagesSamir Handanovic: One of the most talented goalkeepers in world football
Sunday night's Milan derby left two enduring impressions. The rossoneri are still growing but there's a long way to go, especially in certain areas of the pitch. And if you're an Inter fan, you shudder to think where the team would be this year without the signing of Samir Handanovic.

Milan dominated the first half and could easily have scored three or four, if not for Handanovic's heroics. Inter simply had no answer, particularly down Milan's left, where Mattia De Sciglio and Stephan El Shaarawy ran rampant. (Take note: Both are 20 years old and both provide energy and quality; exactly what Milan need.) Mario Balotelli was sharp in his movement but less so in his finishing. You can imagine how emotional a night it was for him, so perhaps you can understand it.

Of course, a fair chunk of Milan's early dominance was down to Inter. As we've said so many times in the past, Andrea Stramaccioni has very little to work with and what little he does have has been curtailed by injuries. But the idea that Fredy Guarin and Yuto Nagatomo could line up wide left and contain Milan looked far-fetched. About as far-fetched as the notion that Ricky Alvarez would have an impact. Or that Antonio Cassano -- at his age and with his physical problems -- could play five games in 14 days (all but one for 90 minutes) and not suffer as a result.

Things improved when Stramaccioni moved Guarin back to a central position and sent on Ezequiel Schelotto. Inter got their equalizer, in part because Milan didn't kill the game in the first half, and because they seemed to run out of gas in the second and also due to Philippe Mexes having another one of his mental lapses.

- Paul: Milan held by Inter
- Report: Racist chants at Balotelli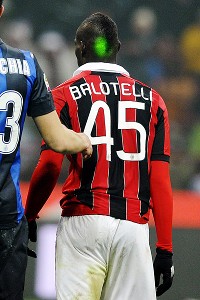 Claudio Villa/Getty ImagesMilan's Mario Balotelli was once again the target of fan abuse.
Milan's take-home, though, is ultimately positive. The weaknesses are still there and they are obvious, but there are plenty of guys who are young, on the right track and -- presumably -- will only get better. Get Riccardo Montolivo some help in midfield, sort out the central defense and there's no reason the rossoneri can't be competitive very soon.

For Inter it's more complicated. A spot in next season's Champions League is just a few points away, tantalizingly close and, for obvious reasons (commercial ones too), they need to pursue it. At the same time, you need to think about the future. There will come a point, probably in March, where it will make most sense to throw in the kids and give them a shot. Ibrahima Mbaye, Simone Pasa, Marco Benassi, Luca Garritano, Mateo Kovacic ... let's find out how good they really are.

Mancini not mincing words

It's really not that hard to understand why Roberto Mancini won't, on occasion, be shy about criticizing his players. It's a direct result of his own experience from his playing days. In fact, it's an almost biblical world view. Think of the Parable of the Talents: The more you have in terms of gifts and ability, the more you have to give.

And so he'll come out and tell the world that Samir Nasri didn't play well enough, that Joe Hart can be much better than he is or that, if he only had Robin Van Persie, his team would be much, much better, which can be read as an indirect swipe at Edin Dzeko and Carlos Tevez.

Mancini does this because it reflects his own unique experience as a player. He was the most talented guy on just about every team he played for, including the Italian national team (OK, when Roberto Baggio was around, some might argue he was a close second). Both at Sampdoria and at Lazio he felt the responsibility of stepping up, of carrying the team and he felt it was almost like some kind of birthright. He didn't always succeed, of course, particularly in an Italy shirt, but the mantra was always the same: Those who are better need to do more.

- Jolly: Mancini wins war of embattled bosses
- Hirshey: Mancini, why don't you quit now?

This horrifies some people, not least because they argue that it undermines a player's confidence. If the manager doesn't think he's good enough, then surely he won't be good enough. And, besides, most top managers don't single out individuals for public criticism.

That's one way to look at it. Or you can look at it from Mancini's point of view. You're better, you need to step up and you need to be a difference maker. Do I have confidence in you? I'm confident you *can* do it, I'm just not confident you *will* do it.

Indeed, while Mancini would probably never admit it, when he looks at his own career he might also note a bunch of instances where he could and should have done more. And where, perhaps, had he been less molly-coddled by some people he might have achieved more.

It obviously doesn't work for everyone and Mancini's critics will accuse him of deflecting blame on to his players. But it's also worth noting that he generally reserves such treatment not for the likes of Gareth Barry or James Milner or Pablo Zabaleta -- whose natural gifts are what they are and who generally produce to the limit of their ability -- but for those who are obviously more skillful.

Obviously time will tell whether this approach works. What's clear to me though is that it's not just a case of a manager throwing a hissy fit and throwing his players under a bus, but at its core, it's very much in line with how Mancini sees the game and his own experience as a player.

C'est bien Beckham

Where David Beckham goes, hype follows. Yep, we get it. For his debut -- on the bench -- Paris St. Germain's owners summoned none other than Ronaldo (the Brazilian one: For the Portuguese version we'll see what happens in the summer) to add further glamour to the proceedings.

It was easy to forget that what was at stake was whether Marseille could continue to make it a genuine three horse race in Ligue 1. We got our answer: Probably not. PSG hit early and late and, in between, despite often leaving the initiative to their opponents, carved out some of the more dangerous chances.

It was a mature performance (lest we forget, they were without Thiago Silva and Mamadou Sakho in central defence), made more encouraging by the fact that, after months in the wilderness, Javier Pastore and Ezequiel Lavezzi look as if they're pulling their weight. Lyon won at Lorient to stay three points back, while Marseille, now eight behind, look out of the running. Carlo Ancelotti would love to get to the head-to-head clash with Lyon at the Stade Gerland on May 11 without it being decisive for the title. If they keep playing like last night and Lyon relent a little, he'll get his wish.

Oh, you're probably wondering about that Beckham guy. He came on with 15 minutes to go, hit a couple neat passes, made one run down the flank and started the sequence which led to PSG's second goal in injury time. You're not going to judge him -- football-wise -- on that, but the sense is that PSG got themselves a veteran cool head who can steady things when needed. In that sense, he's a definite plus.

No clean sheet at Camp Nou

Barring some massive cataclysm or act of God, Barcelona will win La Liga this year, but then you already knew that. How you read Saturday's 2-1 comeback against Seville depends on whether you're a "glass half-full" or "glass half-empty" type of guy.

Half-full? Barcelona started without Carles Puyol, Adriano, Jordi Alba, Cesc Fabregas, Sergio Busquets, Pedro and Xavi and still found the way to come from behind and win against an opponent who knows how to make life tough for them. More importantly, the inclusion of David Villa (who notched the equalizer) and, from halftime, Christian Tello gave Barca the kind of directness and cutting edge which has been lacking of late.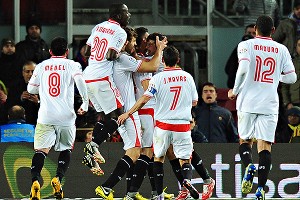 Lluis Gene/AFP/Getty ImagesBarcelona conceded a goal for the 11th straight match when Sevilla scored at the Camp Nou on Saturday.
Half-empty? Well, Sevilla are in mid-table with little to play for and clearly had an eye on the return leg of the Copa del Rey semifinal against Atletico Madrid in midweek, which is why Alvaro Negredo stayed on the bench until the last half-hour.

But the worrying bit is that, for the 11th straight game, Barca failed to keep a clean sheet. With the double clash with Real Madrid coming up next -- in La Liga and the Copa del Rey –- you can see that run extending to 13 straight. And that does not bode well for the return leg against Milan in the Champions League. Give up a goal against the rossoneri and Barca need to score four. Doable, yes, but far from straightforward.

Swansea, thy cup runneth over

You can't plan on winning knockout competitions because, by their very nature, they are unpredictable. But Swansea's victory in the League Cup is probably one of the very few things that has not been planned by the meticulous Welsh club in the past seven years.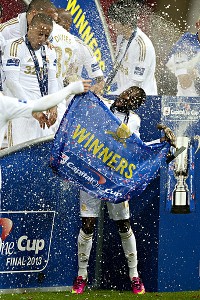 Adrian Dennis/AFP/Getty ImagesSwansea continue to set a standard for aspiring clubs in the EPL.
Swansea's rise is a testament to "best practice." They have a clear club philosophy. They are wonderfully organized and they don't make the manager omnipotent, which makes it far easier to weather the storm when you make a change at the top (and, given their success, a club like Swansea is bound to lose managers as they move on to bigger clubs). They are 20-percent owned by their Supporters' Trust, which means fans have a direct say in -- and, just as important, inside knowledge of -- how the club is run. When it comes to signing players, there are no preconceived notions or prejudices. Their squad includes foreigners savvily plucked abroad, veterans who have been with the team since the days of League 2, homegrown youngsters and guys picked up from lower division sides.

The result of all this is good football and mid-table stability. Plus, the occasional history-making moment. Like Sunday afternoon.

Sao Paolo: Sudamericana champs, finally

It took nearly 10 weeks, but Sao Paulo have finally been confirmed as winners of the Copa Sudamericana. The return leg of the final against Argentina's Tigre was marred by fighting on the pitch and in the dressing room and accusations of heavy-handed methods by the local police, to the point that Tigre refused to play the second half. Both teams have been fined $100,000 and Sao Paulo were handed a one-match home ban in South American club competitions.

CONMEBOL aren't an investigative body; they could only do so much in terms of definitively establishing what happened that day. We can only hope they did enough to ensure that this kind of thing never happens again.

But don't hold your breath.