Kroenke's move, Napoli's missed chance, Real's defense, more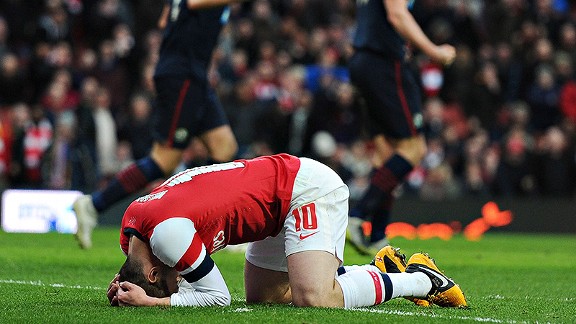 Stuart MacFarlane/Getty ImagesAfter the Gunners' latest humiliation, it's time for Arsenal to determine the kind of club it wants to be.
Boos echoed around the Emirates following Arsenal's FA Cup elimination on Saturday at the hands of Blackburn Rovers. It was the first time in the Arsene Wenger era that the Gunners were knocked out of the FA Cup by lower-league opposition. And it meant that, barring some superhuman feat in the Champions League, Arsenal will -- once again -- finish the season without a trophy.

That was enough for all the usual long-standing complaints to come to the fore. Top players seemingly leaving year after year. The club not matching the competition in terms of spending, despite its enormous cash reserves. Wenger's seeming aversion to playing a badass holding midfielder. A back four that too often looks as if they met for the first time that morning.

And on and on.

The truth is that Arsenal dominated Blackburn and could have wrapped up the game early but for sterling performances from goalkeeper Jake Kean (imagine that: a guy named Kean who is adored at Blackburn) and a defense brilliantly marshalled by Grant Hanley.

Had Arsenal won it would have papered over the cracks, but not cured the malaise.

Somebody here needs to step up and take charge. And it has to come from the very top. It can't be Wenger or Ivan Gazidis, the chief executive; it must be the man who owns a majority of the club, Stan Kroenke.

Hirshey: Speak up, Silent Stan!
Rigg: Real overcomes red in Rayo win
Carlisle: Robbie Rogers sets self free
Johnson: Missing Menez in PSG defeat

For the good of the club, he needs to decide what he wants to do and how he sees Arsenal going forward. Will the Gunners remain a club running on a relative shoestring, pushing youth and "value signings" while trying to play a certain brand of progressive football? Or will they reinvest their sizeable profits -- according to respected financial blogger Swiss Ramble, nearly $300m from the football operation alone in the past five years -- in the playing squad? Or will the fact that Arsenal are ideally placed to benefit from UEFA's Financial Fair Play mean we'll see a different approach in a few years' time?

It doesn't necessarily mean making a decision on Wenger's future straight away. But it does mean some straight talk about where Kroenke sees the club going.

The problem is there's a reason the guy is nicknamed "Silent Stan." He likes to keep his mouth shut. When things are going well, that's an ideal situation. But in times of uncertainty like this, it's not just unhelpful to supporters -- it's also unfair.

Napoli not good enough
On Sunday morning it looked like Serie A could have a genuine title race on its hands, unlike the Premier League, Liga or Bundesliga. Juventus had fallen at Roma 1-0 the night before and second-placed Napoli were hosting Sampdoria.

Samp aren't quite the cupcake they were a while back. In 2013, under new boss Delio Rossi, the "blucerchiati" had taken 11 of a possible 18 points and grabbed some huge results along the way: wins over Roma and Juventus plus a draw against Milan. But still, this was Napoli at home and a golden opportunity to really breathe down Juve's neck.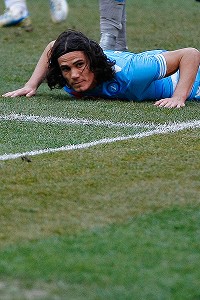 Carlo Hermann/AFP/Getty ImagesNapoli's inability to beat Sampdoria not only meant it failed to gain valuable ground on Juventus, but reinforced the notion that it's not quite ready to contend.

But Napoli froze. When faced with the chance to step up, Walter Mazzarri's crew crumbled -- and not for the first time. Too many of the big guns went missing, from Gokhan Inler (who arguably had his worst game of the season) to Edinson Cavani (who was firing blanks).

You can blame fatigue, a hangover from the shock 3-0 defeat at the hands of Viktoria Plzen in the Europa League or Mazzarri's team selection. But the fact is grown-up teams know how and when to seize their chances. And this team is still too much of a teenager to win the scudetto. Time to grow up.

Looking Real strong
It only lasted 18 minutes but we got to see what could be Real Madrid's best back four right now, and -- possibly -- the key to the Champions League return leg at Old Trafford.

Against Rayo Vallecano, Sergio Ramos returned to the right flank with Raphael Varane and Pepe pairing up in the middle. That package came to an end prematurely because Ramos somehow contrived to collect two yellow cards in 44 seconds, leaving Real Madrid with ten men.

The good news is that they were 2-0 up at the time thanks to goals from Alvaro Morata (who made way after the red card) and Ramos himself. The bad news is that it was his 12th red card in seven and a half seasons at the Bernabeu and by any definition, that's simply not normal. In fact, it's an unsolved mystery of the game that Ramos gets sent off every 21 Liga games for Real Madrid but has yet to pick up a red in 99 appearances for Spain.

Anyway, Varane's sparkling run of form means you can plug him in alongside Pepe and switch Ramos to right back. It's an instant upgrade over Alvaro Arbeloa, who may be versatile and hard-working but is clearly nowhere near the same zip code in terms of quality on both sides of the ball. It also turns Real Madrid into a fearsome outfit from set pieces (there's plenty of size with the three defenders plus Sami Khedira, Karim Benzema and, of course, Cristiano Ronaldo).

The win staved off more controversy (which Real really doesn't need right now) and kept the club a comfy seven points clear of Malaga in fourth place. Yes, it seems insane, but slipping down to fourth and having to endure a potentially tricky Champions League preliminary round next season is one more thing the club won't want to worry about.

Rogers' news speaks to soccer's failure
Robbie Rogers, a former USA international, came out as gay last week in a poignant letter published on his personal blog.

On a human level, you can't help but be happy for him. Read his words and you'll find a man with a tremendous weight lifted off his shoulders, ready to effectively be born again, free from secrets and what he describes as "the pain that lurks in the stomach at work."

At the same time, there's also sadness and a sense of failure. I don't know the guy but I presume that if he devoted a fair chunk of his life to football, he obviously loved the sport. And now, at age 25, it appears he is stepping away from it. That's sad. It also speaks to the failure of the sport as a whole for making him feel as if he can't be both a professional footballer and an openly gay man.

Rogers is ambiguous about whether he's closing the door for good on his football career but it appears certain that for now, he's taking time out. I hope that if he misses the game and wants to continue playing, football will be able to welcome him back.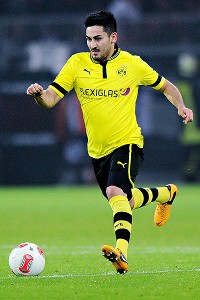 Getty ImagesIlkay Gundogan is more valuable than one might think: after all, Borussia Dortmund hasn't won a game this season without him.

The problem is that right now, any gay professional footballer will necessarily be treated like some kind of trailblazer, a Jackie Robinson of our times. Some are cut out for that role and are willing to embrace all the hardship that comes with it. Others are not. They just want to be themselves and play the sport. They should have the right to do so.

Gundogan key for BvB
If a player's value is determined at least in part by what happens when he's not around, then Ilkay Gundogan may be Borussia Dortmund's MVP. Without him in the starting lineup, Jurgen Klopp's team hasn't won a single game this season.

Gundogan had a rough time after joining Dortmund from Nurnberg in the summer of 2011. He was a 20-year-old parachuted into a well-drilled, title-winning team and expected to fill the big boots of Nuri Sahin, the Bundesliga's 2010-11 player of the year.

All in all, it was a big ask and Gundogan needed half a season to really find his feet. Now it feels as if Borussia can't do without him. For all the talent and movement up front with the likes of Marco Reus, Mario Gotze and Robert Lewandowski, the midfield needs someone with vision, personality, passing ability and an innate sense of tempo to make the team tick.

Though he may not get the headlines, to paraphrase Reggie Jackson, Gundogan is the straw that stirs Klopp's drink.

Yet another candidate for Chelsea?
Manuel Pellegrini is the latest manager to be linked to the Chelsea job. Heck, why not? He's worked miracles with Malaga, did very well a few years back at Villarreal, and while some have written him out of Real Madrid's history, his season at the Bernabeu wasn't as disastrous as you might think. He actually won four more points than Mourinho did the following year with a better squad and with Cristiano Ronaldo fit all season long (he missed nearly two months during Pellegrini's year in charge).

Pellegrini is also personable, a gentleman and speaks good English. The problem, as ever, is that at Chelsea one man makes the decisions: Roman Abramovich. And he's surrounded by a cloud of advisors, lackeys, bootlickers and friends of friends who constantly offer up mixed messages about what he plans to do. Plus, he seems to change his mind every other week.

Panic in Paris for Saint-Germain?
Just when it seemed as if Paris Saint-Germain had turned the corner, they come crashing back to earth against, of all clubs, relegation-threatened Sochaux. It's true that their opponents had nothing to lose and went for the jugular from the first minute and that Lucas Moura was missing, but those are pretty weak excuses. Just like the notion that they were somehow "tired" after their Champions League exertions that, lest we forget, were five days earlier.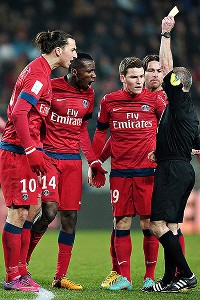 Frederick Florin/AFP/Getty ImagesIt's hard to tell quite what is derailing PSG but it's clear that with Marseille up next in Ligue 1, things must get back on track quickly.

It's hard to tell whether this is a team that underestimates opponents or whether certain second-stringers simply wilt when given a chance in the starting lineup; both Gregory van der Wiel and Clement Chantome were awful, turning PSG's right flank into a virtual highway.

What's certain is that PSG must shape up quickly as Marseille visit the Parc des Princes next week. This game is supposed to mark David Beckham's debut but maybe it's best if Ancelotti postpones the occasion. The last thing PSG need right now is another distraction and -- potentially -- another excuse.

Fantastic Fiorentina
You won't see a more one-sided game than Fiorentina's 4-1 demolition of Inter on Sunday night. Forget the scoreline -- it was four but could have been eight or nine if Samir Handanovic hadn't turned in a stellar performance between the sticks.

In the rout, Vincenzo Montella showed why he is one of the hottest managerial commodities out there under the age of 40. His style of play isn't just entertaining, it's innovative too and by all accounts, the players adore him.

Andrea Stramaccioni is popular with his crew too, though increasingly less so with the critics. He made some colossal tactical blunders on Sunday and needs to take responsibility for them. By the same token, though, this may be the worst Inter squad in decades and one that has been hit hard by injuries to key performers like Walter Samuel and Diego Milito. Indeed, the fact that Milito and Samuel -- 33 and 34 respectively -- now seem integral to Inter's success tells you all you need to know about the kind of personnel he has to work with.