Super Eagles fly high, United hit top gear, Bayern's rising star, more
Nigeria waited 19 years to once again be crowned champion of Africa.

It seems crazy that a nation as large and as prolific in producing quality should have taken so long, but the Super Eagles' capacity for self-destruction and underachievement over the years was remarkable.

Then again, 40 years passed between Copa America titles for Brazil, so there is a lot to be said for the weight of expectations.

The Super Eagles were neither the most gifted nor the most experienced side in the tournament. In fact, the casual viewer might look at the big names who were NOT part of Stephen Keshi's team and wonder how they managed without the likes of Yakubu Aiyegbeni, Peter Odemwingie, Obafemi Martins, John Utaka, Dickson Etuhu and Taye Taiwo.

- Video: Press Pass - Champions of Africa

The answer is fairly straightforward: unity, hunger, youth, enthusiasm and outstanding leadership from Keshi and the handful of veterans left on this team, Joseph Yobo (not quite a Davis Cup-style non-playing captain, but a key figure off the bench and in the dressing room), goalkeeper Vincent Enyeama and John Obi Mikel in midfield. The rest of the side were young, cohesive and, you felt, willing and capable of running through brick walls.

This was a tournament won with the mind as much as with the legs and the heart. The two draws in the opening two games could have left the squad deflated and pointing fingers at each other. That did not happen; if anything, Nigeria seemed to get stronger as the tournament wore on, playing their best football against heavily favored Ivory Coast and in the semifinal demolition of Mali.

The challenge now for the Nigerian game will be to build on this.

What's the best next step for these young players? How do you best leverage the political capital gained by this victory? What happens next could be as important as what just happened.

A word on Burkina Faso, whose fairy-tale run to the final mesmerized the neutrals. I'll leave it to the sociologists to pontificate about how sports can lift an entire people -- for better or worse, think the Dodgers leaving Brooklyn or Germany winning the 1954 World Cup -- but what's obvious is that Paul Put's crew will go down in history for their single-minded ability to overcome adversity, not least in that semifinal against Ghana. As heartbreaking as Sunday must have been for the Stallions, when they look back, they'll do so with pride and hope.

You can't put a price on that.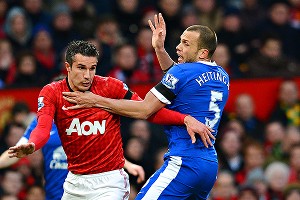 Andrew Yates/AFP/Getty ImagesTime for the trophy celebration? Robin van Persie and United are 12 points clear of Manchester City.
United hit top gear
You have to go back nearly three months to Carrow Road to find the last time Manchester United lost a game that mattered. (Ignore the two late group-stage defeats in the Champions League, as United had already clinched first place.) The only teams to have taken points off Untied in the Premier League since then were Tottenham and Swansea. And, following Sunday's 2-0 win at Everton, United are now twelve points clear at the top of the table.

Earlier in the season, United weren't playing particularly well, but still getting results, often with improbable late comebacks. We said they had several levels to go to. Well, now they're there. The dismantling of Everton didn't yield a gaudy result, but was nevertheless one of the best performances of the season in terms of composure and tactical cohesion.

- Okwonga: Jones sets pace
- Real Madrid awaits
- Ruthless United

It was also important psychologically, not least because you could argue that in was in this very fixture last year that United lost the title, frittering away a 4-2 lead to end up sharing the spoils and dropping two points. Deploying Phil Jones as a virtual man-marker on Marouane Fellaini was also an interesting twist and one Sir Alex Ferguson may want to return to in the future. It's obvious Jones has plenty of tools, but too often he has looked like a square peg in a round hole. At centre half he's a bit on the small side and can get caught out, at fullback -- despite his relentless engine -- he doesn't look natural, and in midfield his passing isn't always up to snuff.

But as a specialist to neutralize the opposition's biggest threat, he may have found his calling. It's one to revisit.

The good news for United is that the side now looks settled defensively, regardless of personnel. And with the range of options available to Sir Alex -- including Nani, who, provided he regains his mojo, could be as important as a new signing -- it's hard to see this team letting the title slip away. Which is a shame for the neutrals hoping for a title race, but fully deserved in light of United's performances.


Valerio Pennicino/Getty ImagesArturo Vidal -- along with Andrea Pirlo and Claudio Marchisio -- allowed Juve to boss that game against Fiorentina.
Juventus flash their title credentials
When Juventus hosted Fiorentina on Saturday, it had all the hallmarks of the classic "trap" game. Huge rival in town. One eye on the Champions League trip to Celtic on Tuesday. Giorgio Chiellini injured, Leo Bonucci suspended and Kwadwo Asamoah still at the African Cup of Nations. And that meant that Paolo De Ceglie, who was coming off some rocky outings, patrolled the left flank, with Federico Peluso (awful in his one other Serie A appearance for Juve) behind him and Luca Marrone, who is just 22 and a midfielder by trade, manning the heart of the defense.

- Juventus coverage

No matter. The midfield trio of Arturo Vidal, Andrea Pirlo and Claudio Marchisio took over and dominated, just like they did for much of last season. Mirko Vucinic and Alessandro Matri got the goals, but credit goes to the guys in the middle.

The game was over by half-time and the bianconeri were left to concentrate on more important matters. Again, this was the kind of performance you associate with title-winning teams. Which is exactly what Juventus are.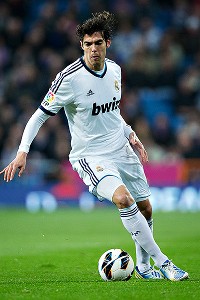 Jasper Juinen/Getty ImagesIf not for Ronaldo's hat trick, Kaka would have been Man of the Match.
Kaka reminds Mourinho he can still play a vital role
With Barcelona 16 points away in first place, La Liga may just be a distraction or a three-month weekly training session for Real Madrid. But on Saturday Jose Mourinho got a huge lift, and not just because of the 4-1 demolition of Seville and Cristiano Ronaldo's stellar performance.

Kaka, who watched the club's past three outings from the stands, was surprisingly recalled as a starter as Mourinho rotated heavily ahead of the midweek Champions League clash with Manchester United. And, were it not for Ronaldo, Kaka would arguably have been Mmn of the match.

He's had so many false dawns that you'd be a fool to suggest that he has turned some kind of corner. But Kaka showed against Unai Emery's crew that, on the night, he can still be special and still be a difference-maker. Not enough to give Mourinho a selection dilemma -- that will take some more performances like this one -- but enough to make the Special One realize that maybe he has another important option off the bench.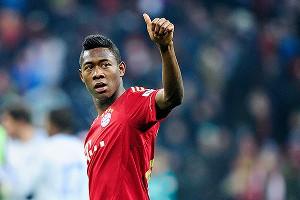 Lennart Preiss/Getty ImagesDavid Alaba has become a fixture at left back for Bayern Munich.
David Alaba, Bayern's star in making
Bayern knew they had something special in David Alaba; they just didn't know whether he'd develop quickly enough to fit into their side. Now it's safe to say they've got their answer. Alaba scored two goals in the 4-0 demolition of Schalke which, coupled with Borussia Dortmund's shock home defeat to Hamburg, leaves Bayern 15 points clear atop the Bundesliga.

- Video: Bundesliga top goals of the week

But in fact, the cosmopolitan fullback (born in Vienna to a Filipino mother and a Nigerian father) has put together a string of consistent performances over the past few months and is now a fixture on the left of Jupp Heynckes' back four. His development frees up Philipp Lahm to settle in at rightback and Jerome Boateng to be part of the rotation at centre half, which is important, as Holger Badstuber's season-ending injury might have left Bayern a little short-handed otherwise.

Call it a case of the rich getting richer. Somewhere, Pep Guardiola is smiling.