Brendan Rodgers' project, Mario's super Milan debut, Barca's malaise & more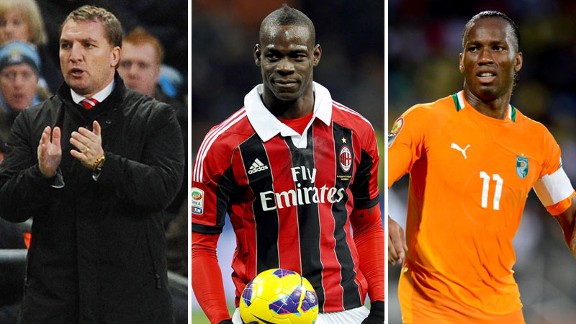 Getty ImagesThe weekend that was: Brendan Rodgers' project at Liverpool is more hopeful than ever, Mario Balotelli proved a point in his Milan debut and Didier Drogba experienced more frustration with the Ivory Coast.
This season is supposed to be about rebuilding and transition at Anfield and thus far, it has proven to be just that. Every indication from the club's owners is that they believe in Brendan Rodgers and his project and will give him time to see it out. Given what he's trying to do -- unless Liverpool go into some kind of free fall and flirt with relegation -- it's the only logical approach to take.

That said, it's interesting to note

how Rodgers' vision is evolving over time. It's not just the shift from 4-3-3 to 4-2-3-1 or moving Luis Suarez into a deeper position behind the center forward. It's also about personnel and how players who seemed to be on the margin are now being reeled in to contribute.

Liverpool arguably turned in one of their best performances of the season on Sunday, holding Manchester City to a 2-2 at the Etihad and that was only because of late individual errors. What's remarkable is that it happened on a day when Suarez had a quiet game by his standards and the wings were manned by Stewart Downing and Jordan Henderson.



Alex Livesey/Getty ImagesOnce seen as evidence of Liverpool's poor transfer dealings, Jordan Henderson is now being asked to contribute to the Reds' cause -- and playing well, to boot.

Yes, Downing and Henderson. Two names which, in the summer, were viewed as Exhibit 1a and 1b of the previous regime's poor transfer judgment. (Exhibit 1, of course, would be Andy Carroll). Between them, they had started just two of Liverpool's first 12 Premier League games and, in Downing's case, we had even seen him deputized as a fullback.

It's not as if Downing and Henderson have suddenly turned into Gareth Bale and Cristiano Ronaldo. Assuming Rodgers is into positive visualization when he imagines a Premier League-winning Liverpool side, he probably doesn't fantasize about those two as much as he does Raheem Sterling or Philippe Coutinho.

- Walsh: Not all lost for Reds

What they (and Rodgers) have done is show how above average players who work hard and follow instructions can thrive and contribute within a well-thought out system.

Sound obvious? Well, it isn't. Too many managers whine when they have players who don't fit their immediate requirements. Too many write off parts of their squad straight away because of unimpressive performances. Too many don't ask themselves how they can tweak their tactical approach to work with what they have.

And of course, too many players react to being left out or no longer being flavour of the month by either trying to get a move elsewhere or simply switching off and counting their cash.



Claudio Villa/Getty ImagesMario Balotelli had a dream debut for AC Milan. Is this kind of performance going to be par for the course for him?

Super Mario's super debut
You couldn't have scripted a more dramatic debut for Mario Balotelli.

He wasn't even supposed to start for Milan against Udinese on Sunday night. But then Giampaolo Pazzini got injured (suggestions Balotelli set off fireworks in Pazzini's underpants to put him out of commission are -- most likely -- wide of the mark) and Super Mario received the nod.

In less than a minute he had come close to scoring; shortly thereafter he set up M'Baye Niang, who missed a gilt-edged chance. Twenty-five minutes in, he stabbed the ball home for his first Milan goal. He also served up some wonderful assists and hit the pass to Stephane El Shaarawy, which led to Milan's game-winning penalty. (Actually, it wasn't a penalty, it was a perfectly good tackle that the referee got wrong, but that's not down to him.) No prizes for guessing who converted it, and in the most emphatic fashion.

Is this kind of performance going to be par for the course? If it is, the bar is set extremely high indeed. Milan would probably settle for about 70 percent of what Balotelli did on Sunday night.

- Video: Allegri hails Balotelli debut

Time will tell whether the precocious front trio of Balotelli, El Shaarawy and Niang -- average age of 20 and yes, Balotelli is the grizzled veteran of the three -- lives up to the hype. But already, the rossoneri are steaming up the table and contending for a Champions League spot, something that seemed beyond far-fetched just a few months ago.

Barcelona malaise?
So one week you discover that you're in the equivalent of Chapter 11 bankruptcy and you've effectively been nationalized and the next, you take Barcelona to the wire and consider yourself unlucky not to have taken all three points.

Welcome to the world of Valencia, where it seems the worse things get off the pitch, the more Los Che pull the unpredictable out of the hat. Ernesto Valverde's crew had Barcelona on the ropes during most of Sunday's 1-1 draw. Indeed, where it not for a foolish penalty given away by Joao Pereira and a miraculous late save from Victor Valdes, this could have been a resounding Valencia win.

Alarm bells for Barca?

Not quite. It was more a case of Valencia playing out of their skin, as they often do against the Catalans. That said, it's undeniable that Xavi is going through a bit of a rough patch. And that in certain games, playing Andres Iniesta in the front three means you gain plenty in terms of possession, but you lose a lot in terms of incisiveness, as evidenced by the fewer (by their standards) chances created by Barcelona.



Francisco Leong/AFP/GettyImagesIn the past five African Cup of Nations tournaments, the Ivory Coast has gone crashing out in two finals, a semifinal and two quarterfinals.

More disappointment for Drogba & Co.
Except for Didier Drogba, who turns 35 in March, you can't definitively say that the curtain came down once and for all on Ivory Coast's Golden Generation following Sunday's elimination at the hands of Nigeria in the African Cup of Nations. After all, the other big names aren't that old. Apart from Didier Zokora (32), Kolo Toure (31) and Boubacar Barry (33), none are the wrong side of 30, and as such you could see them all coming back.

But you wonder how much psychological scarring these players have ensured after going out in two finals, a semifinal and two quarterfinals in the past five tournaments, despite often being arguably the best team in the competition. And you wonder if they realized the window of opportunity was closing against Nigeria. The Elephants alternated between brief stints of quality -- especially after falling behind -- and long spells of mediocrity, entirely devoid of urgency. It was basically false confidence: affecting calm to cover up the fact that they really had no ideas.

Barry, once again, will be the likely scapegoat, and it's true that at this level you expect more from a goalkeeper. But the responsibility needs to be shared. It's not as if the rest of the players weren't aware of his limits.

- Video: Ivorian disappointment

In some ways it's fitting that the team to advance to the semifinals wasn't the most talented side (not yet anyway, though this young Nigerian team has plenty of promise) but the one that worked its rear end off in the Rustenburg heat.

It was the one that wanted it more, rather than the one that had no idea what it was losing.

An imperfect master class
The two teams pursuing -- but, let's face it, you have to use that term loosely -- Bayern Munich in the Bundesliga put on quite a show Sunday. Borussia Dortmund's 3-2 win at Bayer Leverkusen had a bit of everything and left the viewer riveted. Alas, it also showed the limits of these two teams and why Bayern are so far ahead.

Dortmund found themselves 2-0 up in the space of 10 minutes. In those situations, good teams know how to manage a game. Jurgen Klopp's side failed to do that, letting Leverkusen work it back to 2-2, before Robert Lewandowski sealed it for Dortmund.

It was a thrilling game, precisely because of the two teams' flaws and it underscored why the Bundesliga is popular. But it also served as a reminder that if Borussia Dortmund play like this on a regular basis, they won't fulfill their potential.

Don't just blame Zeman
You can't help but be a little bit sad that Zdenek Zeman is now unemployed. Lots of managers talk about doing things differently and trying to outscore the opposition (rather than conceding one fewer) he actually went out and did it. And he did it successfully as he proved last season at Pescara.

His critics point to the shoddy defending as if it's some kind of fatal flaw in the Zeman approach. Sure, if you commit lots of men forward, you're bound to be more vulnerable at the back. But Roma's defensive problems this year were as much a function of personnel and poor choices as they were Zeman's tactical approach.

That doesn't mean that Zeman is blameless however. Maarten Stekelenburg may not be a shutdown goalkeeper, but that doesn't mean he deserved to be summarily benched for a guy like Mauro Goicoechea, who showed early on he was no better. And Zeman's stance towards Daniele De Rossi was as baffling as it was counterproductive. De Rossi may not have been ideally suited for Zeman's style of play, but he's the club's most important player, alongside Totti.

And just as Zeman found a way to incorporate Totti in his 4-3-3, surely there was a way to fit De Rossi in? Especially because it's not as if he was competing with Xavi and Andres Iniesta for a spot in the side, but the rather more "human" Panagiotis Tachtsidis and Michael Bradley.