Prem's wake-up call, Real Madrid's 'crisis,' Juve raging ...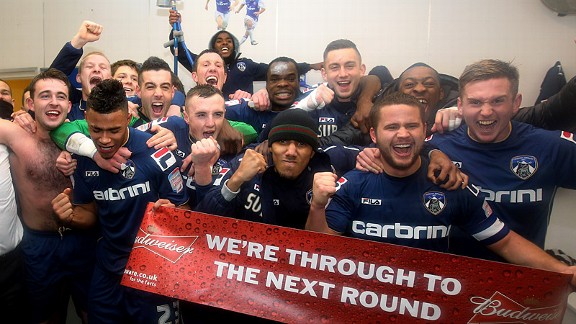 Alex Livesey/Getty ImagesOldham were one of many lower division clubs to trip up a Premier League side.
The numbers are impressive. After this weekend's FA Cup games, there are just seven Premier League teams left. And if Chelsea lose the replay to Brentford -- unlikely, I know, but given the craziness we've seen, it's not entirely out of this world -- we'll be left with six.

Tottenham, Liverpool, Aston Villa, Queens Park Rangers and Norwich were all bounced out by lower-division opponents (in fact, in Norwich's case, it was non-league Luton). And while looking at the lineups you can make a case that neither QPR nor Norwich seemed overly fussed, it's pretty obvious the other three teams put out sides built to win.

Throw in the fact that Wigan and Arsenal were stretched by Macclesfield and Brighton, respectively, and that Chelsea had to come from behind to grab that late equalizer and it may be a bit of a reality check for the Premier League.

Maybe the gap isn't quite as big as imagined. Maybe unless you bring your A-game in a one-off tie you can run into serious problems, even against guys who make a fraction of what your bench players -- let alone your stars -- earn.

-Video: Liverpool knocked out of FA Cup
-Video: AVB on loss to Leeds
-Video: "Fabulous cup tie" said Neil Warnock
-Video: United crush Fulham

Cynics may say the FA Cup's paltry prize money doesn't really make it worth pursuing and, obviously, if it comes at the expense of Premier League performance, some may feel they have a case. But the reality is that none of the clubs mentioned above have a prayer of winning the Premier League this year. And, apart from Chelsea and Arsenal, a Champions League spot also seems pretty far-fetched.

So why not take this competition a little more seriously?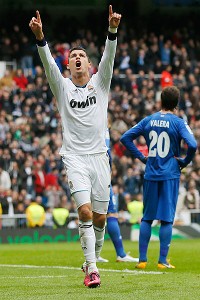 Juan Medina/ReutersCristiano Ronaldo celebrates after the second of the three second-half goals he scored against Getafe.
Beware of Real Madrid
"In Italy for thirty years under the Borgias they had warfare, terror, murder and bloodshed, but they produced Michelangelo, Leonardo Da Vinci and the Renaissance. In Switzerland they had brotherly love: they had 500 years of democracy and peace, and what did that produce? The cuckoo clock." --Harry Lime, "The Third Man"

I couldn't help but think about the words of the Orson Welles character when considering Real Madrid. Nobody would argue that it's been anything but a stormy season of Borgia-like intrigue at the Bernabeu. But then we've also witnessed the 5-0 shellacking of Valencia and this weekend's 4-0 pasting of Getafe.

-Video: Ronaldo hat trick helps Real bounce back

You can't say the "crisis" is over because so many of the issues remain unresolved and they won't be fixed in the short term. But you don't have to like or even respect each other to work together. And the truth is that Jose Mourinho and whichever mutinous players he's supposedly working with have the same goal -- winning.

Que sera, sera. Cross whatever bridge you need to cross when you get to it. This may be the end of the Mourinho era no matter what happens, but it doesn't mean Real can't go out with a bang.

Why didn't Whelan see red?
I don't think Glenn Whelan is a dirty player. And while I don't know the guy, I'm sure he didn't go into that tackle with Javi Garcia looking to injure his opponent. But his tackle was reckless, dangerous, two-footed and he left the ground -- it ticks every box of the straight red checklist. It didn't influence the outcome of the game, but it's puzzling that referee Howard Webb didn't even think it was a foul.

Whelan was honest after the game: "I've gone in for the challenge and I don't think I tried to be dirty, but if it looks that way on TV, then I'll have to hold my hands up. I've caught him harder than I thought."

But he's off base when he says "It's the English game, the old-fashioned game and that's what the Premier League is good for."

There's nothing "English" or "old-fashioned" about reckless, two-footed tackles like his lunge on Garcia. And it's most definitely not what makes the Premier League successful.

The league's rise is based on passion, commitment, intensity -- which Whelan has in droves -- AND talented players. Precisely the kind of players who would get injured and be unable to perform if two-footed lunges were the norm.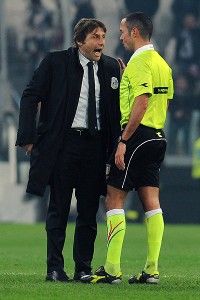 Valerio Pennicino/Getty ImagesAntonio Conte has a go at the referee during Juve's 1-1 draw with Genoa Saturday.
Juve rage against the machine
Juventus were incensed at the non-call in the dying minutes of their 1-1 draw with Genoa on Saturday after Stephane Lichtsteiner's cross hit Andreas Granqvist's leg, then bounced up off his arm.

It's a classic gray area in the rules. The Laws of the Game are pretty clear: The handball is punished when it's deliberate. And a deliberate handball in the penalty box equals a penalty kick.

But precisely because the Laws of the Game leave so much discretion to the referee, officials are given directives. It's no longer about the whole "ball to hand, hand to ball" thing, it's about the position of the arms. If they're in an "unnatural" or "uncoordinated" position when the ball strikes, then it's a penalty.

The issue here, though, is the ricochet off Granqvist's leg. Serie A referees were specifically told to consider the "dynamic" of the play when there is a ricochet and use their discretion. In this case, referee Marco Guida had to judge the position of Granqvist's arms in light of his stretching lunge to intercept the ball. He came to the conclusion that they were in a "natural" position given the dynamic of what he was doing, especially since he obviously did not intend for the ball to bounce straight up off his arm.

Personally, I thought it was the right decision. It's pretty obvious the action was not deliberate and that Granqvist's arms were where they were because of his stretch to get to the ball and not to gain any kind of advantage. But I can see how it might have been interpreted differently and I would not have had a problem had the penalty been given.

What does seem obvious -- and former referee Pierluigi Collina made the point on Friday -- is that referees need more guidance in these situations.

Gray areas like this only lead to more controversy and reactions like those of Juventus general manager Beppe Marotta, who implied that Guida should never have been picked to officiate this game because he was born near Naples and Napoli happen to be second in the table. Guida did have a poor game, but once we start ruling out referees based on where they're from, we're basically saying we don't trust them to be impartial.

The Sneijder-Drogba connection
Didier Drogba's deal to return to Galatasaray isn't quite done yet as I write this, but it could be in a matter of hours. It's not hard to figure out why the Ivorian center forward would want to come back to Europe. He turns 35 in March, he wants one last shot on the big stage and he won't have to take much of a pay cut -- given the enormous figures bandied about -- to leave China and make it happen.

-On The Move transfer blog

While he was linked with moves to Chelsea and Juventus, his wages made such a deal unlikely. Which is a bit of a shame; you'd have thought maybe he could take a step back for one last roll of the dice.

Instead, assuming the deal goes through, he'll get a chance to do it at Galatasaray, where he'll link up with another high-profile January acquisition: Wesley Sneijder. Fatih Terim's men beat Besiktas at the weekend and maintained the five-point gap at the top of the Super Lig. But the real logic behind bringing in two ringers at this stage of the season has to be the Champions League. And in a home-and-away format, there's no reason the Sneijder-Drogba connection can't make enough of a difference to justify the investment.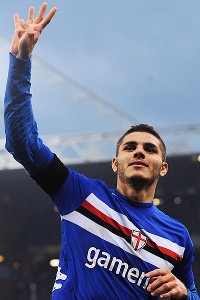 Valerio Pennicino/Getty ImagesSampdoria's Mauro Icardi, 19, is blessed with technique, personality and intelligence.
Kid Icardi
He's an Argentine from Rosario, he moved to Spain at a young age, he came through the ranks at Barcelona's La Masia academy and he scored four goals Sunday. No, not the guy you're thinking of. Sampdoria's Mauro Icardi, still just 19, has been a revelation this season. His four strikes in the 6-0 pounding of Pescara aren't a one-off. This season, even when he hasn't scored, he's shown technique, personality and intelligence.

Apart from the coincidences above, it's idiotic to compare him to Lionel Messi at this stage. But he does have a bright future ahead. Sampdoria signed him for around $500,000 because Barcelona felt he wasn't going to have an impact in the first team and they liked guys like Cristian Tello and Gerard Deulofeu better. Fair enough; those two have shown enormous promise. If that's the case, though, it only makes you marvel at the embarrassment of riches in Barcelona's B-team.

Drama at African Cup of Nations
Pure drama at the African Cup of Nations. It's hard to tell which story is more dramatic. South Africa, still smarting from the 2010 World Cup, twice coming from behind against Morocco (in my opinion, the best team in Group A) to grab a dramatic equalizer with four minutes to go that earns them a place in the quarterfinals?

-Video: Victorious Cape Verde burst into press conference
-Video: South Africa knows drama

Or Cape Verde, a nation of just half a million, snatching qualification via an injury-time winner after being behind for most of the match?

It continues this week. Apart from Ghana and Ivory Coast -- it would take a cataclysm for them to get knocked out -- nobody is out of the woods just yet.