Props to AVB, patience for David De Gea, Barca's blip and more ...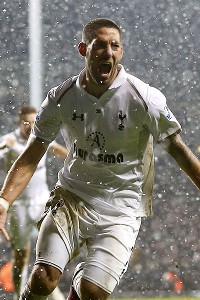 John Peters/Man Utd/Getty ImagesClint Dempsey scored the equalizer against United, sending another message that Spurs are heading in the right direction.
We keep hearing how "it's all about results". If you buy that argument, then Tottenham are going backward. They have eight fewer points than they had at the same stage last season under Harry Redknapp.

And on Sunday, they were held at home by Manchester United, and that was only thanks to a last-gasp mistake by David De Gea and the fact that the officials didn't punish Steven Caulker's tackle on Wayne Rooney with a penalty kick. But results are only part of it. What you look for is forward progress. And by that metric, Spurs showed plenty against United, which is a credit to Andre Villas-Boas and the work he's been doing.

-Video: AVB praises performance
-Blog: Spurs get what they deserve

Aaron Lennon looks like the player he is supposed to be, a guy who uses his quickness and acceleration as a means to an end -- service in the box -- not as an end unto itself. Mousa Dembele combines technique and physical presence like few other central midfielders in the Premier League. At the back, despite the fact that half the projected starting back four (Younes Kaboul and Benoit Assou-Ekotto) have missed virtually the whole season thus far, Tottenham look accomplished and solid, not least because Hugo Lloris is settling in and showing his worth.

Against United, Spurs had the upper hand for much of the game, despite the absence of Sandro and Jermain Defoe firing blanks. They didn't win because United have that intangible/ undefinable quality of champions -- maximum result, minimum effort -- but it's obvious that Villas-Boas is making Tottenham greater than the sum of their parts.

Spurs fans have seen enough false dawns not to get carried away and yes, they could still use a couple of reinforcements. But this is a team that has lost just once since November. It's a personal victory too for Villas-Boas after his Chelsea experience. Sometimes you grow and learn more in failure than in success.

Compared to his time at Stamford Bridge, he has tweaked his tactical message to make it more palatable, avoided needless spats with his players and simply matured as a coach. There's still a long road ahead, but Spurs are moving in the right direction. In fact, they're doing so faster than their results.

No need for Barca inquest
Barcelona suffered their first defeat of the season in La Liga Saturday, going down 3-2 away to Real Sociedad. It was so ugly and out of character that if you're Tito Vilanova you just want to forget about it as quickly as possible and move on.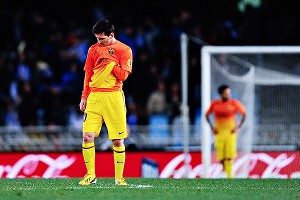 David Ramos/Getty ImagesBarcelona have struggled this past week, but there's no need to hit the panic button just yet.
There's no excuse for throwing away a 2-0 lead late in the first half. And the combination of individual errors, collective lethargy and general absent-mindedness that marked Barca's second 45 minutes are best not dwelt upon. The cushion is big enough in La Liga that Vilanova may just want to treat this result as a blip rather than seeking out answers to questions that -- maybe -- don't need to be asked.

That means not blaming Victor Valdes and his contractual situation -- he has said he won't renew his deal which expires in 2014 -- for the recent slip-ups. Valdes is a good goalkeeper, but he's not the kind of shutdown netminder that carries a team. It's not as if folks like Gerard Pique and Dani Alves made uncharacteristic mistakes because they were worrying about who might be playing in goal for Barca next season.

-Tomas: Valdes jumps ship

That said, between the home 2-2 Copa del Rey draw against Malaga -- another game Barca failed to kill off when they had the lead -- and Saturday, that's five goals conceded in two games. And if you really want to be unpleasant about it, you might also note that Barcelona have conceded more goals in La Liga this season than Osasuna, which sit in the relegation zone.

Sometimes the best answer is the simplest one. Barca suffered from a drop in intensity and was punished. It happens over the course of the season. No need for an inquest just yet. It's just a warning light on Vilanova's dashboard. For now, at least.

Calling Paul Pogba
Having seen their lead eroded by five points since the start of 2013, Juventus needed a quick turnaround against Udinese and they got it, thanks in no small part to Paul Pogba who scored twice in the bianconeri's 4-0 win.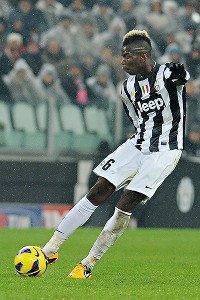 Valerio Pennicino/Getty ImagesFormer United player Paul Pogba is proving increasingly valuable for Juventus.
The tall 19-year-old midfielder has been making waves since he was 16, when -- like so many before him -- he exploited the notorious loophole allowing youth players to move abroad for little or no compensation just after his 16th birthday. He landed at Manchester United where, supposedly, the club had big plans for him.

Of course, you live by the sword, you die by the sword. Despite making his first-team debut as a teenager and featuring seven times for United, he let his contract run down, signed on with Mino Raiola and moved to Juventus.

While he hasn't yet broken into the starting midfield (which is understandable, given the presence of Claudio Marchisio, Arturo Vidal and Andrea Pirlo) he is proving increasingly valuable to Antonio Conte. His skill set -- size, strength and a very good range of passing -- gives Juve something different. Last season, Juve's first-choice midfield missed just 12 Serie A starts between them, which is as many as they've missed this season already.

The fact that Juve can call on a guy like Pogba when one of them is out and not miss a beat is a huge bonus, not just in terms of injuries but in terms of keeping the regulars fresh between now and the end of the season.

Patience key with David De Gea
It seems a bit twisted that the more David De Gea plays, the more some speculate over his future. The fact is that he's been playing better this year and is still just 22 years old.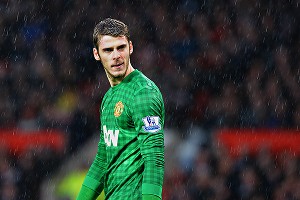 Andrew Yates/AFP/Getty ImagesGiven the nearly $30 million United spent to land David De Gea, it wouldn't make sense for the club to send him packing now or in the summer.
Sure, he was criticized for his weak punch in injury time Sunday, the one that allowed Tottenham to grab the equalizer. But without some of his saves in the second half, Spurs might well have scored earlier. And if you really want to be pedantic about it, Patrice Evra probably deserves to share the responsibility for losing Aaron Lennon, who set up Clint Dempsey's equalizer.

In 2011, Manchester United took a huge gamble when they made De Gea the third-most expensive goalkeeper in history, when he was still a few months shy of his 21st birthday. Tie up that much money -- nearly $30 million -- in a guy and you have to give him every chance to succeed. Not least because, with goalkeepers, they either play or they don't. They don't come on as substitutes, in situations where they can still show their worth. Drop him permanently and his transfer value plummets and then you have a dead asset on your books whom you'll have to pay some $20 million through 2016.

The only way De Gea was ever going to justify his transfer fee was over time. Having committed to him, pulling the plug now or in the summer would make no sense whatsoever.

Turning point for Real Madrid?
Everything was set up for another Real Madrid stumble. In midweek, they hadn't looked good against Valencia despite winning 2-0 in the Copa del Rey and, in fact, the visitors looked confident heading into the game. Madrid was without Marcelo, Pepe and Sergio Ramos, three-quarters of the starting defense. And Jose Mourinho had been through rather public spats with Angel Di Maria and Cristiano Ronaldo. (It's one thing when he falls out with guys like Iker Casillas, quite another when he takes on players with whom he shares an agent.)

--Real Madrid's Jekyll gives Valencia a hiding

But sometimes tension can lead to unity. And pushing players' buttons to get the best out of them is something Mourinho excels at. Both Di Maria and Ronaldo came up big as Real Madrid turned in arguably their best performance of the season. By half-time, when the virtual "mercy rule" set it at the Mestalla, Madrid were 5-0 up.

A turning point? It's too early to tell. The club's problems won't go away overnight. But at the very least it's a reminder that, on the day, Mourinho and his crew can turn it on like few other teams in the world.

Sneijder's new adventure
The Wesley Sneijder saga is finally, officially, over. The Dutch midfielder joins Galatasaray for a fee of around $10 million. He'll take a hefty pay cut in gross terms (he'll pay some 15 percent tax in Turkey, compared to the nearly 50 percent he faced in Italy) but in real terms he'll only be earning $600,000 less than he did at Inter and he'll get an extra year on his contract.

-Video: Sneijder seals Galatasaray move
-Arrivederci Sneijder

The knee-jerk reaction from some is that he's showing "lack of ambition" for moving to a supposedly second-tier league like Turkey. But he'll still get Champions League football and, in fact, Galatasaray's opponent in the round of 16, Schalke -- mid-table in the Bundesliga and with a new manager -- looks far from unbeatable. The reality is that Sneijder didn't draw much interest from Europe's top clubs, either because his wages were too high or because there wasn't a pressing need for a guy in his position. (Much was made of the reported link with Liverpool, but I'm skeptical about how real that was. Sneijder would not have been a natural fit in Brendan Rodgers' system, and that salary was a major turn-off.)

Now Sneijder can enjoy a bit of a shop window in the Champions League and weigh things up in the summer. As for Inter, they've made a big deal out of the fact that they're saving nearly $40 million in wages and getting that $10 million fee. Sure, you can argue it's like making $50 million ... if you're a voodoo accountant.

The reality is that much of those "savings" will have to be spent on getting someone else in. Given Inter's finances, you can't fault them for putting a positive spin on things -- the original mistake was made two years ago in giving Sneijder that monster contract -- but the fact remains there is now a huge creative vacuum at the club. Antonio Cassano and Fredy Guarin may have papered over the cracks somewhat, but neither is a long-term solution in that role.

Arteta key to Arsenal's midfield
They say you notice some guys more when they're not around. Mikel Arteta is a case in point. He's been Arsenal's deepest-lying midfielder for most of the season, and while he's obviously not a traditional ballwinner, when he's not there the Gunners' midfield turns into some kind of giant revolving door.

Other players -- Jack Wilshere, Santi Cazorla -- might be more important to Arsenal going forward. But despite not being a defensive specialist, Arteta may be the Gunners' most important defensive cog.

Gabriele Marcotti is a London-based journalist and broadcaster who covers world soccer. He is the author of three books, the world soccer columnist for The Times of London and a correspondent for the Italian daily Corriere dello Sport. You can catch him on ESPN Press Pass and read him here twice a week. Follow him on Twitter: @marcotti.