Manchester United headed for a record-breaking season?
After Manchester United's 2-1 win over Liverpool on Sunday, Man U now have 55 points from 22 league games. Project that out over a season and we're talking 95 points, which would equal the top-flight record set by Jose Mourinho's Chelsea in 2004-05.

What's remarkable here is that the club have amassed so many points without playing anywhere near their potential. All those early-season comebacks are not what we usually associate with a dominant club. Nor do teams with a defense as statistically leaky as United's -- they've conceded as many as Sunderland and more than the likes of West Ham, Stoke and Swansea -- usually win games at such a pace.

The thing is, on paper at least, Untied can get better. A lot better. And that's the scary part.

Late in the game Sunday, Liverpool had them against the ropes, as Sir Alex Ferguson himself admitted afterwards. And there are plenty of areas where this team can still improve, including keeper David De Gea, who is just 22, and Tom Cleverley in midfield. Nemanja Vidic has started only four games since his return. The more he plays -- provided he stays injury-free -- the more likely he is to return to the form that made him one of the very best central defenders in the world. And, of course, Wayne Rooney has been sidelined since just before Christmas, but with him in the side United are even more potent going forward.

-Blog: Progress, not perfection, for MUFC

The good news for United fans is that even if Robin Van Persie has a dip in his stratospheric form, there are plenty of other guys who have yet to fire on all cylinders who can step up. If that happens -- and United do manage to go to the next level -- this may yet be a record-breaking season in the Premier League.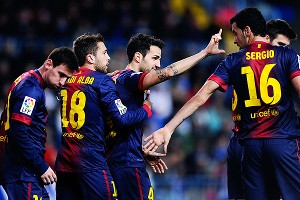 David Ramos/Getty ImagesBarcelona's La Liga record is terrifying: played 19, won 18, drawn 1, lost 0.
Barca: The Next Level
Of course, the team that is already at the next level is Barcelona.

Their Liga record is terrifying. Played 19. Won 18. Drawn 1. Lost 0. At the halfway mark of the campaign, they're on track for 110 points and 128 goals, which would pulverize the mark set last year by Real Madrid (100 and 121).

Barcelona have played 31 games in all competitions this season. Only four times did they fail to win: twice against Real Madrid, once against Celtic and once against Benfica (with the caveat that it was a meaningless game at the end of the Champions League group stage). In terms of performance, it trumps all four seasons of the Pep Guardiola era.

It's safe to say few would have expected this when Guardiola stepped aside at the end of last season. The curious part here is that -- apart from Jordi Alba -- this is basically the same team. Alex Song, the other big summer signing, hasn't contributed much and, in fact, has seen his minutes diminish.

So why are Barca better?

A lot of it may simply be due to familiarity and fluidity. All that experimentation last season -- Cesc Fabregas up front, the back three, etc. -- may not always have yielded results, but it kept players from entering a comfort zone, forcing them to readjust and fine-tune their roles. Now that they're back in the familiar 4-3-3, everything runs that much more smoothly. Of course, in terms of chemistry and understanding, the fact that seven of the starting XI is the same as it was in 2008-09 doesn't hurt either.

Juve in trouble
Uh-oh. So much for thinking Juventus had the Serie A title all wrapped up, eh?

A home defeat to Sampdoria and a draw at Parma mean that the bianconeri have dropped five points in the first two league games of 2013, and suddenly what was an eight-point gap has shrunk down to just three.

The worst thing Juventus could do right now is panic and pull the trigger on the wrong reinforcement. The reality is that the dropped points are the result of a number of factors: a heavier workload than most during the winter break, the absence of Giorgio Chiellini at the back, Delio Rossi and Roberto Donadoni both outcoaching Antonio Conte tactically on the day, and yes, the fact that Juve's strikers are what they are: not as good as the rest of the starting XI.

-Juve blog

The club, of course, have been chasing and talking about a so-called "top player" up front for the past 18 months and they've pursued everyone in sight: from Sergio Aguero to Luis Suarez to Edin Dzeko to Robin Van Persie to Dimitar Berbatov to Fernando Llorente to short- term options such as Didier Drogba and Lisandro Lopez.

Juventus have been consistent in holding out for the "right" player. It could well end up being Llorente, though that might happen in the summer. Going off-script now and tying up money with the wrong guy -- perhaps to the point that you then struggle to land the striker you want in the summer -- would be a mistake.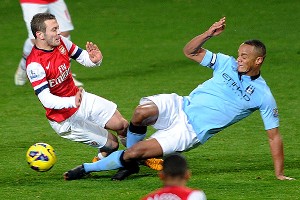 David Price/Getty ImagesVincent Kompany didn't deserve to be sent off for his tackle.
Seeing red
Manchester City will lodge an appeal over Vincent Kompany's red card at the Emirates on Sunday and rightly so. The criteria for a straight red are pretty clear, and Kompany's tackle on Jack Wilshere simply doesn't meet them, at least from the angles I saw. Not to mention that, at some point, common sense comes into it. Kompany is neither a psychopath nor an inexperienced kid. The defender tweeted after the match: "About the tackle: If the ball is overrun by the opponent and a 50/50 challenge occurs, collision is inevitable." Then he wrote, "Ultimately I'm a defender: Appeal may work or not. I will never pull out of a challenge, as much as I will never intend to injury a player."

-Video: Were red cards deserved?

Why would he launch into a reckless two-footed tackle with his team up two-nil, the opponent down to 10 men, the referee standing a few feet away and 15 minutes to go?

What, did he want the next couple of games off?

The fact is that referee Mike Dean either completely misjudged it or was partially unsighted by Javi Garcia. If it's the former, there's nothing wrong with owning up to your mistake. If it's the latter, then get into the right position next time: Kompany telegraphed that tackle from a long way away.

Either way, losing Kompany for three games would be grossly unfair.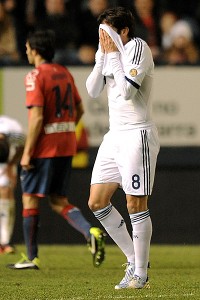 Denis Doyle/Getty ImagesKaka & Co. suffered another setback in La Liga this weekend, falling 18 points behind Barcelona.
Real problems in Madrid
Another rough weekend for Jose Mourinho and Real Madrid, held to a scoreless draw by Osasuna, which are stuck in the relegation zone. Plenty of Mourinho's starters were missing -- Cristiano Ronaldo, Pepe, Sergio Ramos, Marcelo, Antonio Adan ... OK, scratch that last one, but it's not much of a mitigating factor.

The result was disappointing -- the gap with Barcelona is up to 18 points -- but the performance was worse. Two shots on goal in 90 minutes, one of them Jose Callejon's disallowed goal which could have stood, are not an acceptable return for a team of this quality.

There wasn't much of a game plan and, once again, we saw how this version of Luka Modric may as well be a foreign object in this team.

If you spent the kind of money Real spent on Modric, you don't necessarily need to make him a starter (Barcelona spent oodles on Cesc Fabregas and he's not a regular either), but you do need to find a way for him to contribute. Instead, with Mesut Ozil on the bench, it felt as if Modric was just parachuted into the lineup without any clear tactical or strategic instruction, whether for him or those around him.

-Real Madrid eye Champions League

I don't accept this theory that the team have simply given up and are focusing everything on the Copa del Rey and the Champions League. There is too much pride there and, even if there are divisions, surely everyone wants to win. Rather, I think it was just poor preparation during the week coupled with the absences. Those are things that Mourinho and his players can and must work on.

SuperLiga title race heating up
The first 20 minutes or so of the top-of-the-table clash in Portugal between undefeated Benfica and undefeated Porto promised a goal-fest, with four goals in the first 16 minutes. Then the game settled down and, as it wore on, it almost felt as if Benfica was comfortable with the 2-2 score.

Without James Rodriguez, Porto were a little more possession-oriented and a little less direct -- Steven Defour played for Rodriguez in an unorthodox, but effective, front three -- but by no means were intimidated even as tempers rose in the second half. If Porto wins their game in hand, they'll pull level with Benfica in what is shaping up to be a nail-biting SuperLiga.