Chelsea should do right by Frank Lampard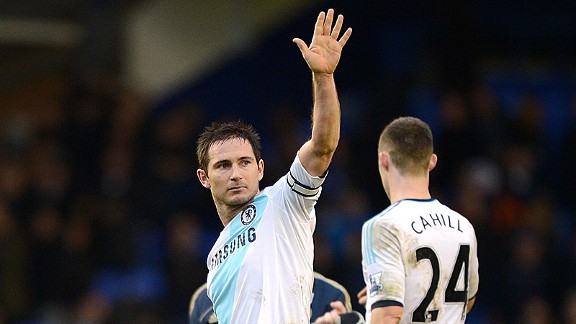 Darren Walsh/Chelsea/AP PhotoIf Chelsea do cut Frank Lampard loose, you hope they do it in a classy way.
Frank Lampard's performance in Chelsea's 2-1 win at Everton went well beyond the two goals he delivered. As he has done increasingly in recent years, he used his intelligence, experience and tactical nous to make his team work, even in a role -- central midfield in a 4-2-3-1 -- that he hasn't played much throughout his career.

Lampard, of course, goes out of contract in June. In a few hours from now, he will be free to sign for a foreign club for next season as a free agent. It has been reported that Chelsea are prepared to let him go even sooner, in this January transfer window.

Lampard turns 35 in June and earns a lot of money, which is why Chelsea seem intent on cutting him loose. But it's one thing to make a decision -- which should be a painful one, since we're talking about a guy who has made 570 appearances and scored 191 goals for Chelsea over 11 and a half years -- for the good of the club. It's another to not even explore any sort of options for a guy who remains a tremendous resource, which, by all accounts, the club have done.

This isn't about Lampard being a "loyal servant." In fact, that's an idiotic phrase. Lampard joined Chelsea for a lot of money and reaped great rewards from the club, both financially and professionally. He wasn't a servant. He was one half of a mutually beneficial partnership. On at least two occasions -- to join Jose Mourinho at Inter and to move to Barcelona -- he flirted with the idea of leaving the club. We're all adults here; there's nothing wrong with that, it doesn't mean he was ever anything less than professional.

The question here is whether he can contribute more to Chelsea. Whether he can continue to be a veteran leader in the dressing room, helping the development of younger players while performing in a diminished role for less money than he's on now. Maybe he doesn't want that, maybe he wants to play as much as he can for as long as his body allows it. But at the very least, you'd think the club would want to explore the possibility.

Ordinarily in these situations, you'd expect the manager to be in a position to provide some major input. But Chelsea have the anomaly of Rafa Benitez, who is only an interim boss. He can make his case one way or another, but because the club haven't committed to him, inevitably his opinion carries a lot less weight with the powers that be.

If Chelsea do cut Lampard loose, you hope they do it in a classy way.

And that maybe they leave the door open for a return in a different role. I have no idea if it's something Lampard has ever considered or if it's something he'd be amenable to, but -- on paper at least -- he'd be ideal for a job upstairs at the club. Call it director of football, call it executive vice president, whatever.

But Chelsea are crying out for someone with the public profile to communicate with the media and the fans at club level. Someone who understands the game inside and out. Someone who is highly intelligent, which Lampard -- whether or not you buy into his genius score on that IQ test -- undoubtedly is. Someone with the credibility, confidence and professional capital to speak his mind to Roman Abramovich, rather than telling the owner what he wants to hear in order to save his job.

Letting Lampard go may be the right decision for Chelsea. But doing so without seeing if there is a way to keep him involved -- whether now or when he retires -- most definitely is not.

Platini adds fuel to the fire
Somebody needs to remind Michel Platini that when he opens his mouth, he's not "Le Roi" Michel, he's not Platini the footballer or Platini the manager or Platini the former pro with quirky ideas. He's Platini, the president of UEFA.

-Video: Platini picks Juve

It's great that he has so much love and affection for Juventus, his old club. But he simply can't say that "we can conclude that Juventus are through to the quarterfinals of the Champions League" as he did at the Globe Soccer conference in Dubai last week.

Not only is it entirely disrespectful to Celtic, Juventus' opponents in the round of 16, it's also wholly inappropriate. He represents UEFA, the body organizing the competition. He already has conspiracy theorists talking about rigged draws and the English media banging on endlessly about how he doesn't like the Premier League. The last thing he needs is to add fuel to the fire by saying stuff like that.

Will Walcott stay at the Emirates?
Theo Walcott's three goals-and-two assists performance against Newcastle prompted pundits and fans to demand that Arsenal extend his contract right away. At this stage, it's pretty much down to math: how much he is demanding in wages multiplied by the length of his contract versus how confident Arsenal are that he is worth committing to for the long term and the cost of an alternative.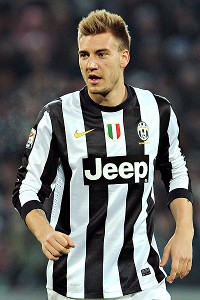 Valerio Pennicino/Getty ImagesWalcott fans might be wise to remember this fellow.
The thing is, Walcott's contract predicament shouldn't be used as a stick with which to beat the club over the head. Or, rather, it should be used with caution.

I've heard people saying this "would never happen at a proper, well-run club like Manchester United." Obviously forgetting that Roy Keane actually let his deal run all the way down.

Others have ranted that Walcott should have been signed up two years ago. Well, it's funny, because in September 2009, when he had just over two and a half years on his contract (roughly what Walcott would have had two years ago), Arsenal locked up a promising 21-year-old striker on a long-term deal through 2014. He was already an established international and the previous season had scored 14 goals in all competitions, despite frequently coming off the bench.

His name? Nicklas Bendtner.

And for those keeping score at home, we know how well that worked out. Bendtner didn't live up to the hype, and the size and length of his contract make him impossible to sell, which is why he continues to hang around Arsenal's neck like some kind of Danish millstone. The Bendtner experience likely spooked the Gunners into proceeding with caution when it came to Walcott.

Incidentally, Walcott hasn't done himself any favors by repeating that he wants to play as a center forward. Leaving aside whether he's suited to the position or not (personally, I haven't seen much evidence that he is), the last thing Arsene Wenger -- or any manager -- wants is a player telling him what to do.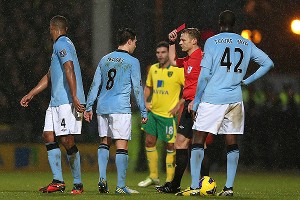 Julian Finney/Getty Images) Referee Mike Jones had a howler in the Man City v Norwich match.
Yeah, it's a hard job but ...
Over the holiday period, things can get a bit sloppy in the Premier League. It's inevitable when you get almost no time off between matches, have virtually zero opportunity to train and the players take the pitch mentally and physically exhausted. That said, it can also provide the kind of end-to-end high-scoring games so many seem to love.

Evidently, it's also the sloppy period for referees. Mike Jones and his crew were awful in the Norwich v Manchester City game. Consider Samir Nasri's red card; the Vincent Kompany-on-Bradley Johnson tackle that led to a City goal; and Javi Garrido's back pass, among a half-dozen other incidents.

It didn't affect the outcome of the game in terms of what the fair result should have been and yes, I know, it's hard work being a referee. (Funny how the world seems to be divided between those who do nothing but criticize match officials and does who believe they must never be questioned because their job is "tough.")

Let's just hope Jones and his bosses review this game closely and learn from it.

The one, the only Sir Alex
Happy Birthday to Sir Alex Ferguson, who turns 71 on Monday. The word "icon" gets overused but, when it comes to Sir Alex, it's appropriate. It's hard to imagine what the Premier League will look like when (if?) he steps down.

Gabriele Marcotti is a London-based journalist and broadcaster who covers world soccer. He is the author of three books, the world soccer columnist for The Times of London and a correspondent for the Italian daily Corriere dello Sport. You can catch him on ESPN Press Pass and read him here twice a week. Follow him on Twitter: @marcotti.