Jose Mourinho reminds Real Madrid who's in charge
Let's be clear. Jose Mourinho is the manager of Real Madrid. He can put out whatever lineup he thinks is best. Heck, he could play Rui Faria as centre forward, with Jorge Mendes at centre half if he wanted to. If he thinks the club are better off without Iker Casillas in the starting lineup, that's his prerogative.

If it doesn't work out, it's his rear end on the line.

"Casillas? My conscience is fine, I try to put out the best team for every game," Mourinho said Sunday, 24 hours after explaining that the decision to drop his goalkeeper was "a technical decision, nothing more. In my opinion, Adan is in better condition than Iker."

This is where you read between the lines. Because while everyone is entitled to their opinion, I find it hard to believe that Mourinho -- or anyone else, really -- truly believes that Antonio Adan, a guy who has made four top-flight starts in his career, is a better goalkeeper right now than Casillas.

That said, he might be, in Mourinho's eyes, a better option than Casillas in the grand scheme of things. Why?

Because dropping your captain, the guy who -- but for a brief spell in 2002 -- has been first choice at the Bernabeu for 13 years, sends a clear message: "I'm in charge, nobody is untouchable, and if you step out of line you will pay the price."

It's not a coincidence that, according to media reports and the incessant rumors swirling around the club, Casillas did not always see eye-to-eye with Mourinho. And that many believed that the goalkeeper was one of the "three black sheep" the Special One said were "working against him."

Nor is it a coincidence that Mourinho's decision comes 48 hours after Real Madrid president Florentino Perez asked everyone in and around the club to "lower the tension."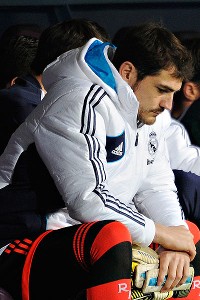 Pedro Armestre/Getty ImagesPlacing Iker Casillas on the bench during Real Madrid's match against Malaga was all about sending a message.
Lower the tension? Yeah, right. Mourinho is going to do things his way. The man lives on tension and controversy.

He knew exactly what he was doing when he dropped Casillas. He knew it would create a further split within the Madrid universe. It was a classic "You're either with me or against me" moment.

So what happens next?

Marca, Spain's biggest-selling newspaper, ran a headline suggesting Real fans were done with Mourinho. This was based on an online poll in which 82.2 percent of the 99,742 who voted at the time of writing (it's still open) answered "yes" to the question of whether Mourinho should be let go. A word of caution here: Online polls are by no means scientific, and besides, who knows how many supporters of other clubs voted?

I doubt Mourinho will be let go, unless the situation degenerates badly. For a start, he has an enormous contract through 2016. If another club comes in for him, they can agree a payoff. Right now, it would cost Real Madrid an arm and a leg to fire him. If they do part ways, best to do so at the end of the season. Besides, he has a big "get out of jail free" card in the Champions League. If he delivers Real Madrid's tenth European Cup, he will walk away as a winner. Or, maybe, stay and be even more powerful than he is now.

But there is no arguing with the facts. Real Madrid are 16 points behind the league leaders, Barcelona. Only twice has the club fallen this far behind the top of the table -- in 1996, under Jorge Valdano and in 1999, under John Toshack -- and in both cases the manager was sacked. Mourinho's defenders will argue that the comparison is a bit misleading, because neither Valdano nor Toshack were competing against a side as good as this Barcelona team. That's true, but then neither Valdano nor Toshack found themselves in charge of the most expensively assembled team in history, nor did they have more power than any Real Madrid manager ever.

Some say you should only pick the fights you know you can win. Mourinho hasn't done that in this occasion. Nor has he done so in the past (indeed, that was part of the reason he parted ways with Chelsea).

Expect him to stick around as long as Real Madrid stays alive in the Champions League. Once that ship has sailed, unless there is some kind of 180 degree turn, it's hard to see how he can continue at the Bernabeu.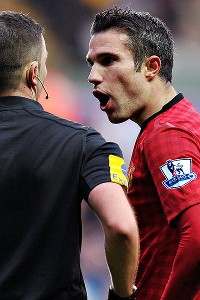 Paul Ellis/Getty ImagesRvP was justifiably upset after Ashley Williams hit him with the ball, but Sir Alex went too far in his assessment of the incident.
Ferguson takes the offensive
Sir Alex Ferguson thinks Ashley Williams could have killed Robin van Persie on Saturday and deserves a long ban.

What happened? The Dutchman was lying on the pitch, having just been fouled by Nathan Dyer, when Williams' clearance nailed van Persie in the back of the head at point-blank range. "You can clearly see that [van Persie] could have been killed," Sir Alex said. "[Williams] should be banned for a long time because that was the most dangerous thing I've seen on a football field for many years … Robin is lucky to be alive, he could have had a broken neck."

I'm not a doctor, but I'm not sure how a football -- even one launched by a big, strong man like Williams -- could break your neck.

Williams tweeted that it was unintentional. After the game he said he was merely "clearing the ball," though he understood why van Persie was angry.

We're not in a position to read Williams' mind to establish whether he is telling the truth or whether he just wanted to get in a "free hit" on van Persie. Fact is, the whistle had gone and it's a bit hard to believe a professional footballer would try to clear the ball along the ground into a mess of players' bodies.

He was booked because what he did was dangerous and unsporting and that was the correct decision. But it was dangerous in the way many tackles are dangerous: We don't know what's intentional and what isn't, so we punish what is reckless and could hurt a fellow professional. That's the way it should be.

But let's leave this talk of killing to one side.

Chelsea gathering momentum
There's a no "mercy rule" in football. But in England, unlike other countries, you're expected to run up the score. Which is what Chelsea did on Sunday, pummeling Aston Villa 8-0. And in fact, the score could easily have hit double figures with some better finishing and had Lucas Piazon converted his penalty.

Paul Lambert fields a very young team with a system rarely seen in the English game. Sometimes it works, as it did last week against Liverpool; sometimes it fails miserably, as it did at Stamford Bridge.

You can be sure Rafa Benitez isn't reading too much into it, while relishing the victory. Perhaps the best part, from his perspective, is that David Luiz got another 90 minutes under his belt in midfield. It was alongside Frank Lampard, who spent a big chunk of the game making sure Chelsea maintained their shape even as the Brazilian ran rampant. The true test for Luiz is yet to come, but so far, so good.

Beyond that, the eight goals help Chelsea's goal difference, which could be important come the end of the season. Just look at how many sides are bunched up in and around the Champions League places -- and psychologically, it's always good to score goals. But Benitez is likely the first to realize there is still a long road ahead in terms of turning Chelsea into the kind of team he wants.

Welcome back, De Rossi
As thrilling as Roma's 4-2 win over AC Milan was on Saturday night -- for Giallorossi supporters and for neutrals who saw one of the best games of the season -- the really good news is that Daniele De Rossi started, played well and, by all indications, is back in Zdenek Zeman's plans.

The manager praised him after the match and, for his part, De Rossi said "if I can keep playing like this, I can convince him to keep me in the starting lineup."

Zeman has very clear footballing ideas but, compared to when he first shook up the world of football nearly two decades ago, he's more pragmatic and flexible, as evidenced by the way he has tweaked his system to accommodate Francesco Totti. If he can do it for Totti, he can do it for De Rossi. Since the derby loss, Roma have won five of six games and, with those above them in the table faltering -- Juventus aside -- a Champions League spot doesn't seem that far away.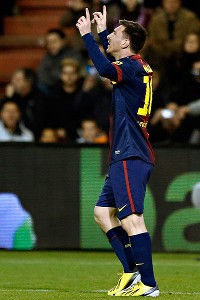 Cesar Manso/Getty ImagesMessi scored 91 goals in 69 games in all competitions for Argentina and Barcelona this year.
Messi, by the numbers
Without Tito Vilanova, and with their thoughts understandably elsewhere, it took Barcelona a little while to get going at Valladolid before cruising to a 3-1 win with Jordi Roura at the helm. It was Lionel Messi's last game of 2012, so it's as good a time as any to add up his final tally.

He has scored 91 goals in 69 games in all competitions for Argentina and Barcelona. Needless to say, that's simply otherworldly. He's also on pace to score 58 goals in Liga in 2012-13, which would pulverize the record of 50 in a single league season he set last year.

Draw your own conclusions.

Huntelaar sticking with Schalke
Klaas-Jan Huntelaar has extended his Schalke deal through 2015, which means he won't be a free agent in the summer and won't be leaving the club for a cut price in January. He's in the midst of a rough season, after scoring 48 in all competitions last year, but this deal makes sense for Schalke. It's only a two-year extension, which means that if they want to go in a different direction when they appoint a new permanent manager in the summer, they have the flexibility to do so without taking a hit on his transfer value. By the same token, having someone like Huntelaar up front makes the club more appealing to certain prospective bosses.

It's a good move for him too, though he probably could have made more money elsewhere. Having come up short at both Real Madrid and Milan, he obviously needs a certain environment to succeed. Last season, Schalke were able to provide it for him, and, having committed to him, they will do their best to provide it for him again.

Gabriele Marcotti is a London-based journalist and broadcaster who covers world soccer. He is the author of three books, the world soccer columnist for The Times of London and a correspondent for the Italian daily Corriere dello Sport. You can catch him on ESPN Press Pass and read him here twice a week. Follow him on Twitter: @marcotti.