Atletico should be proud in defeat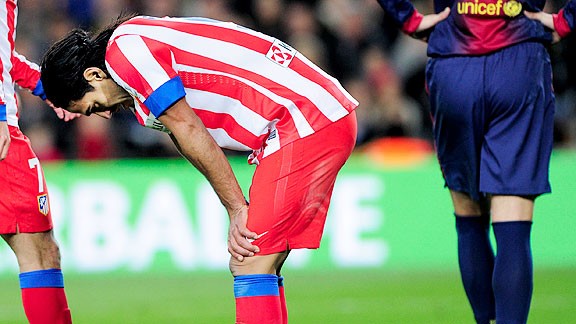 Josep Lago/AFP/Getty ImagesThough Atletico couldn't match Barcelona for 90 minutes, there's plenty for Falcao & Co to be proud of.
For half an hour, it worked.

For thirty-odd minutes Atletico Madrid's players redeemed themselves for that horrid display against Real Madrid at the Bernabeu and showed no fear, plenty of fight and some genuine quality in the Camp Nou, Barcelona's lair.

The defence was water-tight, the midfield ran and stifled while up front, Radhamel Falcao was turning it on, coming close a couple of times before accelerating away from Carles Puyol to give Atletico the lead.

But then Diego Simeone's troops came crashing back to Earth and we were reminded of the difference between a good side playing at or close to its best and one that has several levels left to go to. Whatever gear Barcelona were in, they simply ratcheted it up a notch or two and it was lights out.

The impression, at least in big games, is that Tito Vilanova's Barcelona is less dynamic than Pep Guardiola's but maybe has a bit more poise. With the high press only coming on intermittently, you get the sense this is a team that's pacing itself. Don't be surprised if Vilanova, having taken 46 of a possible 48 points in La Liga and opening up a nine point lead, rotates more after the holidays with an eye to peaking again in April and May when the Champions League will be decided.

As for Atletico, there are evident limits to this team. But don't underestimate the importance of that first half-hour. There were no signs of the stage fright that has plagued the club in years past and every indication is that this team has turned the corner. It won't be enough to win La Liga, but it should be plenty to remind folks that this is not a two-team league. (Or if it is, one of them wears red and white stripes.)

Rafa outcoached in Club World Cup

Of all the reasons given for Chelsea's defeat in the FIFA Club World Cup final, the notion that Corinthians "wanted it more" or "cared more" is one of the sillier ones. True, the tournament may get more media attention in South America than it does in England, but to Roman Abramovich it mattered, just like Charity Shield and the European SuperCup did. Above all else, the Chelsea owner wants to win trophies, especially when the world is watching. And if it mattered to Abramovich, then it mattered to Rafa Benitez, who is in his six-month audition for the job and to the players (most of whom, lest we forget, grew up in parts of the world where this tournament is a big deal).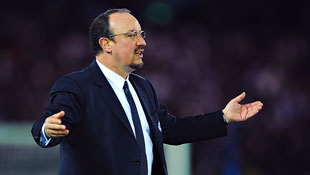 Michael Regan/Getty ImagesForget all the excuses in the wake of Chelsea's Club World Cup defeat to Corinthians; the truth is Rafa Benitez was simply out-coached.
Chelsea lost because, on the day, Benitez was outcoached by his opposite number, Tite. After a first half in which Chelsea had a slight edge and were denied by Cassio's saves, he failed to make the right adjustments after the break as Corinthians grew stronger and stronger and eventually scored thanks to Paolo Guerrero. Throw in Fernando Torres' regression after a couple of decent games and there's your margin between victory and defeat.

Credit Corinthians, credit Tite, credit the fans of the Timao. They won because they played smarter and better on the day. And they fully deserved it.

Fergie's United finally firing on all cylinders

That's more like it. Manchester United delivered what was probably its best performance of the season in that 3-1 win over Sunderland on Saturday. Sure, Sunderland has been in free-fall, but the passing, movement and defending looked sharp to a degree it hasn't been all season.

Tom Cleverley played like the player he can be. Ashley Young and Antonio Valencia showed (again) why for all the talk of diamonds and 4-3-1-2 formations, this team often works best when it fields genuine wingers.

And Nemanja Vidic made his comeback, making it seem as if he'd never been away. The pieces are in place for United to come back strong this season.

More misery for the Special One

It was not a good weekend for Jose Mourinho, and not just because Real Madrid was held at home by Espanyol, a team in the relegation zone that has lost more than half its games so far this season. Real failed to put the game away after taking a 2-1 lead and the umpteenth defensive blunder led to two points dropped and a daunting thirteen-point deficit to Barcelona in the league table.

Just as worrying though was what happened on Sunday. The previous day Mourinho had taken a journalist aside and engaged in a heated exchange over something that had been said on the radio earlier that week.

According to the journalist's account, in addition to the usual insults, Mourinho said there were three players in his team who were trying to stab him in the back and that they should not be listened to. (You can read his first-person piece here.)

Anyone in this line of business who does his job professionally will probably -- at some point -- receive a chewing-out from a manager over something they've said or written. Those exchanges, though, tend to remain behind closed doors because it's in the interest of both parties to keep them there. In this case, the account of Mourinho's words ended up all over Spain's biggest-selling sports daily. It's unlikely that this would have happened without the tacit approval of someone at Real Madrid, which confirms the fact that Mourinho isn't as "protected" by the upper echelons of the Bernabeu as he once was.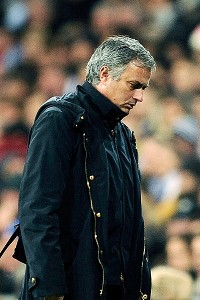 Pedro Pardo/AFP/Getty ImagesJose Mourinho's already difficult season is being made harder by the reality that he may not be as well-protected by his bosses as previously thought.
It's also the first time that -- if the account is to be believed -- Mourinho has put an exact number on the players who are supposedly working against him, which means there will now be plenty of speculation as to the identity of the wayward trio.

There's a difference between suspecting that not everyone in Mourinho's team has a high opinion of the manager and hearing it straight from the horse's mouth.

PSG grinds out a massive win

Carlo Ancelotti's Paris St. Germain is back on top of Ligue 1 (albeit on goal difference) after Sunday's 1-0 win over Olympique Lyonnais.

After a couple of sparkling performances, this one was more of a grind-it-out affair, but then Remi Garde's OL is a tough, organized team. With little margin of error left, Ancelotti played it safe.

A win at Brest next weekend and PSG will head into the winter break top of the table or at least level on points with Lyon and Marseille, which should give Ancelotti and sporting director Leonardo time to regroup and plan the next steps.

Lucas Moura is on his way in January and there could be one other signing but at this stage, it has to be mostly about turning PSG into a proper team. For Ancelotti to keep his job next year, he won't just have to win Le Championnat and have a good run in the Champions League, he'll need to show genuine progress on the pitch as well.

The good news? Javier Pastore and Thiago Motta, two of the high-priced stars in the media crosshairs, both played well.

The bad news? Zlatan Ibrahimovic didn't just set up Blaise Matuidi's winner; he also appear to stomp on Dejan Lovren's head. Replays leave a doubt as to whether it was intentional, but with his reputation -- and track record -- taken into consideration, another suspension could be on its way.

Back to square one for Schalke

So Schalke have hit the reset button, unceremoniously ending Huub Stevens' second stint at the club. Schalke had taken just two points of a possible 18 in its past six outings, but you get the sense that poor results aren't why Stevens went. After all, the club had a good start to the season -- it was still in second place just last month -- and it won its Champions League group, qualifying for the Round of 16 without a single defeat. Even after the bad run, they were still just five points away from fourth place.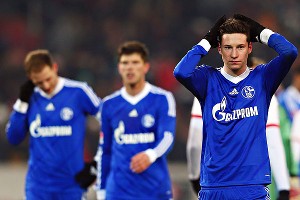 Alex Grimm/Getty ImagesSchalke's not been that bad in 2012-13, but the firing of coach Huub Stevens has given the club unnecessary extra stress.
But the spectre of 2010-11, when Schalke advanced to the Champions League semifinal in the same year it suffered a vertical collapse and nearly got relegated, evidently played on the minds of club officials.

The good news is that the Bundesliga's month-long winter break is like a mini-offseason, which means interim boss Jens Keller can work a few things out. He'll need a quick turnaround though because big decisions are on the horizon, starting with what to do with center-forward Klaas-Jan Huntelaar. If he doesn't sign a new deal, he becomes a free agent in June and while his numbers are way down -- just five goals in 17 Bundesliga appearances this season after netting 29 last year -- he's not someone you let go lightly.

Investigate the Copa craziness

The ugly epilogue to last week's Copa Sudamericana needs to be dealt with. Right now, you have some folks believing that Tigre's team is full of crybabies who simply walked off because they were losing and then concocted an elaborate crime scene replete with blood on the wall of the dressing room. Others are convinced that the local police pulled guns on some Tigre players, beat others up and basically intimidated them into forfeiting the match.

We need a full and credible inquiry. If people -- whether it's the police or the Tigre contingent -- are lying, we must name, shame and prosecute them. It's nearly 2013 for goodness' sake.

Fellaini exposes his bad side

It's hard to be sure what got into Marouane Fellaini against Stoke when on three different occasions he headbutted, elbowed and smacked Ryan Shawcross. All three were off the ball and none of the three were spotted by referee Mark Halsey. All three could have led to nasty retaliations if Shawcross was less of a professional than he is.

The best you can say about it is that Everton boss David Moyes and Fellaini himself both understood the severity of the situation immediately after the game. Moyes said he would take strong action while Fellaini apologized profusely. Shawcross too deserves credit for not meting out his own justice during the 90 minutes.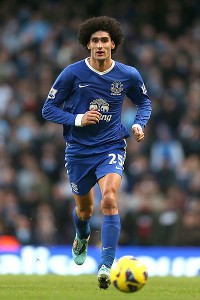 Clive Brunskill/Getty ImagesMight Marouane Fellaini be in for a lengthy ban? If so, it could well derail Everton's slick season so far.
A hefty fine and suspension is on its way for Fellaini, though his contrition may act as a mitigating factor. Yet the real victim in all of this will be Everton, who faces a sizable spell without arguably its key player this season.

All smiles for Juve, Conte

I don't think Juventus could have asked for a better weekend in Antonio Conte's first league game back in front of his own fans. The Bianconeri hardly broke a sweat in brushing aside ten-man Atalanta, with Andrea Pirlo nailing one of his trademark free kicks. Meanwhile, Inter fell at Lazio while Napoli contrived to lose at home to Bologna, for whom Panagiotis Kone scored a goal-of-the-season contender.

When you're top of the league and both the second- and third-place teams lose, that's about as good as it gets. Juve's lead is now up to seven points and while Conte half-denies it, there's plenty of talk about a big signing in January (Fernando Llorente? Didier Drogba?).

Life is good right now for the juventini.

Lambert shows good things can come in threes

Three-man defenses weren't supposed to work in the Premier League. Nor, supposedly, could you rely on youth. And above all, you couldn't find a decent striker for less than $15 million.

Well Paul Lambert's Aston Villa lined up in a back three. Apart from Brett Holman and Brad Guzan, every other Villa starter was 24 or younger. And Christian Benteke, who is 22 and stole the show against Liverpool, cost just $11 million.

Things can change quickly and Villa -- despite just two losses in its past nine games and both against the two Manchester clubs, which is forgivable -- is still just three points clear of the drop. But it's quite a turnaround given where this team was two months ago.

Gabriele Marcotti is a London-based journalist and broadcaster who covers world soccer. He is the author of three books, the world soccer columnist for The Times of London and a correspondent for the Italian daily Corriere dello Sport. You can catch him on ESPN Press Pass and read him here twice a week. Follow him on Twitter: @marcotti.