Making sense of Wenger's player selections, Atletico's failings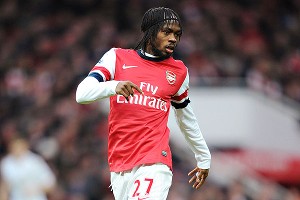 David Price/Getty ImagesArsene Wenger has a lot invested in Gervinho, who started up top at the weekend. But why not push him wide left and let Lukas Podolski lead the line?
The Arsenal inquest has begun following the Gunners' 0-2 home defeat against Swansea. The club's issues run deeper than the choices Arsene Wenger made on Saturday, but there's one in particular that baffles. Why is Gervinho playing up front?

I appreciate Olivier Giroud is injured. But there are alternatives. Most notably Lukas Podolski. Wenger gave him a shot against Sunderland at the start of the season and wasn't overly impressed, saying he "wasn't ready" to play center forward.

Well, Podolski played plenty of center forward for Cologne the past few years and scored a fair few goals (18 last season on a bad team). He's 27, and if he's not ready now, he never will be.

Having invested in Giroud, Wenger wants to build around him. Fine. But when he's not around, why not go for a guy who can replicate some of the things he does (certainly more so than Gervinho or, as some suggest, Theo Walcott)?

OK, so if you move Podolski central, who plays on the left?

That one's easy. How about the guy who played there most of last season, when Arsenal, lest we forget, finished third? Yep, Gervinho. Having tried different solutions, Wenger may as well give this one a go.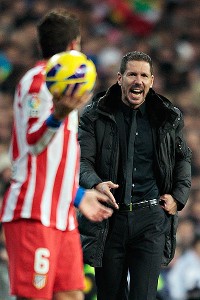 Gonzalo Arroyo Moreno/Getty ImagesSobering thought: Atletico coach Diego Simeone said his side "can't react at all after going a goal down."
Atletico fail to show up vs. Real Madrid
It's one thing to lose. It's another not to show up. Atletico Madrid have a long history of underachievement and unfulfilled expectations. Almost as long, in fact, as their list of managers and bad decisions from the top down.

The danger in the aftermath of a defeat like the one suffered Saturday night at the hands of Real Madrid is that Atletico starts to believe that this is who they really are:

-- a team that folds under pressure
-- a team that's awed by the big boys
-- a team that loses one starter -- Filipe Luis -- and can't come up with a Plan B
-- a team that, as coach Diego Simeone put it, "can't react at all after going a goal down."

Atletico were terrible at the Bernabeu. But this is not who they are. They have one of the best young goalkeepers in Europe. They have an outstanding defensive partnership in Diego Godin and Miranda. They have a midfield that combines hard work and creativity. And they have arguably the deadliest finisher in the game.

They do know how to win. They showed it last season in the Europa League. They're on pace to notch 92 points in La Liga this season, which is enough to win the title most years.

Simeone's challenge now is all about convincing his squad they aren't who history -- and Saturday's performance -- suggests they are.

That was then. This is now.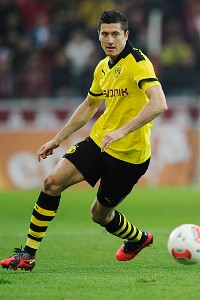 Getty ImagesDortmund can continue to build on their success with the likes of Robert Lewandowski.
Dortmund's bright future
Borussia Dortmund's 1-1 draw at Bayern on Saturday means that, barring some kind of act of God, Jurgen Klopp's crew won't make it three Bundesliga titles in a row. The gap with Bayern stays at 11 points with 19 games to go. There have been more dramatic collapses in the game's history, but it's hard to see this Bayern side, with their experience, depth and top-to-bottom quality, frittering away such a lead.

Klopp gambled on a more conservative formation, perhaps hoping to lure Bayern forward and hit on the break. Kuba Blaszczykowski sat central and deep and it just didn't work. Or, rather, it drove the game toward a stalemate for the first hour or so, which suited the home team just fine.

Tactical flexibility is a great weapon. But, on this occasion, Klopp's plan backfired. Against a Bayern team that looked slightly sluggish, Dortmund's usual high-energy approach might have been a better bet. The good news is that, even if the title may be gone, there is still plenty to play for. Not just tangible trophies, like the German Cup or the Champions League, but, above all, the continued evolution of this team.

More chemistry, more integration, more development in Klopp's tactical vision and Dortmund can continue to build on their success. Robert Lewandowski, Marco Reus, Mario Goetze, Kevin Grosskreutz, Iklay Gundogan, Sven Bender, Mats Hummels, Marcel Schmelzer, Neven Subotic, Moritz Leitner … all these players are aged 24 or younger. You'd be hard-pressed to find a better group of young players at any major European club. Add the fact Dortmund have whittled down their debt and are actually turning a profit and you'd be even more hard-pressed to find a club that's more free from financial constraints and the need to sell, which is great for stability.

United's train-wreck defending
Reading v. Manchester United, seven goals in 34 minutes. Sparkling entertainment or a car crash? I tend toward the latter, but I can see how folks who like to see goals -- regardless of whether they come about through great attacking play or defensive blunders -- would have loved it.

Either way, Sir Alex can't be happy about conceding three goals in one half. Or the fact that, for the 10th time this season, his team have gone behind first.

At least Nemanja Vidic is back. He'll get a run-out against Cluj in midweek and then, hopefully, get the start against Manchester City in the derby. If he's back to his old self, his presence alone will make the rest of the back four better.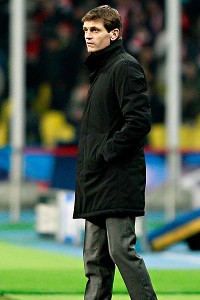 Dmitry Korotayev/Getty ImagesTito Vilanova has Barcelona off to greatest start in Liga history, taking 40 of a possible 42 points. Extend it out to all competitions and it's 61 of 69.
Tito's smooth transition
When Tito Vilanova became Barcelona manager, it was pointed out to him that the transition from assistant to No. 1 was going to be a smooth one since, after all, he had been Pep Guardiola's tactician and "ideas man." Vilanova replied that having the right tactical vision is only half the job; the other half is relaying it to the players and getting them to buy into it. And, in that regard, he was untested.

Well, Barcelona are off to the greatest start in Liga history, taking 40 of a possible 42 points. Extend it out to all competitions and it's 61-of-69.

Not to take any shine off of what Pep achieved, but it rather proves that all those times he said he needed to "share the credit with Tito," he wasn't just being modest. He was telling the truth.

Can Ancelotti save himself, PSG?

A bad, bad week for Carlo Ancelotti at Paris St. Germain. After elimination in the league cup against St. Etienne, PSG lose at Nice 2-1. And it's the same old problems seen all year -- individual mistakes and individual egos.

The only reason PSG are still in the running -- third, five points behind Lyon -- is that Ligue 1 is fairly mediocre and nobody is pulling away. Rumors of the club's Qatari owners flirting with everyone from Guardiola (bet he'd love to reconnect with his old pal Zlatan, eh?) to Jose Mourinho are all over French media today.

Ancelotti has dug himself out of deeper holes in the past. He has the man-management and leadership skills to succeed. And, as badly assorted as this squad is, he obviously has the players, too. At this stage, he needs to do more than merely win the league. He needs a convincing run in the Champions League coupled with genuine signs of growth from his team.

Valencia in free fall
Talk about the bottom falling out. On Nov. 20, Valencia were on the verge of beating none other than Bayern Munich in the Champions League: the game finished 1-1, leaving the club tied for the group lead and already qualified for the knockout stage.

But then, back-to-back Liga defeats to Malaga (0-4) and Real Sociedad (2-5, and at home, no less) led the club to sack manager Mauricio Pellegrino, a few months into his first job as a No. 1. Pellegrino, 41, was Rafa Benitez's assistant at Inter and Liverpool. He was supposed to be a rising managerial star and, at times, Valencia showed how good they could be: they didn't just nearly overcome Bayern, they also beat Atletico Madrid and battled gamely at the Camp Nou against Barca.

What they lacked was consistency of the kind that his successor, Ernesto Valverde, is known for. He has a six-month deal and a pretty clear objective: Get the cash-strapped club back into the Champions League. He's the kind of "Mr. Fix-It" type who can get it done, especially since Valencia's squad is far better than their league position suggests.

As for Pellegrino, he showed promise but also made some key blunders. If he learns from his mistakes, he'll only come back stronger.

Importance of home-grown talent

Juventus' 3-0 win over crosstown rival Torino maintained the bianconeri's lead at the top of Serie A. It may have been a coincidence, but the fact the goal scorers, Claudio Marchisio (2) and Sebastian Giovinco, are both Turin-born and Juventus-raised makes it even sweeter.

Marchisio joined the club at age 7, Giovinco at age 9. Given how some Serie A clubs (including Juventus) have neglected their youth academy in recent years, it's nice to see these two succeed. Let it serve as a reminder of the importance of raising your own.

Gabriele Marcotti is a London-based journalist and broadcaster who covers world soccer. He is the author of three books, the world soccer columnist for The Times of London and a correspondent for the Italian daily Corriere dello Sport. You can catch him on ESPN Press Pass and read him here twice a week. Follow him on Twitter: @marcotti.