Pressure felt by Benitez, Juventus, Mourinho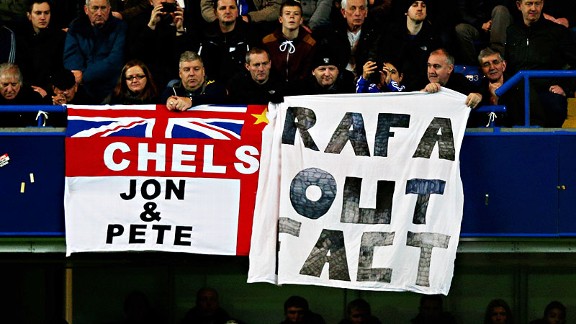 Clive Rose/Getty ImagesChelsea fans made their feelings known on new boss Rafa Benitez. Should he falter in this week's games, things won't get any easier.
The main thing was not screwing up his debut and giving the Chelsea fans who greeted him with abuse -- vocal and written -- no further reason to get incensed. And Rafa Benitez did just that.

A scoreless draw at home to Manchester City (the defending champions, lest we forget) is not a horrible result. Given that he had no real time to work -- even his harshest critics will concede that Benitez' greatest strength is on the training pitch -- it's not surprising that the "new" Chelsea didn't look much different from the old one. If anything, they seemed a tad more conservative, but that was justified given the circumstances.

But make no mistake about it: He'll be judged pretty quickly in two London derbies -- Wednesday against Fulham and Saturday at West Ham -- meaning that if Sunday's atmosphere is anything to go by, the crowd won't give him much room to maneuver.

It's easy to say that if he goes on a good run, the past will be forgiven and forgotten. But equally, if he hits a few road bumps, the fans' patience will run out very quickly. You can say that it doesn't matter and that the only Chelsea fan he needs to worry about is Roman Abramovich. But that's not true. When players step onto the pitch while hearing their manager, the man they're supposed to trust with their livelihoods, barracked by their own fans, it's bound to affect them.

Had Benitez been appointed in June, it might have been a different story. There would still have been a backlash, but you would have had several months for things to simmer down, coupled with the enthusiasm of opening day and seeing the new signings and the general optimism that comes with each new season.

Given the circumstances now, there is virtually no margin for error.

The Old Lady's hiccup shouldn't concern

You go 16 months without a defeat and then -- presto! Two come along in the space of a month. The worst thing Juventus can do after the 1-0 setback in Milan is overreact. Yes, if Inter wins tonight, the Bianconeri's lead could go down to a single point and if Napoli grabs a victory too, it'll be just two back.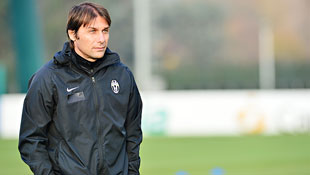 Giuseppe Cacace/AFP/Getty Images Juve's "swoon" might have some fans concerned, but with coach Antonio Conte returning to the sideline soon, the club is still well-placed to win Serie A again.

But the fact of the matter is that Juventus was beaten only by a penalty that should never have been given. (Hey, what happened to all those conspiracy theorists who crawled out of the woodwork after Catania's disallowed goal?)

And although Juve didn't exactly sparkle over the course of the 90 minutes, Milan spent much of the time on the back foot defending its lead. (Which, to be fair, the Rossoneri did exceptionally well: Philippe Mexes looked like the player he was supposed to be; Mario Yepes rolled back the years; and Kevin Constant looked as if he'd been playing leftback all his life.)

Juve could still benefit from a top-drawer centerforward. And you wonder whether the squad wouldn't be better off if it could be rotated a little more without a drop-off in performance.

But Antonio Conte is back in less than two weeks. And Juve still look the likeliest champions in Serie A.

Mourinho under the cosh?

Jose Mourinho says he's "neither pessimistic nor optimistic" after Saturday's 1-0 setback at Betis that, coupled with Barcelona's 4-0 hammering of Levante, sees Real Madrid slip 11 points behind Barca.

If Real is going to have a real shot at defending the Liga title, the line in the sand needs to be drawn this weekend in the Madrid derby, when Atletico takes the short trip across town. Anything other than a home victory could see Barca out of sight. It also would galvanize Atletico into thinking that, yes, the "colchoneros" can make it a two-horse race.

At the same time, though, let's remember why Mourinho was called to the Bernabeu in the first place: to win the club's 10th European Cup. Pull that off -- or come convincingly close, as he did last season -- and he'll have his get-out-of-jail card. Stumble in Europe as well and it could get hairy.

There are enough people in the Real Madrid sphere -- at club level, among former officials and in the media -- who either don't like him or would be ready to turn on him if they sense his power waning.

Redknapp should ring the changes with care

Harry Redknapp was unveiled today as manager of Queens Park Rangers, and all the talk is about "great escapes," "Harry Houdini," "wheeling and dealing" and the usual cliches associated with him.

If Redknapp's previous modus operandi is anything to go by, you expect him to buy and sell aplenty in January. That may well be the case, as it's true that this current QPR squad is dysfunctional and poorly put together.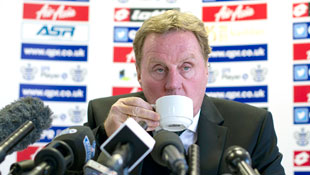 Carl Court/Getty ImagesDespite being known as a man who enjoys reinventing his squads to suit his needs, Harry Redknapp might have to do very little in order for keep QPR in the Prem.

But if you look at his history, there are also plenty of guys who seem like Redknapp's type. Folks such as Djibril Cisse and Adel Taarabt are gifted, attack-minded mavericks, and he has done well with such players in the past. Junior Hoilett, Esteban Granero and Alejandro Faurlin all provide quality but require just a bit of cohesion and guidance. And Julio Cesar remains a competent goalkeeper.

Rather than a Redknapp-style overhaul -- which would be expensive for a club that already has an enormous wage bill -- what this team needs is a bit of help at the back and a capable striker up front. Plus, of course, Harry doing his thing in the dressing room.

Sneijder's contract talks take a tough turn

So Inter Milan has decided to take a hard-line stance with Wesley Sneijder: he won't play until he "fully considers" the club's offer of taking a pay cut in exchange for a contract extension. Which is basically the classic strong-arm: you won't play until you take our offer. Or you go somewhere else.

Sneijder is 28, and two years ago he signed a monster deal through 2015 worth $13 million a season. That was after he had played a huge part in helping the club win the Champions League and carried Holland to the 2010 World Cup final. Since then, the club has decided to make cuts, shedding high earners such as Samuel Eto'o, Lucio, Julio Cesar and Maicon and replacing them with players who are younger and cheaper. It's pretty obvious that Sneijder might have gone too were it not for the fact that other clubs balked at his huge salary.

That said, it's not his fault that Inter signed him to that huge deal. And simply not playing him to "persuade" him to take a pay cut is grossly unfair -- and possibly illegal, as Lazio and Claudio Lotito found out a few years back with Goran Pandev. Sneijder isn't quite in Pandev's situation (the Macedonian striker was made to train on his own, away from the rest of the side), but the way this is going, it doesn't look good.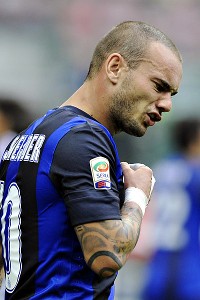 Claudio Villa/Getty ImagesInter fans had better hope that the club's aggressive stance on Wesley Sneijder's contract negotiations ends with the Dutchman still on the right side of Milan.

The worst part, if you're superstitious, is the rumor of a swap deal with Milan. We know how well Inter has made out in years past when trading players with the Rossoneri (Andrea Pirlo and Clarence Seedorf come to mind). Sneijder would fit Milan seamlessly, and, although wages would be a hurdle there too, if the club can somehow dump Robinho and his salary, there will be room for the Dutchman.

Maybe Sneijder will gladly take the pay cut because he loves Inter so much and, in that case, the club will be vindicated. But, if he doesn't, the hard-line stance could backfire in the worst possible way.

TV wrangling gives Hannover a raw deal

Bayern Munich rolled to a 5-0 win over Hannover on Saturday to give it 34 of a possible 38 points in the Bundesliga this season. But spare a thought for Hannover, which had to play against the league leaders some 43 hours after facing Twente in the Europa League on Thursday.

This ranks somewhere between the patently unfair and the idiotic. The Bundesliga TV contract apparently stipulates the number of games that can be played on Sunday, and Hannover got the short end of the stick. Well, it's time to revisit this and put the integrity of the game first.

The Bundesliga arguably has the most fan-friendly product of any top European league. Why it can't work out a way to give teams sufficient rest in between games is simply beyond me. Whether it's tweaking the schedule so Europa League teams play each other on the Sunday after their continental commitments on Thursday or simply having an extra game, it's just common sense. Especially since, unlike Europe's other top leagues, the Bundesliga has only 18 teams, which means fixture congestion should be less of a problem.

Tough call ahead on Messi

After his two goals in Barca's 4-0 win over Levante, Lionel Messi is up to 82 goals in 2012, just three from Gerd Muller's record. Barcelona has six games scheduled between now and Dec. 31, and it will be interesting to see how Tito Vilanova handles the situation.

Logic might suggest resting him in two of those six games: at home against Alaves on Wednesday in the Copa del Rey (Barca is 3-0 up from the first leg) and at home again in the Champions League against Benfica on Dec. 5 (Barca has already won its group).

Messi doesn't like to be rested. And he probably really doesn't want to sit with the record within reach. Then again, except for Getafe away in La Liga -- when he came on as a substitute -- and the first leg against Alaves, he has played every minute of every game this season. That includes six games for Argentina: He made two trans-Atlantic trips and one to Saudi Arabia as well. A breather now could be really important come the spring.

Gabriele Marcotti is a London-based journalist and broadcaster who covers world soccer. He is the author of three books, the world soccer columnist for The Times of London and a correspondent for the Italian daily Corriere dello Sport. You can catch him on ESPN Press Pass and read him here twice a week. Follow him on Twitter: @marcotti.