Chelsea face critical week of fixtures
It's been a rough 30 days for Chelsea. Forget the make-believe world of the League Cup. Roberto Di Matteo's crew have won once in their past six outings. That was against Shakhtar Donetsk at Stamford Bridge and it only came with a last-ditch goal by Victor Moses, after being thoroughly outplayed by the wiliest of old foxes, Mircea Lucescu.

It's not as if Chelsea have always played badly during the run. Indeed, with a bit more luck they might not have dropped points against Manchester United and Liverpool at home or Swansea and West Brom away.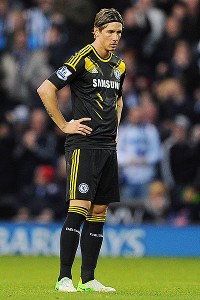 Michael Regan/Getty ImagesFernando Torres continues to struggle in front of goal. Will Rafael Benitez be able to save the striker's sinking career?
Luck -- or, if you prefer, happenstance -- is very real in football. Contrary to what some say, it does NOT even itself out over time. Rather, it comes and goes, often without warning. Good teams are the ones that seize it when it's around and figure out a way to overcome its absence. By that metric, Chelsea have work to do. And the stakes are high.

Tomorrow, they travel to Juventus in the Champions League; on Sunday, they host Manchester City. Two more slip-ups and things get very hairy, very quickly.

Lose in Turin and they will no longer control their destiny in Europe (assuming Shakhtar win away to Nordsjaelland, which seems a given). At that point, a Juventus draw in Donetsk in Matchday Six would see the bianconeri and Shakhtar advance arm-in-arm to the knockout round.

You don't want to cast aspersions regarding "draws of convenience," but when it comes to results that suit both teams, they often come to fruition. Equally, a defeat against City would see the Blues slip seven points back in the Premier League table, with away trips to both Old Trafford and the Etihad to come in the back end of the season.

Di Matteo hinted we might see a more defensive Chelsea, which likely means Ramires or Ryan Bertrand deployed to the wing. But critics will argue that the Blues need more, that perhaps the two guys on the chopping block should be David Luiz, whose defensive lapses are magnified against certain opponents, and Fernando Torres, whose performances up top too often range from the impalpable to the mediocre.

Don't hold your breath. With John Terry out, dropping Luiz means switching Branislav Ivanovic to centre back and sticking Cesar Azpilicueta at right back. If you're looking to stiffen your team, the former Marseille defender, who has only made a few appearances for the Blues and is more of a wingback, is probably not the best bet. As for Torres, as long as the only alternative is Daniel Sturridge, it's not really an upgrade.

If Di Matteo and Chelsea are going to navigate these two games successfully, they will need to change, but it won't be the personnel. It will need to be a question of tactical approach and mentality. This is where the Chelsea boss will earn his bacon. It may determine his long-term future as well.

Team in crisis
Forty-two minutes away from home (counting injury time). Two men short. Facing one of the most expensive teams ever assembled. And you don't concede? That's Twilight Zone stuff. And that's exactly what Rennes pulled off on Saturday away to Paris Saint-Germain.

Frederic Antonetti's men found themselves 2-1 up but with two men sent off. First goalkeeper Benoit Costil and then midfielder Jean Makoun were shown red cards, the latter six minutes into the second half. The hero of the day was Senegalese goalkeeper Cheick N'Diaye, who had made just one top-flight appearance in the past eight years but, after coming on, turned into some combination of Gigi Buffon, Iker Casillas and Godzilla in keeping everything out. Rennes hung on for the most improbable of 2-1 victories.

PSG were without the suspended Zlatan Ibrahimovic, but that is no excuse. Nor is the fact that they hit the woodwork three times. Manager Carlo Ancelotti has said this is a team in crisis. It's going to take more than Ibrahimovic to get PSG out of it.

Europe's most competitive league
Incidentally, the race in Ligue 1 was supposed to be a PSG cakewalk; instead it's looking to be the tightest in Europe. Just three points separate seven teams, from Lyon's 25 to the 22 of Saint-Etienne, Valenciennes and Rennes. Oh, and note that the defending champions, Montpellier, are two points away from the relegation zone, while Lille, last year's third-place side, lie in eighth place. This feels like a league in which, week in, week out, anybody can beat anybody else.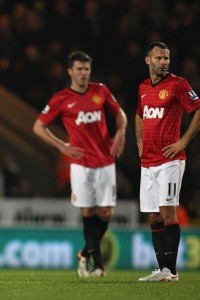 John Peters/Getty ImagesThe central midfield partnership of Ryan Giggs and Michael Carrick doesn't work well for United.
Wither Carrick & Giggs?
I don't think we'll be seeing the central midfield partnership of Ryan Giggs and Michael Carrick again any time soon. It's just not viable away from home, certainly not against a team like Norwich, who aren't lacking for bodies and energy in the middle of the park.

It's not a case of writing off the pair after one bad performance, Saturday's loss at Carrow Road. Even if Manchester United had pulled off the kind of late comeback to which we've become accustomed, the verdict could not be any different.

Carrick is a fine passer, but not exactly a dervish when it comes to dynamism. Giggs turns 39 at the end of this month. Maybe you get away with it in a three-man midfield, but as a two it just doesn't work. Which begs the question of why Tom Cleverley was left on the bench and did not come on at all. I can understand rotation, but United have all but wrapped up their place in the Champions League knockout round; there's no need to rest him for the Galatasaray game. And I doubt he was too exhausted from the 60-minute shift he put in against Sweden last Wednesday.

Barca's Achilles' heel
Tito Vilanova's Barcelona have made the best start of any team in Liga history, grabbing 34 of a possible 36 points thus far. And, their stumble against Celtic notwithstanding, they should lock up their place in the Champions League knockout round this week. But there's one stat that is a bit worrying.

In the 19 games they've played this season in all competitions, they've kept just five clean sheets. That doesn't compare well at all to last year, when, after 19 games, they had managed to stop their opponent from scoring on 13 occasions.

Much has been written about the vagaries of the three-man defence and the Alex Song-Javier Mascherano partnership -- both of which Vilanova has had to use on occasion. The fact that Carles Puyol and Gerard Pique started together against Zaragoza is surely a good thing, as is the increasing reliability shown by Marc Bartra.

Something's going on. And you can't just explain it with the fact that Pique and Puyol have been injured. Sure, they've missed a lot of playing time: Pique has started six games and Puyol five. But guess what? At this stage last year, they had actually played even less (four starts for Pique and six for Puyol). Clearly the problem lies elsewhere.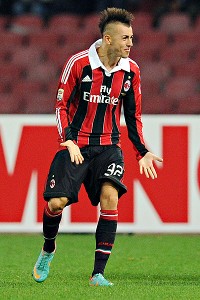 Giuseppe Bellini/Getty ImagesStephan El Shaarawy has scored 10 league goals for Milan this season.
Milan's present and future
One of the few bright spots in Milan's season thus far is the mohawked man they call "The Pharaoh" (not too imaginative, he happens to be half-Egyptian). Stephan El Shaarawy only turned 20 last month, has already scored 10 league goals this season and saved Milan from further embarrassment at least half a dozen times.

Nobody at Milan should be saying "I told you so." At the end of the summer, at best, the likes of Pato (when fit -- which, granted, isn't that often), Giampaolo Pazzini, Robinho and Bojan were all ahead of him in the pecking order. There was even talk of sending him out on loan.

Instead, he's been Milan's key player thus far. The trick, though, is to ensure the side doesn't become over-reliant on him, as it was with Ibrahimovic. You can't expect a 20-year-old to carry the team. It's not fair and not healthy -- for his sake -- either. Saturday's performance against Napoli offers hope in that regard. El Sharaawy scored both goals in the 2-2 away draw, but it was easily the best Milan side we've seen this year. The challenge now is to build on that.

AVB's talking points
Another North London derby, another 5-2 Arsenal win with goals and controversy. Andre Villas-Boas got a lot of stick for suggesting Tottenham "dominated" the Gunners even after Emmanuel Adebayor was sent off after 19 minutes, leaving Spurs down to 10 men.

As a general rule, saying you dominated after conceding five goals and losing by a three-goal margin is not a good idea. Even if you truly believe it -- heck, even if it's true -- it invites ridicule from the people who only look at the result.

Maybe, though, this was AVB's way of expressing confidence in his team and his tactics (including the switch to 4-4-2 which, until Adebayor's marching orders, certainly did rattle Arsenal). Maybe he was trying to give the media talking points. Maybe he really believes it and doesn't care what the punditocracy thinks.

It's true that Spurs still threatened and had a golden chance to make it 4-3, at which point anything could have happened. But that might be more down to Arsenal's defensive deficiencies than anything else.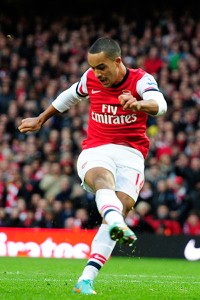 Glyn Kirk/Getty ImagesArsenal should still think twice before signing Theo Walcott to a long-term contract.
Walcott's future with Arsenal
Speaking of Arsenal, Theo Walcott turns in a few good performances and the sudden knee-jerk reaction is that Arsene Wenger needs to give him a new long-term contract. Walcott is 23, and if he doesn't extend his deal he becomes a free agent in June. He's reportedly looking for around $8 million a season, which would make him one of the highest earners at the club.

So lock him up rather than lose him for nothing?

It's not quite that simple. You only give Walcott a long-term deal on that sort of money if you believe he's going to be your right winger for the next five years or so. Otherwise, you think long and hard about it.

Giving him that kind of money opens the door for other players and their agents asking for a bump as well. And right now you could argue that Santi Cazorla, Jack Wilshere, Thomas Vermaelen and Alex Oxlade-Chamberlain are all more important to Arsenal's future than Walcott is. Given the way Arsenal have been run recently, from their point of view, it's not surprising they are taking their time in putting pen to paper.

Big up for Benzema, Modric
Real Madrid's 5-1 pasting of Athletic Bilbao was probably their best performance in recent weeks. Most encouraging is the fact that two of the more scrutinized players came up big. Karim Benzema came back from injury to score a goal and set up another two. And Luka Modric showed that he can run the midfield from deep alongside Xabi Alonso, giving Real a dual playmaker option.

Gabriele Marcotti is a London-based journalist and broadcaster who covers world soccer. He is the author of three books, the world soccer columnist for The Times of London and a correspondent for the Italian daily Corriere dello Sport. You can catch him on ESPN Press Pass and read him here twice a week. Follow him on Twitter: @marcotti.