The kings of comeback in Manchester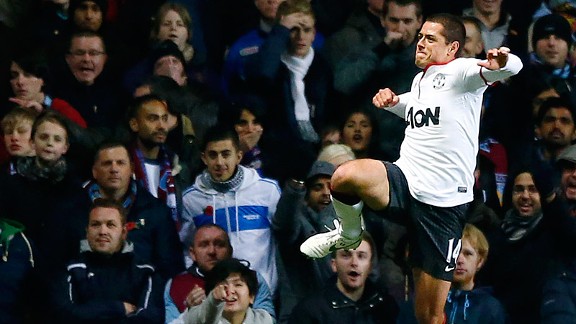 Darren Staples/ReutersJavier Hernandez's heroics for United, along with Edin Dzeko's game-winner for City, have ensured that things are anything but dull in Manchester these days.
Manchester United and Manchester City are first and second in the Premier League table, and few would argue that these are the two best English sides around. Yet when you look at the number of times they've had to come from behind this season, you realize there is plenty of room for improvement.

Manchester City earned points from 12 of the 15 Premier League and Champions' League matches they've played this season. On seven of those occasions, they had to come from behind.

United? Similar story. They earned points in 13 games and no fewer than eight times did they have to storm back to snatch a win or a draw.

It's funny, because when a good side has to come from behind that often, there are two ways to look at it.

On the one hand, you can praise them for their tremendous perseverance and self-belief. On the other, you can crucify them for sleepwalking and letting themselves fall into a hole.

What you choose to emphasize in this case probably says more about your personal views of these two clubs and their managers.

I have a feeling both Sir Alex Ferguson and Roberto Mancini will be privately stewing over the fact that they fall behind, rather than crowing about the fact that they roar back. Clubs like these are built to control games from start to finish, and clearly, that's not happening.

Getting some more stability on defense -- something which hasn't been easy, given the injuries that have hit both teams -- to avoid falling behind and having to throw the kitchen sink at the opposition is bound to be a priority for both.

Sir Alex himself confirmed this after Saturday's win at Villa, saying, "We really need to be better defensively." Nobody's going to argue with that.

Chicharito's legend grows
Javier "Chicharito" Hernandez is once again drawing comparisons with Ole Gunnar Solskjaer, Manchester United's prolific super-sub from a decade or so ago. It's not hard to see why. Twenty-eight of his 62 Premier League appearances since his arrival in 2011 have been as a substitute. And you're not going to argue with the "super" part, either, not when you scored one league goal every 118 minutes, as he's done.

And yet in August, there was reason to believe his future might be elsewhere. The latter half of last season had been somewhat unimpressive. United had added Robin Van Persie and Shinji Kagawa to a crowded attack, and on top of that, Danny Welbeck had established himself as a bona fide England player.

At 24, Hernandez isn't a baby-faced youngster who can bide his time for much longer. Assuming he doesn't force his way into Sir Alex's first-choice XI and becomes a fixture in the side -- which, if he keeps playing like this, is a possibility -- he'll have to decide whether he accepts and embraces the substitute role or whether he wants to try his hand elsewhere.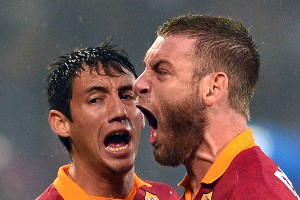 Gabriel Bouys/AFP/Getty ImagesYou might say that Daniele De Rossi was up for the match against Lazio.
De Rossi loses the plot
It's tough to tell who has a bigger cloud hanging over him after the Rome derby: "Captain Future," Daniele De Rossi or "The Jedi Master," Zdenek Zeman. Ordinarily you wouldn't read too much into a 3-2 derby loss to a Lazio team that's well-drilled by Vladimir Petkovic and, once again, is close to a Champions League spot, not when the game is played in monsoon-like conditions.

But this is different. De Rossi's decision to smack Stefano Mauri in the face late in the first half -- which earned him a red card -- meant that, with Lazio up 2-1, it was going to be near-impossible for the Giallorossi to get back into it. De Rossi is one of the five highest-paid players in Serie A, a hometown hero and one of the best in the world at his position. You simply can't accept such a mental lapse. To make matters worse, his relationship with Zeman, whose footballing ideas are rather crystallized and who doesn't always see him as a natural fit in his version of a 4-3-3, isn't helping matters. Some, in fact, will no doubt wonder whether he shouldn't have been more proactive in trying to force a move when Manchester City came knocking in August.

At the same time, though, for all the political capital Zeman has built up in years past, this is Roma's third defeat in the past four games. And they don't have the excuse of European football to sap their energy, either. Right now he has the exact same number of points that Luis Enrique had at the same stage last season, and we know what happened to him.

The last thing Roma's owners -- who have ambitious plans for the club -- need right now is to be forced to choose between De Rossi and Zeman.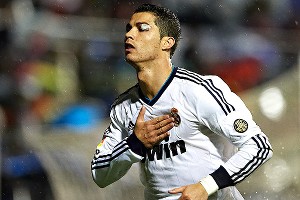 Manuel Queimadelos Alonso/Getty ImagesRonaldo doing his best Rocky impression during Real Madrid's impressive victory at the weekend.
Real Madrid's turning point?
Real Madrid are eight points off the pace in La Liga. A year ago at this stage they were three points clear. Should Jose Mourinho somehow manage to pull off this most incredible of comebacks and win the title, Sunday night might be remembered as a turning point.

Real was away at Levante, where it had never won and never even scored with Mourinho at the helm. The heavens opened up and the game was played in a rainstorm. Karim Benzema and Gonzalo Higuain were both unavailable through injury and, after Cristiano Ronaldo scored his usual goal to put Madrid ahead, he had to come off at halftime following an elbow to the eye.

After Angel equalized for Levante with less than half an hour to go, things looked decidedly bleak. Real's strikers were Angel Di Maria, Jose Callejon and Kaka, great players, but -- in these conditions -- square pegs in round holes.

But Real hung in there, scrapping their way forward. And help came from the much-maligned "cantera," with Alvaro Morata coming off the bench to score the late winner which kept the gap at eight points rather than seeing it extend to a scary-looking 10.

PSG's problem child
You're going to have to wait another week to see whether Carlo Ancelotti can turn Paris St. Germain into a credible team capable of winning even when Zlatan Ibrahimovic isn't around. Ancelotti gets a pass this week because, away to Montpellier, Mamadou Sakho got himself sent off after just 10 minutes, leaving PSG a man short the rest of the way. It finished 1-1, which, given that Marseille and Lyon also drew, isn't a terrible result.

Sakho is meant to be PSG's defensive leader. He has the physical and technical skills to do it, and in fact, a few years back, he became the club's youngest captain. Now that he's 22, you expect some maturity and better decisions. It's true, Marco Verratti's back pass played him into trouble, not least because Montpellier striker Gaetan Charbonnier was right on him and because -- let's face it -- Sakho isn't exactly Franz Beckenbauer on the ball. Having miscontrolled it, panicking and pulling back Charbonnier and getting himself sent off, however, was a needless, foolish thing to do, especially with 80 minutes left to play.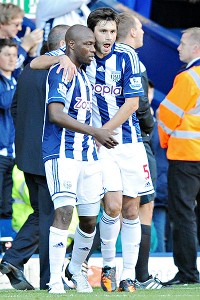 Olly Greenwood/AFP/Getty ImagesDynamic duo: Claudio Yacob and Youssouf Mulumbu are as good a midfield pairing as any in the Prem this season.
Props for West Brom
West Bromwich Albion are tied for fourth in the table. New boss Steve Clarke is getting plenty of accolades and rightly so. In typical manager fashion, he refuses to single anyone out for praise, so I'll do it for him.

The midfield partnership of Claudio Yacob and Youssouf Mulumbu has played as well as any central tandem in the Premier League. They are a formidable defensive shield in front of the back four and are frighteningly effective when West Brom transition on to the break. Thus far, Yacob must be one of the best foreign signings in the Premier League, while Mulumbu has been at, or close to, this level for several years. Both are 25, and Yacob was a free agent while Mulumbu cost around $300,000 in 2009. They may not be the best duo in the Premier League, but I defy anyone to find one that offers more bang for your buck.

AFC Champions League
It was all one way in the final of the Asian Champions League on Saturday. Ulsan Hyundai became the third K-League team in four years to be crowned champions of Asia after dismantling an Al Ahly side that came to play on the counter, but found themselves a goal down inside of 15 minutes. When that happens, and you really don't have a Plan B, it's going to be a long night.

It was a good crowd and a good show, but also a reminder that the AFC Champions League needs a bit of a shake-up. Entry to the competition is restricted for a number of reasons -- mostly commercial -- but having a continental tournament which only 11 of 47 nations can enter, even as qualifiers, is unfair. If UEFA can find room for clubs from San Marino and Liechtenstein, you'd expect Asia to do the same with its minnows.